Rajnath Singh believes it would be naive to see disengagement of the armies from the LAC as the end of the trouble.
The defence minister has urged the defence forces to be ready for a long haul, reveals Aditi Phadnis.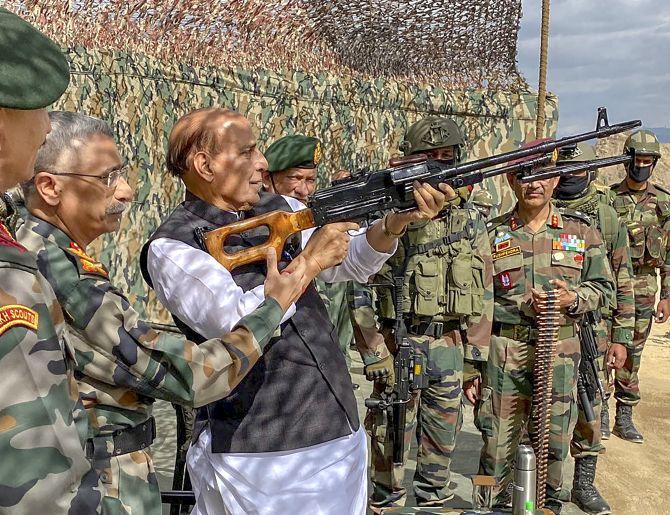 A certain kind of politician has no hesitation in rushing in where angels fear to tread.
'Banning Chinese apps was India's digital strike on China,' IT and Telecom Minister Ravi Shankar Prasad crowed triumphantly, offering visions of border crossings with bombardment that vaporised targets, a la surgical strikes on Pakistan.
One wonders about the parallel.
But then, words come easily to him.
General Vijay Kumar Singh went a shade better to claim China had lost 40 soldiers.
How could he possibly have known that? No authoritative claims were made on Chinese death tolls by the Indian side and the minister had to face the ignominy of being contradicted by China.
By contrast, the ministers who knew a lot more were measured and careful in what they chose to say -- and not say.
Home Minister Amit Shah told ANI in an interview he'd rather say nothing at all on China at this point (June 28).
And after the first statement, Defence Minister Rajnath Singh has been remarkably measured in his comments.
Singh took the country into confidence via a video interview on June 2 where he said: 'It is true that people of China are on the border. They claim that it is their territory. Our claim is that it is our area. There has been a disagreement over it.'
'A sizeable number of Chinese people have also come (aur achchhi khasi sankhya mein Cheen ke log bhi aa gaye hain). India has done what it needs to do.'
This was not an off-the-cuff comment, but factual and well thought through, frenzied interpretation notwithstanding.
Few know that soon after, Chinese Foreign Minister Wang Yi conveyed to Foreign Minister S Jaishankar his gratitude for Rajnath Singh's restraint.
This was repeated to India's ambassador in Beijing, Vikram Misri.
For most politicians, even if they are not elected to office like the national security advisor, a crisis is an opportunity, especially once it has blown over.
What man in his right mind wouldn't like to take the credit for managing it?
Rajnath Singh had so many models of defence ministers before him who had handled similar crises.
Like V K Krishna Menon, he could have manipulated the senior army leadership to his advantage.
Like George Fernandes, he could have written letters to sundry world leaders explaining who India's number one enemy really was.
Like A K Antony, he could have done nothing at all.
Rajnath Singh opted to speak little and only where it mattered.
He was in constant touch with the top leadership of the armed forces and he was already in possession of the information that the Chinese had started withdrawing from Galwan, conveyed to him that morning on July 5 by Chief of Army Staff General Manoj Mukund Naravane, when the rest of the nation heard in the evening, how talks between NSA A K Doval and Wang Yi had saved the day.
Twice, the Chinese defence minister made overtures for a meeting when the tension was at its height: Once, before Singh went to Russia for the Victory Day parade and the Chinese suggested a meeting in Moscow; and once while he was in Moscow and a message was sent via interlocutors.
Singh declined both, suggesting diplomacy should be allowed to play out.
This was a strategic move -- if there was military escalation, India needed to be ready.
This is not to say Singh has ever underestimated the challenge from China.
Far from it. In 2014, he was home minister when Xi Jinping and Modi met in Ahmedabad.
A build-up on the border (Chumar) was happening while Xi was in India.
Singh alerted the PM who, sources say, asked the Chinese leader artlessly: 'Is there some dissonance between the military and political leadership in China? Because while the highest political leadership of China is in India with promises of deep friendship, there seems to be a buildup on the border...' Xi said he would check and revert.
The leaders were scheduled to talk it over after the Hyderabad House lunch the next day.
But Xi got back before that and assured that things would be soon be in order.
For the rest of Xi's Delhi stay the issue was not mentioned.
A PLA pullout from Chumar began soon after Xi returned to Beijing.
His statement in China upon returning, that the People's Liberation Army should prepare itself to win 'regional wars', was interpreted by Delhi as Xi's attempt to consolidate his control of the PLA (correcting the 'dissonance'/ the PM referred to), rather than sabre rattling aimed at India.
Rajnath Singh believes it would be naive to see disengagement of armies from LAC as the end of the trouble.
On the contrary, he is believed to have urged the defence forces to be ready for a long haul.
But he also knows that braggadocio in such tense times would be harmful.
Others might feel compelled to show they are wielding the stick. He just needs to show he is carrying one.
Feature Presentation: Aslam Hunani/Rediff.com