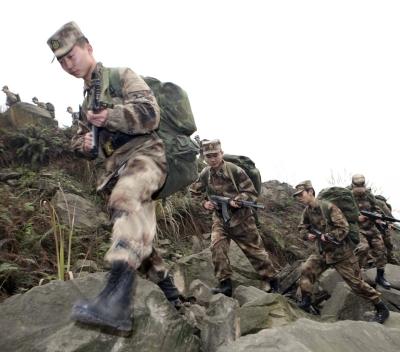 Chinese troops made a fresh attempt to violate the border with India in Chumar area in Ladakh on Sunday and retreated only after the Indo-Tibetan Border Police and the army jawans formed a human wall to block their incursion bid.
Chumar, located 300 km east of Leh, has been an epicentre of heightened activities of the Chinese People's Liberation Army who had been making increased attempts to enter through this region, official sources said on Tuesday.
Giving details of the incursion bid, the sources said that nine PLA soldiers first reached the border area at 7 am on March 16 and were stopped by the jawans which was followed by the customary banner drill.
However, in no time 10 more PLA personnel arrived on the scene riding horses and joined their colleagues to make attempts to move ahead into the Indian territory.
Chinese troops made repeated assertions that it was their territory and they were headed towards to Tible area, five km deep into the Indian territory, the sources said. Explaining their action, the troops told the Indian jawans that they were ordered by the PLA headquarters to conduct a reconnaissance in Tible area, the sources added.
However, more Indian troops joined in and Chinese troops made a retreat by 9 am the same day, the sources said.
Image for representation only