'The handling of the pandemic, under this totally constitutional and legal three-level dictatorship, has begun to show its downside,' observes Shekhar Gupta.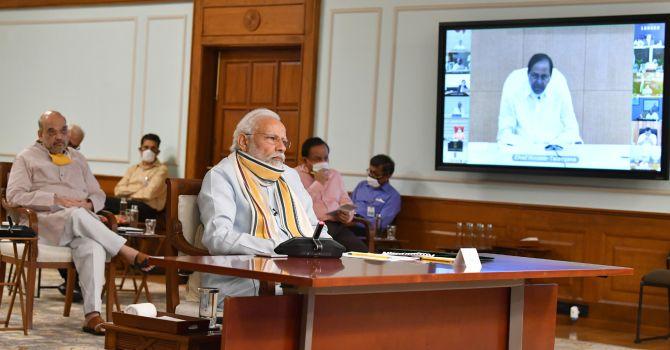 A prominent and eminent civil servant has a brilliant take on governance in India.
It runs on three engines, he says: PM, CM, and DM.
The prime minister, chief minister, and district magistrate.
Much as I would've liked to give the person the credit for this fine description, I'd rather err on the side of discretion.
Why expose him to blame for the argument that will unfold hereon.
This wasn't a description discovered for the times of the coronavirus emergency, but to underline a settled phenomenon.
The special powers that governments have acquired during this pandemic with the invocation of the Epidemic Diseases Act and the Disaster Management Act have made it more evident.
The question we need to ask, and debate, is whether this three-storey dictatorship has served India well enough in this public health emergency.
Or has it been counter-productive, and responsible for some of the chaos, especially with unorganised working classes.
This PM-CM-DM era gathered strength after the summer of 2014 as the 1996-2014 coalition era ended.
Over the past six years, no minister has been heard of much.
Even if you look at the most senior among them, members of the Cabinet Committee on Security, with the possible exception of Amit Anilchandra Shah now, none has counted for much.
The Cabinet system has declined.
The notion of collective responsibility, internal debate, and dissent declined and disappeared.
A decision as big as demonetisation could be taken more or less entirely in secrecy from the Cabinet.
It isn't as if you could dissent very much in Indira Gandhi's Cabinet.
But that only strengthens the PM-CM-DM argument.
It is just that 18 years of coalitions had spoilt us.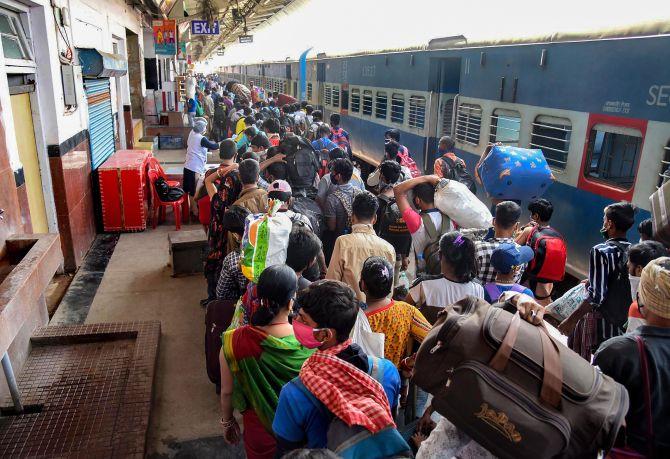 Even in that coalition era, though, regional dictatorships had already come up.
Jayalalithaa in Tamil Nadu, Mamata Banerjee in West Bengal, Y S Rajasekhara Reddy in Andhra Pradesh, Mayawati in Uttar Pradesh, and, indeed, Narendra Damodardas Modi in Gujarat.
These were all-powerful chief ministers.
The most prominent commonality between them and the prime minister today is, how irrelevant and powerless their ministers were.
And how power is exercised through a few hand-picked civil servants.
The pandemic now necessitated the promulgation of the Epidemic Diseases Act, which the British drafted for their largest colony in the wake of the 1897 plague and was meant to give the central government powers of issuing diktats as powerful as medieval papal bulls.
This was fortified by the more recent Disaster Management Act, which brought in complete centralisation of all powers.
The UPA wouldn't have foreseen this when it passed this law in 2005 in the wake of the 2004 tsunami.
That's why the old wisdom remains: You should be very careful before passing a bad law, never one in a hurry.
The framers of the law would think of a disaster affecting one, two, or a few states, as the tsunami did.
Here comes a pandemic, and New Delhi found just the legal basis to centralise all power.
Centralise to the extent that the prime minister talks to chief ministers on video conferencing, not always giving everyone time to speak (it was done at the last one), but can also speak directly with sarpanches and civil servants on the ground.
The Cabinet secretary holding meetings of chief secretaries is by no means unconstitutional or immoral, but raises a question: Where does it leave the democratically elected leaders?
Particularly when the stuff hits the fan, as it did with this long-marching labour disaster.
Whom do you hold accountable then? Who picks up the pieces?
You can catch a contradiction here.
If the combination of these two laws and a majority has placed all this power with the PM, where does it leave the CM?
And what does it do to your three-engine formulation?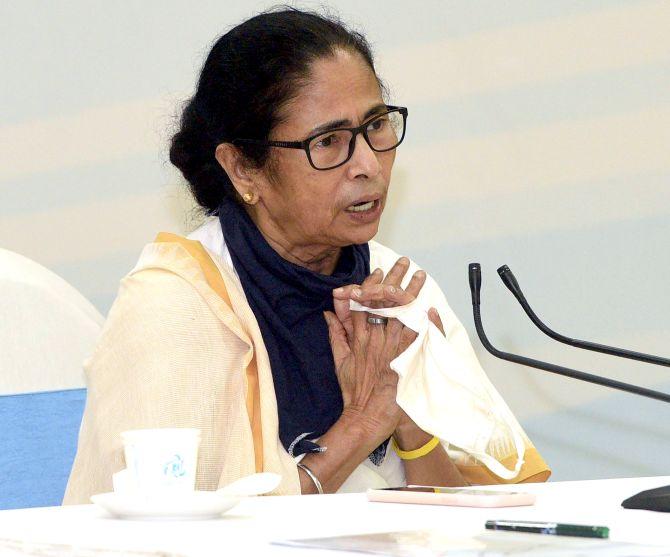 Run your eye over the political map of India.
Under an all-powerful Centre, many mini-dictatorships too prosper.
It is a secular phenomenon, cutting across party lines.
In Telangana and Andhra Pradesh, you have all-powerful CMs of regional parties who've used the same special laws to make themselves even more powerful.
In West Bengal, Mamata runs a one-woman show.
In their own different ways, they are able to either collaborate or defy the central government despite its special powers.
Telangana and West Bengal, for example, are testing too little, never mind the admonition from the Union health ministry.
Arvind Kejriwal's government in Delhi counts its coronavirus dead, sometimes as if it counts their limbs and divides by 16.
Figured the math? Please check out this report (external linkThePrint's Aneesha Bedi, who first broke this on May 15, now being followed by the rest.
Is the Congress free from this? It doesn't have many CMs, but Amarinder Singh in Punjab now has more power by himself than any of his predecessors I have known in almost 45 years.
It is fascinating how a new political contract has been established between those holding total power in New Delhi and in the state capitals.
You only feel sorry for some BJP chief ministers, especially Shivraj Singh Chouhan and Vijay Rupani, who've been left to their own devices, with little power and 'scapegoat' written on their backs.
Even there, Yogi Adityanath is his own master as is to some extent B S Yediyurappa.
Nitish Kumar rules his shambolic republic, smug that he will win again later this year.
And Naveen Patnaik in Odisha.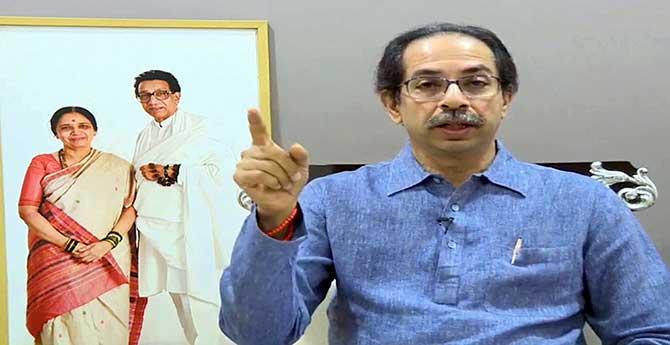 We are too large a political landscape to paint with one brush.
Maharashtra is one of a kind.
A dictatorship of a father and his son, bumbling in the crisis, never mind that their party has just under one-fifth of the strength in the assembly.
We use a strong word like bumbling because they had the responsibility of keeping India's industrial/economic wheel turning, and they're sitting on a confused disaster.
Mumbai, the national financial capital, is now the epicentre of the disease.
The leaders are neither able to control the numbers, nor reopen the economy.
And where's your cabinet? Oh, speak with my son/father please.
At which point we come to the DM.
Just as the prime minister runs the national Covid fightback through a task force of civil servants, so do the CMs through theirs.
At the Centre, this goes to the extent that the key ministers involved -- health, home, agriculture, and labour -- have never even needed to come and speak to the nation (we aren't even complaining about the media).
The MPs are irrelevant now, as are the state cabinets and MLAs.
The consequences it has on the ground are for real.
Orders are written and handed out by people far from the ground with an inadequate idea of realities.
That's why that plethora of corrections and clarifications has piled up.
If nobody in this huge governance structure anticipated the problems and fears the inter-state labour and workforces might face with a four-hour notice to a complete lockdown, it can only mean they were taking their decisions in the isolation of the Lutyens' blocks and bhavans.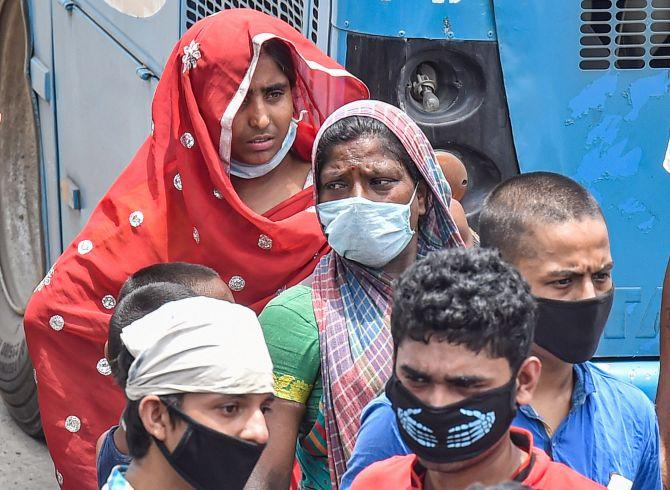 Equally, labour-importing states (Maharashtra, Gujarat, Karnataka, Punjab, Delhi) and exporting states (Bihar, Uttar Pradesh, Odisha, West Bengal, Jharkhand) failed to anticipate this.
It can only be if the leaderships had mostly forgotten their political instincts, or left it entirely to their DM equivalents.
After the first phase of the lockdown, the script has gone a bit awry.
And wherever it has, see who's been held accountable.
Both Maharashtra and Gujarat have removed the IAS officers heading their respective capitals' municipal corporations.
Apparently because they were testing 'too much'/.
Bihar too has replaced its health secretary, and Madhya Pradesh has changed its health secretary and health commissioner.
The handling of the pandemic, under this totally constitutional and legal three-level dictatorship, has begun to show its downside.
By Special Arrangement with The Print
Production: Aslam Hunani/Rediff.com