And ticket redistribution could be that moment, says Nazarwala.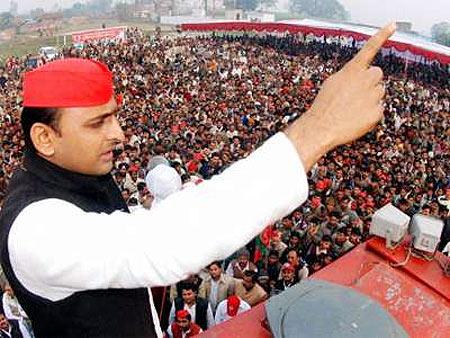 Blood red is the colour of Samajwadi Party caps. However, its cadres seldom wear them on their hot heads these days.
The youth supporting different factions are angry, and poised to attack the other. But the targets keep revolving and changing; confusion worse confounded!
Ambitions soar, intrigues galore, plans scuttled, conspiracies hatched, egos bruised.
And the nasty slogans of young upstarts favouring Akhilesh, at the doorsteps of his citadel, outside his own house, keep echoing in Mulayam's ears.
The ingratitude-dipped insult rankles him.
The self-made, popular dhartiputra (son of the soil) has been spending sleepless nights.
Amar Singh is a major cause of the estrangement between the father and son. This 'outsider' planet's malefic vibes are adversely affecting blood relationships.
The developments must have been giving Mulayam nightmares.
Nightmares like an elephant fishing in the waters of his Yadav clan, or decamping with his Muslim vote bank.
At times, he also nurtures the dream of sitting on the Rashtrapati's chair.
Nonetheless, the patriarch wakes up every morning with bloodshot eyes.
His brother Shivpal, on the other hand, is not used to getting 'no' for an answer.
He has been badly snubbed and cut to size by nephew Akhilesh.
Seething with rage, he is marking time to teach the bachcha the lesson of his life once the elections are over -- if not earlier.
Prateek is a brother foisted upon Akhilesh. Prateek, the body-builder, is also a realtor. Politics never caught his interest, but his wife Aparna was named by Mulayam as a contestant from the Lucknow Cantt seat a year ago.
Although Aparna is considered a member of the Shivpal camp, Akhilesh's list of candidates, which he put up against that of his father, didn't name anyone for the Lucknow Cantt seat.
In this pari-war, egos and attitudes clash, silent sneers are mutual. Back-biters and mischievous elements are having a field day.
Anxious, power-crazy ears perk up, ever curious to hear about 'the latest moves' of 'the other party'.
Ironically, 'the other party' also happens to be their own Samajwadi Party. And that is their misfortune.
The charade and erratic reactions of their leaders have caused irreparable damage at the grassroot level.
Unity claims notwithstanding, the fragile patchwork seems to be poised to crumble at the slightest whisper of a difference.
That inauspicious time is fast drawing near.
It could be the time when the party tickets are redistributed.
There is so much bad blood all around.
It is just a matter of time before some of it starts dripping from the red caps, onto the 'face' of the Samajwadi Party.