Although Mulayam Singh has made public his preference for Akhilesh as his successor, younger son Prateek's presence in the rival camp hasn't gone unnoticed, report Virendra Singh Rawat and Archis Mohan.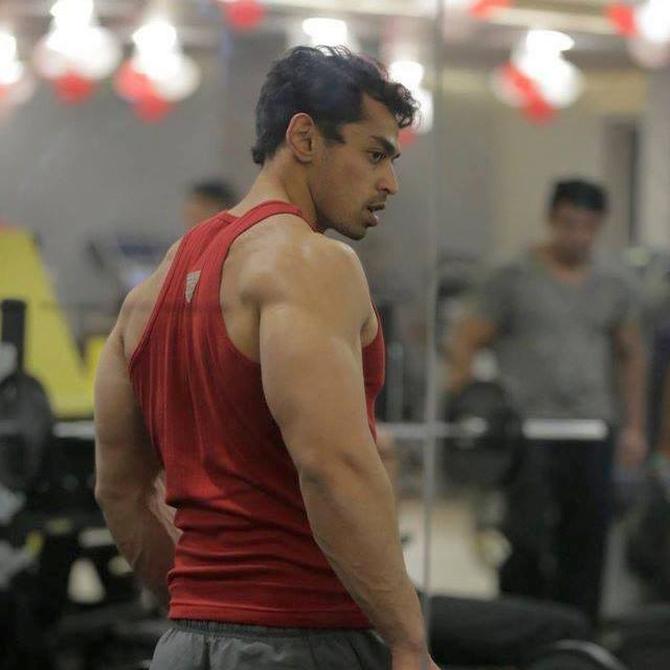 At a time when the Samajwadi Party is beset with one of its worst internal crises, Prateek Yadav, party chief Mulayam Singh Yadav's younger son from his second wife, Sadhana Gupta, is believed to be out of India.
That, say party insiders, is evidence enough that the 28 year old -- whatever might be the media speculation surrounding him and his wife, Aparna, and her family -- isn't interested in politics or emerging as a rival power centre to his elder brother and Uttar Pradesh chief minister, Akhilesh Yadav, 43.
Ever since he was an overweight teenager, when Mulayam Singh, who was a wrestler in his younger days, prodded him to take up physical exercise, bodybuilding has been Prateek's passion in life.
While Akhilesh spent years learning the ropes of politics from Mulayam Singh's colleagues, like the late Janeshwar Mishra and his uncles, Shivpal and Ram Gopal Yadav, Prateek spent his time toning up his physique.
In January 2015, Prateek launched his gymnasium, Iron Core Fit, in Lucknow's upmarket Gomti Nagar. Spread over 7,000 square feet on three floors, the gymnasium was inaugurated by wrestler and Olympic silver medalist Sushil Kumar.
Prateek too frequents the gym to weight-train. Its clientele includes men and women from some of the richest and most influential families of Lucknow. The gym, however, does not betray Prateek's lineage. There aren't any photographs of his with his chief minister brother or his famous father.
The gym hosts a steady stream of celebrities and Prateek is said to nurse the ambition to expand the chain outside of Uttar Pradesh. He has also continued with his real estate business. Those who claim to know Prateek say that he loves his anonymity.
Few, if any, of his classmates or teachers knew of his family background when he was a student at the City Montessori School in Gomti Nagar, Lucknow.
"He did have security, but so did several other students," says somebody who has known Prateek from his younger days. "He was just another nondescript, overweight child who largely kept to himself. A spoilt brat he definitely wasn't."
Intrigue abounds in any extended joint family that is influential and powerful. The Yadav clan is no different.
Sources, who prefer to remain unnamed, will tell you that the two brothers share the most formal of relationships or that the elder son has remained upset with his father for showering more attention on Prateek's mother.
Mulayam's first wife and Akhilesh's mother, Malati Devi, passed away in 2003.
But sources also point out that Akhilesh attended Prateek's wedding with Aparna Bisht, daughter of former journalist Arvind Singh Bisht who is now the state information commissioner, and Ambi Bisht, who works with the Lucknow Development Authority.
The wedding was in 2011 and the entire Yadav clan, including Akhilesh, was present to bless the couple. Prateek and Aparna had a long courtship and had also studied together in the UK.
That photograph of Akhilesh climbing the dais and blessing the couple aside, Prateek and he maintain a conspicuous distance and are not known to comment about each other even in private discussions.
There was a move by some in the party to field Prateek as a candidate in the 2014 Lok Sabha elections. But the family couldn't arrive at a consensus.
While Prateek has rarely shown any keenness to join politics and prefers his life as a businessman, his wife has made her political aspirations evident.
In the last couple of years, Aparna has been active on the social, cultural and political scene of Lucknow. She has a training as a vocalist and performs at cultural fests. She is also known to speak her mind. She has been photographed attending iftars with Home Minister Rajnath Singh and has also praised Prime Minister Narendra Modi for his leadership.
Last year, she had surprised many when she slammed litterateurs and film personalities who were speaking against the 'rising intolerance' in society.
Both Aparna and Prateek clicked a selfie with Modi when he was on a visit to Lucknow. She has also praised the prime minister's cleanliness drive and issued statements in favour of banning cow slaughter. Aparna is also an active social worker and has worked on issues related to women empowerment.
Following in the footsteps of Mulayam's elder daughter-in-law Dimple Yadav, a two-time Lok Sabha member, Aparna is also set to make her political debut. She is slated to be the party's candidate from the Lucknow Cantonment seat in the Uttar Pradesh assembly elections next year.
The seat was until recently held by Rita Bahuguna Joshi, who has quit the Congress to join the Bharatiya Janata Party. Both Joshi and Aparna have roots in Uttarakhand, important to win a constituency that has significant numbers of the electorate from the hill state. It is only a coincidence that Dimple also hails from an Uttarakhand Thakur family.
In the current struggle in the family, some in the party claim that Prateek and Aparna are closer to Shivpal Yadav, the uncle with whom Akhilesh has had a falling out.
Although 'Netaji', as Mulayam Singh is known in political circles, has made public his preference for Akhilesh as his successor, the presence of Prateek and Aparna allegedly in the rival camps hasn't gone unnoticed by political observers in the state.
As Akhilesh prepares to launch his election campaign on November 3, the next few days will decide the future of not only Uttar Pradesh but also the entire Yadav clan, including Prateek and Aparna.