'Indian secularism doesn't deserve a tombstone. It needs a new shrine,' argues Shekhar Gupta.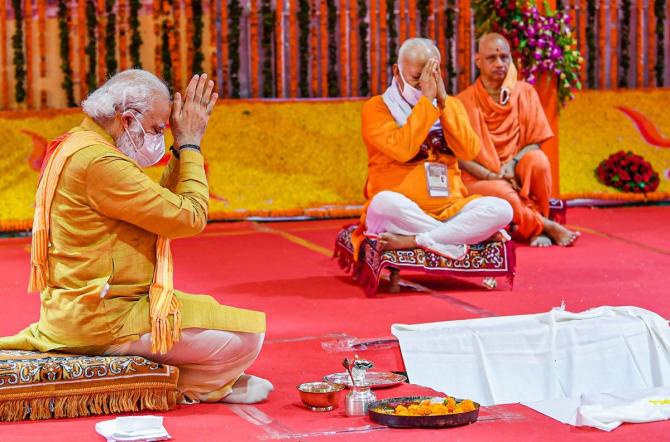 Did Indian secularism die on August 5 in Ayodhya? It follows then, that a new Indian Republic would have been invented then, a Hindu Rashtra.
If you accept those two arguments, a third becomes inevitable.
Any Indian with a belief in our secular Constitution can then say, this isn't the country I was born in. And, I am going away.
To America, where else, but only once Donald Trump goes this winter and immigration eases up.
To be upfront, we dismiss all of these assumptions as bunk.
First of all, the rumours of the death of secularism are just that, rumours and vastly exaggerated too.
Sorry Mark Twain, to drag you into the messiest side of our politics.
Second, the death of secularism has been announced several times before, on a rough count about as often as our commando comic TV channels declare Dawood Ibrahim dead.
Sorry for that odd comparison. But a rumour is a rumour is a rumour. Of course, it is fun if you are a masochist and relish self-flagellation.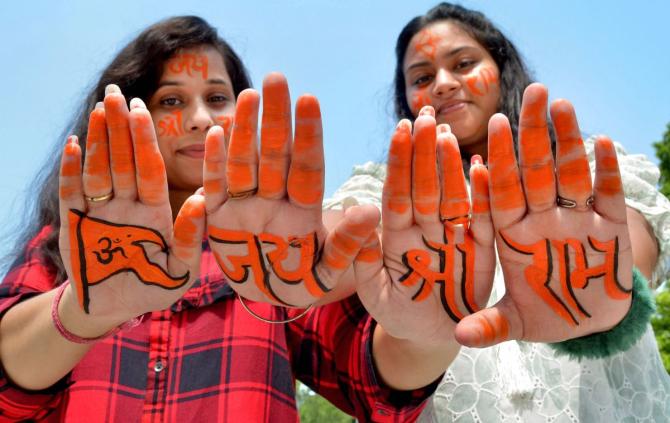 A very vast majority, in fact almost all of the more than 1.38 billion of us here, have no green cards or benevolent uncles or foundations waiting to take us to America.
Or in Europe or that new destination with sex appeal for some, Turkey.
We have to live in an India governed by whoever the people choose based on the same Constitution we hold so dear.
In the past 35 years, secularism has been pronounced dead by the Right after Rajiv Gandhi's action on the Shah Bano case (1986), the pro-active ban on Satanic Verses (1988), the unlocking of the gates of Babri Masjid-Ram Janmabhoomi, shilanyas and the launch of the national election campaign from Ayodhya with the promise of Ram Rajya (1989).
Then in 1992 with the destruction of the mosque, followed by widespread communal riots.
What else could you expect from a prime minister who 'wore khaki chaddi (RSS shorts, then the Rashtriya Swayamsevak Sangh uniform) under his dhoti?'
Arjun Singh drafted Sonia Gandhi to come in with Sanjivani Booti, but that had a short-lived effect in Kaliyuga.
Indian secularism was again pronounced dead in 1996, when Atal Bihari Vajpayee put together India's first BJP-led NDA government even if it lasted just 13 days.
It was three more than what the Congress party's affable spokesman then, V N Gadgil, had predicted it to be, a 'ten-day wonder'.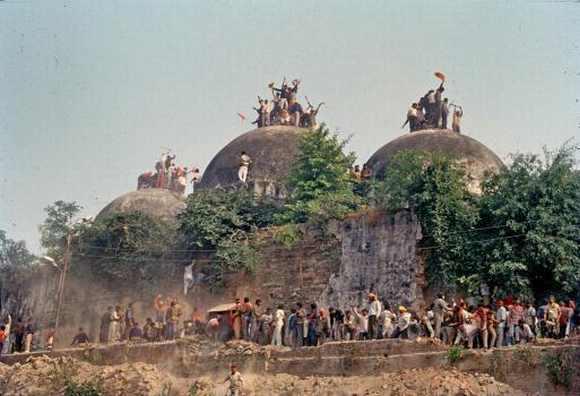 The next time Indian secularism died was in the Gujarat killings of 2002, and then died again and again as Narendra Modi kept winning there.
It was then that we could foresee May 19, 2014, and now August 5, 2020, being scripted.
I wrote two pieces, in the wake of the 2002 and 2007 Gujarat elections, anticipating the inevitable and unstoppable rise of Narendra Modi as a dominant national leader. The second even said Mr Modi's short-sleeved kurtas will become a political fashion statement.
Am I a Modi fan, or to use that expression fashionable these days, a 'bhakt'? Not even Mr Modi would accuse me of that.
But I am a journalist with eyes and ears open.
Indian secularism was pronounced dead in 2014 and 2019 again.
But on August 5, 2020, it was still alive to be killed yet again.
But hang on, you might say, this time I have seen its corpse. You will be right.
Something did indeed die this August 5 in Ayodhya.
It is just that it wasn't our Constitutional secularism, but a version of it confected after December 1992.
That the Babri demolition and the riots that followed angered a lot of middle-of-the-road Hindus also is a fact proven by election results that followed.
This was especially so in the Hindi heartland, particularly Uttar Pradesh.
After Kalyan Singh's BJP government was dismissed, Mulayam Singh Yadav's Samajwadi Party and Mayawati's Bahujan Samaj Party took turns in power.
Both built their new politics around the redefined 'secular' vote. In Bihar, Lalu Yadav had already perfected the formula. The secular vote now came to be seen as Muslim vote.
It was around this new notion that old enemies came together in unlikely coalitions to keep the BJP out of power.
The two United Front coalitions on daily wages, under H D Deve Gowda and I K Gujral were both an arrogant negation of the popular will.
The only time this new post-1992, 'anybody but the BJP' secular formulation won a genuine mandate was in 2009.
The reason we call the post-1992 secularism a new formulation is because of how strongly Left politics and intelligentsia got involved in it.
They rewrote the Ayodhya binary as: Did Ram even exist or not? This ran contrary to the Congress party's cautious approach where minorities were patronised, but Hinduism never mocked.
If the new BJP was dyed deeper saffron, the Congress-led alliance's secularism was now much redder.
It led to a series of blunders: The abolition of POTA (Prevention of Terrorism Act), as a pre-condition to the formation of UPA-1 because the 'Muslims' felt victimised.
Never mind that the same government, not soft on terror, simultaneously amended UAPA.
Is it much softer? Ask Dr Kafeel Khan.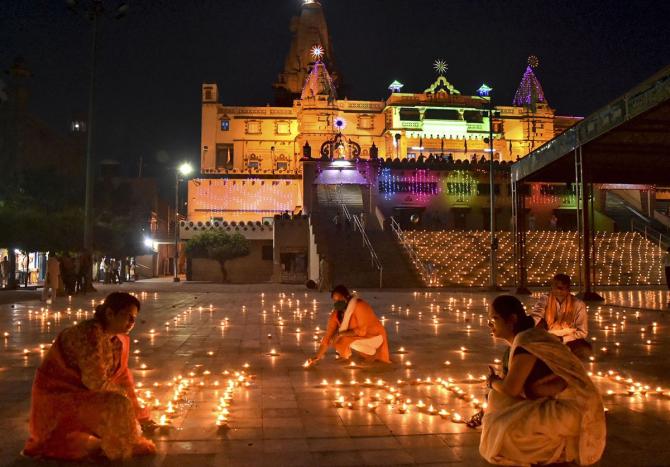 The Sachar Committee, which raised a question like the count of Muslims in the Indian Army, and serial announcements of Muslim job reservations (which did nothing for Muslims), followed.
The UPA government gave the nation's highest peacetime gallantry award to a police officer killed in the Batla House encounter, and its top leadership then began raising doubts on it, to 'assuage' Muslim sentiment.
There were other missteps like Manmohan Singh's statement on why he thought the minorities should have the first right on the nation's resources.
Pre-Sonia, you would have never heard a Congress prime minister say such a thing.
The SP, BSP and RJD were winning power simply by hyphenating the Muslim vote with one or two other large castes, and then providing lousy governance.
At some point the voter, especially the Hindu voter, had enough of it.
It is that secularism which finally died on August 5, 2020.
Its beneficiaries had seen it coming. Or you wouldn't have seen Rahul Gandhi's new Dattatreya Brahmin avatar in janeu and the big temple visits. Too much, too late.
Mr Modi would argue that all he has done is redefine Indian secularism according to the will of the people.
He speaks with the strength of a repeat mandate. You can blame the people.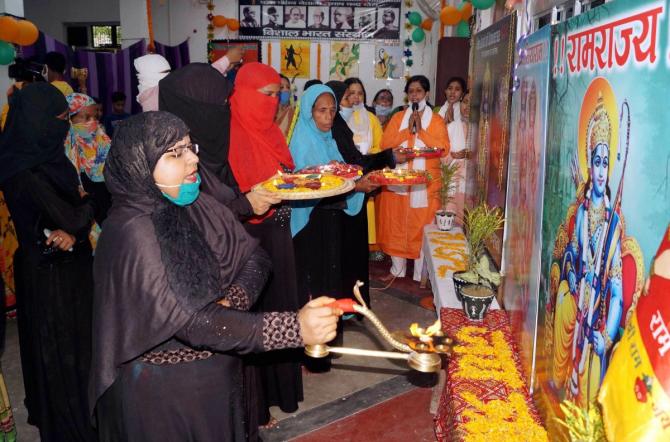 Irrespective of what the Constitution says, in a genuine republic, if enough people do not like something, they will reject it.
Kamal Atataurk declared Hagia Sophia to be neither a church (which it was for a millennium until 1553), nor a mosque which it had been since.
He made it a museum. He was no democrat, but a benevolent dictator, albeit secular. He wanted religion out of politics.
Last month, Erdogan reversed it.
Unlike Ataturk, he is democratically elected.
Is his decision popular in Turkey or not? Does this, then, reflect the true will of the people?
What was secular wasn't democratic, what is democratic isn't secular.
Politics is a funny game.
You can't elect a new people. Nor are the people of India such a lost cause.
Enough Hindus still vote against Modi, in spite of his massive appeal. What they need is a better proposition.
I take you back to the summer of 1996, the Lok Sabha debate on the vote of confidence that the 13-day Vajpayee government lost.
Ram Vilas Paswan, 'secular' then, made a brilliant speech.
Babur brought only 40 Muslims, he said.
They became crores because you (upper castes) did not let us in to your temples, but the mosques were open so we went there instead, he said.
Indian secularism is enshrined in the basic structure of our Constitution, further strengthened by the Supreme Court judgment on Ayodhya that shrewdly located the 1993 law protecting all other shrines in India, within it.
This is worth preserving.
What Indian secularism doesn't deserve is a tombstone. It needs a new shrine, in the manner that Paswan put it.
By Special Arrangement with The Print
Feature Presentation: Aslam Hunani/Rediff.com