'This is about reviving this country as a centre of Hindutva at Ayodhya.'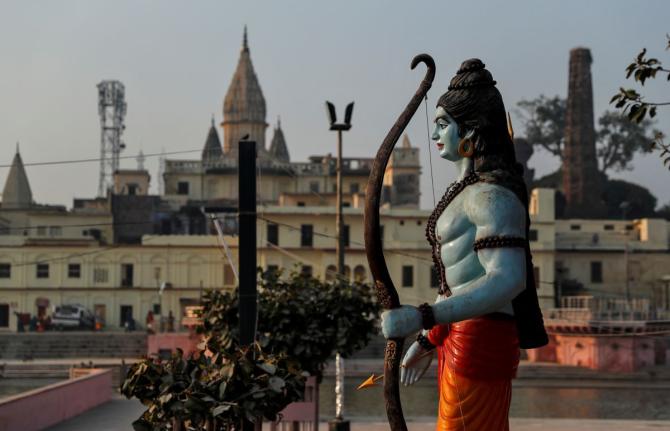 "They (the Bharatiya Janata Party) have finished their two agendas in just one year and they themselves don't know what should be their next agenda," Hemant Sharma, who has witnessed the tumultuous events for the past 35 years and chronicled them in his book Ayodhya Ka Chashmadeed (An eyewitness to Ayodhya), tells Syed Firdaus Ashraf/Rediff.com in the concluding segment of his interview.
The Ramayan is not a historical account, is it?
Who is India's identity: Ram or Babur?
Dr Ram Manohar Lohia, one of the greatest secularists of our times, had once said, 'Ram ki poornata maryadit vyaktitva mein hai, Krishna ki unmukt ya sampooran vyaktitva mein hai aur Shiva ki aseemit vyaktitva mein hai. Lekin har ek poorn hai (the completeness of Lord Ram is in a dignified personality, of Krishna in open or complete personality and of Shiva in unlimited personality. But each of them is complete).'
This is the belief of the people of our country and they believe, so they believe.
There is deep anguish in the Muslim community that those who demolished the Babri Masjid have gone scot-free even while the community was made to part with the masjid land.
We all know our judicial system. Just look at the Jaya Jaitley case. It was going on since 2002 and now she was sentenced.
In the Babri Masjid demolition case, thousands of witnesses went to the Lucknow court. I was also among them.
All the accused are being cross-examined and this is happening for the last 28 years, without any inordinate delay.
Ever since the evidence is being recorded, Judge Surendra Kumar Yadav is getting extension after extension to ensure speedy justice.
Many times, (BJP patriarch) L K Advani did not turn up so there was some delay, but I can say that there has been no postponement of hearing in this case.
Do you accept that there is deep anguish in the Muslim community?
Zaroor hoga (certainly). But after fighting for so long, they must have got tired. And therefore, in this case they are not as active as they were in the 1990s.
They also feel (now) that the Hindus should construct a Ram Mandir at that place and they were wrong somewhere.
India Today's cover on the Babri Masjid demolition called it 'nation's shame'. Now August 5 is being touted as 'nation's pride'. How did this change come about?
I believe that whatever happened on December 6, 1992 is not part of Hindu culture.
It is not part of Hindu culture to demolish any structure in this way.
But then, the question is why did this happen? One must find out the reasons why this anger was vented out.
As I told you, Marxist historians started saying Lord Ram did not exist. And the anger just came out on December 6, 1992.
How did the BJP, which was considered untouchable after December 6, 1992, by secular India, make such deep inroads in Hindu society?
This is not a question of Ram Mandir, but about India being a country of Hindu dharma and reviving this country as a centre of Hindutva at Ayodhya.
They are not making a mandir at Ayodhya, but they are making Ayodhya like the Vatican or Mecca.
This is the plan of the Uttar Pradesh government and they are getting foreign experts. It will be like a renaissance of Hindu religion.
Will the Ram Mandir be a site of humiliation for Indian Muslims just as the Babri Masjid was a site of humiliation for Hindus?
They demolished the Babri Masjid using force and that was a humiliation for sure.
But when the Supreme Court gave a judgment on this case, there should be no further discussion on this issue.
They said the land belongs to Hindus and that is the end of the story.
Then district judge Pandey saw a black monkey and ordered the reopening of the locks of the Babri Masjid. Can you tell us anything about that episode?
He was the district judge of Faizabad, Krishna Mohan Pandey. There was a routine petition filed every year by some lawyers in the Faizabad court, asking the judge to give them permission to unlock the premises to offer puja there.
The government, on the other hand, used to plead that opening of the locks will create law and order problems.
This always resulted in dismissal of the applications.
On February 1, 1986, Judge Pandey asked then Faizabad senior superintendent of police Karamveer Singh and then district magistrate Indu Bhushan Pandey if it was okay to open the locks of the Babri Masjid for a shilanyas, to which both of them said they had no objection and there won't be any law and order problem.
The locks of the Babri Masjid were then opened.
Later, Judge Pandey wrote in his autobiography that when this hearing was going on, one black monkey came and sat in his portico.
'I tried to shoo him away, but he did not go and then I went inside my home. The next day, when I went to court, the monkey was waiting outside my home. The monkey came to the courtroom too,' he has written.
This black monkey, according to Judge Pandey's book, refused to move and was also not eating anything.
At that time, the judge 'realised' that there was some 'unseen divine force' who was showing him the way.
And he ordered the locks to be opened.
Believe me, he gave the order at 4 pm and by 5.20 pm, the locks were open. I have never seen a court order implemented so quickly in my life.
Doordarshan didn't have a team in Faizabad, but they had one in Lucknow. But when the locks were opened, a Doordarshan team was already stationed at Faizabad.
It means the government somewhere knew in advance what the court order would be.
The Supreme Court in its judgment says it does not know who demolished the Babri Masjid.
The Supreme Court said it had no evidence (that) Babur demolished the temple.
It also said it was not proper to place the idols in the mosque. And that the demolition (of the Babri Masjid) on December 6, 1992, was wrong.
But more importantly, they said there was evidence of a pre-Islamic structure beneath the Babri Masjid and, therefore, the verdict went in favour of the Ram Janambhoomi.
The preparations for the bhoomi puja underway in Ayodhya, does it reek of triumphalism?
The BJP had this as a core agenda in its manifesto. Two times they formed their governments in alliance, but they kept the Ram Janambhoomi and Article 370 issues separate.
When they got a majority, they felt they must fulfil their promises because they were fighting for these causes since the Palampur resolution of 1989.
Now, when the Supreme Court has given a decision in their favour, it is obvious that any political party will take advantage of it.
What would be your message to Indian Muslims?
The Wounds of History are visible in Ayodhya. Whoever is in power demolishes the structures, and this Indian Muslims must understand.
They must also understand that India's identity is with Ram and not with Babur.
And when people belonging to the majority religion wanted that site, the Muslims should have given that place away willingly.
They should have said that they were okay with the masjid shifted nearby in Faizabad. But they did not do it then.
In Mathura and Varanasi, temples and mosques do exist next to each other.
Wouldn't that be like being treated as second class citizens?
If the Supreme Court had not given this verdict, then this might have been true.
Though this controversy dates back 500 years, in courts, this matter was pending for the last 160 years.
Opportunities of a settlement were given 3, 4 times, but that did not happen.
Therefore, when the Supreme Court gave its decision, everybody must accept it.
Of its three core issues -- the Ram Janambhoomi, Article 370 and a Uniform Civil Code -- the BJP has fulfilled two. Now it looks like UCC is definitely the next one. So what will be the party's agenda next?
They have finished their two agendas in just one year and they themselves don't know what should be their next agenda.
I, however, feel governance should be the agenda for anyone.
Reservations, Mandal, kamandal, all these things should be that of the past as the world is changing very fast.