By all yardsticks, 2024 isn't expected to be like 2014 or 2019.
But with the mandir expected to be ready in time for the next Lok Sabha polls, Modi will have a new ally in Ram to see him through, observes Saisuresh Sivaswamy.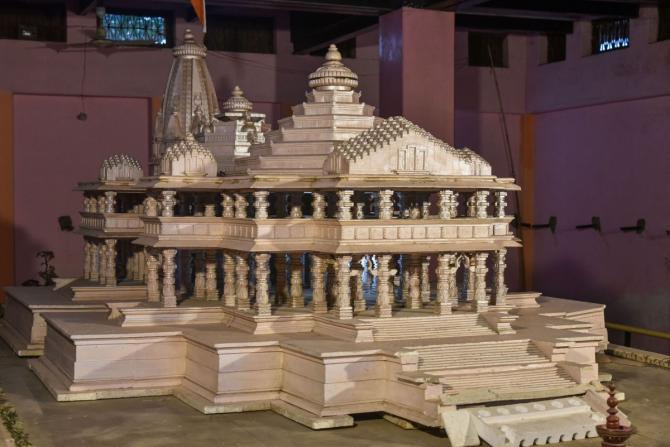 In the 1990s when his political power was at its zenith, what with holding the 'remote control' to the Maharashtra government, there went a man who fashioned himself as the Hindu Hriday Samrat, king of Hindu hearts.
But the self-styled king, Bal Thackeray, chose the title more to poke his finger in the eye of the dominant left-secular brigade for who anything that came with the prefix Hindu was anathema, and less to lay claim to the crown. His reach didn't cover even all of Maharashtra, after all.
In reality, there has been no Hindu Hriday Samrat ever. Hindu kings, aplenty; ruler of hearts, many. But while every ruler did so by the power and grace of the kingdom's presiding deity like Chhatrapati Shivaji's Bhavani or the Travancore royal family's Padmanabhaswamy -- no one ruled as a 'Hindu'. In a land of and by the Hindus, there was no need to overstate the fact.
But the pomp and splendour that is underway in the temple town of Ayodhya is a different matter altogether. Ostensibly it is to lay the foundation stone to the grand temple to Lord Ram, and for sure there is no other real agenda either. But sometimes there are matters ex-agenda that gather a life of their own and tell a different story.
One such is underway in Ayodhya.
Where a myth is being built. A legend is being born.
Who would have thought that when the Ram Janambhoomi movement took shape, a movement whose potency the Bharatiya Janata Party had no clue about then except to eye it as a possible ride to power, the fruits of the mass agitation would be reaped by someone who didn't temper the steel in its fires?
Who would have thought too that the man who fashioned the legend of Ram into an electoral weapon, tied his cutout to a rejigged Toyota van and traversed the length and breadth of the country, would today be sitting out the grandest moment in the movement's history?
Indians have known Ram all their lives. He is in the greeting they utter every day, he is part of the chant as they are carried away to the funeral pyre. Mahatma Gandhi reignited his dormant countrymen with Ram Dhun, even searing the Lord eternally in our minds with his final words as Nathuram Godse pumped bullets into him.
But Gandhi's Ram was a pacifist. A fitting motif to the non-violent Ahimsa movement that the Father of the Nation espoused.
Lal Kishenchand Advani had no need for a pacifist. He wanted a warlord.
Gandhi's pacifism and non-violence had had their time in the Sun; it had only lulled Hindus into a false sense of wellbeing and made them pushovers, Advani and his compatriots had decided.
But even before Advani could seize Ram for his own party, the Congress under Rajiv Gandhi had seen the writing on the wall. Four hundred plus Lok Sabha seats don't fall into a political tyro's lap unless the Hindu community had broken the barn door to usher in a new beginning in the light of the daily massacres in the Punjab.
With the Hindus so solidly behind him, why did Jawaharlal Nehru's grandson then decide to swing to the other extreme and cave into Muslim fundamentalists over the Shah Bano verdict -- and usher in a chain of events that should hopefully end this week -- will forever remain a matter of conjecture.
If Rajiv Gandhi hadn't done that, who knows, it may well have been Prime Minister Rahul Gandhi in Ayodhya on Wednesday. A chilling thought, some would say, but there it is.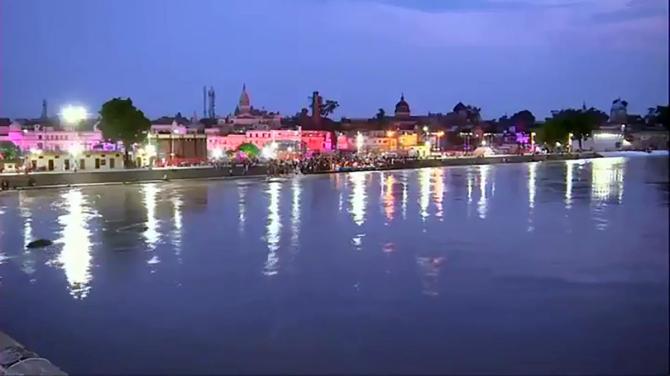 The strange part is that despite no central government actively opposing the construction of the Ram temple in Ayodhya it took so long to be accomplished.
Rajiv Gandhi's support to the project is well documented. His successor as prime minister, V P Singh, indulged in a series of parleys with leaders from both communities, and was outed when Arun Shourie, one of the participants, revealed his 'wahaan masjid hai hi kahaan?' remark in his newspaper.
Chandra Shekhar was actively involved in finding a solution to the issue, and may even have succeeded if his government had not been pulled down.
Which brings us to P V Narasimha Rao on whose watch the masjid was brought down and who was excoriated by all for it, the Congress even ousting him from its pantheon of leaders.
A generation has almost passed since that December day which Advani had described as the 'saddest day of his life', and how much the republic has travelled in this time can be gauged from the fact that other than the usual suspects no one is opposed to the temple's construction.
Heck, the Congress, reading the pulse of the people and unwilling them to antagonise them any further, only last week reinstated Rao to his rightful position among the party greats.
Lord Ram may have crossed the ocean to Lanka, but getting the BJP over the Mandal divide was another task. Vajpayee tried and failed, as did Advani, the BJP's two greatest leaders ever.
If indeed fortune favours the brave, and it is true that politics is the art of the impossible, then Narendra Modi must be politically fortunate, or fortunately political, have your pick. For there is no other way to describe how he came to succeed where the man whose Ram Rath Yatra he accompanied in the 1990s failed.
While the numbskulls in the Congress were bleeding UPA 2 from within, expecting Rahul Gandhi to take over a newlook UPA 3, Modi utilised the public disgust at its non-governance, in a quick palace coup elbowed out Advani from the prime ministerial race, and took over the mantle.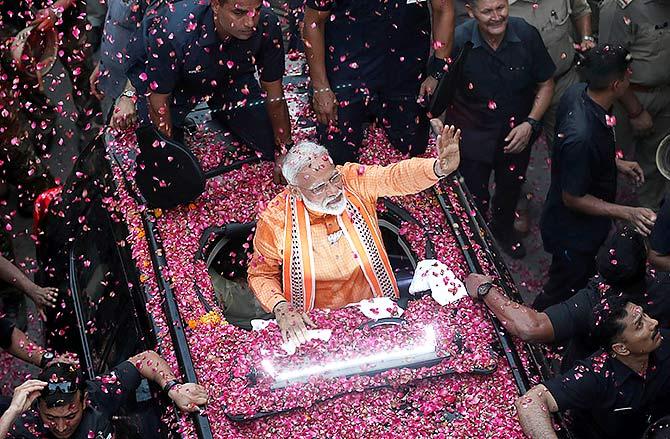 For the RSS bosses it must have been a tough call. Neither Vajpayee, as incumbent prime minister, nor Advani could overcome the Hindu faultline that kept the party's electoral tally around 180 seats which forced it to compromise on its core issues for the sake of power. Along comes the chief minister of Gujarat, who has faced public opprobrium like no other leader has, with a promise to create history.
The amazing thing was not that the RSS trusted Modi to deliver, but that he actually did.
And the most amazing thing is that unlike other prime ministers, both his electoral wins are powered by an all-Hindu vote across class and class segments. There may be a minor non-Hindu component to his vote, but nothing that would rock his win if it did not accrue to him.
And because his vote is spread throughout the Hindu bloc, no one segment can either lay claim to him or hold him to ransom. Which is how he is surviving one administrative landmine after another with nary a scratch on him.
Modi may not be the first prime minister to know what his voters want of him, but he also knows that much of those who don't vote for him for whatever reason, too want the same things.
Which has not only given him immunity against failure but also has given him the leeway to execute some bold policy strokes, be it the scrapping of Article 370 or instant talaq. There may be genuine reasons as to why he quickly moved on these two issues, but that there is a groundswell of Hindu support for these measures is undeniable. As there is for a Uniform Civil Code, the only thing left of the BJP's three core issues.
But Ram Mandir is the most critical of them all.
Just as all the names who built up the BJP from scratch have been put out to pasture, same is the case with the temple movement. All those who were in the forefront are either in retirement or on the way there.
Standing on their shoulders is the man who has found a trick to weave his way to a critical mass of Hindu support.
By all yardsticks 2024 isn't expected to be like 2014 or 2019. But with the mandir expected to be ready in time for the next Lok Sabha polls, Modi will have a new ally in Ram to see him through.
So just as well he gets his coronation on Wednesday.
---
Saisuresh Sivaswamy has been a journalist for 35 years and wrote his very first column for Rediff.com on January 25, 1997. You can read his columns here.
---
Feature Production: Aslam Hunani/Rediff.com