If the BJP wins Bengal, would Prashant Kishor's indiscretions have played a significant role in that victory?
Victory for the TMC would be another badge of honour for him, but defeat would raise an unsavoury question: Which party was Kishor actually working for? asks Payal Singh Mohanka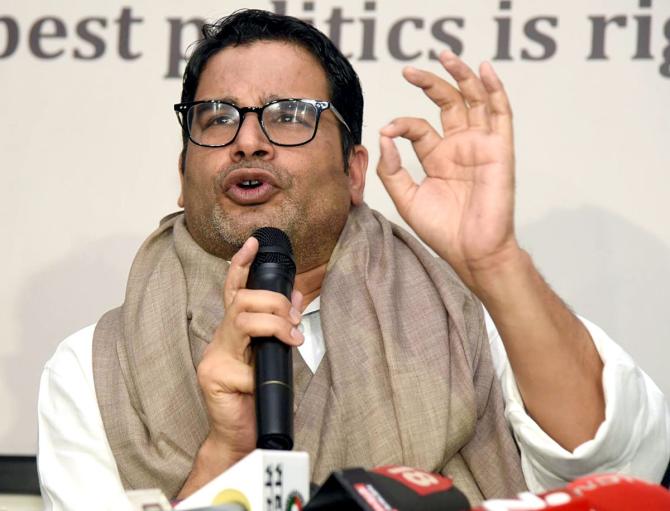 Battleground Bengal which thought it had seen it all -- from allegations, counter-allegations, violence and bloodshed -- now sees the strangest twist in the plot.
Trinamool Congress leader Mamata Banerjee's election strategist or political aide, as he prefers to call himself, finds himself in the eye of a storm.
Prashant Kishor's assignment was to ensure Didi's Trinamool wins the 2021 West Bengal assembly election and gets a third term in office.
Recent events have left Bengal baffled.
Audio clips of Kishor discussing the finer intricacies of the Bengal election with several journalists from Lutyens' Delhi on a by invitation only social media app created a stir on the day the state stepped into the fourth phase of its eight phase election.
An exuberant Bharatiya Janata Party declared that Kishor had conceded defeat and the BJP was winning the election.
Kishor has claimed this was 'selective' reporting and he had not conceded defeat.
He dared the BJP to make public the chat in its entirety.
In March 2020 I had the opportunity to interview Kishor at the I-Pac (Indian Political Action Committee) office in Kolkata.
He had a string of huge electoral victories to his credit: Gujarat 2012, the Lok Sabha election 2014, Bihar 2015, Punjab 2017 and Delhi 2020.
As I traced his journey from a teenager in Bihar to the heights he had touched, I also learnt work was underway by a publisher abroad to chronicle the saga of our homegrown electioneering whizkid.
Fourteen months ago there was a buzz in the air, Bengal could well add another feather in Kishor's cap. In the course of that interview Kishor had maintained, "Bengal is not a done deal. I have told Mamatadi that mere arithmetic can't defeat Modi. The voter gives you a brief. Stick to that. Focus on Bengal. Don't breach that brief."
The question that now arises is what was Kishor's brief? And did he breach that brief?
Should Didi's political aide whose main task is to ensure victory for her on May 2 throw discretion to the wind and hold forth on the chinks in Didi's armour?
Which political advisor would reiterate her inherent weaknesses as she desperately struggles to retain her fiefdom which threatens to slip out of her grasp?
In the leaked audio clip, Kishor shares the most damaging observations about the party he is working for and lavishes fulsome praise on Didi's opponent, Narendra Modi and the BJP.
Some of the highlights of the explosive leak: Kishor's internal survey reveals that 'Predominantly BJP is forming the government in Bengal.'
'And contrary to expectations, the BJP has a huge team of dedicated workers on the ground across the state.'
'There is significant anti-incumbency and anger against the TMC.'
'There is polarisation of Hindus and Muslims. After decades of minority appeasement in the state, this time the Hindu feels he has a say.'
'Also, Modi is as popular as Didi, he is a cult figure and there is no anti-incumbency against the Centre.'
Kishor says Modi will get 50% to 55% of the Hindu votes, the scheduled caste votes and a large chunk of the Matua votes.
Was it political naivete or a calculated move to share this with a group of journalists in the middle of a ferocious battle?
Would this not impact the already confused voter?
Which seasoned political aide shares this?
So far, his defence is weak. This is information that is available in the public space, he says.
True, but is a trusted collaborator expected to highlight Didi's shortcomings at this crucial hour. Has Kishor been fair to his client?
In an act of bravado, he has dared the BJP to share the entire clip.
If the BJP doesn't oblige, surely Kishor's journalistic friends who were receiving an enlightening talk on the Bengal election can help him to save face and provide him the complete recording.
TMC MP Saugata Roy says, "Kishor repeatedly said that the BJP would not get more than 100 seats and that the TMC would win. But he also said other things and it is unfortunate that instead of releasing the full tape, the BJP edited and released only a part of it."
"This has definitely caused misunderstanding and misgivings among the people," adds Roy. "The BJP is there to take advantage. Their spokesperson Amit Malviya is a spin doctor and a fake news specialist."
Kishor is attempting damage control by saying, 'As a matter of strategy, prudence and professionalism I would never underestimate the challenger, I need to be aware of the strengths and weaknesses of who we are facing.'
This has not mollified the bewildered TMC. None of the opponent's weaknesses were revealed nor were his client's strengths highlighted.
A senior TMC member, who spoke to me on the conditions of anonymity, shared his angst, "Kishor has been told by our party leaders that he should not have spoken at such length on a public platform at this sensitive time. He has made a big mistake."
"The elections were going well. He has caused damage to our party. He is now trying to make up, but he shouldn't have spoken," the TMC leader adds.
"He had a free run whether it was candidate selection, finalising strategy, whatever money he wanted he got. Why he did this at this time, I don't know."
The Trinamool's Rajya Sabha MP Derek O'Brien and Didi's nephew Abhishek Banerjee roped in Kishor for this assignment.
Some Trinamool leaders had questioned the need to hire a consultant.
There are mixed reviews about Kishor's performance. One section feels he gave the TMC, which was in disarray, some scientific shape. He employed committed and qualified people.
Didi relied on him. He was given total freedom. So much so that disenchanted members who walked out of the TMC felt Kishor was in control and not Didi.
The resentment that grew within the party is largely attributed to him.
While he focused on initiatives like 'Didi kay bolo' and 'Duare sarkar', he is alleged to have ignored key areas like booth management and the training of those who would work in the booth.
"The TMC, which used to be very strong at the booth level, is now the weakest in that area," a former member of the party points out.
It is hard to imagine that 'a political animal' who lives and breathes politics did not foresee the repercussions his 'revelations' would have.
Whose side is Kishor on?
His defence is weak when he now reiterates that he will quit his work as a political aide if the BJP comes to power.
Putting up a brave front, he says, 'The TMC is winning and winning big.'
A comment that prompts Dinesh Trivedi, who recently quit the TMC to join the BJP, to say, "You share a pathology report that this patient is suffering from a malignancy, you put it in the public domain, and now you say this patient is going to run the marathon!"
If the BJP wins Bengal, would Kishor's indiscretions have played a significant role in that victory?
Victory for the TMC would be another badge of honour in his curriculum vitae, but defeat would raise an unsavoury question: Which party was Kishor actually working for?
Payal Singh Mohanka is a Kolkata-based political commentator.
Feature Presentation: Aslam Hunani/Rediff.com