'If the chief minister says there are areas in her home state where she cannot enter, where has she driven the state to!'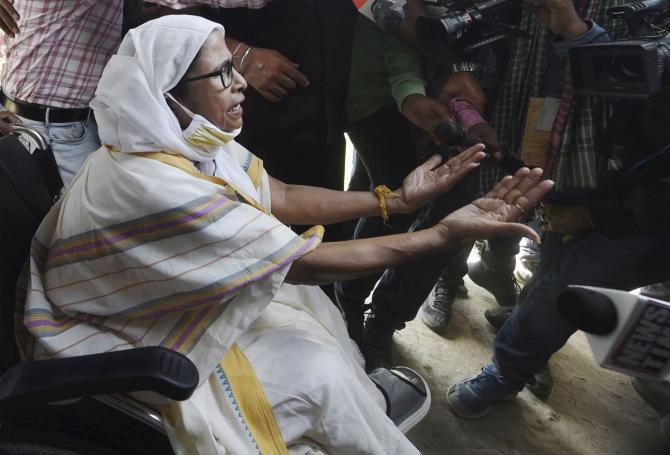 Some would say he is too much of a gentleman for the hurly-burly of Indian politics. Friends say he would not hesitate to walk the extra mile if he is committed to a cause.
Businessman Shishir Bajoria, who heads the S K Bajoria group, an Indian multinational, is living and breathing politics as he works 24x7 as a member of the election management team in West Bengal for the Bharatiya Janata Party, a task usually given to their most trusted aides.
In an exclusive interview with Rediff.com's Senior Contributor Payal Singh Mohanka, he shares his journey into politics and how he is immersed in his party's biggest challenge of 2021: The West Bengal assembly election.
You come from one of Kolkata's oldest and highly respected Marwari families. What attracted you to politics?
For me politics is a means of giving back to society.
The only way you can serve your people is by playing a role in governance.
And to be in governance you have to be in a political party. If you look around, businessmen are involved in the politics of chambers, politics in clubs.
I have held responsibilities in clubs and chambers of commerce, but I decided to leave all that.
You began your foray into politics with the CPI-M and had a special rapport with senior CPI-M leader Somnath Chatterjee and the then chief minister Jyoti Basu.
I was with the CPI-M for 15 years from 2000 to 2014. Before that I had a personal rapport with Somnath Chatterjee and with Jyoti Basu and I graduated into the CPI-M.
I think I would probably be the only businessman who was a member of the party, supporters of the party there would be many.
The person who brought me into politics was Somnath Chatterjee and it is because of him I got access to Jyoti babu.
And I am privileged to have had a very close relationship with both of them.
Why did you move away?
I left the CPI-M. I changed my party, but not my 'ism'. Prime Minister Narendra Modiji's BJP's every policy is people-oriented.
In Hindi what we call janmohini. What else is Leftism?
So the transition from two hugely different ideologies, from the Left to a Right-wing party you didn't feel that was an issue?
I do not call BJP right-wing like the media labels it.
The economic policies of the BJP are absolutely pro-people.
Many felt you deserved a ticket for the assembly election in Bengal. Why do you think you didn't make it to the list?
Let me be very clear I was not deprived of a ticket.
From the day the party took me in the election management team and gave me responsibility, the party had a certain role for me in mind.
And to be fair my leadership spoke to me and asked my view.
I was very clear. It is the party's decision whether the party wants to see me fighting an election or making others fight elections.
It's normal when lists are announced many people are disappointed.
After all only one person will get a nomination from a seat. I was pretty sure my role is in the election management team.
Your Bengali is absolutely flawless. Had you foreseen a career in politics?
I was born and brought up in Kolkata. I am third generation here.
My maternal grandfather spoke even better Bangla than me. My parents too spoke flawless Bangla.
Even though our household is Rajasthani, my family had very close Bengali links.
So you would be as much of a son of the soil as anybody else. A bhoomi putra as the BJP would say.
Yes I am. Other than my ancestry what do I have in Rajasthan. By the way in school Bengali was one of the three languages I studied.
Regarding your party, there is a litany of charges against the BJP. Let's take them one by one. Your party is accused of playing mindgames to demolish its opponent.
First of all, people win and lose elections only on the janta's support or their lack of support.
So if a particular candidate or party is winning it is only because of the people.
As for mindgames, we are in Kurukshetra. Within the rules, as long as I don't break the rules, I am on the battlefield, a battle in an electoral sense.
The BJP says Didi is looking for a second seat, a safe seat. The Trinamool Congress says this is fake news.
The day she announced her candidature in a very dramatic manner in Nandigram that same day she said I will also stand from Bhowanipore.
Second, the day when she announced all her candidates' names, when she read out the name of Aroop Biswas, the candidate from Tollygunge, quote unquote she said 'Ami o daratey pari (I too can stand).' So all through she had in mind a second seat.
The rules allow it. There is nothing wrong with it. I consider her electoral assessment as one of the sharpest.
By midday when she realised that she is losing Nandigram, we started hearing rumours in Bhowanipore.
I did a quick calculation that she could only file her nomination for the seventh and eighth phase.
And it has to be a completely safe seat so I concluded that she would go to her favorite TMC strongman whom she refers to as Keshta, Anubrata Mondal, and opt for a seat from Birbhum.
Now in politics there is a famous saying never believe in a rumour till it is denied.
Who denied it? The TMC denied it.
We are not saying they announced. We said it is a rumour.
It is alleged that BJP workers entered polling booths, voters were not being allowed to enter in Medinipur. How would you react to these charges?
These are charges which if they can substantiate they should substantiate before the Election Commission.
But what we have seen and the world has seen, one of the candidates of Nandigram did a dharna in a polling booth for two hours, with a huge crowd of people despite Section 144.
Can a candidate do this? The name of the candidate is Mamata Banerjee.
She went there and her security people started slowing the voting process.
If you see the end result, the voting percentage in that booth dropped by 10%.
There are charges that central forces were aiding the BJP.
Now that they know defeat is certain they are blaming central forces, they are blaming the Election Commission.
They should blame themselves for 10 years of misgovernance, of extortion and that is why people have rejected them.
Who do you think leaked the telephone conversation between you and your party colleague Mukul Roy where you were discussing election arrangements. What did they hope to prove?
A couple of hours before this tape was released by TMC, I had held a press conference where I had shared a conversation between Mamata Banerjee and the district vice-president Prolay Pal of Purba Medinipur, the BJP's organisational district.
Pal has come from the TMC and Mamata Banerjee was imploring him to return to her party.
What was very important for me was one line she said.
She tells him you knew there were areas I could not enter. If the chief minister says there are areas in her home state where she cannot enter, where has she driven the state to!
What was the reason for her not being able to enter?
Only she can answer that. I am aghast. And second, she tells this vice-president of ours you know when you were with us you could do everything.
What does that mean? Under my umbrella, I would keep my eyes shut.
She begged him to come back. He said sorry Didi, I am not a gaddar(traitor).
And the phone conversation ended. Pal has gone on record to say he taped it and he released it.
Obviously this put huge pressure and the TMC brought a tape of a conversation between our national vice-president Mukul Roy and myself.
This conversation that was played out was between two party colleagues discussing what points we will be taking up with the Election Commission.
If you go through the letter we gave the EC and as per our standard practice we immediately released it to the media.
We had asked that the booth agent should not be restricted to be a voter of the same booth and the undistributed voter slips be returned to the poll observer and not the SDO (sub divisional officer), as we were sure those would find their way to the TMC.
Now my question to the TMC and to their chief spokesperson Kunal Ghosh, who released this tape to the media, is either you have an illegally procured instrument by which you record WhatsApp calls or the intelligence agencies of the state police, who are known to be tapping our phones, are providing the tapes to the TMC.
Do you think letting Suvendu Adhikari go has proven to be a huge blunder for Didi?
It is not a question of letting him go. All senior TMC leaders who have left the party have joined the BJP.
Everybody has the same complaint, they felt throttled in this two-member private limited company.
Would you say her nephew Abhishek Banerjee is her Achilles' heel?
There is a nephew in one party and a son in another.
And those are the vulnerable spots?
Well, in one case we have seen, in the other results will show.
Will the BJP be able to prove the veracity of the hafta gate extortion tapes?
Why do we need to prove? Mamata Banerjee has proven it herself.
Minutes before the CBI arrived to just speak to Abhishek's wife Rujira, the chief minister of a state rushed into their house.
To do what? We do not know what she went there for.
To offer solace?
She is also chief minister of a state. Did she offer solace when her very senior leaders were raided, when they were arrested?
Your party's hoardings and banners are conspicuous by their absence. What is the reason?
Not only our banners and hoardings but those belonging to any opponent of the TMC are not seen.
All that is seen is Bengal wants Bengal's daughter.
There is not one hoarding of the TMC saying what they have done for Bengal in 10 years.
All the hoarding owners have told us that they have been threatened with dire consequences if they rent out hoardings to anybody else, especially the BJP.
There is a very clear cut guideline of the Election Commission that it is the municipal authority's responsibility to ensure equal distribution of banners and hoardings provided of course the political party pays for it.
Even the municipalities did nothing because they are still being ruled by political persons whose terms have ended masquerading as administrators.
Is there nothing other political parties can do about it?
Well, we have tried our best.
Isn't your leader constantly mocking and jeering Didi unbefitting of a prime minister?
Modiji follows a strict protocol. He was not mocking her, she abuses him in Hindi and Bangla.
She is the chief minister of a state. I don't want to repeat those foul words.
But two wrongs don't make a right.
What did he say? He said 'Didi O Didi'. Did he abuse her?
He said mishti doi is sweet, why are you so bitter?
Her reason to be bitter is because she has lost.
She says people of Bengal are going for Rs 500.
People of Bengal have been sold out. Who is she abusing? Modiji, BJP or the people of Bengal?
Because you know, the same people of Bengal who voted her twice to power are now voting her out.
What makes the BJP so confident of the TMC's defeat?
Mamata Banerjee. The look of defeat on her face.
When a candidate sits in one booth for two hours, when a candidate starts abusing the other party, abusing our top leadership, yeh virah ka raag hai... this is the tune of sorrow.
In Kerala Modi has been quoted as saying, 'The first sin is pride and arrogance. UDF and LDF feel they can never be defeated. The second sin is their greed.'
Don't you think these words of wisdom apply totally to the BJP too?
I am a karyakarta in West Bengal. I am not commenting on what happened in Kerala.
But as far as my leaders are concerned, Modiji, Amit Shahji and J P Naddaji I have not met more humble people than them.
I have seen how they treat little kids, how they treat everybody.
The governor's role has come under attack. The TMC alleges that the Raj Bhavan has been converted into a party office.
Our party office is 6 Murlidhar Sen Lane and our election office is in Hastings.
I have never been to Raj Bhavan as my party office.
The honorable governor had raised certain issues of governance where he called the chief secretary and director general of police for a meeting, which to the best of my knowledge he is entitled to do, and the chief minister instructed them not to go.
Khela Hobey was meant to be a game but it has degenerated into a no-holds barred vicious battle.
Elections and voting are the biggest festival of democracy.
How do you see it as a khela? After the last Lok Sabha elections Mamata Banerjee had threatened to give us a reply.
My party lost 135 karyakartas, murdered and hung by the tree, so that everyone could see.
Is this the khela she has in mind? This time around she will not be the chief minister.
Feature Presentation: Aslam Hunani/Rediff.com