'Many are coming hungry and thirsty.'
'Some told us they were stopped from filling water at roadside village handpumps because villagers told them 'tum Carona ho'.'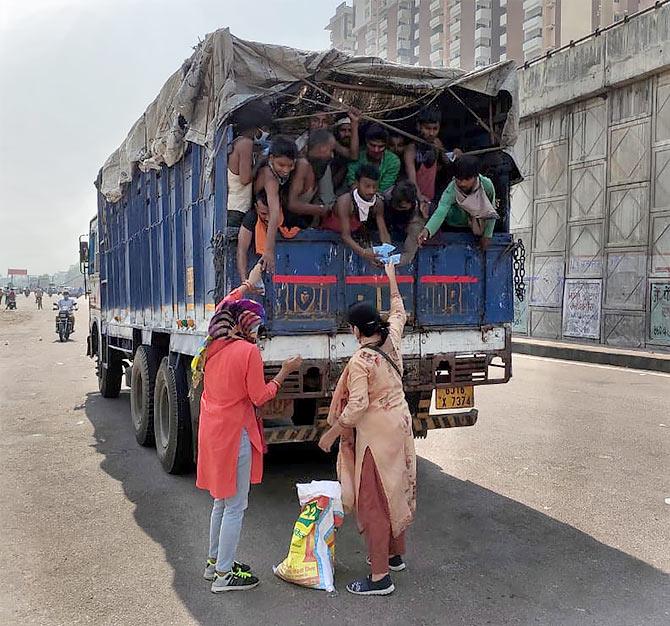 "Those who have managed to return home are saying that even if they have to survive on half a roti, they are not going back."
Do-gooders Mamta Singh and Devendra Gandhi, who have provided food, slippers and water to migrants, tell Archana Masih/Rediff.com the hardships the migrants have endured on their difficult journey home.
'People only want to get home -- somehow'
In the first 2-3 days, we met many who were on foot. Many were barefooted because their slippers had broken on the way.
Yesterday I saw three boys on a motorbike with one bag each coming all the way from Mumbai. They had been travelling for four days in the heat when temperatures are above 40 degrees.
They are coming in buses, packed into Innova cars, autos, motorbikes, scooties and cycles.
I see a fewer people on foot these days, the ones I met had been walking for 10 to 12 kms, from the railway or bus station.
Those who have transport don't want to stop and talk.
Their only goal, aim, mission is to reach their home.
They just about stop for a few minutes and take the water and food packet that we distribute and continue on their way.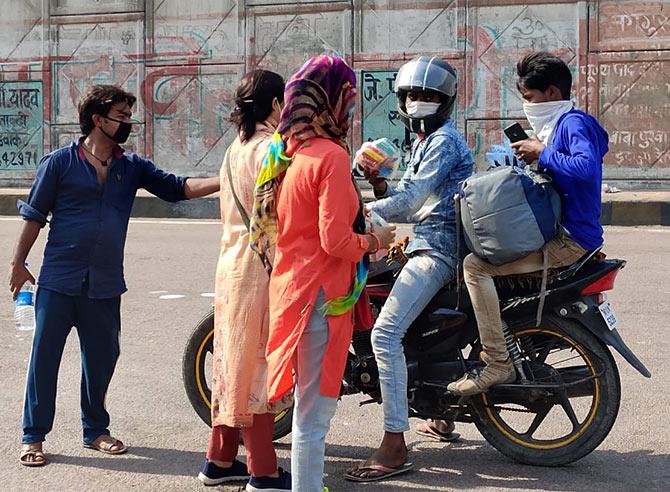 Most are coming from Maharashtra and are mostly labourers. Many have been laid off.
Some told me that they had asked family members to send Rs 5,000 from home and bought a cycle for Rs 4,500. They kept Rs 500 for the journey and started cycling home.
Many who had registered for bus and train travel organised by the government waited for 4-5 days for the ticket, but did not want to wait any longer and preferred to just walk.
Seeing the condition of their sore feet, we brought around slippers for men, women and children and distributed it by the highway.
We even gave gamchas to cover their heads in the heat along with bread-jam, Frooti, biscuits, two pouches of water.
If a bus driver sees us and stops, we give this through the window. Those on motorbikes stop, take the packet and move on.
Some migrants have paid Rs 5,000 per person to travel in a truck. I met a group that had been left by the truck driver on the Lucknow border and they were making their way from there to Gonda (120 kms away).
The government has set up community kitchens in towns and provides two meals in the quarantine centres, but I don't know whether they are providing water and food for them on the highways.
People are angry. They don't want to return, but there are no jobs here and they will find it difficult to survive without work.
I think the situation will only become worse. We are already facing a humanitarian crisis. Unemployment will be our next big problem.'
Mamta Singh is a woman's right activist. She has been providing food and slippers to migrants on the Lucknow-Faizabad Highway for a week in her individual capacity.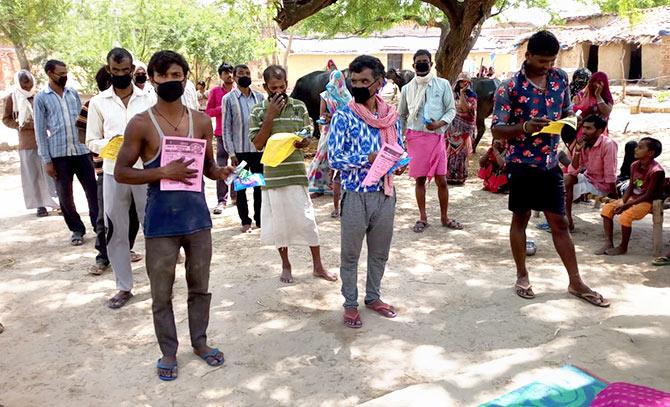 'This is the first time I am seeing people walking for days -- hungry and thirsty -- desperately trying to reach their homes
I met people who have been walking or cycling for 10 to 15 days. A group from Chhattisgarh had blisters on their feet. They needed medical help which is not available.
Some who are coming in trucks, to avoid being checked by the police, put the children, elders in one corner and put all the luggage in front of them.
Then the grown-up men stand at the other end so that the cops think they are few people travelling.
They said that each time they are stopped for checking, they have to bring the children, elders down and then put them inside again. They are also pulled up if there are too many in one truck.
A few boys who work in paani puri stalls in Rajasthan told us they had been walking for 80 kms. They had been walking for one-and-a-half days and had not got any food.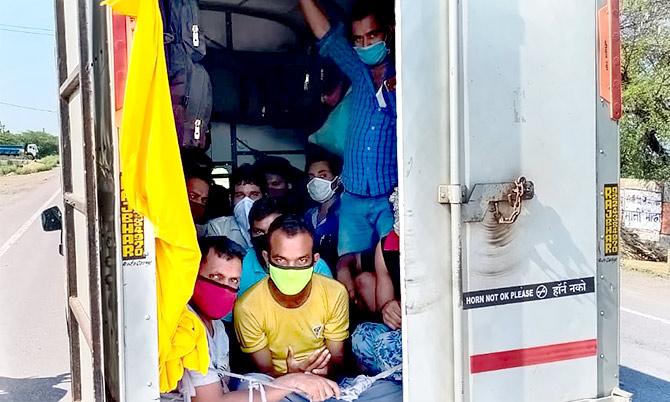 A group that had come from Rajasthan after hiring a truck for Rs 80,000 were not even dropped at their villages. The truck driver left them at the state border and people walked from there.
I met some people who had come on a truck from Hyderabad. The truck abandoned them at the UP border. They managed to hitch a ride to Jhansi and had been walking for 3 days and had no food.
We got some bananas for them.
Many are coming hungry and thirsty. Some told us they were stopped from filling water at roadside village handpumps because villagers told them 'tum Carona ho'.
Those who have managed to return home are saying that 'Even if we have to survive on half a roti, we are not going back. It is a miracle that have come home alive.'
Not many are handing food or packets on the highway. In the early days of lockdown 1, there were many who were coming out to help, but as the magnitude of migrants started increasing, help from civil society, the sarkar, businessmen etc, has started receding.
The migrants need help now more than before.
Those who are distributing food often give poori-sabzi. Children get hungry at different times and need dry food like puffed rice-chana. They need milk which is not available.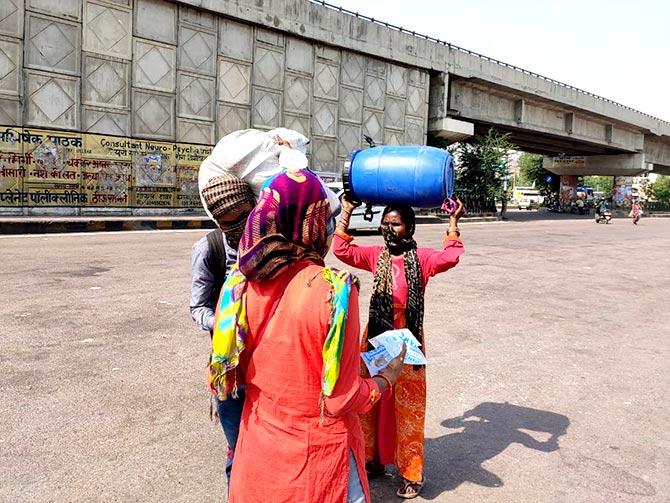 In 30 villages, we have distributed sanitisers, soaps, masks, sanitary pads, Surf Excel and Dettol to 1,000 families.
We are giving them pamphlets giving information and precautions for coronavirus. We are also making them aware about the Arogya app and the relief being provided by the government.
Information about coronavirus has reached every nook and corner of villages. Everyone knows about Corona, lockdown, washing hands, but village people are not wearing masks as they should. They wear it just for some time.
The message about social distancing etc has reached, but how much is being adhered to is another story.
Many migrants who have returned have gone straight home and have not been put in quarantine centres.
One person tested positive four days after his return and the entire village was sealed off. Those who had gone to graze animals or to the market could not enter the village.
Almost all have received rice on their ration cards. Work has resumed in MNREGA in several places.
Many who didn't have ration cards have begun the process to get new cards. It is online and will take time and due process.
Devendra Gandhi works for the Samarth Foundation, an NGO in UP.
Production: Aslam Hunani/Rediff.com