January 14, 2009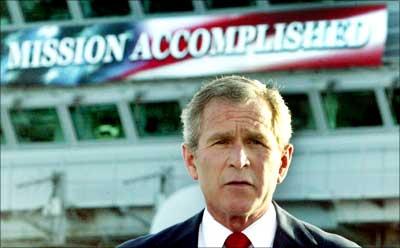 President George Bush [Images] may now say he is disappointed that the CIA misled him about WMDs in Iraq, but five years ago the administration was all for pursuing the war to the end, even if it meant making any number of compromises with reality, says Matthew Schneeberger in a series looking back at the Bush legacy
---
If the September 11 attacks provided US President George W Bush [Images] almost unlimited political capital, his haste to invade Iraq and his subsequent mishandling of the occupation left him politically bankrupt.
And, with current estimates for the war's cost at $1 trillion (on the low end) and $3 trillion and above (on the high end), his actions put America at grave financial risk as well.
Why? How?
Part of the problem was the Bush administration's reluctance to listen to all but the rosiest of pre-war scenarios.
During the run-up to war, in an interview with the Wall Street Journal, then assistant to the president for economic policy Lawrence Lindsey estimated that an occupation of Iraq would cost 'between $100 billion and $200 billion', a figure quickly dismissed by Donald Rumsfeld as 'baloney'. His own estimate was somewhere around $50 billion. Lindsey was fired a few months later.
Then, the week before the invasion, US Army Chief of Staff Eric Shinseki said that 'somewhere on the order of several hundred thousand soldiers' would be needed to successfully occupy Iraq. The administration quickly rebuked his claims as 'wildly off the mark' and asserted that less than 150,000 troops were required. Shortly thereafter, Shinseki was forced to retire.
But perhaps no incident more clearly illustrates the administration's Iraq delusions than George W Bush's triumphant speech aboard the US warship USS Abraham Lincoln in May 2003, less than three months into the US-led invasion of Iraq. Standing below a banner proclaiming 'MISSION ACCOMPLISHED', Bush confidently told the world that 'Major combat operations in Iraq have ended'.
Of course, in the months that followed, the Iraq insurgency began to grow and ferment. In July 2003, when pressed about the increasing incidence of violence in Iraq, Bush disingenuously said of the insurgents: 'Bring 'em on!' Less than a month later, a car bomb in Baghdad destroyed the United Nations mission headquarters and killed its head. The insurgency had begun in earnest.
Today, we know that more than 4,000 US troops have perished in Iraq, alongside countless Iraqis (the figures are disputed, some say over one million). And while the 2007 US troop surge -- an additional 30,000 troops were deployed to Iraq -- has coincided with a sharp decrease in violence, some sceptics say that in essence the US has 'bought' peace from various factional leaders, and that the said peace is tenuous at best.
But it wasn't just the sheer loss of life that sapped Bush's credibility (and with it, much of America's). It was the way in which the war was conducted.
In April 2004, a special report by CBS's 60 Minutes revealed widespread detainee abuse at the Abu Ghraib prison in Iraq. The accompanying images -- of shocking humiliation and cruelty -- stoked anti-US sentiment in the Muslim world and became a rallying point for the ever-increasing insurgency.
Add to that the use of US-government contracted private security forces like Blackwater (and their September 16, 2007 slaughter of 17 Iraqi civilians in Baghdad), and deplorable incidents involving the US Army itself (including charges of Quran desecration and crimes committed in Iraq by US troops), and no longer could the US so confidently claim a 'moral high ground' over the opposition.
Plus, time has shown much of the pre-war intelligence used as a justification for war to be faulty and downright fraudulent. In January 2004, nine months into the war, the chief US weapons inspector in Iraq David Kay, resigned his position and claimed that no weapons of mass destruction will ever be found in Iraq. Charles Duelfer, his successor, later officially said that Iraq not only did not possess WMDs, it was not actively seeking to develop them. The US justification for war had crumbled.
But, throughout all this, Bush has been unwavering in his decision to invade Iraq. Despite all the bad things said about him, the man believes in democracy and is unrepentant for his efforts to promote it worldwide.
Just this week, in his final press conference as president, he said, "Most people around the world, they respect America. They view us as strong, compassionate people who care deeply about the universality of freedom."
And should Iraq, today a fledgeling and frail democratic republic, one day become a bastion for freedom and human rights in the Middle East, leading to the domino-like collapse of military and theocratic dictatorships in the region, perhaps historians will judge Bush more kindly than the commentators.
With his record low approvals ratings both home and abroad and the spectre of renewed violence in the Middle East, that's all Bush can really hang his hat on.
Next: Bush's domestic failures
Matthew Schneeberger is an American reporter with rediff.com's editorial headquarters in Mumbai [Images]
Image: President George on board USS Abraham Lincoln on May 1, 2003, where he announced that combat operations were over in Iraq. Photograph: Larry Downing/Reuters
Earlier in the series:
Inauspicious beginning, inglorious end
After 9/11, Bush suddenly had political capital
Alas, 9/11 led to Bush's cowboy foreign policy
A war without cause, without end