January 09, 2009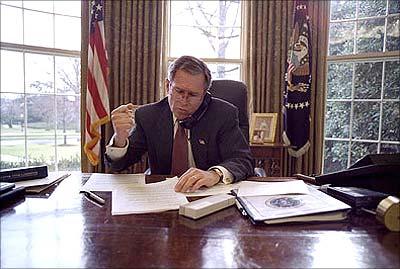 President Bush's first year in office is a sad commentary on how, to twist a cliche, absolute power perverts absolutely, argues Matthew Schneeberger in the fourth of his series looking back at the Bush presidency.
---
In the immediate wake of the 9/11 attacks on America, George W Bush [Images] enjoyed the highest approval ratings on record (over 90 per cent) of any US president.

It was an unusual position: Faced with tremendous challenges and a serious national security dilemma, Bush was also presented with a window of opportunity. Americans had united and now waited to be called to some higher, collective purpose.

Puzzlingly, Bush never cultivated this opportunity for active, involved support from an engaged citizenry. In truth, he may not have wanted it. The support he sought was passive, deferential.

Part I: Inauspicious beginning, inglorious end

'Get down to Disney World in Florida [Images],' he declared just weeks after the attack. 'Take your families and enjoy life the way we want it to be enjoyed.'

Matthew Dowd, who eventually served as Bush's chief strategist during the 2004 US presidential election, has described the president's attitude at the time as: 'Everybody go about their life and I'll handle it.'

In late September, Bush articulated his goals in combating terrorism around the globe. 'The War on Terror will not end until every terrorist group of global reach has been found, stopped and defeated,' he said, before later in the same speech ominously adding. 'It is a task that does not end.'

Part II: After 9/11, Bush suddenly had political capital

On October 7, the US started its aerial bombing campaign against the Taliban [Images] government in Afghanistan. Weeks later came the ground invasion, designed to flush out Al Qaeda [Images] strongholds.

In November, Bush -- frustrated that US allies weren't lining up to fight in Afghanistan -- famously uttered: 'Over time it's going to be important for nations to know they will be held accountable for inactivity. You're either with us or against us in the fight against terror.'

While few around the world were sad to see the Taliban government toppled, some commentators chided the US for its unilateral, 'you're-either-with-us-or-against-us' attitude and acerbic 'War on Terror' rhetoric.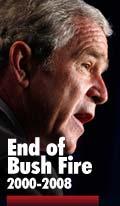 Later that month, President Bush signed into law the USA Patriot Act. Among other things, the legislation granted the federal government extensive powers in the name of 'surveillance and security'. It also paved the way for a series of executive orders that ultimately amounted to no less than an assault on the US Bill of Rights (originally an addendum to the US constitution designed to ensure civil liberties).
First, he secretly authorised US intelligence agencies to conduct warrantless wiretaps on US citizens and others living inside the country, sidestepping the standard protocol for intelligence gathering in the United States.
Part III: Alas, 9/11 led to Bush's cowboy foreign policy
Then, he ordered that accused terrorists could be tried by secret military tribunals, instead of in a traditional court of law. Declared 'unlawful combatants' rather than prisoners of war or traditional criminals, the accused found themselves slipping through the cracks of the US justice system, with no provisions for fair trials and prisoners' rights.
This culminated in early January 2002, when the detention and interrogation prison at Guantanamo Bay received the first of an eventual 550 detainees, many of whom are still held there today, seven years later.
By January 29, 2002, the day Bush gave his first State of the Union address, scepticism both at home and abroad had begun to paint the president in a negative light.
The State of the Union address is an annual political event in which the US president, presents to both the House of the US Congress and the nation at large, his proposed federal budget for the upcoming calendar year within the framework of the past year's events and the general direction in which the country is heading.
Invoking World War II rhetoric, Bush raised the spectre of a new 'Axis of Evil' -- Iraq, Iran and North Korea. In addition, he declared that the United States 'will not permit the world's most dangerous regimes to threaten us with the world's most dangerous weapons.' The speech lacked the humanity of his earlier post 9/11 addresses, and to many it seemed to be a full-throated call to arms.
With the situation in Afghanistan by no means under control, it was clear that the Bush administration's attention had shifted elsewhere.
Matthew Schneeberger is an American reporter who works at rediff.com's editorial headquarters in Mumbai [Images].
Image: President Bush prepares for his maiden State of the Union address, January 29, 2002. Photograph: Eric Draper/White House
Next: War in Iraq