January 07, 2009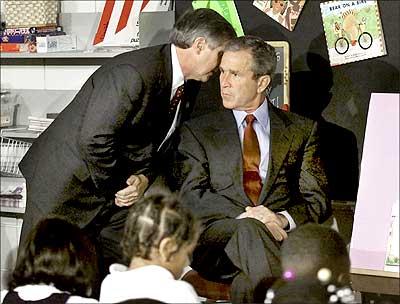 George Bush's presidency didn't begin well. Nor did it proceed well. Gone was the kinder, gentler America. Bush and his administration clearly believed in unilateralism, and didn't mind flexing muscle to show America means business, even to its allies, recalls Matthew Schneeberger in this second part of our ongoing series looking back at the Bush years.
---
George W Bush had only been president for a few days when several high level American bureaucrats began doubting him.
Richard Clarke -- former White House chief counter-terrorism adviser and a respected figure in Washington, DC -- had this to say about his initial interactions with the new president: 'The contrast with having briefed his father (41st US President George Hebert Walker Bush) and (42nd US President Bill) Clinton and (former vice-president Al) Gore was so marked. And to be told, frankly, early in the administration, by (then National Security Adviser Condoleezza) Condi Rice and (her deputy) Steve Hadley: 'Don't give the president a lot of long memos; he's not a big reader.' Well, s**t. I mean, the president of the United States is not a big reader?'
First in the series: Inauspicious beginning, inglorious end
David Kuo, former deputy director at the White House, has said of the administration, 'I remember feeling like I was looking at people who had won a reality game ticket to head up the White House. There was this remarkable combination of hubris, excitement and staggering ignorance.'
And though Bush had won by the narrowest of margins, he conducted himself as if he had a clear mandate from the voters. On getting legislation pushed through the US Senate, which was evenly split at the time between Republicans and Democrats, his advisor Karl Rove's theory was that 'we only need 51 votes (out of 100)', meaning that sweeping changes -- like Bush's massive $1.35 trillion tax cut package, which heavily favoured the affluent -- were made by only the slimmest of margins. Partisanship and rancour, naturally, increased.
Clinton -- despite his personal shortcomings -- left America in an advantageous position in foreign affairs. He had emphasised dialogue, diplomacy and cooperation, guiding America to the head of many powerful international bodies. But suddenly, under Bush, it became clear that America's foreign policy agenda had changed; foreign politicians and bureaucrats too began to doubt the new president.
Joschka Fischer, at the time Germany's [Images] foreign minister, has been quoted describing how different the Clinton and Bush administrations were in day-to-day operations. 'This was the UK, France [Images], Italy [Images] and Germany, together with the US, on the phone (daily). And suddenly it stopped. We had very, very few (calls). The new administration was not interested any longer in a multinational coordination.'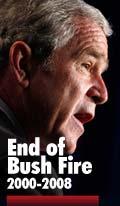 An exasperated Bill Graham, at the time Canada's [Images] foreign minister and later defence minister, has said of the new US Secretary for Defence Donald Rumsfeld, 'Mr Rumsfeld was not about listening and being cooperative. Mr Rumsfeld was about getting the way of the United States. 'Don't get in my way or my juggernaut will run over you'.'
All of this came to a head when the United States unilaterally abandoned two international agreements: the Kyoto Protocol on climate change, and the US-Russia Anti-Ballistic Missile Treaty.
Though he'd only been president for six months, by the summer of 2001 Bush was becoming unpopular both domestically and abroad. September 10, 2001, polling data shows him to have had a 51% approval rating with Americans, an ominous sign for a newly elected president (they usually garner high ratings).
My words tarnished my image: Bush
The next day, September 11, the president visited a classroom in a Florida [Images] elementary school. He was there for a photo-op and to read aloud the children's story The Pet Goat. It was a live broadcast, intended to show Bush's commitment to education.
But that very same morning, 19 terrorists had hijacked four commercial airliners with the intention of inflicting grievous harm on the United States. They crashed two of the planes into New York City's iconic World Trade Centre, toppling the twin towers and killing over 3,000 people. They crashed another into the Pentagon [Images] -- the heart of the US Department of Defence -- killing 184. The fourth plane, rumoured to be destined for either the US Capitol building (where Congress meets) or the White House, crashed in rural Pennsylvania. It was the biggest and most deadly attack on US soil since the bombing of Pearl Harbour. Most Americans interpreted it as an act of war.
The following morning, the classy French newspaper Le Monde carried an editorial titled 'We are all Americans'. Dozens of countries sent their condolences in a show of solidarity and promised to stand by America's side in her efforts to bring to justice those who perpetrated the attacks.
After an unremarkable and highly forgettable first eight months in office, Bush suddenly had political capital. And lots of it
But how would he spend it?
Part III: Alas, 9/11 led to Bush's cowboy foreign policy
Matthew Schneeberger is an American reporter at rediff.com's editorial headquarters in Mumbai [Images].
Image: White House Chief of Staff Andrew Card informs President George W Bush [Images] about a second airplane flying into New York City's World Trade Centre, while the president was reading to the children at the Emma E Booker elementary school in Sarasato, Florida, September 11, 2001.Photograph: Win McNamee JDP/Reuters