'Films like Arth don't happen again and again. They come once in a lifetime.'
'I was lucky to make it, and I couldn't have done it without Smita and Shabana.'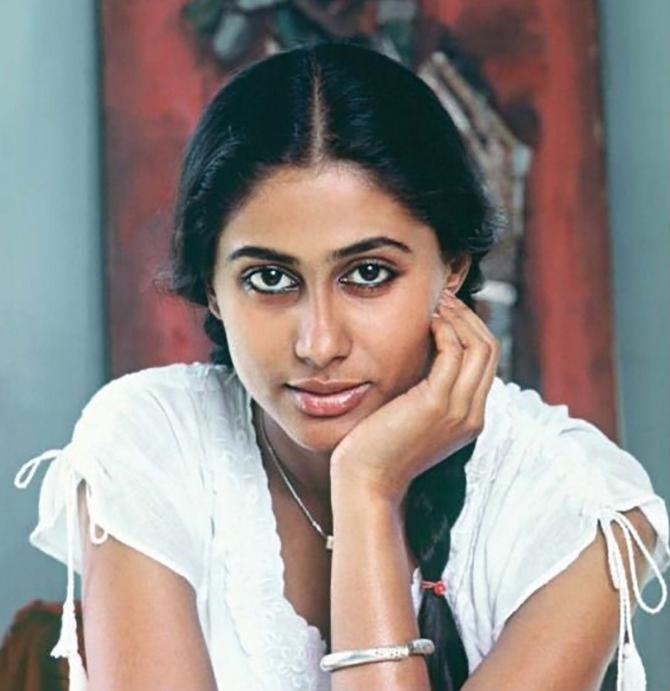 They made just two films together.
Arth created history. Thikana disappeared into oblivion.
Smita Patil, who would have turned 66 on October 17, passed away on December 13, 1986, barely two weeks after giving birth to a son, Prateik Babbar. She was 31.
Three decades and more have passed but Mahesh Bhatt hasn't forgotten the actor who gave arth to his career as a director.
Opening up to Rediff.com Senior Contributor Roshmila Bhattacharya, the film-maker remembers that first meeting at Film City Studio in Mumbai when Smita was taken by surprise that he was offering her money for an extraordinary role.
He speaks about their silent tiff that ended on the stairs of a hotel.
He raves about the emotional intensity and genuine honesty that she invested into her performances.
And he reels back to that last visit in her home when he met a mother instead of an actor... And walked away.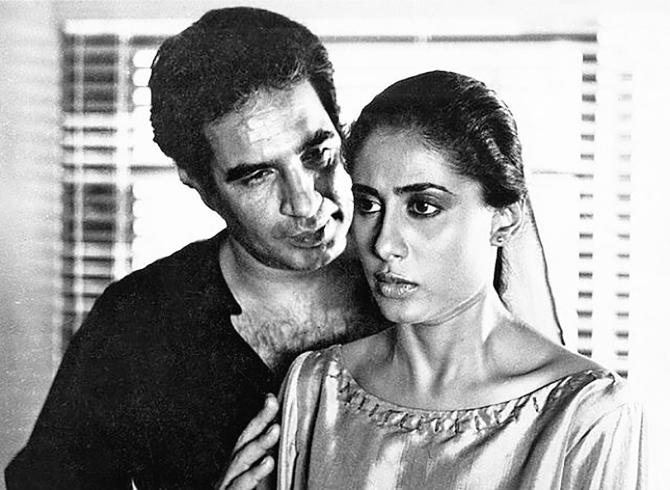 "I was privileged to have been touched by Smita Patil's simplicity, generosity and her extraordinary talent," says Mahesh Bhatt, recalling the day he had gone to Mumbai's Film City Studio to give the actress a narration of Arth.
It was a night shoot.
She was filming Nikhil Saini's drama, Tajurba, also featuring Raj Babbar and Naseeruddin Shah.
While the lights were being set up for a complicated shot, Smita stepped out, and leaning against a car, listened to Bhatt passionately give her an insight into the character he wanted to play, that of an actress, Kavita Sanyal. And the space in which the story would play out.
"She was left awestruck by my passion, and in response to my enquiring 'So?' responded by saying it would be a privilege to play the part," Bhatt recounts.
Delighted, Bhatt asked her if she could sign a letter of consent, following which he handed her the signing amount. Looking at the money, she exclaimed, "Arre, you are giving me an extraordinary role, and money for doing it too!"
For a minute, Bhatt was taken aback by her reaction.
Then, he realised that coming from parallel cinema, she had grown used to doing films for little or no money. The words still echo in his ears.
Arth was not an easy film for either of them as they were both drawing from their personal lives.
He was bringing to the screen the life burns of an extra-marital affair he had gone through while she was going through one.
"Smita would often complain that after living this life in real life, she would come to the set only to be told that she would now have to enact the same scenes on camera. It was driving her mad," Bhatt reminisces.
He reasons in retrospect that the emotional resonance of the film is so strong because the lines between real life and fiction are blurred.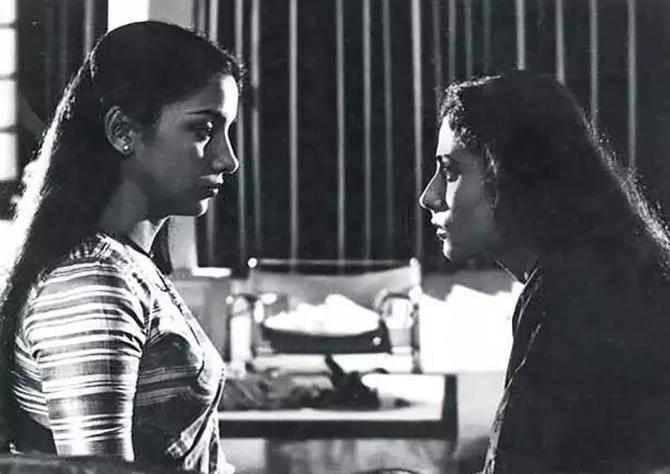 Prod him on the media reported rivalry between his two leading ladies, Smita and Shabana Azmi, and Bhatt informs that there was great mutual respect between them.
"At the same time, there was also an undercurrent of subliminal envy, the constant watch to ensure the other did not get preferential treatment and shine brighter on screen," he acknowledges.
The writer-director shares that at one point, Smita stopped speaking to him, believing that he had been partial towards Shabana and her character, Pooja. And soon, this became public knowledge.
One day, when he had dropped by a city hotel to meet Vijay Tendulkar, the playwright told him that Smita was on her way up.
'And I guess you wouldn't want to meet her since both of you are fighting,' Tendulkar smiled.
Smiling back, Bhatt replied that they weren't really fighting. But after that, he did leave.
Presuming that Smita would take the elevator, he headed for the stairs, only to run into her halfway down.
"She tried to go around me without speaking, but I blocked her path, admitting I couldn't bear this situation anymore. She could accuse me of lack of talent and not being able to do complete justice to the character of the other woman. But she could not accuse me of partiality," he remembers.
Smita looked at the writer-director with tears in her eyes and told him she had forgiven him.
'I can't stay angry with you for long,' she said.
And they were back to being friends again.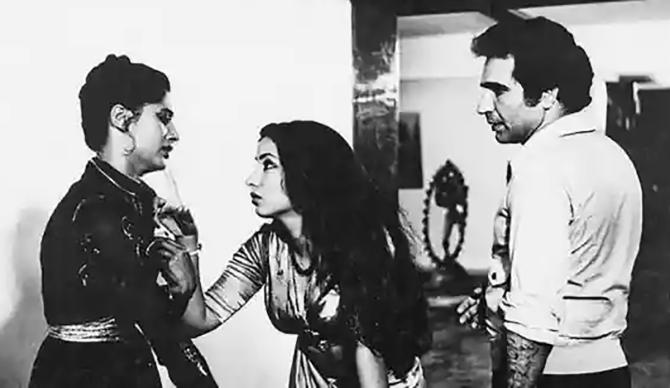 Bhatt goes on to narrate that after seeing the film, Smita congratulated Shabana warmly for her sparkling performance. Shabana bagged the National Award for best actress.
The honour was well deserved because as Pooja, Shabana conveyed the pain and anguish of a woman whose husband publicly leaves her for another, as also her growing resilience, that leads her to discover her own identity and give life a new meaning.
Shabana was brilliant in Arth. But for Bhatt, the film would be incomplete without Smita and that scene towards the end, when on the request of Kavita's psychiatrist and her mother, Pooja visits the other woman who is now in the grips of a fear psychosis.
In her own home, facing the woman she has wronged, Kavita falls apart.
She talks about hallucinations that won't let her sleep at night and the guilt of breaking up Pooja's home and her insecurity that won;t let her set up her own home.
"It was a difficult day-shoot. I don't think a lesser actor could have pulled off that scene. Smita enacted it with intensity and genuine honesty, opening herself up completely to the soul-searing emotions," recalls Bhatt.
He adds that it also took an actress as generous and secure as Shabana to give her co-actor the space she needed, without trying to intrude. Conveying her empathy and sympathy through her eyes, and no more.
"It isscenes like this one, and the one at the party earlier, when Pooja confronts a trembling Kavita who stands by silently, listening to her accusations, that gave Arth its arth," Bhatt insists.
The film opened on December 3, 1982.
Five years later, the crime drama Thikana released. After Smita's untimely demise.
Thikana was no Arth, and despite another brilliant performance by Smita, it did not create any ripples.
"Films like Arth don't happen again and again. They come once in a lifetime. I was lucky to make it, and I couldn't have done it without Smita and Shabana," confesses Bhatt.
You wonder if the connection with Rajneesh strengthened the bond between Smita and him and he retorts, "I was a sanyasi with Rajneesh for two-and-a-half years, but Smita was a seeker. She was open to his point of view, but she was not a devotee. She was a woman from the grassroots, close to the soil. She did not go shopping in the spiritual supermarket."
He remembers her going with him once to visit his guru, U G Krishnamurti.
"UG was a philosopher who questioned the state of spiritual enlightenment. He courted controversy by calling all godmen frauds who exploited man's vulnerability," Bhatt points out.
Smita, he believes, was just beginning to explore the depths of her talent, find arth in her own life, when death snatched her away.
He remembers that call from her friend informing him that she was gone.
"She had been admitted to Jaslok Hospital, every possible medical care was provided to keep her alive but the death watch had begun," he reminisces, unwilling to go down that dark path again.
What he would rather remember is the last time he met Smita in her home.
"The house was hushed, it felt different because there was a baby there now. Smita too was different, having metamorphosed from an actress to a mother," Bhatt recounts.
He could see that her entire being was in the bedroom, with the baby in the crib, and didn't want to hold her back.
'Go, go to your child, motherhood demands it. Give your all to your child,' he urged.
And smiling softly, she walked away... And so did he.