'Asked which Dilip Kumar films were among her favourites, she said she had seen not a single movie of his until that time. This became a sensational issue. She did not mean to offend Dilip Kumar.'
'There was not a bone of diplomacy in her and she never acquired that calculating attitude even at the cost of some of the roles that she would eventually lose.'
Remembering Smita Patil on her 60th birthday, October 17.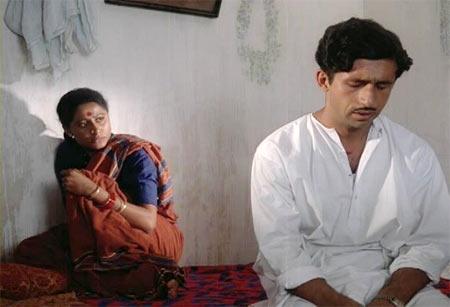 IMAGE: Smita Patil and Naseeruddin Shah in Shyam Benegal's Nishant.
Filmmakers of different temperaments -- from Satyajit Ray to Ramesh Sippy -- sought to work with Smita Patil in her 11-year movie career. Even though untimely death in 1986 cut short a brilliant life in its prime, the actress lives on through her work.
In October 2010, Anita Patil Deshmukh, Smita's older sister, spoke to Arthur J Pais/Rediff.com in a series of telephonic conversations and e-mails. We republish the feature to salute the actress who would have been 60 on October 17.
Whenever I think of Smi, a song from one of the Marathi films she acted comes to mind that aptly describes her person:
Aase ekhade pakharoo welhal
Tyala samore jateya aabhal.
(There arrives, rarely, a bird so enchanting, so unique, that entire nature bows down to welcome it).
To me, that is what Smi was.
Smi, as I called her, was rare and unique from the day she arrived in this world in a hurry and left this world in an equal hurry.
She was born prematurely at seven months to my overworked, malnourished, mother. She remained in very fragile health for the first five years of her life.
We were warned by the doctors that she may not survive. This prematurity came back to hunt her in her later years in the form of recurrent bouts of gastro-intestinal problems.
From the moment she was born, she was always smiling, hence her name Smita. They called her Mitya at home.
My parents lost our only brother when he was about a year old. I was the oldest of the three daughters. Smi was younger by about six-and-a-half years. Manya was younger to Smi by three years.
My parents came from humble beginnings. While my mother worked as a domestic help in Nashik, my father was a farmer.
Like many people of those times, they were deeply influenced by Gandhiji's freedom movement. My father became a part of that at the age of 14. He was jailed twice, and was sentenced to life the second time. He served seven years before he was freed in the newly Independent India.
Later, he joined the Praja Socialist Party and remained an active member.
We were raised by atheist parents who were steeped in Nehruvian Socialism. Our sensibilities and sensitivities were shaped by debates about poverty, social justice and equity that surrounded us in our growing years.
In our house, there was no place for a sense of hierarchy, religion, caste and class. We were encouraged to exercise our own choices.
All this contributed largely to the roles Smi chose to portray, the kind of support she gave smaller, regional directors and the kind of difficulties she faced in the mainstream industry, where hierarchies are a part and parcel of the system.
Smi and I were schooled in Marathi. She would participate in dramas often, but never harboured a wish to become a film actor.
Both Smi and I were a part of a Socialist-inspired theatre group, the Rashtra Seva Dal Kalapathak, that believed in education through entertainment.
This ensemble grew out of a Socialist background and created dance dramas based on issues that were pertinent to the common man and the downtrodden.
All our school vacations were spent with the drama troupe travelling through Maharashtra and later for Smi, the country.
This enriching experience left indelible marks on our minds and only deepened the value systems that were bequeathed to us by our parents.
When we moved to Mumbai, Smi initially joined St Xavier's College, but gave that up since she found the atmosphere too stifling. She then joined Elphinstone College where she was happy pursuing her degree in mass communications.
Smi was never interested in a film career although she possessed an innate skill of mimicry, diction and drama. She would have been surprised if somebody were to tell her that she was photogenic and she could find roles in the movies.
When we moved to Mumbai, a classmate of mine from medical school, Deepak Kirpekar, showed photographs he had taken of Smi to his wife Jyotsna, who was then a newsreader in Doordarshan.
The head of Doordarshan, Mumbai, Mr Krishnamurthy, happened to pass by, saw these photographs and requested Jyotsna to bring Smi for an interview since he found Smi to be very photogenic.
At the interview he even asked her to sing. She sang the Bangladesh national anthem with fluent Bengali diction. This led her to become a Hindi newsreader on Doordarshan. The rest is history.
She was noticed by Manoj Kumar who approached my father for a role in Roti Kapda Aur Makaan. Dev Anand offered her a role in Hare Rama Hare Krishna. Smi was interested in neither. My mother strongly suggested that she should finish her education first.
At that time, women in the film industry had their careers managed by their parents, and these directors were shocked to hear my dad say that he did not tell his daughters what they should do.
IMAGE: Shyam Benegal, left, standing, with the cast of Nishant. Smita Patil is seated, extreme, right..
When Shyam Benegal approached her for a role in Nishant, it was a very different situation. Shyam was also a Socialist and deeply committed to the idea of social justice and gender exploitation in our society.
The moment he met our father, the two got along famously. Shyam's film unit was like our dance troupe where no hierarchies existed. All this encouraged Smi to accept Shyam's offer and he became and remained her mentor till the end.
As we were growing up, we hardly saw films. Occasionally, our mother would take us to see award-winning films, like the kind of films V Shantaram used to make. This led to a very funny incident.
When Smi was signed by Ramesh Sippy for Shakti (co-starring Dilip Kumar, Amitabh Bachchan and Raakhee), a journalist asked Smi if she feared acting opposite a thespian like Dilip Kumar. No, she said, matter of fact, in her usual, forthright manner.
Asked which Dilip Kumar films were among her favourites, she said she had seen not a single movie of his until that time.
This became a sensational issue. She did not mean to offend Dilip Kumar. There was not a bone of diplomacy in her and she never acquired that calculating attitude even at the cost of some of the roles that she would eventually lose.
Unlike her contemporaries that Shyam brought to screen -- Shabana Azmi, Naseeruddin Shah and Om Puri -- Smi was not a trained artist. The intensity she brought to the screen was something she felt instinctively. This led to her brilliance.
Shyam Benegal once said that if a scene was to be rehearsed, he felt Smi may not be able to repeat herself with the same intensity.
She had an innate capacity to transform herself in a role so what people saw on the screen was NOT Smita Patil, but the character she played.
She could be anyone you wanted her to be -- the most glamorous star or the most downtrodden woman on the earth and she did them effortlessly.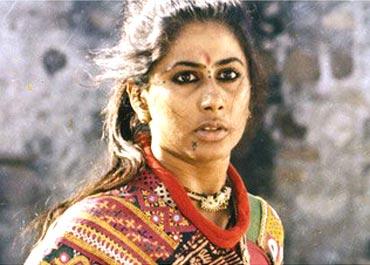 IMAGE: Smita Patil in Ketan Mehta's Mirch Masala.
Girish Karnad, her esteemed colleague, narrated the following story about Smita in an interview:
She was shooting for Chakra, a film about a slum woman. Smita won a national award for this later.
Part of the shoot took place in real slums in Mumbai. As the shoot was getting ready, she entered a shanty, squatted on the floor, and started chatting with a woman who was present in that shanty.
After a fairly long conversation, the assistant came in to take her away for the shoot. Smi walked out and it was then that the slum woman realised she had been talking to an actress and not to a real slum woman.
This was the extent to which Smi could completely mutate herself into any character she played.
The slum woman was very angry, but Smi had not intended to play a joke on her.
Smi was at home even in the most humble setting.
I kept close touch with Smi when I came to America to train as a neonatologist.
When Adeetya, my first born, arrived, my mother and Smi came for the delivery and took him back to Mumbai to raise him.
Smi doted on Adeetya and took him around on shoots with pride. He was the lucky recipient of all the affection that she felt deep within and those interactions played a large role in shaping Adeetya's sensitivities as a child.
It was her idea to teach him to call her Mityama and not Mitya Mawashi. She believed that we would become mothers to each other's children and was insistent that Adeet call my mother MotiMa, call me Papiyama (my nickname was Pappi) and Manya as Manyama.
Today all the children have continued with that tradition. My sister Manya has truly looked after Prateik as her very own son.
My children Adeetya and Varoon were raised by my parents and my sisters in India. Having experienced that love, Adeet decided to name his baby girl Zo-Smita.
Smi always had a deep seated longing to be a mother and wanted to have many children. It is ironic that life did not give her the opportunity to mother Prateik.
She left him when he was only 14 days old and it has been very difficult for Prateik to grow up in the shadow of a larger-than-life persona, but a name he could not connect to a real person.
There were several times when he would come home and hurl something at her photographs because he felt so frustrated she was not with him. It took him quite some time to come to terms with that loss.
Smi created a huge controversy when she married Raj Babbar, who was married with two children. The contrast between the roles she portrayed on the screen and the actions she took in her personal life were not taken kindly by her fans, especially women, for many of whom she was a role model.
It is interesting to note that no such controversy was in the press when Hema Malini made a similar choice, but Smi had become an iconic figure by then and she faced many anguished moments after that decision, which led to her becoming more reclusive and introverted.
None of us in the family were overjoyed by her decision, but I felt she was an adult and had a right to decide and act upon things that made her happy.
When I left my husband and decided to become a single parent, they could have questioned my judgment. But they did not because I was an adult.
Not only did they not question it, but they also stood by me like a rock and did everything that was in their power to help me through those difficult times.
A dear friend of mine, Dr Bindu Desai, often connected Smi's action to that of Dharmaraja of the Mahabharata. Dharmaraja, a personification of all virtues possible in a ruler, made the fatal mistake of gambling and it had calamitous results.
Can anyone really explain why he did that, she would ask?
Should we really ask why Smi did what she did? Should we not just accept it as it is, she would often say. It is better for us if we are not judgmental of people who do something unexpected.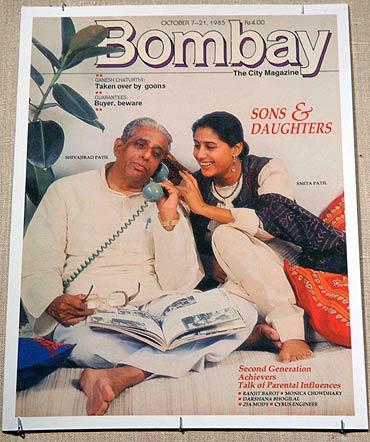 Everyone whose life she has touched remembers her with affection -- not just as an artist but also as a warm, generous, honest person.
I feel so privileged to have had Smi as my sister for the 31 years that she was on this earth.
Not only did she teach me many things while she was around, but she continues to inspire me in her death.
I gave up my career as a neonatologist in Chicago and relocated to India in 2005. I head a small research collective called Pukar that aims to create debates about urbanisation, urban poverty, urban divide, helps create and enhance indigenous urban knowledge and empower youth with the capacity to question the prevalent wisdom.
Her memories and thoughts are an integral part of my life and give me the inspiration to carry on the work she initiated in a different medium long time ago.
She was a woman of her times in her roles and yet a woman belonging to Gandhiji's era when it came to the virtues she possessed and displayed -- her forthright nature, her integrity, sense of loyalty, simplicity and her genuine concern for the disenfranchised.
Those virtues are not valued in today's consumerist world where everything is valued only in terms of materialistic possessions. She would have cringed at it.
This interview was first published on November 12, 2010.
Rediff.com salutes Smita Patil, who would have been 60 on October 17: