Smita Patil would have been 60 on October 17 had fate not cruelly snatched her from us in 1986. She was only 31 when she died.
Rediff.com salutes the incomparable actress in a special series.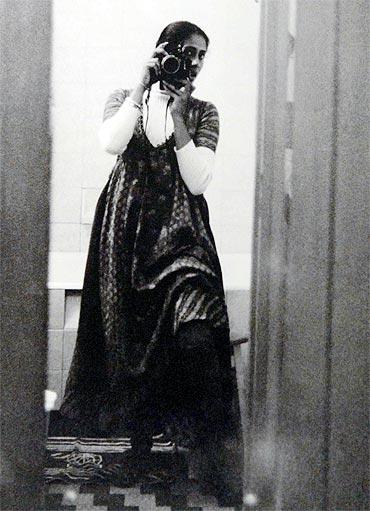 In November 2010, The Film Society of the Lincoln Centre, the distinguished New York cultural centre, and the Indo-American Arts Council hosted a retrospective of Smita Patil's films -- Bhumika: Roles of Smita Patil -- in New York City.
Her nephew Adeetya Deshmukh spent his early childhood with Smita Patil and her family in Mumbai. He called her Mityama and named his daughter Zoe-Smita after his beloved aunt.
Adeetya then shared his memories with Arthur J Pais/Rediff.com, an interview which we republish in memory of a great actress we lost too early:
How many years did you spend with Smita and your family in Mumbai?
I spent the first several years of my life living with my grandparents in Tardeo (south-central Mumbai). I spent a lot of time with Mityama.
I moved back to the United States to live with my parents. But I did go back almost every summer for months at a time.
When I was in the sixth grade, I spent an entire year in India, going to school at Arya Vidya Mandir in Bandra (north-west Mumbai) and living with my grandparents.
What do you remember most about your childhood?
I remember living in our flat in Tardeo, which had a long verandah that my grandfather (Shivajirao Patil, a former member of Parliament) had filled with plants.
Mityama would put me on a tricycle and push me up and down the verandah as fast as she could while she screamed in joy.
I would ask her to keep pushing me back and forth and she would, until I was out of breath from laughing and she was out of breath from pushing.
Once, I was lying on the floor with a broken arm, and my grandmother in hysterics. I remember Mityama stroking my hair, looking into my eyes, smiling, and telling me that everything would be okay.
The warmth and radiance of her smile, I will never ever forget.
Nothing else in the world mattered when she would smile at me, hold me, pick me up, or give me a kiss.
I remember her smiling at me when I touched her belly. She told me I was going to get a little brother or sister, who turned out to be my cousin, Prateek.
When the time came for me to leave, I remember screaming, crying, and throwing tantrums.
I hated leaving her and not being with her. I loved her so much and I knew she loved me.
The last time I saw my Mityama was on an overcast and chilly afternoon in Hounslow, London, in late 1985 or early 1986.
I was heading back to America and I stuck my head out of the car and waved to her receding form as we headed to the airport.
What are the life lessons you have taken from Mityama?
I remember that how warm and affectionate she was to everyone, even during the height of her fame.
I never once saw her mistreat anyone or look down on them.
In a country like India where the less fortunate are looked down upon and exploited, she did the opposite by lifting them up and viewing them as equals.
It is something that I will never forget and use in my daily interaction with people.
The story that drives this point home is when after the completion of her flat in Bandra, Mityama sat on the floor and had lunch with all the workers who worked on her home.
Did you know she was a famous actress?
I came to know about her prominence much later. I remember going with her on film shoots all over the country. It was really exciting to see so much of India at such a young age.
Many times, I didn't quite understand what she was doing. But I knew it had to be something special since she was always dressing differently and having people put makeup on her.
During one particular shoot, she was playing a high court judge.
While the scene was being shot, I sneaked behind her judge's chair and wrapped my hands around her in a huge hug.
I remember the director screaming 'CUT!' followed by the sound of her laughing.
This interview was first published on Rediff.com on November 15, 2010.