'The first time we actually got to meet a Bollywood star, it was Salman Khan.'
'We met him at his farm house.'
'For Pia, an actor is just an actor. There is no such thing as a star in her world, and that may or may not go down well with some people.'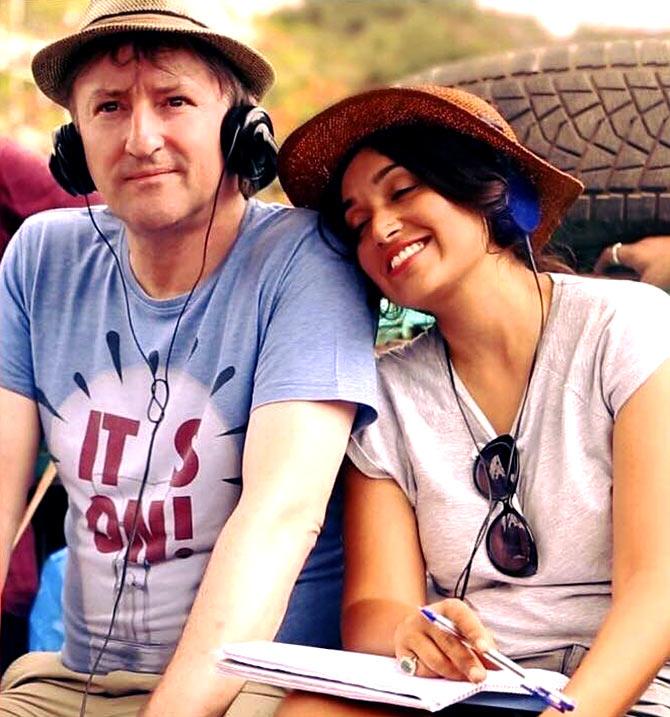 If there's one thing Bollywood doesn't have, it's an Angrez producer.
But now, that's covered too, thanks to Michael Ward.
"You won't see even one gora Bollywood producer," Michael tells Ronjita Kulkarni/Rediff.com confidently.
"But that's me going on an adventure!" he says, laughing. "I am a bit of a nomad, a bit of a pioneer. If someone dares me to do something, I'll probably do it just for the hell of it, just for the experience."
No one may have dared him, but the Englishman decided to test his luck in Bollywood and produce his first film Bombairiya, which released last Friday, January 18.
Directed by his wife Pia Sukanya, Bombairiya stars an ensemble cast of Radhika Apte, Akshay Oberoi, Siddhant Kapoor, Adil Hussain, Ravi Kishan and Shilpa Shukla, and opened to mixed reviews.
"Some people are into dangerous sports -- I don't have the physicality for that -- but this is the equivalent of that!" Michael says, referring to his debut movie.
"When I would go to the printers of the standees and posters, they would be really shocked to see a gora Bollywood producer. But a conversation in Hindi later, they would be relaxed. And once the bills were paid within 24 hours, they would be even more relaxed," Michael laughs.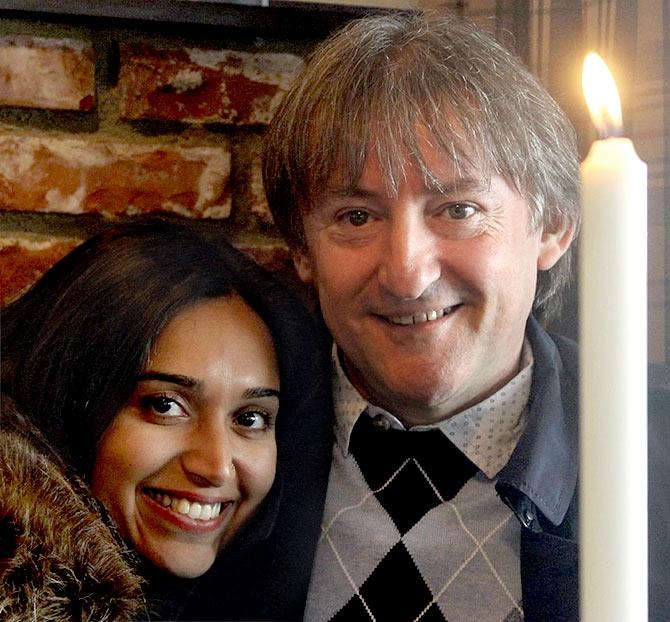 Pia and Michael live in the scenic far-flung Mumbai suburb of Madh Island. Their eighth floor twin apartment opens out to picture postcard windows overseeing lush greenery, outlined by the sea, and bathed by the sun's golden rays.
"The trade-off for how hard it is to live here every day (because of the long commute to the city) is how nice it is to live here every day," Pia says, as the wind chimes on her balcony add the background music.
Pia has had a multicultural upbringing.
"By the age of 10, I had three accents!" she exclaims.
Pia was born in Cambridge, England, where her parents were pursuing their PhDs.
Two-and-a-half years later, they shifted to New Delhi, where Pia went to a Hindi medium school.
When she turned eight, they shifted to Manhattan as her parents were working for the United Nations.
"I got really attracted to theatre, so I started acting at the age of 14," she says.
She seems to have done it all, from living in beautiful 'arty' Florence for two years, studying at the University of Cambridge to being the lead singer of a rock band in Delhi!
But the highlight would probably be when she played the lead in The West Side Story musical at Cambridge, opposite Eddie Redmayne. Yes, the lovable Newt Scamander of the Fantastic Beasts series (and a Best Actor Oscar winner for playing Stephen Hawking in The Theory Of Everything).
"It was four months of gruelling rehearsals and it was like being a professional actor," Pia recalls.
In her last year of Cambridge, Pia chanced upon auditions at London's prestigious West End theatre for a play called The Far Pavilions.
They hoped to cast an Indian actor for the lead character of Princess Anjali in M M Kaye's classic.
Pia mailed in her audition video, as was told that the producer -- a Michael Ward -- would get in touch with her.
"I was shopping at Sainsburys, buying my milk and cereal and loading them in my cycle basket on a cold winter's day when my little flip phone rings," Pia remembers. I realise who it is, and my bike falls, my milk falls... it's one of those scenes! And this man is like, I'm Michael Ward, I'd like to see you."
So they met, and she auditioned for the part.
She didn't get it.
What she got, instead, was a lovely conversation with Michael.
She learnt that Michael was born in Assam where his English father owned a tea plantation. He spent 16 years in Assam before he moved to London.
"Instantly, there was a beautiful meeting of minds," Pia says with a smile.
Six months later, the person cast as Princess Anjali could not continue as her visa was running out and the producers were looking for a replacement.
They approached Pia, and it was time for her big break with a lead role in a West End show.
Pia was ready to take the plunge, but the London bombs of 2005 changed her fate.
"London theatre, unlike Broadway, is sustained by tourism. So it just dried up; it could not sustain. Nobody wanted to be in a public space, indoors. There was too much fear," Pia says.
The Far Pavilions had to close down, and Pia's life, just like Michael's, was at a loose end.
They decided to go to India.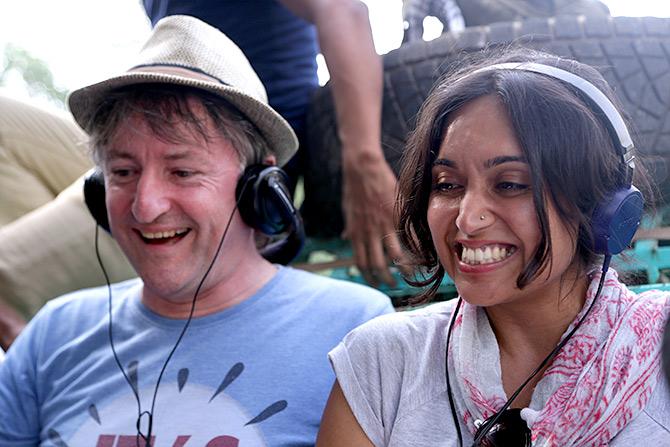 Michael hoped to make The Far Pavilions in India, and since Pia was going to be cast in it, she accompanied him to some of his meetings.
One of those meetings led them to Amol Palekar's home in Pune.
"We talked *a lot* on that trip. I remember we were at Amol Palekar's home, and his wife (Sandhya Gokhale) and he would go away for a few minutes to make some tea, and I would turn to Michael and say, 'Okay, so tell me the rest of the story'," Pia smiles.
When they returned to Mumbai, Dolly Thakore, a friend of theirs, took them along to "someone's fancy 50th birthday party".
"Someone, who knew me, asked me to sing, and I sang Starry Starry Night. And that was the moment when Michael (fell in love with me)..." Pia sighs, her face shining with happiness.
"But love that you don't plan on comes with a lot of complications, and that's one of the stories I'm toying with next. My parents play a starring role!" she adds with a laugh.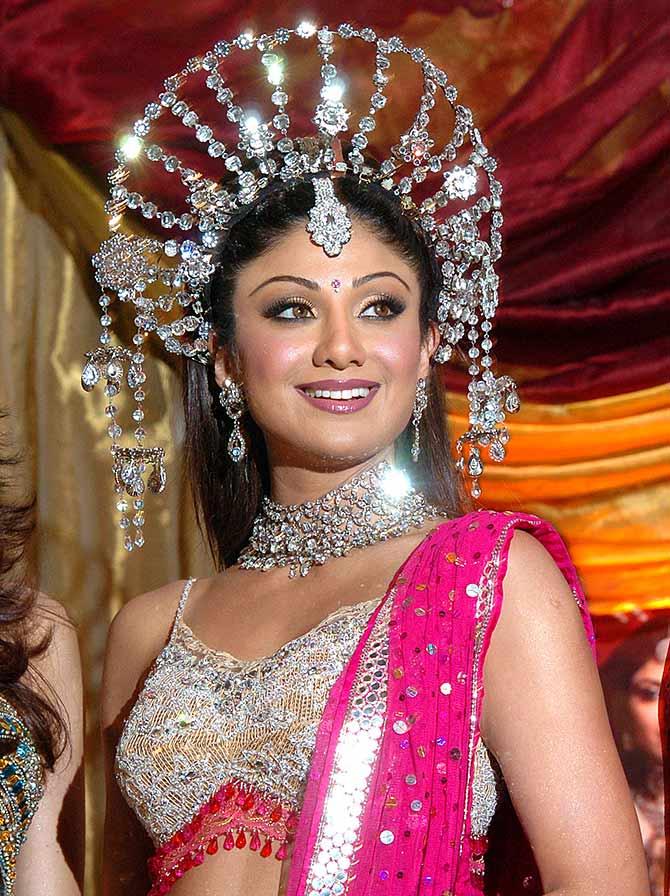 But their adventures were just beginning, and it started, ironically, with Shilpa Shetty!
After winning the reality show Big Brother in 2007, Shilpa performed in a show called Miss Bollywood, which was staged at the prestigious Royal Albert Hall in London.
"It was being built as a musical, but no one sang! Now, if you build something as a musical, and start selling tickets in the UK and no one is singing -- they are miming... -- that's not allowed! So we were brought in at the last minute to save the day," Pia explains.
They soon realised that there was no story in the 'musical'.
"It was just a dance show. So we got drawn into this insane world which was so not our world. It was epitome of mass Bollywood and Michael wrote a Mamma Mia out of it! We asked them to re-title it and call it a Dansical," Pia says.
"Miss Bollywood was put together in a matter of weeks. It's so funny we are considering making a movie on it," Michael adds.
"Later, it went to Cambridge and it was quite funny for me to be back in Cambridge with a Shilpa Shetty show! I was like, what am I doing, who am I right now?" Pia laughs. "This world didn't match our sensibilities."
But Pia did make it a point to invite Shilpa's mother Sunanda Shetty for the premiere of her film, Bombairiya.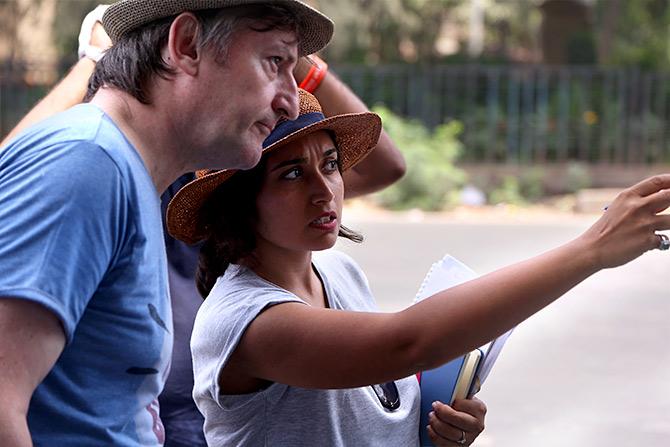 While Pia acted and sang in theatre, as well as sang ad jingles, Michael spent his time writing.
"We get drawn into these crazy worlds, which are so not ours!" Pia says.
Like the time Michael was asked to pen the lyrics for a Sooraj Barjatya film!
"What is Michael Ward in a Sooraj Barjatya film? And why is Sooraj Barjatya asking for songs in English?!" Pia still asks incredulously.
Sooraj Barjatya, who has made traditional movies like Maine Pyaar Kiya, Hum... Aapke Hai Koun!, Hum Saath Saath Hai and the latest Prem Ratan Dhan Paayo, was working on his next production.
Michael, of course, had never heard of him, but he decided to play along anyway.
"My first encounter with them was a three hour narration of the script!" Michael recounts. "I met people who were sincerely possessed with the work they were involved in. When I came up with the lyrics, they wanted to interrogate each line. I found that amusing -- the lyrics police had descended on me!"
"The older generation had some misgivings about the provocation in the lyrics, but they were satisfied with my answers. At the end of the day, there were no lyric changes, but it was a very lengthy process, like open heart surgery!" Michael says with a laugh.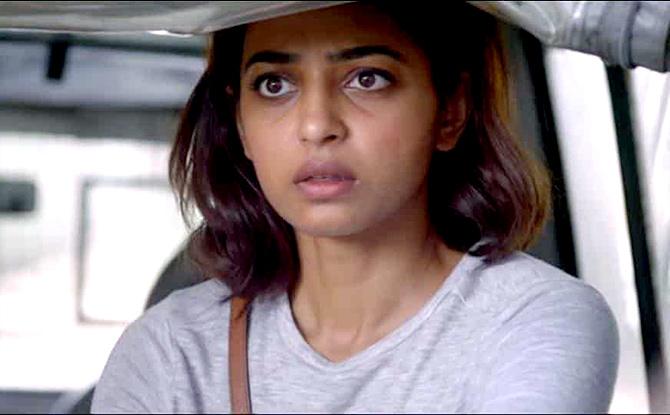 The film never happened, but the couple became friends with its director Arti Bagri.
"The first time she came home, she told me the story how her phone got stolen," Pia says. "It was a lovely incident that she narrated, and I turned to Michael and said I love it."
"It says so much about how hard the city is, how much we have to struggle on a day to day basis. What happens if we have a crisis? Who will be there? Especially if your phone gets stolen, then all those you know will be no longer within your reach. You will only have the strangers in your immediate surroundings. And that really appealed to me," she says.
That is how the story of Bombairiya took shape in 2010.
They wrote three drafts, but still did not have a director.
That is when Michael suggested that she direct it herself.
After a week of serious thought, Pia decided to take it up.
But before she did, she dashed to London to do a few courses on film-making.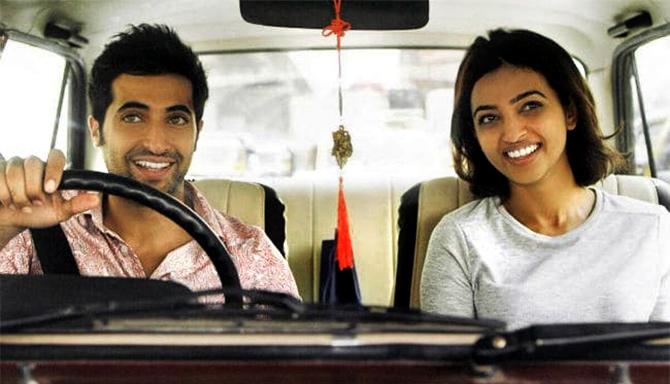 And then, it was time for the casting.
One of the characters is a fading superstar, and Pia felt Salman Khan would be perfect for the job.
"This was just before Dabangg, and he was going through his rocky period," Pia says, quite sheepishly.
Michael takes up the narrative: "The first time we actually got to meet a Bollywood star, it was Salman Khan. We met him at his farm house. For Pia, fortunately or unfortunately, an actor is just an actor. There is no such thing as a star in her world, and that may or may not go down well with some people."
"So Salman was being a wonderful host and asking us what we wanted to drink. I had a whisky and Pia said she would like a gin and tonic. He checked the bottles on the bar, but there was no gin. He said the only gin was in the house, and it was an Indian gin, not imported (like the bottles on the bar). Pia said she really like Indian gin, so Salman went inside for about 25 minutes to find it, and then finally came back with the bottle, looking triumphant."
"It was the last day of the Dabangg shoot and Pia didn't think he was a very big star and that he might be okay about playing a faded Bollywood film star. To this day, she will say 'Well, he wasn't a big star before Dabangg'," Michael says with a laugh.
Needless to say, Salman did not show any enthusiasm in the film.
Next, the couple approached Aamir Khan, but not for a full-fledged role.
They wanted to use only Aamir's voice, to call the fading superstar in the film, and give it a sense of reality.
Aamir said yes, and they booked the studio. But the actor cancelled on the day of the shoot.
"These were probably naive efforts in the early years of trying to make a film here, where you don't see why you can't ask someone to do something. So you just try," Michael says, learning his lesson.
Finally, Ravi Kishan stepped into the role of the fading superstar, with "absolutely no fuss".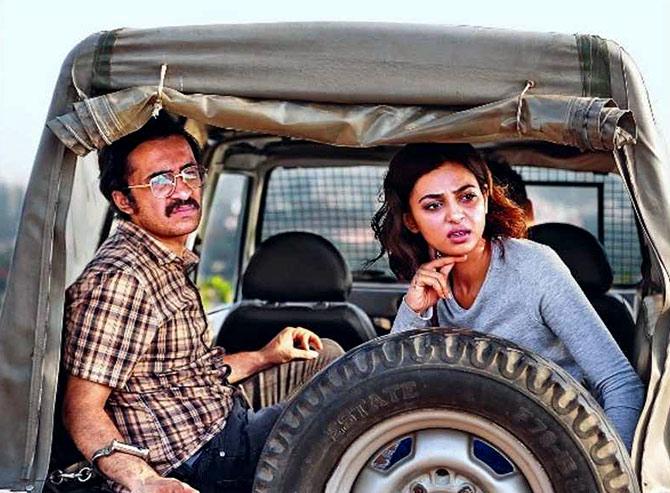 But it wasn't just naivette that made them reach out to Bollywood superstars.
"Michael thinks life mein kuch bhi ho sakta hai," Pia explains, giving us an insight into her husband.
"The West End is ruled by such conglomerates like Disney, Andrew Llyod Webber... and then this one single producer called Michael Ward came up and said, 'I have a dream'. And he fulfilled his dream too (with The Far Pavilions)! Such grit and perseverance!"
Michael wanted Prince Charles to watch The Far Pavilions, and six months later, he made sure that happened. It was a historical outing as well, as it was Charles and his new bride Camilla's first public appearance as a married couple.
That was, ironically, also the first time Michael had his first brush with Bollywood.
Michael was informed that Shah Rukh Khan, whom he assumed was a "big" star, wanted two tickets to the royal show.
"On a day's notice, I was supposed to magic up two tickets to a sold-out concert of The Far Pavilions! The tickets were worth hundreds of pounds. But when people realised that it was Shah Rukh Khan who wanted the tickets, they gave up their seats and stood at the back and watched the show," Michael says, adding that the second ticket was for Shah Rukh's eldr son Aryan.
Prince Charles and Camilia, Michael adds, were supposed to go backstage with Michael after the show.
The security was very tight, and everyone's background was vetted for three-four months before the show.
"Because it was on a day's notice, Shah Rukh's name was not on the list of those who were allowed backstage. So when I was escorting the royal couple backstage, I wasn't aware that Shah Rukh was following me. He was stopped by the security because his name was not on the list."
"I was horrified when I learnt of it later."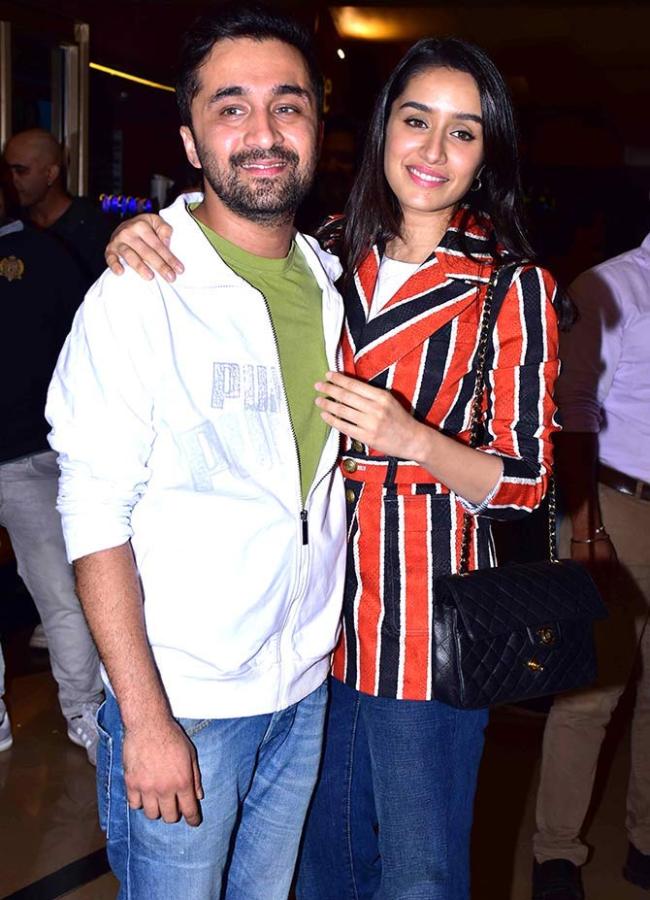 It was not easy making Bombairiya.
"We wrote ourselves a challenge," Pia laughs.
And that is no exaggeration.
40 outdoor locations. 54 actors. 49 days of shooting over eight months. Four schedules. A story set in a single day. Continuity.
"And a white sari!" Pia laughs, as she refers to Radhika Apte's attire in the film.
But they probably didn't see their biggest challenge until it hit them on the face.
"We took all the permissions (for the locations) but when we were going to shoot, the locations would suddenly go. The actors would be waiting and we were forced to write on set to save the day. And then, you realise what 'with permission' mean. There's the over-the-table fee, and then you have to pay off seven people for one location!" Pia says, shaking her head.
"Even if you are honest, you have to be tedha (crooked). We saw corruption day in and day out. People dissuaded us all the time to not shoot in Mumbai, and they were right. It's very difficult to shoot here."
"Those romantic ideas (of Bombay) really take a beating," she adds. "It doesn't matter how hard you try to be honest, the world won't let you. If you cannot feed so many people significant amounts to get your location, you will never make your movie."
Yet, the experience ended well.
At the special screening for film folk, Pia says the response was very positive.
"Shraddha (Kapoor) was holding (her brother) Siddhant and saying, 'Bhaiya, you were so good (in the film)'. She was crying. And then she came up to me and said she loved it, and that she wanted to work with me," Pia says with a smile.
So are you a part of Bollywood now?
"Am I?" Pia asks, and pauses to think.
Then she says with a shrug, "I am just trying to make films."