1995 was a year of big films and bad, resurgence of stardom as well as decline, winds of change amidst intense adherence to dreadful formula.
Bollywood discovered the magic of A R Rahman and the quirk of Devang Patel.
Kajol fell in love in ways that would change her life on and off screen.
Govinda called dibs on No 1 while Akshay Kumar upped his Khiladi game.
Raakhee uttered the most lampooned lines of her career.
Urmila Matondkar and Mamta Kulkarni tussled for top sex symbol slot as did a certain Mr Perfectionist.
Two of the industry's biggest stars -- Amitabh Bachchan and Sridevi -- remained conspicuous in their absence without a single release.
Sukanya Verma celebrates 25 years of these imageries.
Urmila Matondkar's sexy transformation in Rangeela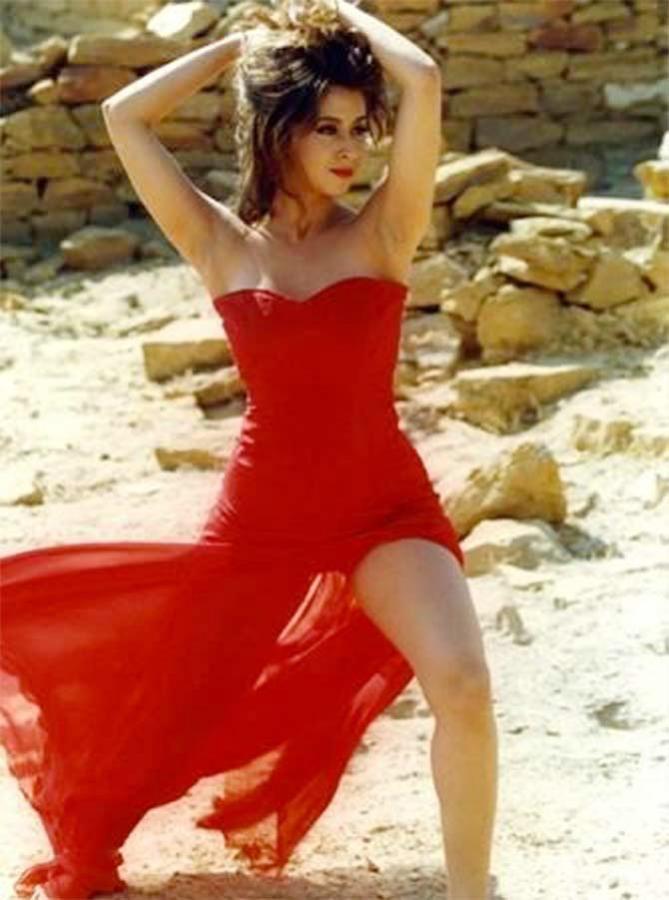 Rangeela's success not only highlighted Director Ram Gopal Varma and Aamir Khan's versatility but also showcased its previously ignored leading lady in a new light.
So overwhelming is Urmila's sultry makeover that nearly all her contemporaries scurried in fashion designer Manish Malhotra's direction to do his styling magic on them.
The gift of A R Rahman comes to Bollywood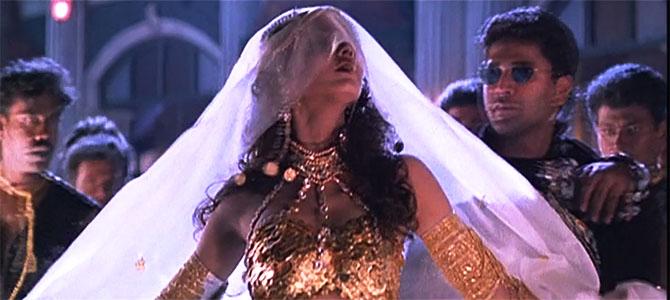 The composer's sensational debut in RGV's Rangeela took the nation by storm in tandem with his soundtrack for Mani Ratnam's dubbed-in-Hindi Bombay.
From Tanha Tanha to Humma Humma, music lovers lapped up his unique sounds and unprecedented creativity.
The more you heard them, the more they grew on you.
Raj and Simran's running train reunion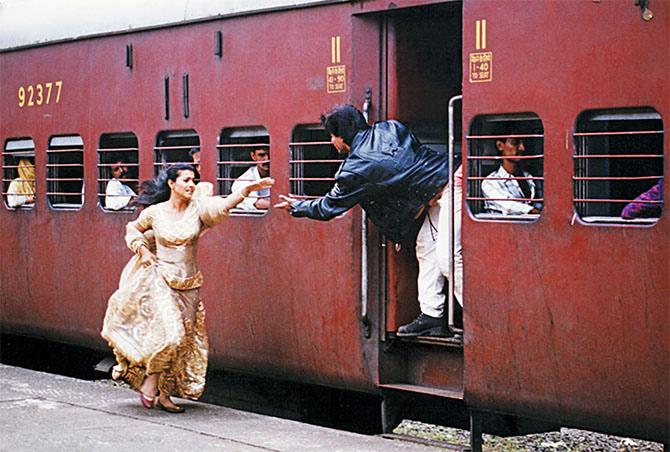 Aditya Chopra's directorial debut Dilwale Dulhania Le Jayenge, starring Shah Rukh Khan and Kajol, drops in the theatres and changes e-v-e-r-y-t-h-i-n-g.
As the longest running film in theatres, DDLJ's influence is wide and undeniable, from tapping the NRI market, shifting the mood from action to romance and turning every tiny detail of Raj and Simran's love story into tokens of pop culture -- Switzerland, senorita, pops, pigeons, palat and, above all, Simran grabbing Raj's hand to board a moving train.
A scene so iconic, it continues to resonate meaningfully as seen in the latest trailer of Ayushmann Khurrana's gay romance, Shubh Mangal Zyada Saavdhan.
Devgn Dulhania Le Jayenge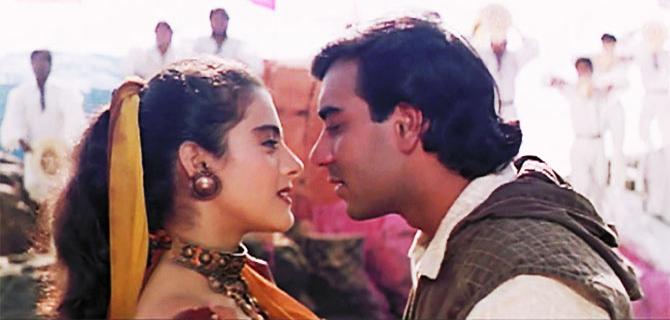 Quite a banner year for Kajol, professionally and personally.
She met Ajay Devgn on the sets of Hulchul and sparks flew.
Although they were both dating somebody else at that point, as a title of their future film goes, Pyar Toh Hona Hi Tha.
25 years later, the couple are still making movies, playing co-stars while raising their kids, Nysa and Yug.
Govinda's No 1 mania!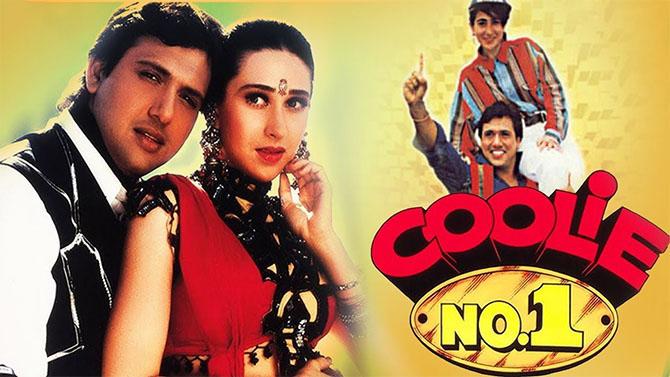 David Dhawan's Coolie No 1 hits the screens marking the beginning of Govinda's popular No 1 series that would go on to include Hero No 1, Jodi No 1, Aunty No 1 and Anari No 1 as well one reserved for its leading lady Karisma Kapoor: Biwi No 1.
Come May and its brand new remake helmed by Dhawan, starring son Varun in the titular avatar alongside Sara Ali Khan, will hit the screens.
It's a bird, it's a plane, it's Super Akshay on top of a plane!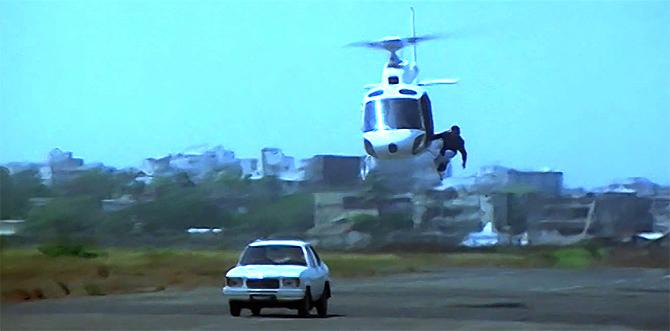 India's Tom Cruise had it all along.
Akshay Kumar's daredevil airplane stunt in Sabse Bada Khiladiis the first of many, many that would follow.
The year of Mamta Kulkarni!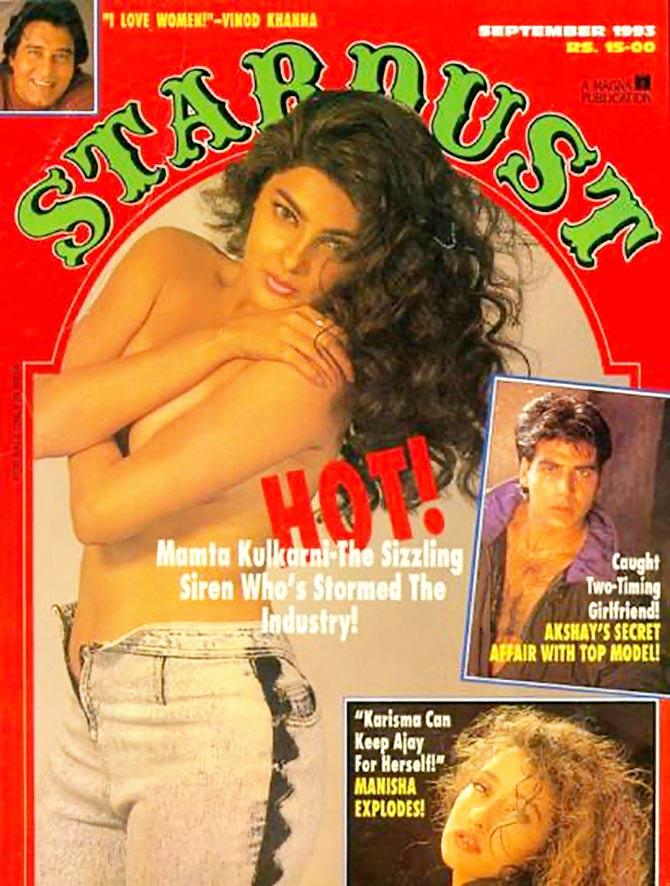 Though she has faded into oblivion, 1995 saw a great deal of Mamta Kulkarni.
The actress attracted all kinds of attention for her brazen quotes, topless Stardust cover, tomboy to temptress act in Karan Arjun and no-holds barred seduction in Sabse Bada Khiladi's Maang meri bharo.
Twinkle star and blue-tinted Bobby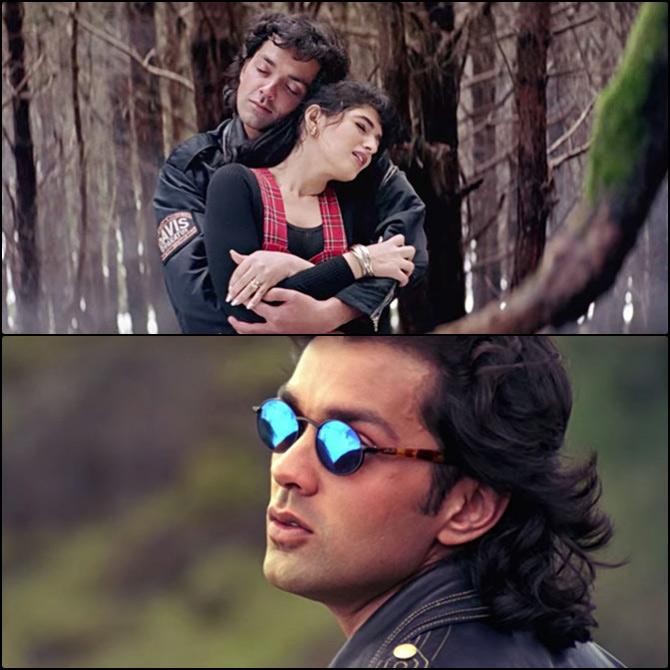 Back when nepotism was met with open arms, star kids Bobby Deol and Twinkle Khanna made their much-hyped debut under Dharmendra's banner and Director Rajkumar Santoshi's keen eye.
It is standard poor boy-meets-rich girl drivel but Bobby's blue-tinted sunglasses and a pre-MrsFunnyBones Twinkle were quite a hit.
If you don't believe us, check out Yami Gautam's droll TikTok videos in Bala.
Raakhee's prophecy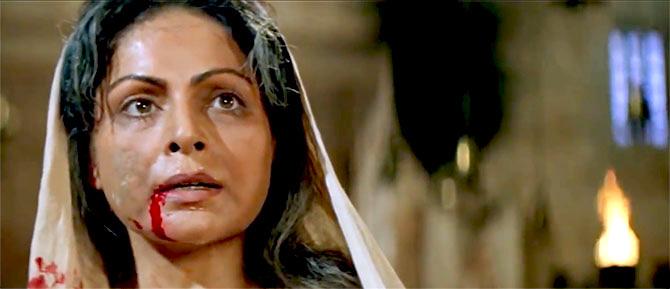 Taking her mommy duties from Ram Lakhan a notch higher, Raakhee slips into the character of the wronged, hysterical Bollywood Ma yet again to prophesize the return of her murdered sons by hook or rebirth: 'Mere bete aayenge, mere Karan Arjun aayenge'.
'Zameen ki chaati phaad ke aayenge, aasman ka seena cheer ke aayenge.'
25 years later, it's still meme gold.
The debacle of Trimurti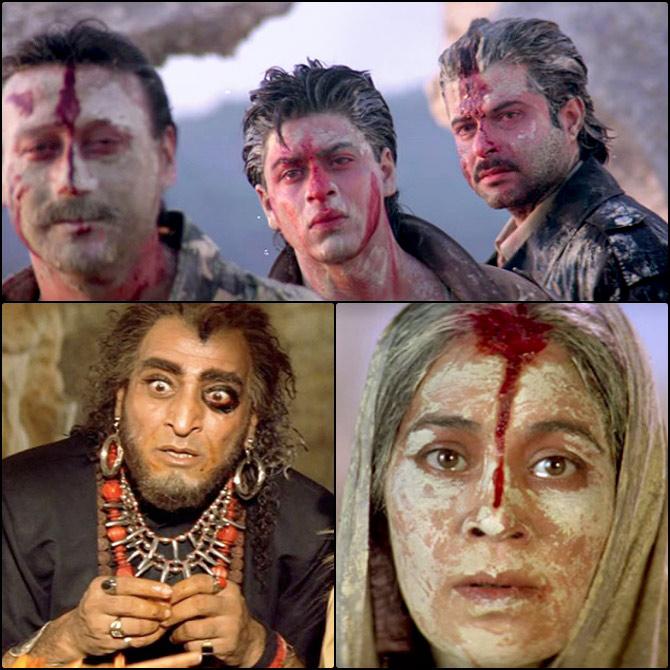 Too many showmen spoil the broth.
Mukul Anand and Subhash Ghai's ambitious (read atrociously over the top) multistarrer Trimurti is stuff of so bad it's good today.
Audiences didn't feel so generous at the time of its release.
One glimpse of the monstrosity and you won't ask why.
Aamir Khan's method actor ways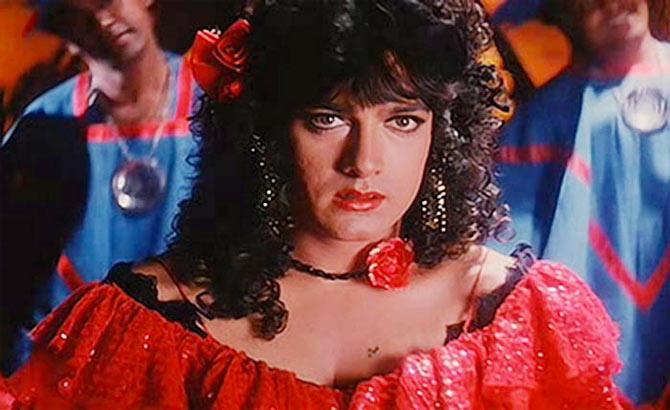 If memory serves right, Baazi is the first instance of Aamir Khan's much talked-about perfectionism becoming public knowledge.
The actor waxed all his body hair to appear authentic as a woman for his cabaret dance Dole dole in Ashutosh Gowariker's poorly received masala.
Bollywood's 'oldest newcomer' makes his debut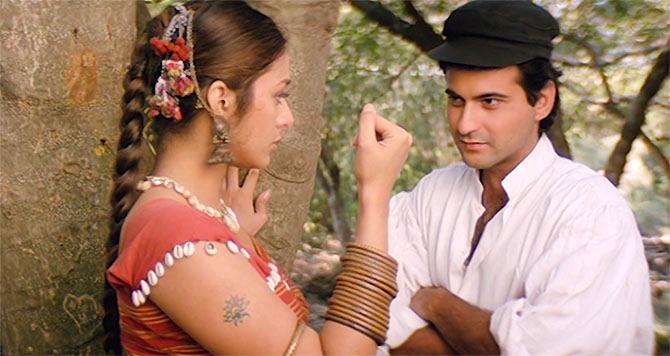 A 31-year-old Sanjay Kapoor became the butt of numerous constipation jokes, no thanks to the 'Aati nahi' song after his long delayed launchpad Prem, plagued by production issues, finally hit the screens and bombed badly at the box office.
Cringey Khan fashion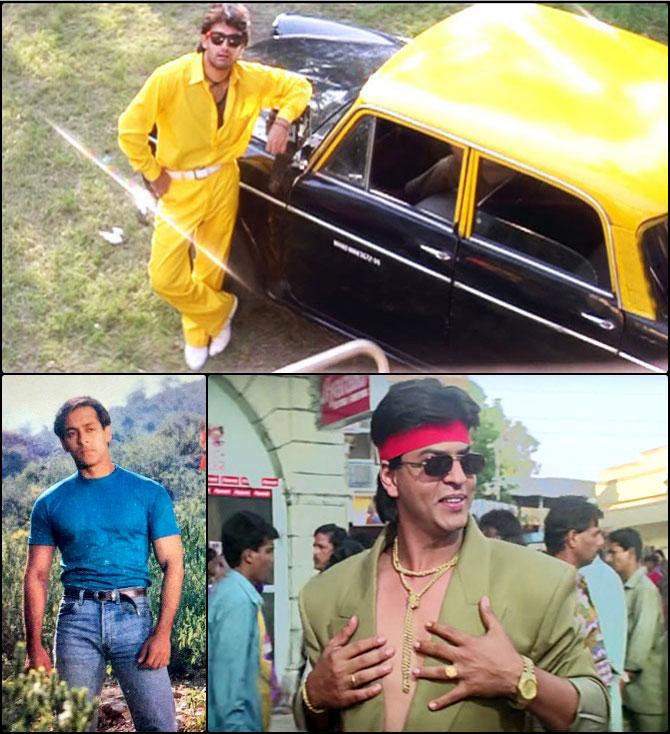 Yes, Aamir Khan's canary yellow head-to-toe look in Rangeela Salman Khan's ultra-tight jeans in Karan Arjun and SRK's shirtless suits avatar in Ram Jaane, we are looking at you.
The rise and rise of Manisha Koirala
Following her doe-eyed turn in 1942: A Love Story in 1994, Manisha Koirala continued to sparkle as an actress of exquisite of soul, substance and sensitivity through her memorable work in Bombay and Akele Hum Akele Tum.
Most marvelous medical breakthrough ever!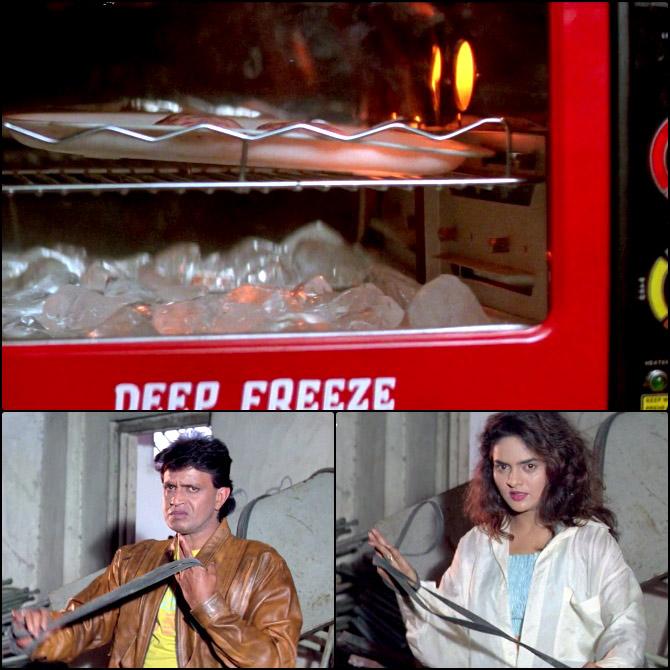 Cult B-fare or a story of organ donation nobody understood, take your pick.
But Diya Aur Toofan features the most mind-boggling brain transplant ever where a -- SPOILER ALERT -- a dead Mithun Chakraborty's uniquely preserved brain is taken out of deep freeze, grafted inside Madhoo's head and, voila, Mithun becomes Mithun in Madhoo's body.
Bheja Fry would be a better title.
Creepy imagery, trashy creativity
The ghastly lip locks in Sabse Bada Khiladi, shoddy dance moves of Jaati Hoon Main, innuendo hangover of Khalnayak's Choli Ke Peeche camouflaged in folksy beats of Darwaza Khula Chhod Aayi (Naajayaz) and Mujhko Ranaji Maaf Karna (Karan Arjun) and loony lyrics like You Are My Chicken Fry... you get the drift.
Saste channe with Madhuri, Everest pe football, meri marzi!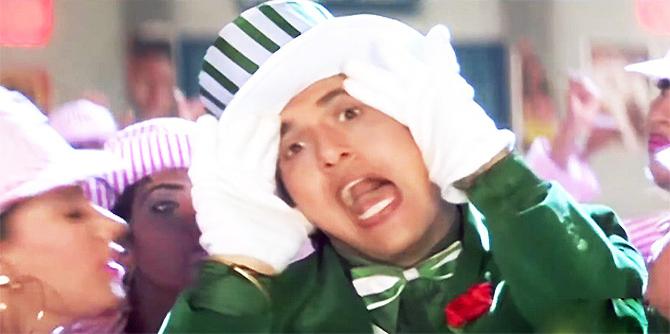 Long before Hindustan rocked to the beats of asli hip hop, it revelled in memorising absurdist rap ditties like Stop That and Meri Marzi by Devang Patel perfectly captured in Govinda's goofy take in Gambler. Timeless babble, this.
Getting wiggy with it!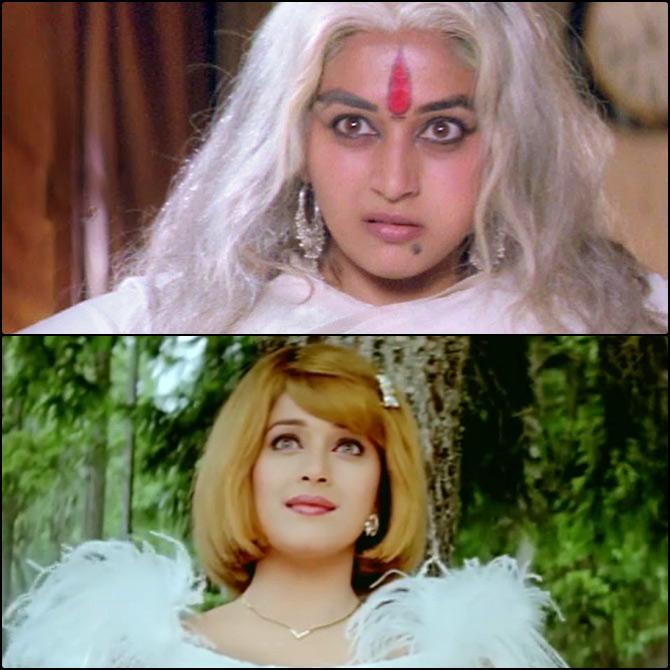 Though she's stayed averse to wearing wigs throughout her career, Madhuri Dixit agrees to don the most outlandish ones -- and in the same year too! -- as part of her comic gigs in Raja and Yaarana.
Heem Cream fever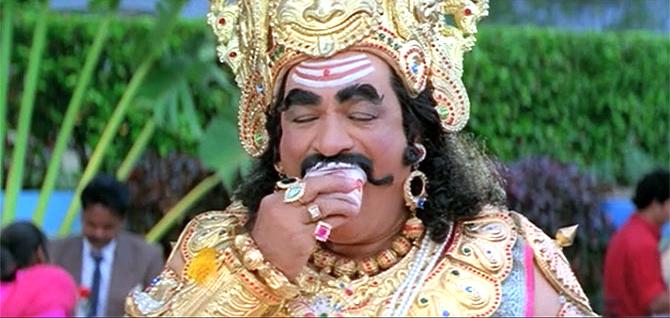 The sight of Kader Khan relishing ice cream or heem cream as he calls it, while dressed up as God of Death, Yama in Taqdeerwala as well as his slugfest with Shakti Kapoor in the goofy climax fight are the real reasons why this Venkatesh-Raveena Tandon-starrer gained any importance whatsoever.
A Sara is born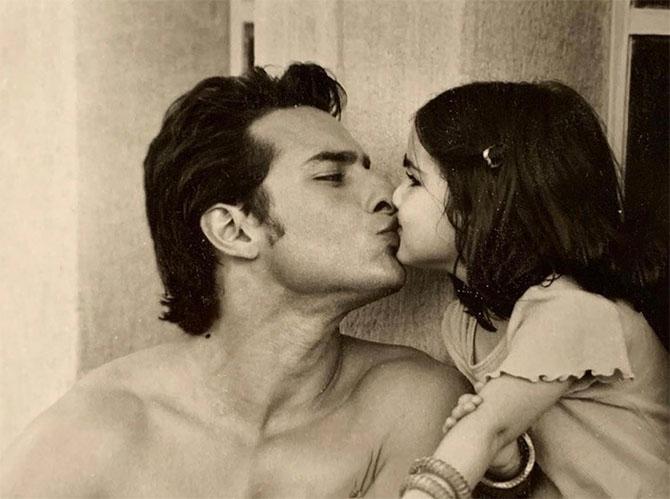 A below average year for Saif Ali Khan at the movies, but four days before he turns 25, daughter Sara Ali Khan is born.
How's that for Love Aaj Kal?
Haila Mrs Juhi Chawla!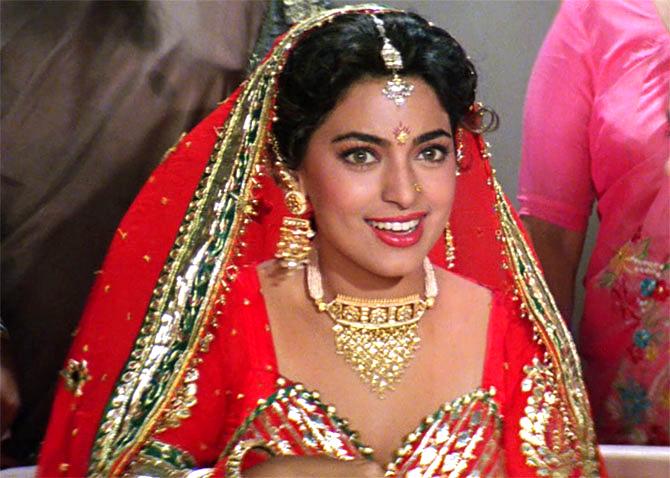 Juhi Chawla ties the knot with Jay Mehta in a hush-hush ceremony.
She doesn't accept or deny the change in status quo for a long, long time.
Vidyarthi of the Year
While offspring of famous surnames -- Kapoor, Khanna and Deol -- are launched in lavish vehicles, it's the intense talent of a lesser known National School of Drama alumnus, Ashish Vidyarthi and his breakthrough performance in Govind Nihalani's Drohkaal that catches everyone's eye, including the National Awards jury.
Starring Kaifi Azmi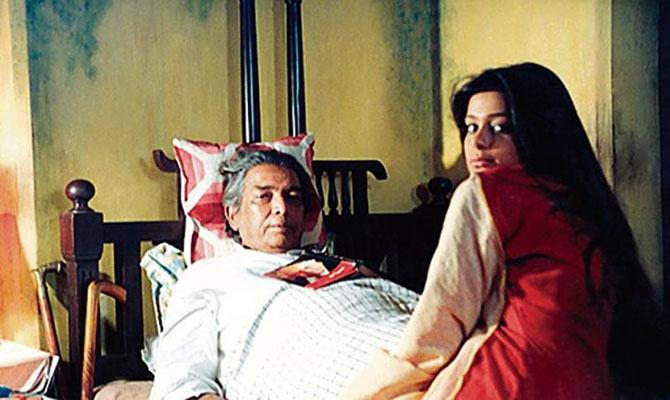 The legendary Urdu poet Kaifi Azmi makes an exception for Saaed Mirza's Naseem to play the titular character's bed-ridden grandfather against the backdrop of the Babri Masjid demolition.
Though it was one time only, Kaifisaab leaves a profound impact.
The original size zero
Sonali Bendre in Takkar and Bombay's item song made tall and thin fashionable long before it was acknowledged as a real trend in Bollywood.
Jaani's swan song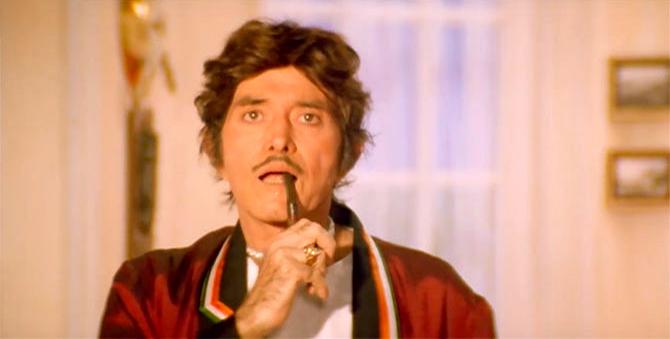 Raaj Kumar shows off his trademark swagger and gravelly eloquence for the final time in the obscure action drama, God and Gun.
He would die a year later after a long battle with throat cancer.