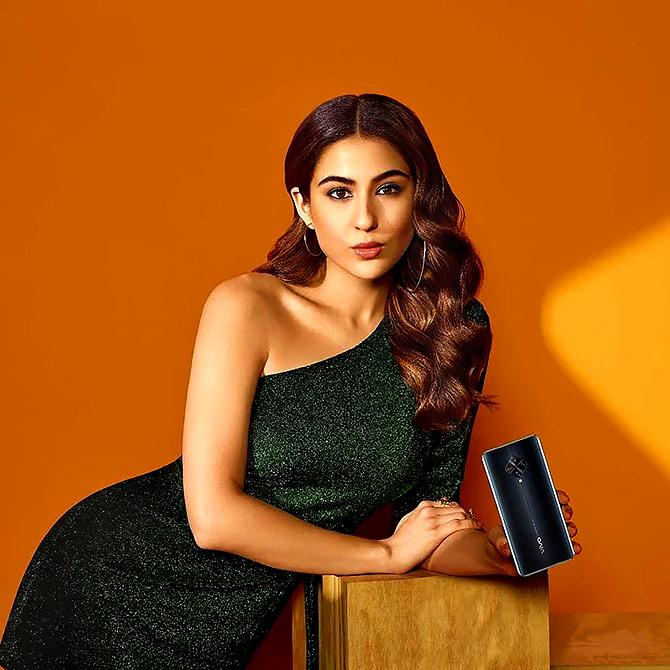 Movie stars are in perpetual 'action' mode.
What makes their Instagram videos so refreshing is there's no script to follow or director calling cut.
Sukanya Verma caught a glimpse of their various facets -- prepping for work, enjoying their downtime or simply cut loose in these clips.
Sara Ali Khan
If 'Watch with Sara' is any indication, the Kedarnath star must play a tourist guide in her next.
Sara is super entertaining while out and about in New York City.
Ranveer Singh
From Govinda to Hrithik Roshan, Ranveer's fanboyism knows no bounds.
Equally hilarious is his ode to a certain 'Angrezon ke zamana ka jailor'.
Tiger Shroff
We've got proof of Tiger's unreal agility and unexpected wit.
Kajol
The actress is adorable in her recreation of a classic Simran moment -- glasses, book, pose, et al -- to celebrate 24 years of Dilwale Dulhania Le Jayenge.
Riteish Deshmukh
Couple goals look something like this.
Ananya Pandey
Don't be fooled by that reed thin figure.
The girl does eat and has her entire entourage as witness.
Sonakshi Sinha
Ever the sport, Sonakshi takes the Munna badnam challenge and doesn't disappoint one bit.
What did you think of her sassy Chulbul Pandey moves?
Akshay Kumar
It's all about loving your mommy for the Bollywood Khiladi.
Varun Dhawan
Varun Dhawan is quite a hit with children.
Now, you know why.
Shahid Kapoor
Getting into character looks something like this.
The actor plays a cricketer in his upcoming project, Jersey, a remake of a Telugu film of the same name co-starring daddy Pankaj Kapur and Mrunal Thakur.
Dharmendra
Dharam Paaji's Instagram feed is full of endearing videos of the legend sharing his love for nature and poetry.
Here's one of him far away from the city hustle bustle, chilling out in a cosy, countryside home.
---