Twenty years ago, Aziz Mirza had the foresight to predict the great discord India would witness and revolt against, notes Sukanya Verma.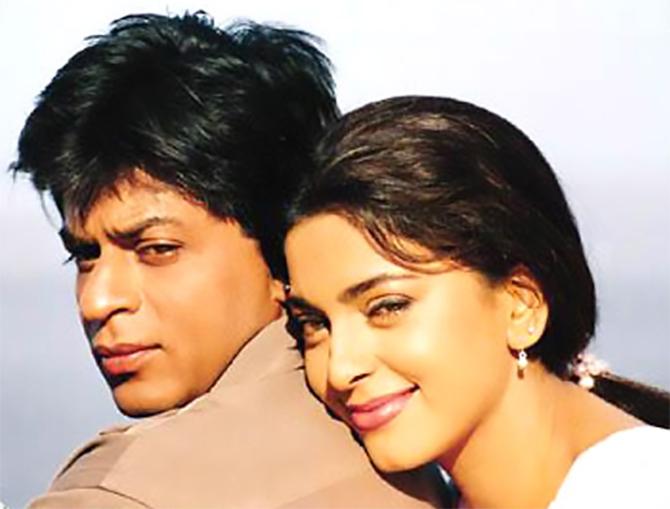 It's strange to revisit a film on its 20th anniversary when it's neither a success nor a cult classic.
So when I was asked to write about Phir Bhi Dil Hai Hindustani, I'll admit I wasn't exactly jumping with joy.
I did not enjoy the movie the first time, I wasn't sure I'd feel differently 20 years later.
Truth be told, Phir Bhi Dil Hai Hindustani did not get much love from the critics or audiences when it hit the screens on January 21, 2000.
There were a couple of defensive pieces, but mostly everybody was going gaga over the new flavour in town -- Hrithik Roshan's launchpad Kaho Naa... Pyaar Hai had dropped into theatres a week before.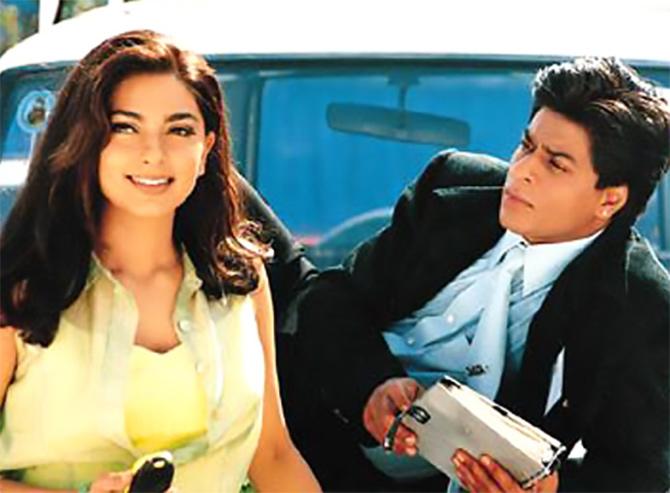 Phir Bhi Dil Hai Hindustani, which marked film-maker Aziz Mirza partnering up with Shah Rukh Khan and Juhi Chawla, his leading pair of Raju Ban Gaya Gentleman and Yes Boss, to form their own production company, Dreamz Unlimited was the first in the line of their vision as Juhi Chawla puts it to 'make nice films.'
And Aziz Mirza's lightweight entertainers imprinted in Socialism fit the bill.
The idea behind Phir Bhi Dil Hai Hindustani (taking obvious inspiration from the Broadway play The Front Page adapted by Hollywood for many, many movies) is not without its strengths.
What makes it noteworthy now is it's more relevant than ever.
Post the CAA/NRC/NPR storm, the nation has turned into a picture of chaos sparking off unprecedented resistance by defenders of democracy against dictatorial disruptors in power.
It's like Phir Bhi Dil Hai Hindustani knew what lay in store all along.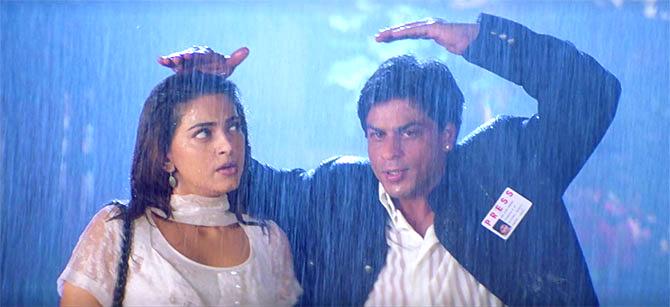 A strong sense of deja vu hits you when a character observes, 'Aaj yeh na Hindu hain, na Muslim hain. Aaj yeh Hindustani hai' or an imperious minister exclaims, 'Itihaas bhi yaad rakhega kabhi thi aisi sakht sarkar jisne mardangi se sambhala tha is desh ko.'
Burning buses, lathi-charging cops, journalists regaining conscience -- the sentiments and suppression hit home and hard.
While corrupt politicians-police-criminal machinations have formed the premise of numerous Bollywood scripts, it's the role of the media in facilitating all that by doing all their dirty work and pulling wool before the gullible public's eyes for personal gains that PBDHH depicts most enthusiastically.
If Tinnu Anand's Main Azaad Hoon was a sombre commentary on the same, PBDHH is a boisterous forewarning of the terrible times ahead.
In trying to make his satire more accessible, Mirza struggles to find a tone that would do justice to his ideals and the mockery it gets reduced to by people in power.
Though it has all his staples -- middle-class morality, many members from the Nukkad cast in bit roles, characters losing and regaining their conscience just in time and SRK-Juhi's playful chemistry -- it resembles a screwball comedy dressed up in more candy colours than even Rohit Shetty can imagine.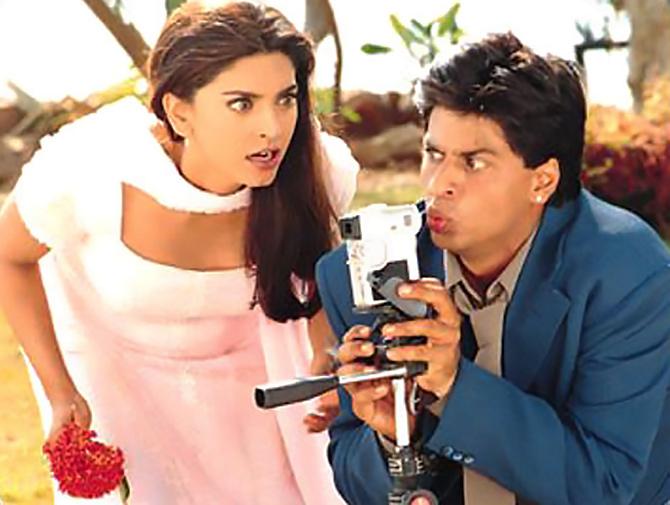 SRK and Juhi play rival news reporters and forerunners of extremely loud and incredibly fake news for TV channels run by Satish Shah and Dalip Tahil respectively. Their willingness to stoop to any level and exaggerate matters for the sake of TRPs makes them the apple of their employer's eyes.
When we first meet SRK's wacky reporter, he's climbed atop a multi-storey to film a bomb specialist (Sanjay Mishra) defusing an explosive.
The latter is astonished by his garrulous speech.
'Main sochta nahi,' he explains and unwittingly letting us into the head just the sort of reporters who would run the show in the decades to follow.
Meanwhile, Juhi's introduction documents her earnest coverage of a rainstorm manufactured inside a news room studio.
As delectably insincere the two are, the humour is too on the nose for a parody.
Juhi's honed comic skills have a ball around it, but SRK, still in Rahul of Kuch Kuch Hota Hai mode what with all the excessive energy and nervous charm, doesn't lend any freshness to his portrayal.
Add to that PBDHH's mainstream obligations resulting in a stereotypical romance and splashy comedy.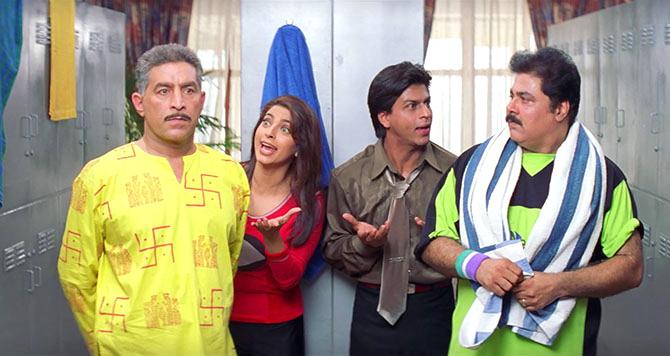 Between blowing the whistle on rabble-rouser politicians and compliant police forces, SRK's flirt and Juhi's hoodwinker grab time to play Tom and Jerry over girlfriends in pink, half-eaten bananas and paid interviews-turned-sting operations.
But when a politician's relative is shot down in broad day light, triggering riots in the city and the man (Paresh Rawal named Mohan Joshi in a hat tip to Saeed Mirza's Mohan Joshi Haazir Ho) blamed for it is revealed to be more victim than culprit, consciences are awakened and rivalry turns into romance.
Interestingly, Juhi's character wears only dainty churidars from this point. Because shuddh desi Hindustani dil is not enough, attire ought to show it too?
Previously warring channel heads as well as netas (Govind Namdeo, Shakti Kapoor) realise it's better to shake hands and collectively engage in the politics of hate and lies.
It's all terribly haphazard and one wishes there were more scenes like a classic Aziz Mirza gem preceding the afore-mentioned dark reunion, wherein a frustrated police chief caught in their blame game cries, 'Yeh kehta hai woh uska aadmi hai. Woh kehta hai yeh uska aadmi hai. Arre main kiska aadmi hoon? Main aadmi hoon ya nahi?'
What ensues instead is SRK and Juhi slipping into silly Chinese costumes and accent to rescue Rawal from Johnny Lever's fumbling gangster or scamming their bosses by sneaking out an all-important interview tape amidst orchestrated revelry.
On one hand, it is mocking the media's propensity for hyper advertising where even a convict's hanging inspires slogans like Eat Phansi, See Phansi, Drink Phansi.
Yet, on the other, embarrassing degree of ad placement featuring brands like Swatch and Hyundai dominate PBDHH's frames, the irony is unbearable.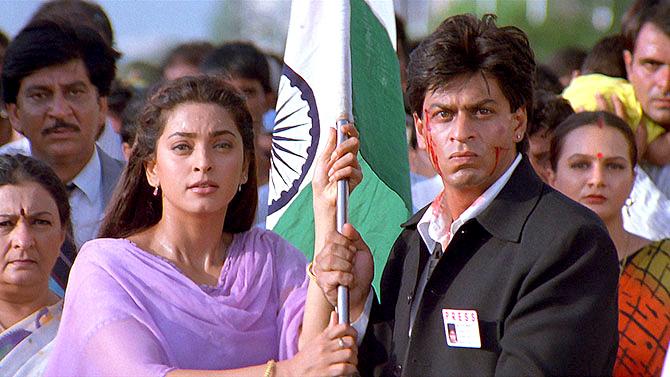 It's only the last 20 minutes following SRK's tearful, heartfelt speech inspiring the aam aadmi to hit the streets and express its dissent over the ethics of capital punishment and against a tyrannical authority that bears uncanny resemblance to the protests and present mood of the nation.
Tiranga power hits its peak as SRK uses its might to shove aside cops obstructing them from advancing.
There's an element of fantasy in how tidily the conflicts wrap up and the evil is duly punished.
The reality of such movements is a lot starker and uglier where instances of police brutality and premeditated violence against the common man are rife and relentless.
Phir Bhi Dil Hai Hindustani's intense momentum ends with SRK proposing to Juhi on the spot of execution, it's no wonder people didn't take any of it seriously.
But the answer lies in Javed Akhtar's sarcasm laden title song Humme Kaafi Baatein Hai Jo Lagti Hai Deewani...Phir Bhi Dil Hai Hindustani.
Twenty years later, the film-making is as flimsy as it was then, the acting feels hammy and the production values are tacky as hell.
Twenty years ago, though, Aziz Mirza had the foresight to predict the great discord India would witness and revolt against.
Within its sloppy creativity lies buried a cautionary tale that may not be great cinema but efficiently hints at a dystopia we did not anticipate.
In retrospect, what's commendable is the journey of a film and how meaningful it turned out, not whether it made it to the Rs 100 crore club or not.
---
Sukanya Verma is the Principal Movie Reviewer for Rediff.com. She can be contacted at mailto_sukanyaverma@rediffmail.com
---