Happy birthday, Shah Rukh!
There's just one Shah Rukh Khan. And still so many.
Between the playing to the gallery entertainer, the hug and heart offering romantic, the smug can-do-it-all superhero, the stuttering stalker, the eager-to-please loon, the list is exhaustive and endless.
But the one that makes me cry out, 'Mera Wala Shah Rukh' is most special of them all.
He is full of charm and wit. (And flaws.)
He can lead an entire women's hockey team to victory but also help just one lost girl find her way.
He believes in shooting stars, lighting bulbs and good things happening to good people.
He is Mera Wala Shah Rukh.
On his 55th birthday, Sukanya Verma celebrates his inimitable ways in 10 scenes that she keeps returning to time and again.
Kabhi Haan Kabhi Naa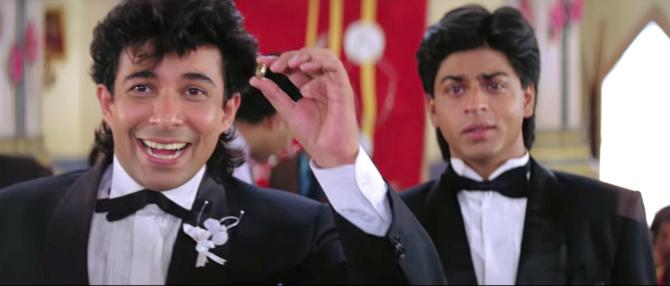 It's been years and years, but SRK's Sunil continues to be my all-time favourite from the actor's oeuvre.
The man is a delightful mix of mischief, simplicity and bubbling energy in how he responds to unrequited love wherein the girl he loves cares for his pal.
Throughout Kundan Shah's breezy coming-of-age, Sunil plots several schemes to keep the two apart and when he finally has his chance, he decides to do the right thing and reunite the estranged couple. And yet, deep down in his heart Sunil hasn't lost hope.
In the climax church wedding scene, when Chris (Deepak Tijori) drops the ring he is about to slip in Anna's (Suchitra Krishnamoorthy) finger, Sunil denies spotting it even though he can see it as clear as day.
Hope against hope was never more relatable.
Raju Ban Gaya Gentleman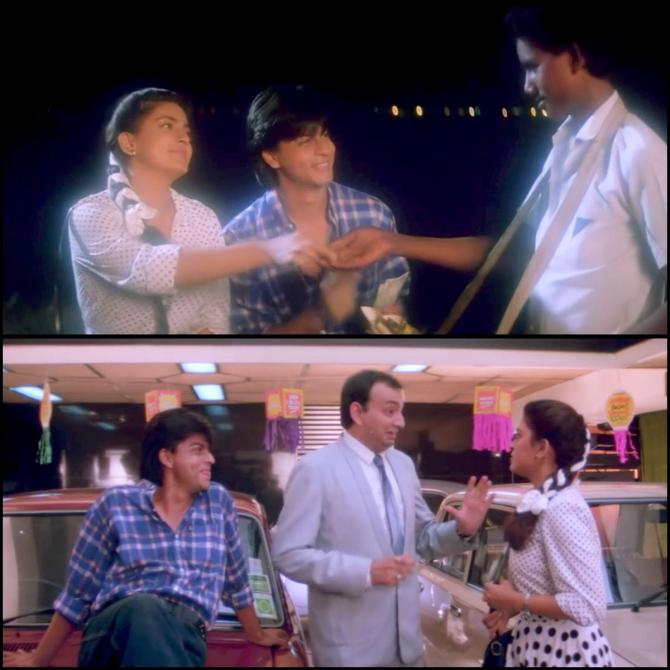 The thrill of spending one's first ever salary over that special someone even if it is a mere 600 bucks is sweetly conveyed in SRK's starry-eyed enthusiasm and Juhi Chawla's endearing urge to rein him in.
Trust Director Aziz Mirza to mirror the dreams and joys of Mumbai's middle class in this lovely sequence where the duo imagines what the good life is all about while window shopping across fancy boutique until SRK pretends to buy a car and test out its interiors and A/C.
Someday I'll buy it for real, he promises. And dead sure he will.
Everyman aspirations are built on faith and SRK exudes it by the heaps as Raju.
Yes Boss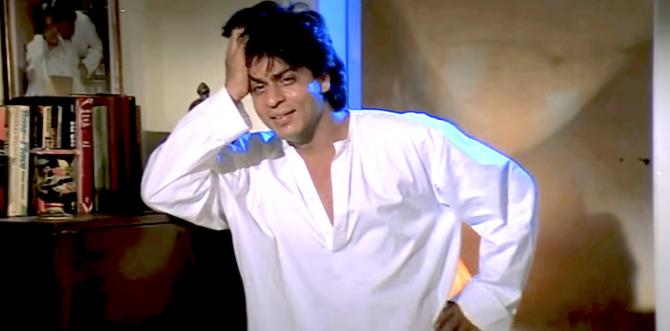 In Aziz Mirza's perky rom-com, a shady employer's lackey (Shah Rukh Khan) covers up his boss's (Aditya Pancholi) tracks by posing as the husband of the woman he has the hots for (Juhi Chawla) so that his wife (Kashmira Shah) doesn't find out.
What worries SRK most is someday his heart patient mum (Reema Lagoo) will discover his lie and react badly.
This niggling fear escalates into a terrifyingly tragic dream.
Understandably, SRK wakes up all traumatised only to find his two favourite girls bonding over a midnight chitchat session in the living room.
Free of dialogues or eye contact, I love the tenderness of this moment and the actor's 'it's all good' expression as he finds solace in the imagery playing out in front of him.
The dream he saw with his eyes shut may not be real, but the one he's looking at with his eyes wide open could be.
Few can bring such energy or aspiration on screen as 'Mera Wala Shah Rukh' in roles that make his nightmares as identifiable as his dreams.
Dilwale Dulhania Le Jayenge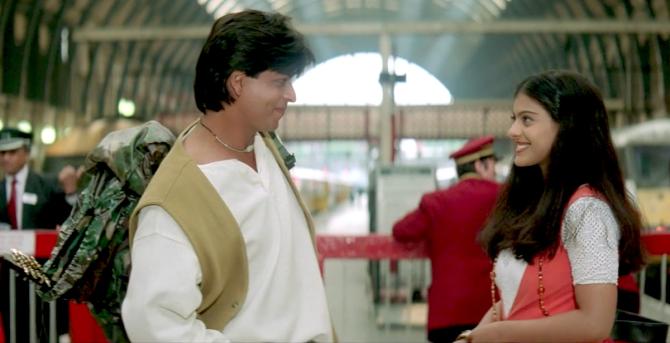 I am not Team Dilwale Dulhania Le Jayenge.
But I sure dig couple of things in this hugely popular love story, which completed 25 years this year -- Jatin-Lalit's lilting songs, Kajol's radiance and this effective scene where SRK as Raj Malhotra tells her, 'Nahi, main nahi aaonga.'
It is in response to her wedding invitation in India.
But truly, it is him telling her, 'Simran, wake up and smell the coffee'.
It is only after he broadly hints at his feelings does she too realise 'Ho gaya hai tujhko toh pyar sajna'.
So direct, so subtle, so SRK.
Swades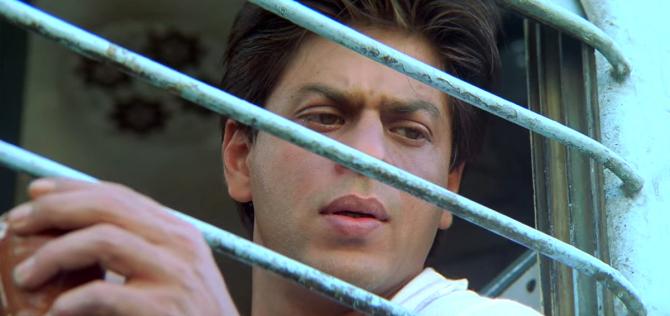 One of the most dependable fictional characters played by SRK, Mohan Bhargav gives every commitment his all and never leaves any project midway -- be it at NASA or a village in India.
Though an attractive mix of intelligence and sensitivity, it is only after he encounters India's grassroots reality in the face does Mohan grasp the extent of its disparity in Ashutosh Gowariker's earnestly crafted drama.
The said sentiment manifests into its most poignant moment when SRK buys water off a young boy at a railway station.
Shock, sympathy, guilt, helplessness, privilege, an array of emotions plays out silently.
He is conscious of the child's struggle if also humbled by his misfortune.
Chak De! India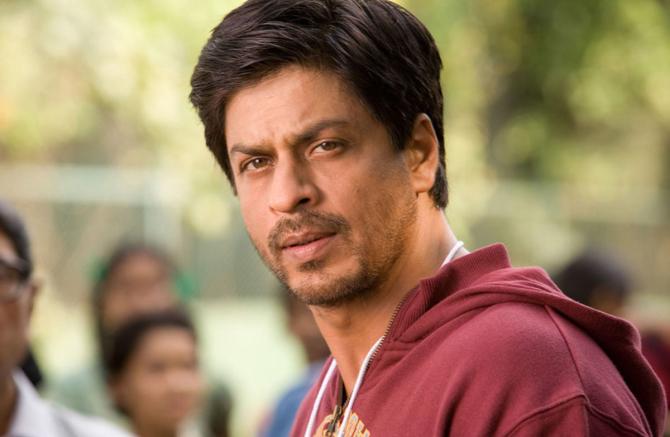 Shah Rukh Khan's 'sattar minute speech is 'buck up' at its electrifying best.
But it is his introduction to the girls at the hockey field, revealing his regard for time, no-nonsense ideas of team building and I-N-D-I-A before anything else priorities whilst asserting his position as the one calling the shots that sets the tone for his future interactions and whistle-inducing motivation.
This spirited scene is a fair and square example of how to be boss without stooping to sexism or compromising on one's own dignity.
Kuch Kuch Hota Hai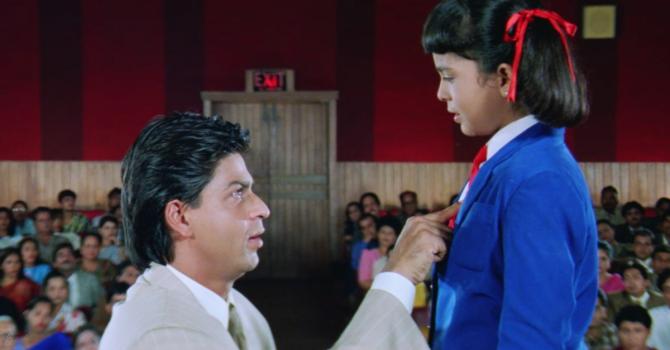 I have a rather soft spot for this scene from Karan Johar's directorial debut.
A child's tongue-tied reaction when asked to speak about the most precious person in her life while confronting the loss of a parent hits a personal chord. But it is heart-warming how Shah Rukh Khan's gracious Papa comes to his darling's rescue.
When his daughter is asked to speak on the subject of 'Ma' on stage during a school elocution competition, she bursts into tears since hers died during childbirth.
SRK's spontaneous oratory skills come in handy as he eloquently waxes the attributes of Ma well enough to fill a dozen Mother's Day cards -- Ma sabkuch hai bas humare paas hi nahi hai.
But lest the teary-eyed audience loses heart let's not forget, humare paas papa hain aur woh bhi kaafi ache hain.
Dear Zindagi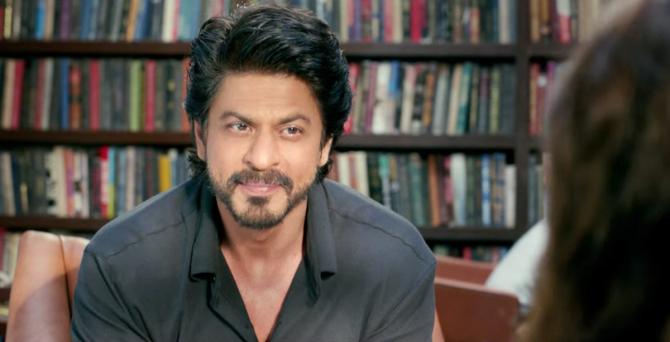 In my review of Dear Zindagi, I wrote 'Who better than the flag bearer of celluloid romance to inspire a depressed, desolate heart?'
Though he shows up only around interval point to play Alia Bhatt's therapist, Dear Zindagi benefits equally from his warm, witty, presence.
Sporting linen casuals, a light beard and a lived-in wisdom that becomes him, SRK looks fabulous as well as tailor-made for the part in his ability to connect across ages.
The nature of his profession in Dear Zindagi gives him abundant occasions to sound smart and spew gyaan but the final scene truly cements his savoir faire.
When Alia confesses to her attraction towards him, SRK doesn't clam up, resist or embarrass her about it.
Sure, he is s suave enough to see why she is drawn but recognises the inappropriateness of it immediately.
Careful in his choice of words yet firm enough to shake off her spell of silliness, he says, 'Genius is about knowing when to stop'and bids her a fond goodbye.
Dil Se..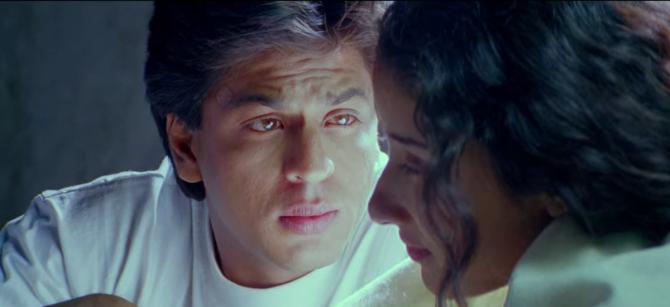 Mani Ratnam's Dil Se.. is high on extraordinary beauty, spectacular music and Shah Rukh Khan-Manisha Koirala's volatile chemistry as star-crossed lovers tied by their political ideologies.
Their equation is marked by a great deal of courtship and resistance but SRK's charms refuse to fail and Manisha is compelled to bring her guard down as they spend one night sharing their likes and dislikes against the desolate, stunning backdrop of Ladakh.
The superstar is at his winsome best in how he plays with words and poetically explains how the three things he hates about her are the three things he loves about her as well.
Likes: 'Hum dono ke beech mein jo doori hai woh mujhe bahut napasand hai. Tumhare andar jo yeh bahut kuch chhupa hua hai. Aur sabse buri mujhi lagti hain tumhari aankhen. Kitna bhi main inmein dekhna chahoon mujhe kuch dikhta hi nahi.'
Dislikes: 'Mujhe sabse zyada pasand yeh tumhari aankhen hain kyunki inmein jitna bhi main dekhna chahoon mujhe kuch dikhta hi nahi hai. Tumhare andar itna kuch chhupa hua hai mujhe woh bahut pasand hai. Aur sabse zyada pasand mujhe yeh doori hai kyunki agar yeh doori na ho toh tumhare kareeb aane ka bahana na mile.'
Mera Wala Shah Rukh, 'nuff said!
Dil To Pagal Hai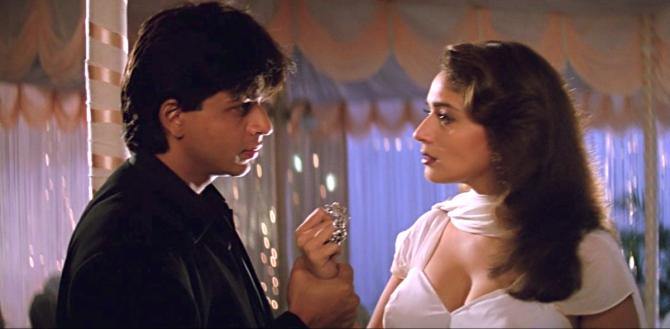 No six packs or smooching scenes can achieve what SRK does by mere channelling of passions for Madhuri Dixit in this scene of Dil To Pagal Hai.
My reservations for Yash Chopra's 'Someone, somewhere is made for you' fundas aside, there's no way I can deny how our man pretty much burns the screen as he compels Madhuri into submission by gently whispering Aur paas into her ears.
As the screen combusted over their hot chemistry, many a fangirls contemplated to lose their bangle at the next wedding they attend in the hopes of a real life 'Rahul, naam toh suna hoga'.