'Tu toh bilkul hero nahi lagta (you don't look like a hero at all).'
In candid interviews over the years, an amused Shah Rukh Khan has often recalled this observation, made by a security guard during the actor's early years in Bollywood.
The statement, though blunt, is not entirely inaccurate.
Khan was, and is, not particularly tall or strikingly handsome or impressively beefy.
Yet here we are, on the actor's 54th birthday on November 2, writing another tome about the boy with big dreams and a regrettable haircut, who defied incredible odds to become one of the most loved actors on the planet.
To celebrate the superstar's birthday, we put together an A-Z listing about King Khan.
A for Attitude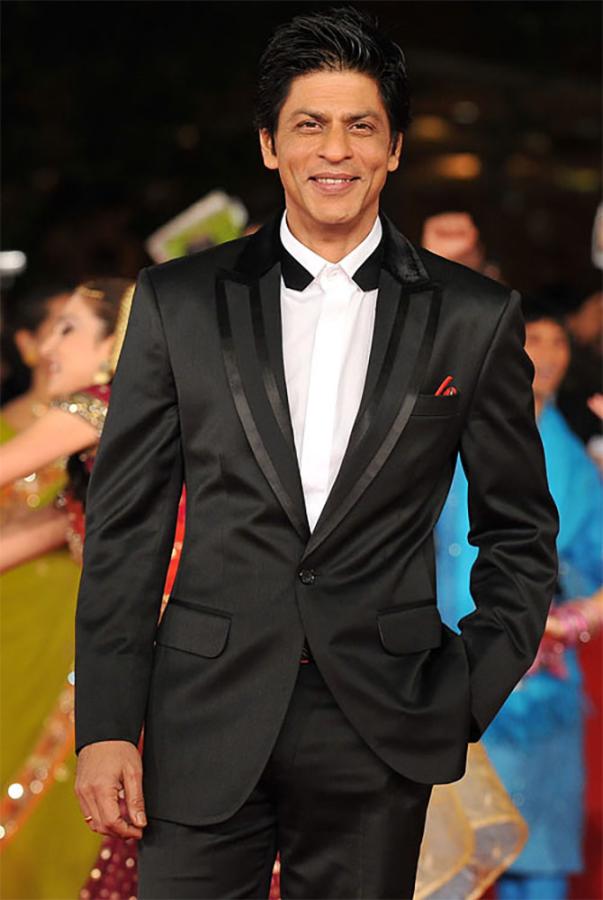 Few mortals can put on a killer attitude and make it look as good as Shah Rukh Khan does. Unlike the other Khans -- who are either clinically cautious or roguishly unpredictable -- Shah Rukh carries off his attitude as effortlessly as he rocks a branded suit.
Cracking irreverent jokes with a straight face, taking on pompous political parties and boorish sports officials, sticking by his dream project even when it is universally panned, repeatedly announcing his embarrassing levels of affection for his children, slapping petty small-timers into their senses, doing cartwheels when his team wins the IPL -- it's all in a day's work for him.
Let's face it. SRK is generally the coolest superstar around. Period.
B for Baazigar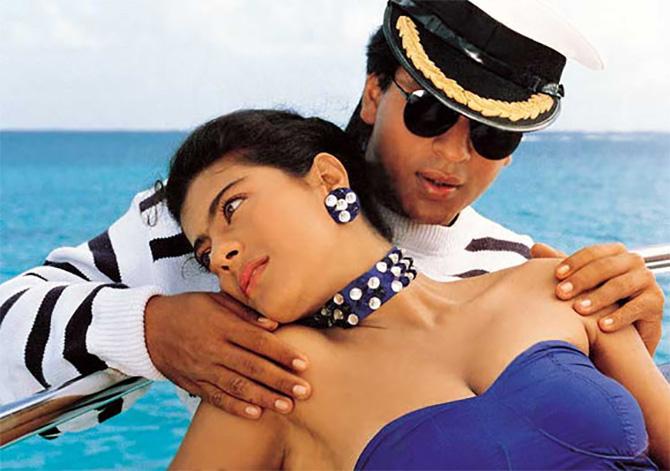 In 1992, SRK made his film debut, appearing in the endearing Raju Ban Gaya Gentleman and some mediocre fare like Deewana and Dil Aashna Hai.
Then, in 1993, Baazigar and Darr released.
The rest, as they say, is history.
He played the creepily besotted lover in Darr to perfection.
But it was his role in Baazigar -- that of a scheming, vengeful murderer who switches his personality as easily as he changes his contacts -- that made him a bonafide star.
The line he uses to woo Kajol -- 'Haar ke bhi jeetne wale ko baazigar kehte hain' -- remains one of the best-known dialogues of Hindi cinema.
C for Chak De! India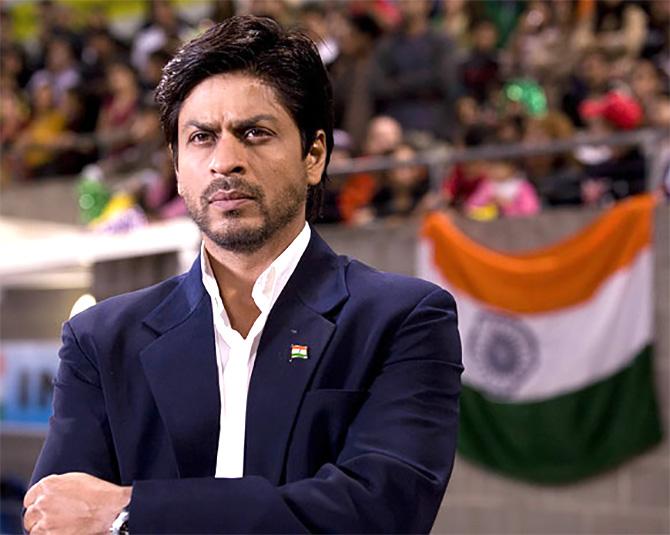 How can we talk about Shah Rukh Khan and not mention his film Chak De! India? Yes, we have watched it 50 times by now. Yes, we still love it as much. Yes, the bitter-sweet victory in the end still makes us tear up.
Shah Rukh's gritty and restrained portrayal of Kabir Khan, a wronged sportsman trying to prove his patriotism through his beloved game, remains his best performance to date.
Sporting a stubble and a simmering passion, SRK had never acted so convincingly and looked so dishy.
Take note Mr Dhoble, this is how you use a hockey stick.
D for Dimples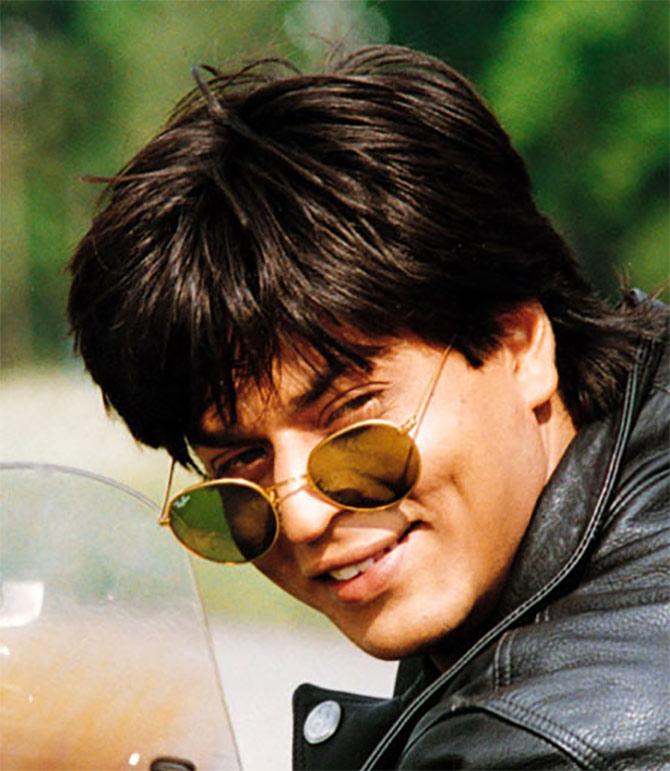 This alphabet had far too many contenders.
There is, of course, Dilwale Dulhania Le Jayenge.
One of the most successful films ever made in India, it reaffirmed that Shah Rukh Khan was the best thing that had happened to the Hindi film industry in a long time.
When Raj met Simran, love, and Bollywood, was never the same again.
Then we have Delhi, the city where SRK spent the first 26 years of his life, and is still unabashedly fond of.
And finally, let us not forget that the actor is the proud holder of probably the most famous set of dimples in India.
E for English Babu Desi Mem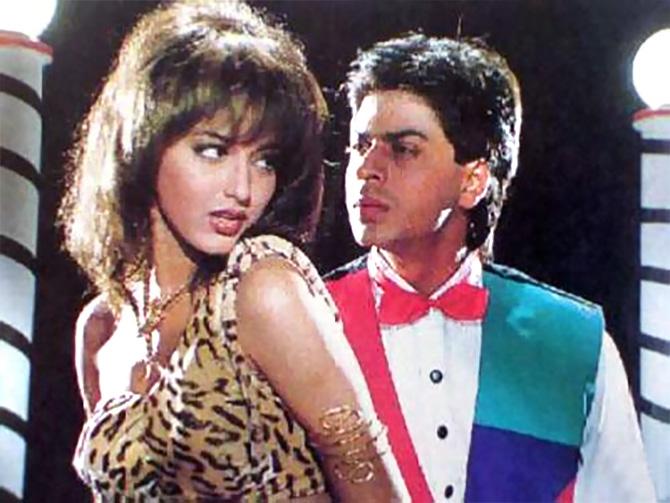 We don't want to go there. But we have to prove our credentials as film buffs with a sense of discretion, not smitten fan girls, so we have to.
That English Babu Desi Mem is an incredibly bad film is a foregone fact.
What we fail to understand is why SRK, who was already an established star, would agree to be part of such a monstrous charade.
Even hardcore fans like us could only stare in disbelief as Shah Rukh goes wildly over the top as a cocky NRI who falls in love with a desi maiden.
We could say that this was probably his worst mistake.
But then there are close contenders like Guddu, Zamaana Deewana and the absolutely forgettable Hum Tumhare Hai Sanam. Sigh.
F for Filmfare Awards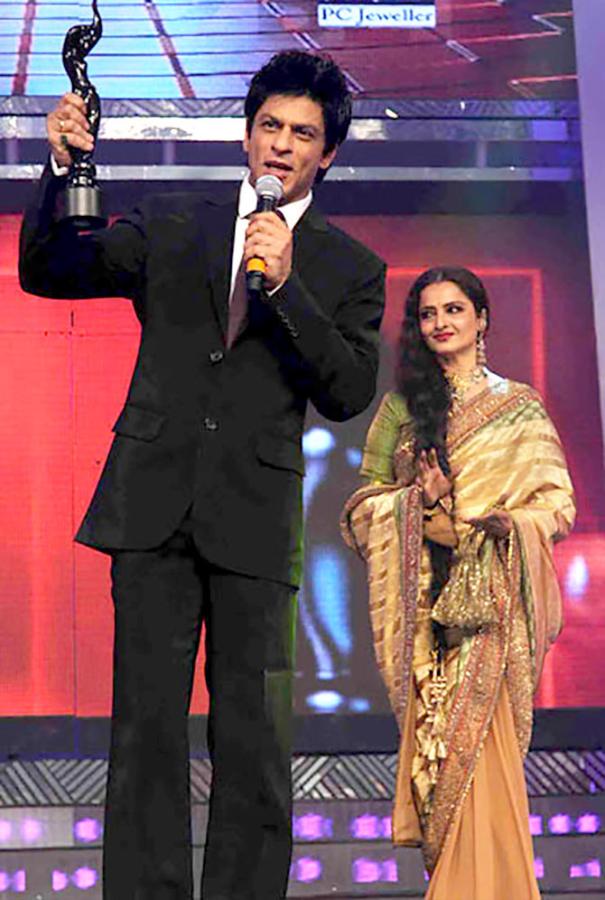 Shah Rukh Khan has never hidden his attachment for the 'black lady'. And she has reciprocated his feelings. The actor has won 14 Filmfare Awards -- the most revered award in the Hindi film industry. He has as many Filmfare Awards as industry giant Amitabh Bachchan.
Incidentally, SRK has won seven of them in the best actor category.
Only film icon Dilip Kumar has won as many best actor trophies.
We would also like to mention Fauji, the much-loved television serial in which the then 23-year-old SRK garnered mainstream attention by playing the adorably awkward Lieutenant Abhimanyu Rai, a commando trying to learn the ways of the Indian Army.
G for Gauri Khan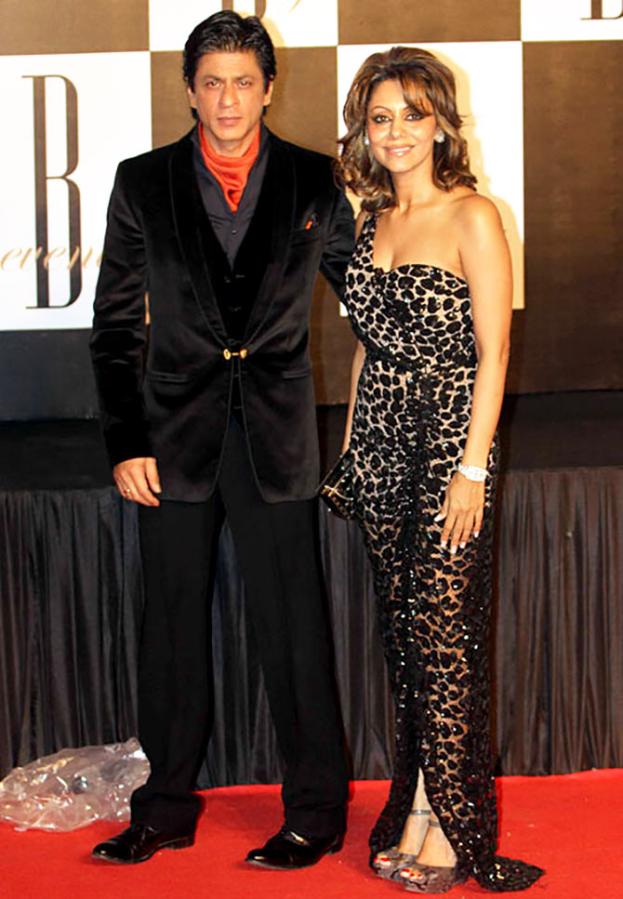 She has been called the 'First Lady of Bollywood' and 'the axis around which Planet Shah Rukh Khan revolves'. The ultra-glamorous yet media-shy Gauri Khan is undoubtedly the most powerful star wife around.
Khan met Gauri Chhibber when he was barely 19 and she was 14.
According to the actor, though he usually felt shy around girls, he found it surprisingly easy to talk to Gauri.
Though her family was initially lukewarm about the match ("I was from the wrong religion, I was in the wrong profession," recalls Khan), they got married in 1991.
The couple's 21-year-old marriage has survived pesky rumours about his sexual orientation, public fights with other industry people, run-ins with thuggish politicians, various health scares and recently, an alleged affair with a sultry actress.
H for Hamming
Again, this is a topic best left untouched, but for the sake of fairness, we have to mention it.
While Shah Rukh Khan's performance in most films is nothing much to write home about, in some films he is, to put it politely, plain unbearable.
SRK can be convincing (Chak De! India, My Name Is Khan), he can be absurdly goofy (Duplicate, Baadshah), he can be smouldering (Don, Swades).
And then, unfortunately, he can be infinitely hammy (Mohabbetein, Kabhi Khushi Kabhie Gham, Devdas).
Hamming is hands down Shah Rukh Khan's most annoying trait (the incessant smoking in public places is a close second).
Whether he is sprouting inane love advice in Mohabbatein, playing the melodramatic drunkard in Devdas or weeping his eyes out over his parents in the preachy K3G, SRK hams much.
And like his smoking, we sincerely hope he kicks this habit soon.
I for Inshallah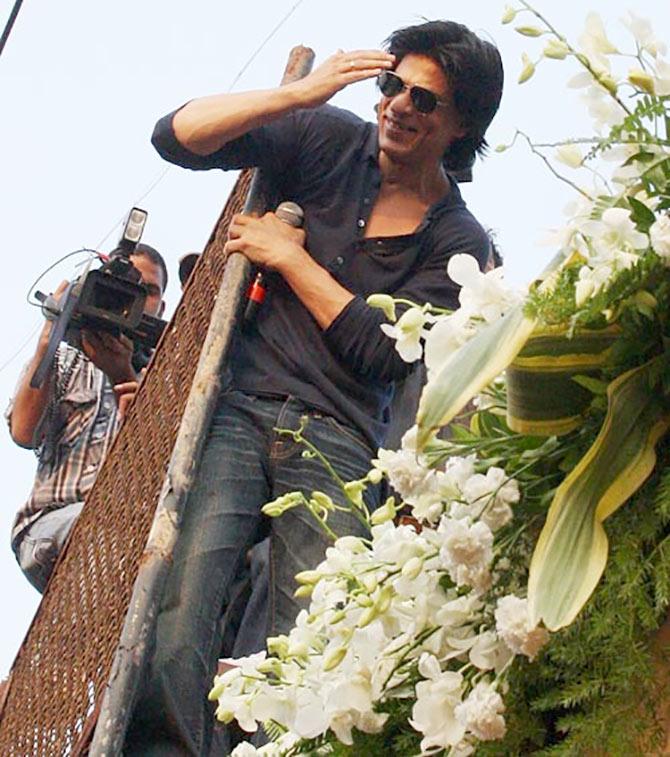 We toyed with stuff like intelligence and intensity for this one -- because no other Indian actor has both qualities in such generous quantities.
But we settled on Inshallah (God willing).
It is Khan's favourite word, one he uses frequently in almost every conversation.
And let's face it -- no one says Inshallah with as much verve as King Khan does.
J for Jab Tak Hai Jaan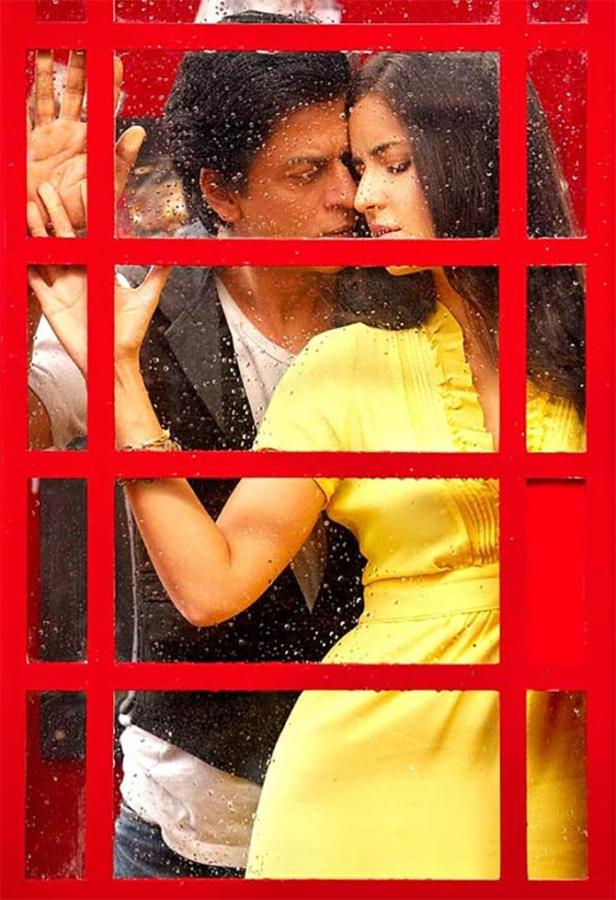 We have to talk about Jab Tak Hai Jaan, the mega Diwali release everyone is waiting for.
Shah Rukh teams up with flavour-of-the-season Katrina Kaif for the first time in director Yash Chopra's swan song.
Though we hate to admit it, we are slightly worried about an almost-47-year-old SRK trying too hard to act 22 and fake-strumming a guitar in London.
And then, looking quite delicious but acting totally deaf as he walks through what looks like a minefield, with bombs going off everywhere.
Whatever.
We get to watch Shah Rukh Khan in a leading role for the first time in almost a year, so we really, really should not complain.
K for King Khan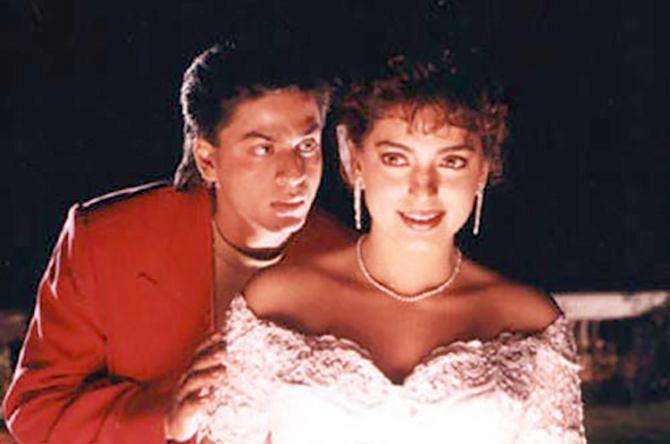 The letter K is probably SRK's favourite. It has proved lucky for him many, many times over.
His obsessive refrain of "K-K-Kiran" to a terrified Juhi Chawla in 1993's Darr sent a chill down many spines and made SRK a household name.
Most of his super successful films begin with the letter -- Karan Arjun, Kuch Kuch Hota Hain, Kal Ho Naa Ho, Kabhi Khushi Kabhi Gham to name a few.
But the star of many mega-hit films has always maintained that the one film that was closest to his heart -- the one he would be proud to show his children Aryan and Suhana -- was Kundan Shah's utterly lovable Kabhi Haan Kabhi Naa.
He owns the IPL team Kolkata Knight Riders, which, after a shaky start, won the tournament this year.
Kajol and Karan Johar: He has teamed up with both for numerous hit films. He considers both of them close pals. And he shares a sizzling chemistry with both!
And of course, of the many monikers bestowed on Shah Rukh Khan over the years, our favourite is King Khan.
He is, undeniably and indisputably, the uncrowned king of the Hindi film industry.
L for Lover Boy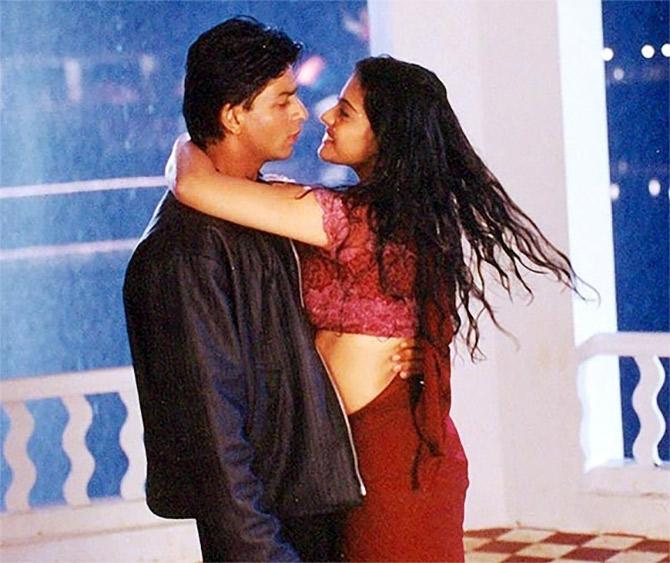 Think of a bleeding Raj yearningly looking at his ladylove as his train pulls away from the station (Dilwale Dulhania Le Jayenge); a sweat-drenched, terminally ill Aman running through the streets of Manhattan to find the object of his affection (Kal Ho Naa Ho); a smitten Sunil throwing away his ice cream when his beloved loses hers (Kabhi Haan Kabhi Naa); and a dashing Rahul asking a beautiful lady to share a dance on a rain-soaked night (Kuch Kuch Hota Hai).
Nobody pulls off the 'lover boy' act with as much vulnerability and conviction as King Khan does.
Ironically, Shah Rukh Khan, who had once made his mark playing 'anti-hero' roles in Anjaam and Baazigar, was initially apprehensive about whether the audience would accept him as the lover boy in Dilwale Dulhaniya Le Jayenge!
M for Mannat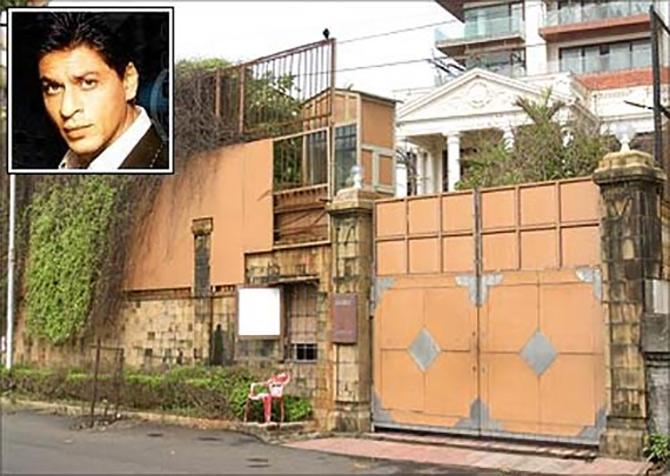 SRK lives life king-size. His palatial bungalow on Bandstand in Bandra, in the western suburb of Mumbai, matches his stature.

Valued at anywhere between Rs 70 to 100 crore, it is the third most expensive home in India after Mukesh Ambani's Antilla and the NCPA apartments at Nariman Point.
The sea-facing heritage bungalow is SRK's dream home, a dream he dreamed more than two decades ago. Passing the house after finishing a shoot, in his early days in the industry, he would point to the bungalow and say, 'I will own this one day!'
Years later, he moved in.
The 'white house' at Bandstand is a fine mix of archaic and modern.
As Khan says, it is the way it is because 'I'm comfortable in it!'
N for NRI connection
Khan has been the face of what has today emerged as the NRI movie genre.
It all started with Aditya Chopra's Dilwale Dulhaniya Le Jayenge in 1995 when he played a British-born Indian, Raj Malhotra.
He struck a chord with the GenNext Indian Diaspora when he passionately told Simran (Kajol), 'Mein Hindustani hoon aur yeh janta hoon ki ek Hindustani ladki ki izzat kya hoti hai.'
The actor is most impressive in his character as Mohan Bhargava, an NRI working with NASA, in the 2004 release Swades, who returns to India to help villagers get access to electricity.
A look back at SRK's film graph and we find that many of his movies have the des-pardes connect. From Kabhi Khushi Kabhie Gham, where he plays an adopted son who after straining ties with his billionaire father settles in London, to his latest Ra.One in which SRK (before he transforms into a superhero) plays a game designer (Shekhar Subramanium) from London.
That's not all.
Shah Rukh's Dil Se.. may have flopped back home but it went on to become the first Bollywood movie to enter the UK top 10.
What more do we need as testimony for his massive fan following among NRIs!
O for Oh Darling! Yeh Hai India!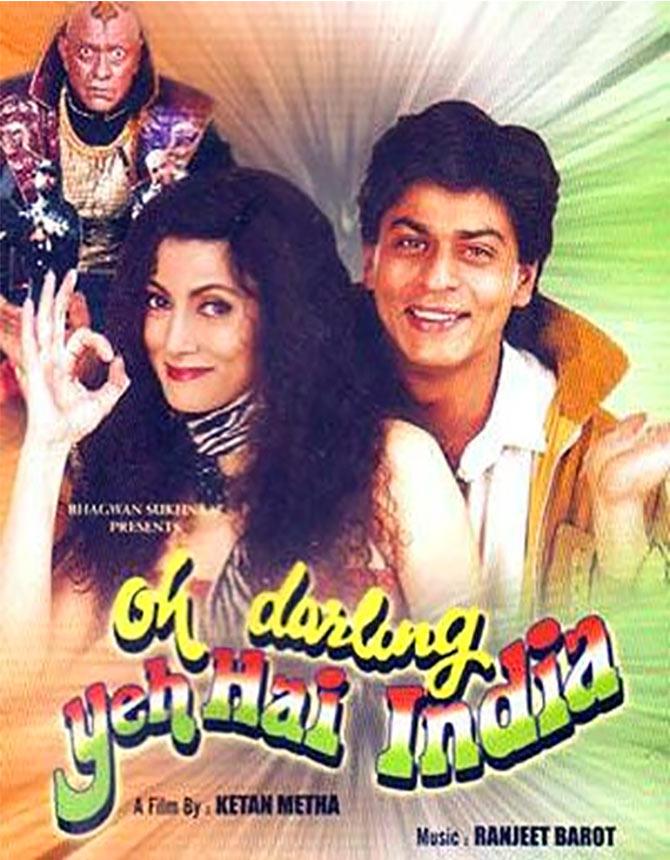 Shah Rukh has made some poor choices and some terrible ones. His Oh Darling! Yeh Hai India! tops the latter list.
This musical spoof, in which he is paired with Deepa Sahi, is something probably SRK would like to pretend did not happen to him. And so would we.
P for Parents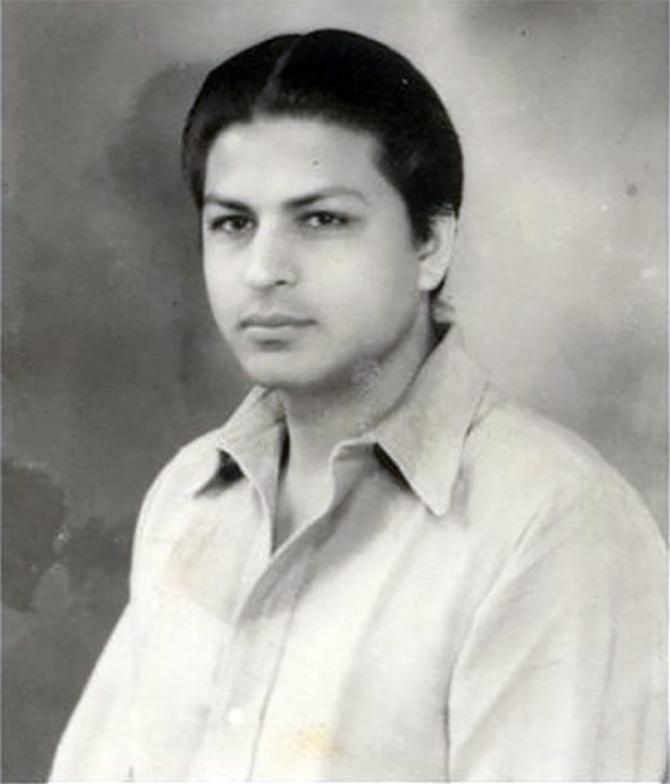 Few people and even fewer stars speak as passionately about their parents as Shah Rukh does. It would be a task to find an interview, among the thousands that he has given in the last past two decades, where he fails to make a mention of his parents, the influence they had on him and their goodness.
The actor lost his dad to cancer when he was only 15, and his mother to a prolonged illness in 1990.
This, he says, was the turning point in his life and he moved to Mumbai.
Khan said in an interview that he wants to '...make movies so damn bloody big...that my parents somewhere sit down on a star and from there also can look at their son and say 'I can see his movies from here better than I can see the Wall of China or anything. We see his movies covering the face of this earth'.'
Q for Qissa Khawani Bazaar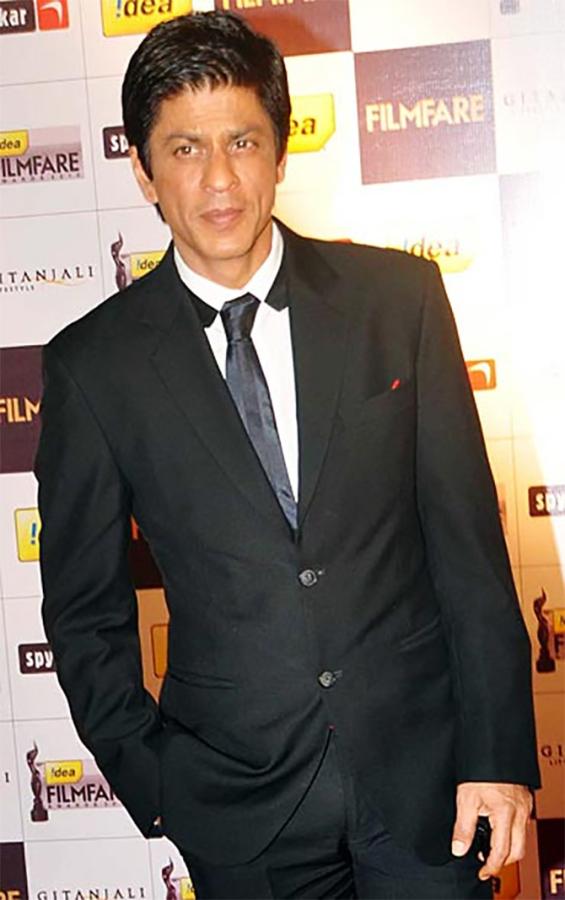 King Khan shares a tenuous link with Pakistan. His father, Taj Mohammed Khan, came to Delhi from Qissa Khawani Bazaar in Peshawar before the partition.
SRK's father was an Indian independence activist and he describes him as 'very gentle and very honest.'
In an interview about his father, Khan says, '... he was very successful, then became unsuccessful... he was a lawyer, he did not practise... he had a lot of options to take favours from people, which he did not. He went to Peshawar (British India) with a lot of dreams, took me also there... but I think somewhere he felt let down, he worried a lot, and I think worries cause cancer. I think those worries just took his life -- otherwise he was very strong, he was just 51, no heart disease, never drank, nothing... I think just sticking to impractical honesty and beliefs took him away early.'
R for Rahul/Raj
'Rahul, naam toh suhan hoga?'
SRK has patented this name and yet another -- Raj.
King Khan has made an illustrious career simply playing Rahul and Raj in over a dozen films.
Raj became every girl's fantasy after DDLJ and Rahul's magic worked as he intensely whispered '...aur paas, aur paas' in Pooja's (Madhuri Dixit) ears in Dil Toh Pagal Hai.

You may call it corny and term it as cliched, but Rahul/Raj simply urged everyone who grew up in the mid-90s to 'come...fall in love' (the DDLJ tag line).
The name game has worked for Khan and how! He has played Rahul in seven films -- Darr, Zamaana Deewana, Yes Boss, Dil Toh Pagal Hai, Kuch Kuch Hota Hai, Har Dil Joh Pyaar Karega (cameo) and Kabhie Khushi Kabhi Gham.
SRK first played Raju (Raj Mathur) in Raju Bangaya Gentleman, but he became popular as Raj in DDLJ. And then he remained Raj in Badshaah, Mohabbatein and Chalte Chalte.
Even in Rab Ne Bana Di Jodi, the simpleton Surinder Sahani goes for a makeover and poses as a trendy Raj Kapoor to win the heart of his ladylove. And no prizes for guessing that it works.
Raj and Rahul may have recycled the same old cliches, but the magic has never failed.
And after years of playing Ra-j and Ra-haul, he finally took a step ahead and graduated to Ra.One.
S for Smoking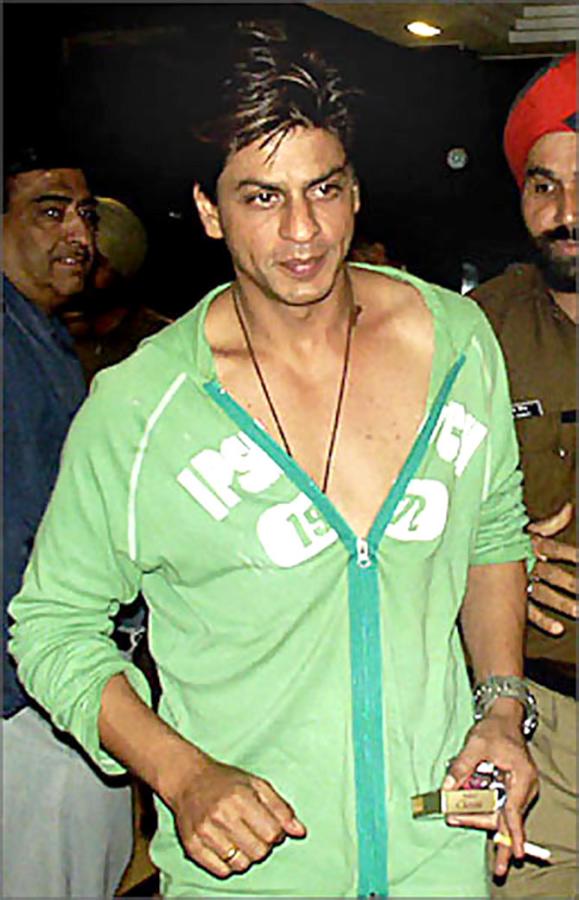 We love Shah Rukh Khan. We love him for his great films and despite his flops. We love him for his style and his spontaneity. We love him for simply being Shah Rukh.
What we HATE about him is his addiction to the cancer stick.
Shah Rukh in an interview to India Today confessed to smoking 100 cigarettes a day.
The actor has courted trouble for smoking in public time and time again.
In April, SRK was found guilty for smoking during an IPL match by a Rajasthan court, though he escaped with a paltry fine of Rs 100.
Earlier, he has been slammed for smoking during a Hindustan Times Leadership Summit and a T-20 match between India and Australia.
But despite all the controversy that his cigarette seems to cause, it is unlikely that SRK will kick the butt anytime soon.
'I know this is a bad thing but the habit doesn't leave me. I am trying hard. Even if someone says it to me or not, I know about the ill effects of smoking. I will try it and give it up on my own,' he had said in the past when questioned about his addiction.
But as convincing as Shah Rukh is when he plays a Rahul or Raj, he's equally unconvincing about his efforts to kick the butt!
T for Tandoori chicken and tea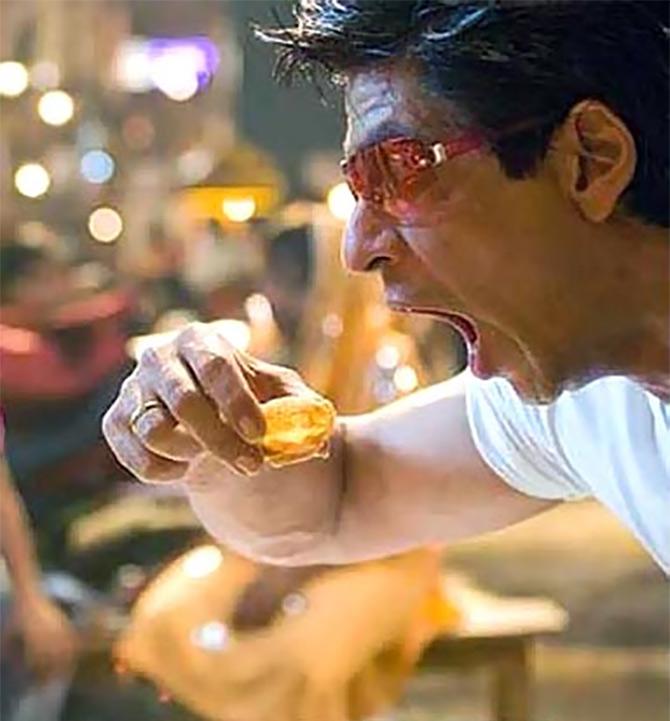 SRK is a self-confessed foodie and while he says that he never complains about food, it's tandoori chicken that gets the actor's mouth watering. It's his lunch and his dinner. He occasionally swaps it with chicken tikka.
King Khan's other big addiction is tea. Those who have worked closely with him say that the actor can't live without his 'cutting chai' and gulps down cup after cup everyday.
While his love for colas is known, not many know about his addiction to the cuppa chai.


U for United States airport security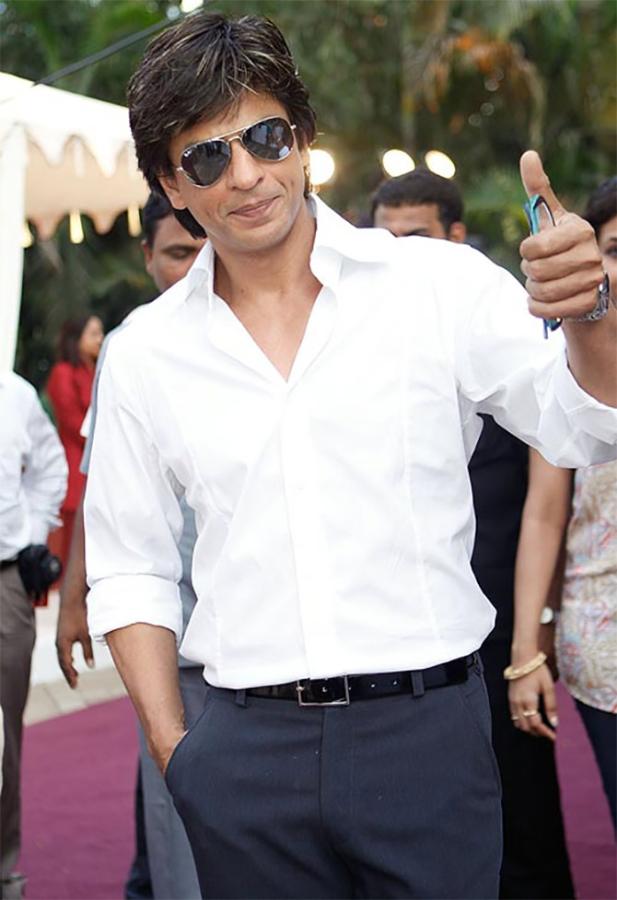 'Whenever I start feeling too arrogant about myself, I always take a trip to the US. The immigration guys kick the star out of my stardom.'

His name his Khan and he is not a terrorist. But immigration authorities at airports in the US simply do not seem to get the point.
SRK has been flagged at US airports more than once. Most recently, he was detained at the White Plains airport near New York for two hours. This, after he had an invitation from Yale University to deliver a lecture.
In 2009, Khan was detained for two hours at Newark airport and was released after the Indian embassy intervened. Khan had said he was 'angry and upset' because it was his Muslim name that caused all this.
The 2009 detention was termed by many as a publicity stunt ahead of the release of his film My Name Is Khan. SRK refuted the allegations. Well, we say if it was a publicity gimmick, it was a brilliant one!
UNESCO: Shah Rukh bagged a special award, the Pyramide con Marni, for his charitable work at the 20th UNESCO Awards in Germany in November 2011.
The actor became the first Indian to be given this honour.
V for Veer Pratap Singh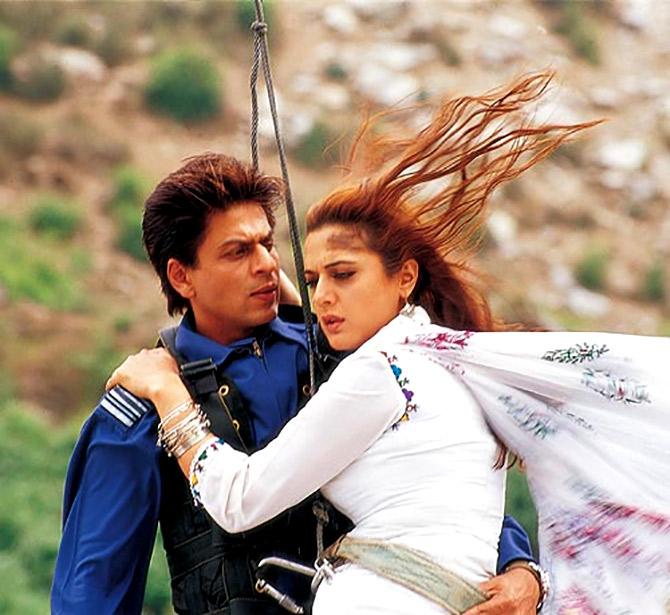 When it comes to playing the lover boy, Shah Rukh does it the best. His role as air force pilot Veer Pratap Singh who falls in love with a girl from across the border in Yash Chopra's Veer Zaara may have been dubbed as cliched but the film still went on to become an enormous success.
In 2004, Veer Zara became the top grossing Bollywood film of the year in both the Indian and the international market, earning over Rs 750 million worldwide.
W for Wit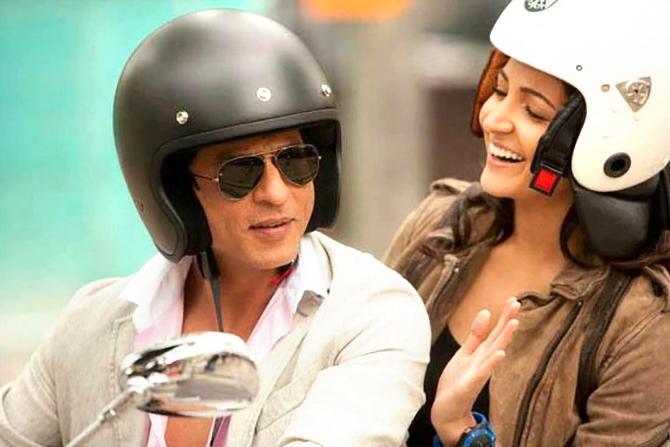 Shah Rukh is neither Bollywood's Brad Pitt in the 'looks' department nor is he the greatest actor of our times. But he is still Shah Rukh Khan.
What makes him Shah Rukh is his quick wit and his innate sense of humour. Yes, he often takes digs at co-stars, politicians and even journalists, but with abundant candour.
Here's a dose of his famous wit:
During the shoot of his upcoming film Jab Tak Hai Jaan in London, SRK tweeted, 'On a lighter note realised u can't wear warmers if u want to do romantic scenes...they come in the way of ur coolness...or is it just me?'

On Karan Johar's chat show, when KJo asked him what he would say to a die-hard Aamir Khan fan, SRK had replied, 'Guys, find an icon you can look up to.'
On the same show, when he was asked the same question about Salman, SRK had simply said, 'May God bless you.'
When asked about his shoulder problem a while back, Shah Rukh told a reporter: 'I just can't hug you hard enough.'
SRK's wisecracks have not always been appreciated; many have branded him arrogant, even vain.
Whatever it may be, you can't take the wit out of Shah Rukh for it is as much a part of him as his hamming, his intensity and his attitude.
'Doesn't anyone take a joke anymore?' SRK once asked. We wonder.
X for X-men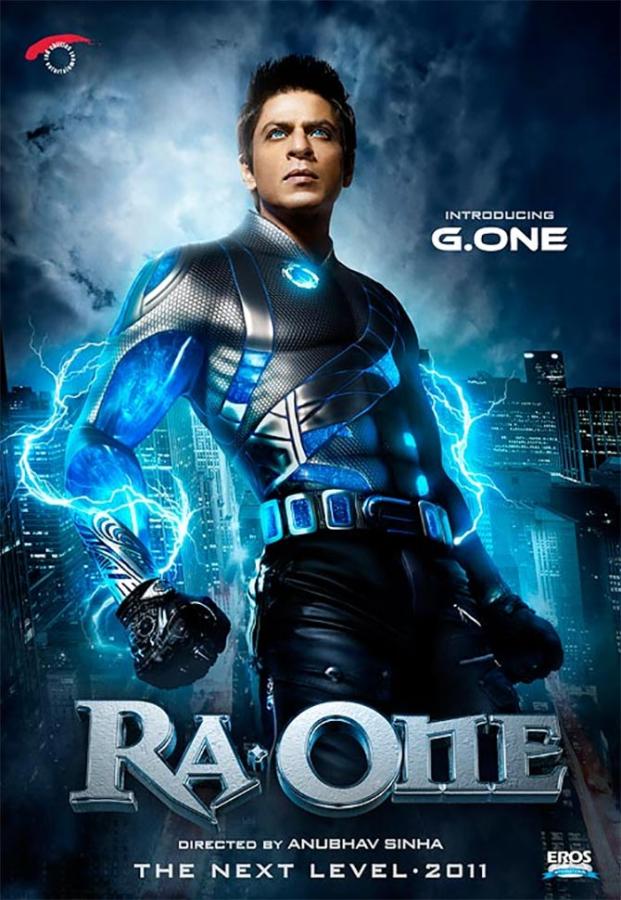 No, SRK is not starring in the next X-men film.
But it is the mutants who inspired him to make India's first sci-fi superhero film, Ra.One.

'I wanted to do something different for the kids, so I watched all the X-Men movies, cartoons, read comics and honestly the X-Men series inspired me to do Ra.One,' Shah Rukh had said.
There's no way we can draw comparisons between the two films, for the X-Men films are an epic.
But full marks to SRK for dabbling in something different, going where no Bollywood film has gone before.
Y for Yale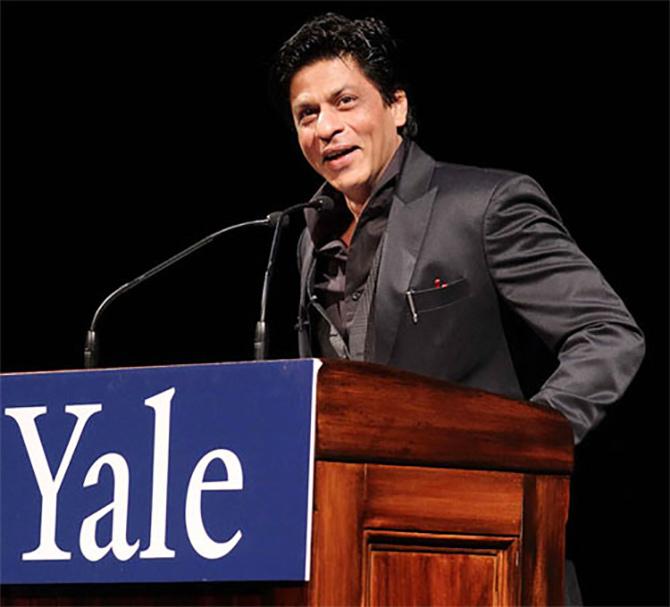 Shah Rukh has too many firsts to his credit. But this one definitely deserves a mention.
At Yale, in April this year, he became the first Bollywood personality to be honoured with the prestigious Chubb Fellowship, a title he shares with the likes of Myanmar's democracy icon Aung San Suu Kyi, former US President George W Bush and Hollywood superstar Morgan Freeman.
SRK mesmerised Yale. Thousands made a beeline outside the university to just get a jhalak of Bollywood's king.
Fans came from as far as Alabama and Canada well aware that they would not get anywhere close to the actor, leave alone attend his speech. And the media was there to watch -- from the New York Times to New Delhi Television.
Coming to his talk, SRK swept the students at Yale off their feet as much with his inspiring speech as with his wit and his spontaneous 'Chammak Challo' jig.
Within minutes, he went on to become one of Yale's most lovable Chubb fellows.
As someone who attended the event told a New York paper, 'He's like George Clooney, Tom Cruise and Brad Pitt. If you put all those guys together, for India, he's all that.'

Added another, 'How big is he? He is as big as the universe.'
Yash Raj films: It's blasphemous to talk about King Khan and not Yash Raj films. The star's love affair with Bollywood's most famous banner began with Darr in 1993. And thereafter the relationship only blossomed.
In Darr, the Chopras made Shah Rukh play the bad boy, but the credit for making him the quintessential lover boy of Bollywood also goes to them.
The Chopra-SRK combo never failed as they came together for one hit after another -- Dilwale Dulhania Le Jayenge (1995), Dil To Pagal Hai (1997), Mohabbatein (2000), Veer Zaara (2004) and Rab Ne Bana Di Jodi (2008).
Shah Rukh has undoubtedly been Yash Raj's most favourite Khan.
And as fate would have it, Yash Chopra bids adieu to the industry with Jab Tak Hai Jaan with SRK in the lead.
Z for Zindagi mein kuch banna ho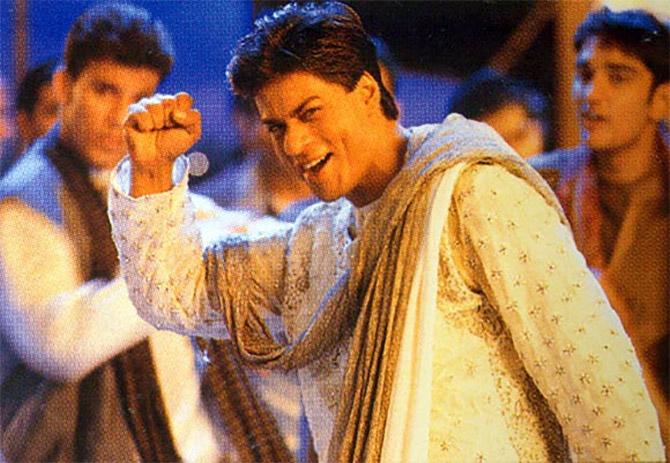 Zindagi mein kuch banna ho, kuch hasil karna ho, kuch jeetna ho, to hamesha apne dil ki suno,aur ager dil se bhi koi jawaab na aaye ...to apni aankhein band karke apni Maa aur Baba ka naam lo ... Phir dekhna tum her manzil paa sakoge, Her mushkil aasan ho jayegi, jeet tumhari hogi ..... Sirf tumhari!
Shah Rukh speaks well, very well and he is extremely convincing. He has great oratory skills and quick wit to go with it. There is no dearth of quotable quotes as far as he goes.
And while his 'Haar ke jeetne wale ko Baazigar kehte hain' and 'Bade bade desho mein aisi chhoti chhoti baatein hoti rehti hai' are his more famous ones, we picked this one from the multi-starrer Kabhi Khushi Kabhie Gham. Here's why.
When a teary-eyed SRK gives a last piece of advice to his younger brother before they part ways in the film, we feel there is a lot more conviction in his voice that it is when he goes 'I love you K-K-K-Kiran' or talks about 'love is friendship' in Kuch Kuch Hota Hai.
After all, K3G is 'all about loving your parents', something that King Khan truly believes in.
This story was earlier published in November 2012.