Sukanya Verma feels wonderment for Dil Se's fabulous, flawless frames, and she tells us why.
Stunning, stoic landscapes and luminously lit faces of love are my enduring memory of Mani Ratnam's Dil Se..
Shot by the ingenious Santosh Sivan, this intense love story between a radio journalist (Shah Rukh Khan) and suicide bomber (Manisha Koirala) unravels across Assam, Ladakh and Delhi ensuing in abundant doubt and heartache every time pursuit and purpose lock horns.
Inspired by the Arabic idea of seven shades of love -- hub (attraction), uns (infatuation), ishq (love), aqidat (reverence), ibadat (worship), junoon (obsession) and maut (death), Dil Se.. comes alive in Mani Ratnam's evocative vision of star-crossed passions even as it struggles around its politics in highlighting the insurgency in north east India.
Every time I watch Dil Se.. I find more to dote on as well as disagree with it.
But one thing remains constant -- the wonderment I feel for its fabulous, flawless frames.
Sivan creates magic on screen; his cinematography is a remarkable blend of grandeur and gentleness.
Cinema is a visual medium and Sivan's sublime telling of Mani Ratnam's doomed romance is an awe-inspiring reflection of it.
Here I've handpicked 25 of my favourite shots to elaborate this love for you, direct dil se.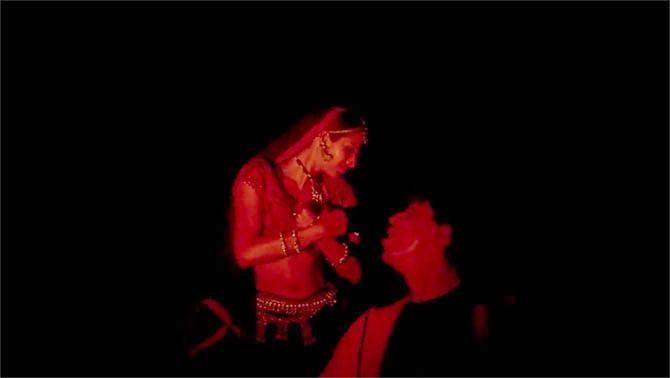 Choreographed by Farah Khan atop a train, the A R Rahman chartbuster Chaiyya Chaiyya, featuring SRK and Malaika Arora, is a thing of beauty. Sivan's masterful timing and neat imagination ensures we see light at the end of the tunnel and wizardry right in the middle of it.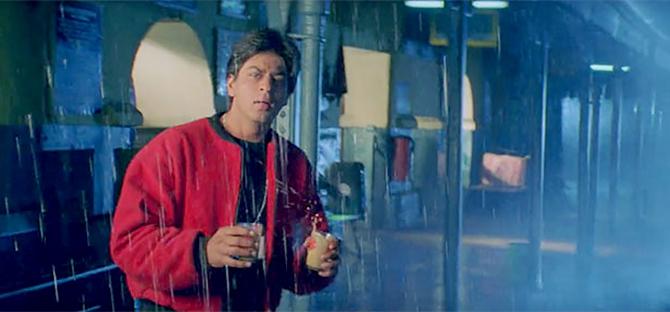 The drama of blue, a hint of green and a bold pop of red -- three primary hues that Mani Ratnam would pay rich ode to in his multi-narrative Yuva/Aaytha Ezhuthu six years later.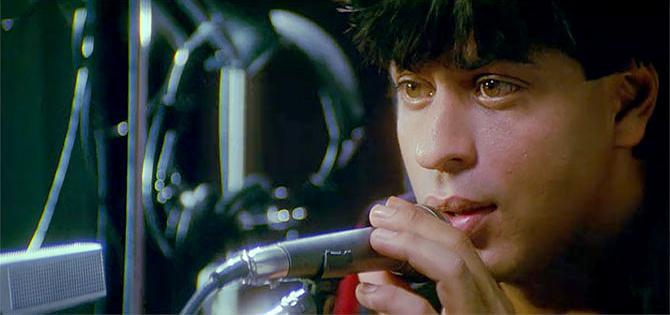 Sivan's camera captures Shah Rukh Khan's eyes furiously and feverishly in Dil Se... It's a blazing, breathtaking view -- every single time.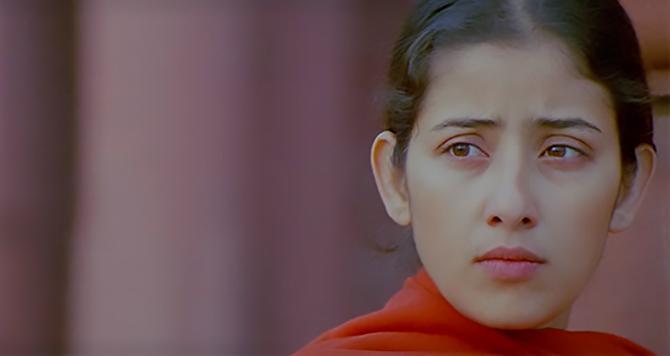 Gulzar says it best: 'Woh jo doodhdhuli masoom kali.' Manisha Koirala was born to play Meghna. Also, the harmony of this frame is simply wow.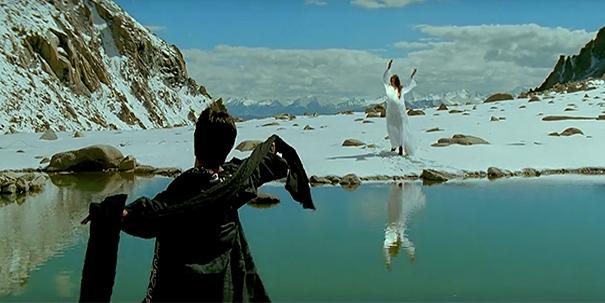 This deceptively simple frame of Dil Se.. is its essence in a nutshell.
While the monochrome highlights the contrasting paths they tread, standing afar like two ends of a river, Manisha's reflection reveals the dichotomy of a woman caught between her mission and a man.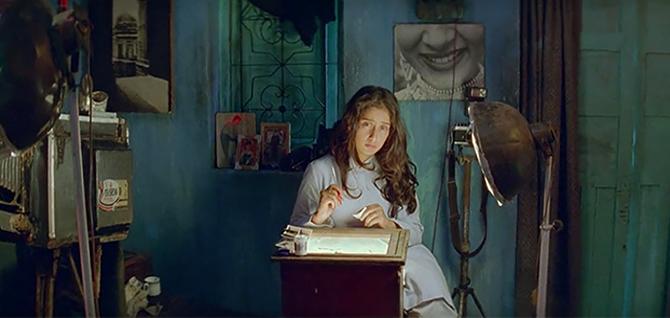 Holed up in a corner full of clutter where the only hint of joy is a black and white smile on the wall, Manisha's ethereal face lights up to hear SRK on the radio.
The song that follows aptly captures their state of mind -- Main Yahan Tukdon Mein Jee Raha Hoon. Tu Kahin Tukdon Mein Jee Rahi Hai.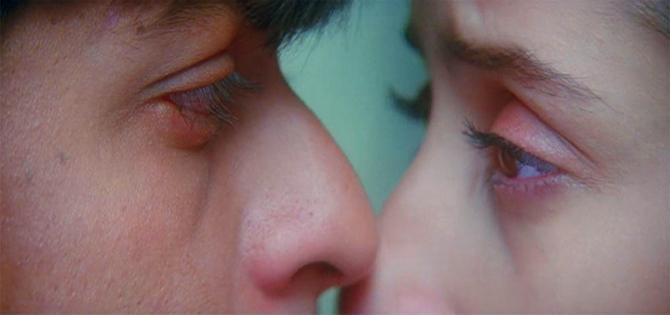 The smouldering sensuality of SRK and Manisha's suppressed passions screams from every pore of this incredibly intimate frame.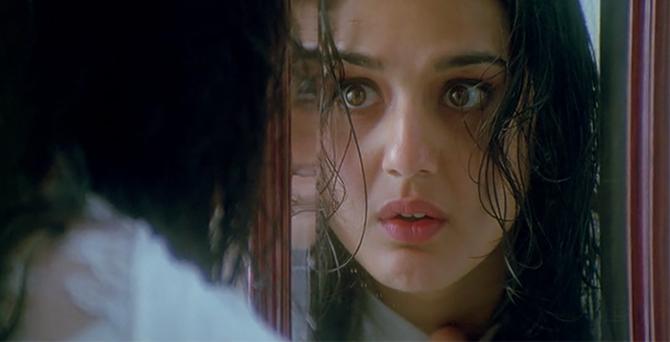 Wide-eyed and wonderful, Preity Zinta hit the movie scene like a fresh breath of air.
That freshness and sparkle is almost tangible in this classic mirror shot of Dil Se..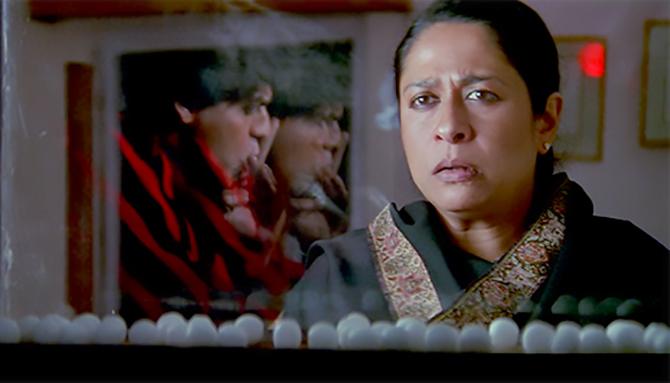 Shah Rukh Khan's character is a ball of restless energy. He is an active, animated reporter, unafraid to pursue dark, dangerous stories or a romance that is destined for disaster.
Warm, witty or hot-headed, his bubbling energy has many faces and astounds all those who cross his path. Including his boss (Arundhati Rao).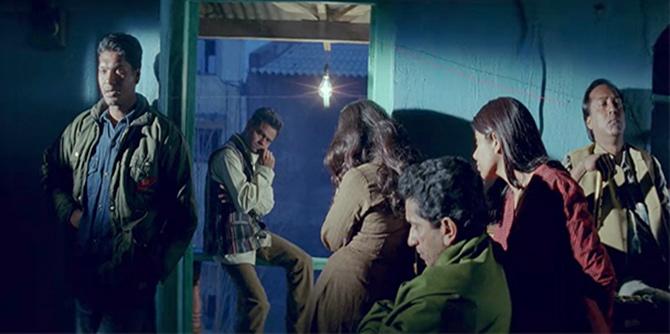 Half a dozen people cooped up in a stuffy room of a dingy Delhi mohalla could be claustrophobic except these rigorously trained men and women live, breathe and die for their mission.
<p
>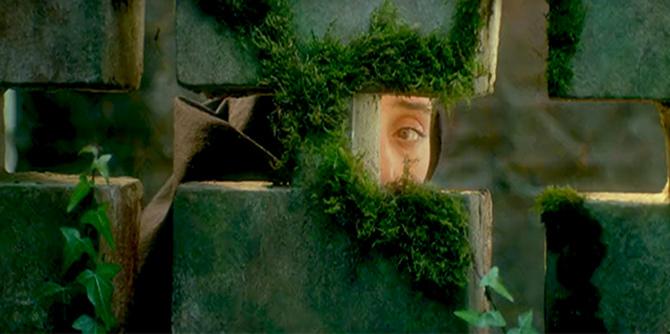 That iconic eye shot from the artistically choreographed title song is yet another example of Sivan's insane talent and powerful imagery.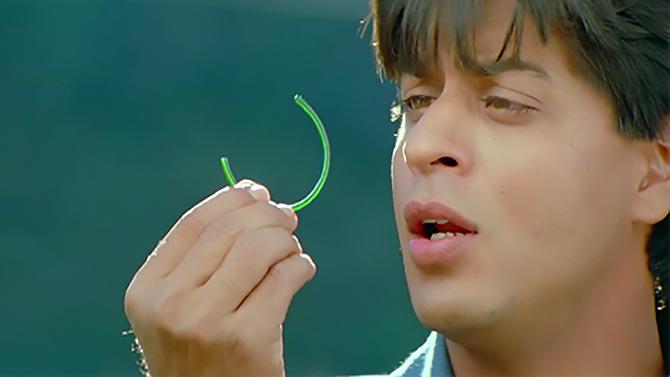 Dil Hai Toh Phir Dard Hoga. Dard Hai Toh Dil Bhi Hoga... the words, the composition. So much delicacy, so much depth.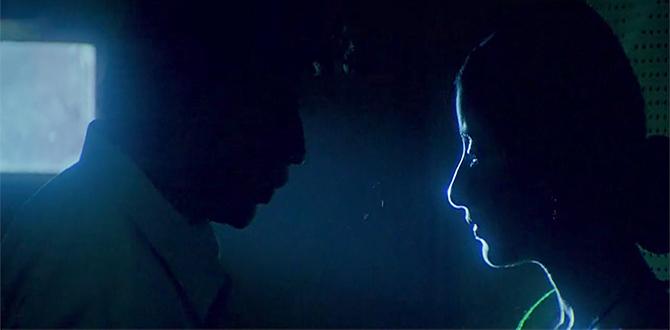 The way Sivan focuses his light to bring out the contours of Manisha and SRK's face in all their glowing and dimmed glory is stuff of pure awe. It's these exquisite touches that give Dil Se.. the air of poetry from start to finish.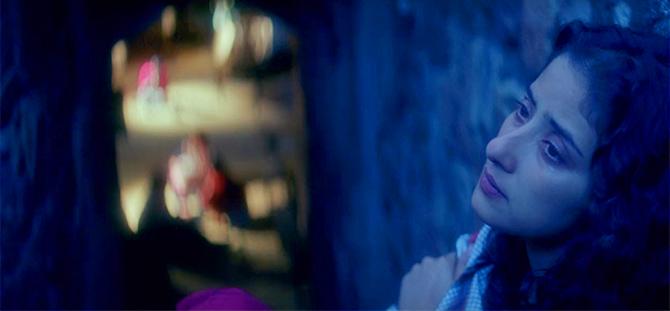 Another excellent play of hues and lighting -- predominantly cyan and pop of gold -- capturing a hauntingly private moment, far away from the maddening crowd.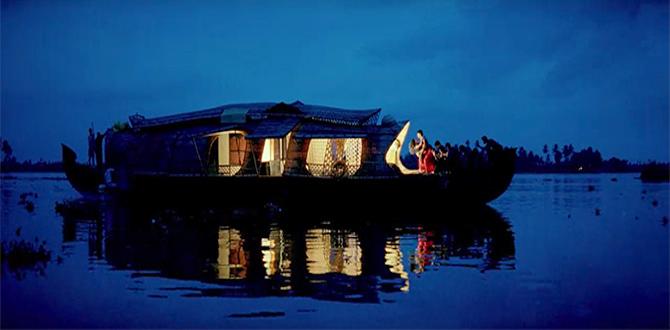 SRK-Preity's Jiya Jale revelry against Kerala's gorgeous backwaters is extravagantly displayed in this dazzling moment.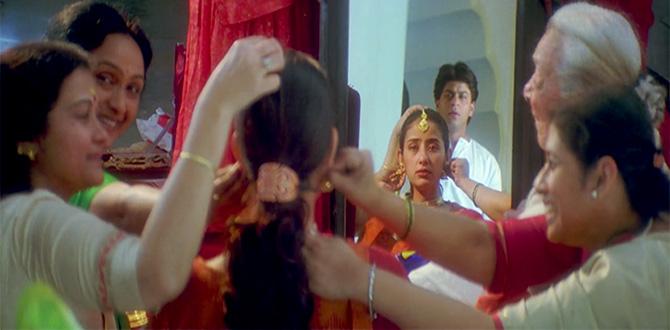 They say a picture is worth a thousand words. This one surely is. And its opening lines would read 'If only...'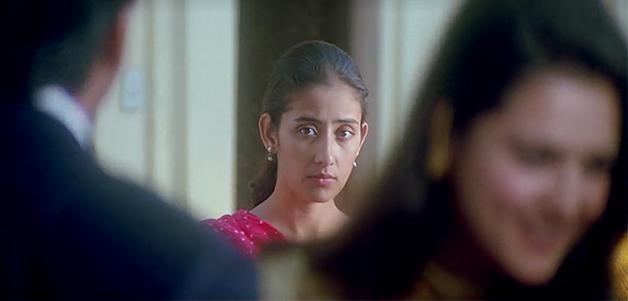 Symbolism is attractive. Even when it is awfully unsubtle as Manisha standing between a newly engaged SRK and Preity Zinta.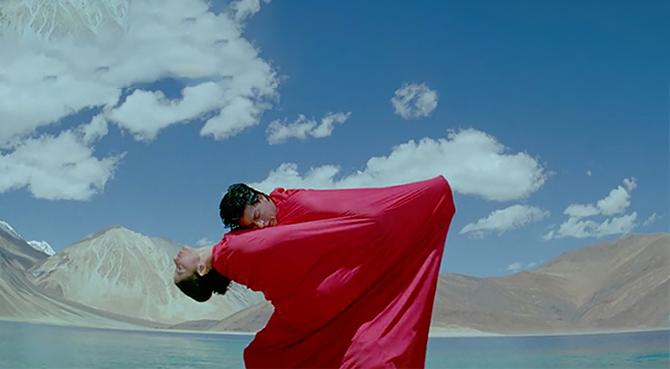 Wrapped in a bright red sheet, SRK and Manisha embody a throbbing heart surrounded by a mountain of obstacles and yet Ishq Par Zor Nahi Hai Yeh Woh Aatish, Ghalib,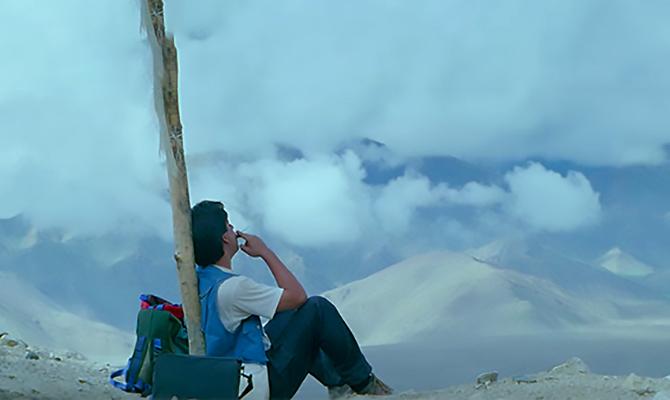 When pollution and pure collide.
There's something so candid, relaxed, taken in between shots quality about this scene showing SRK catching a breather, having a smoke while feasting his eyes on the pristine beauty of Ladakh.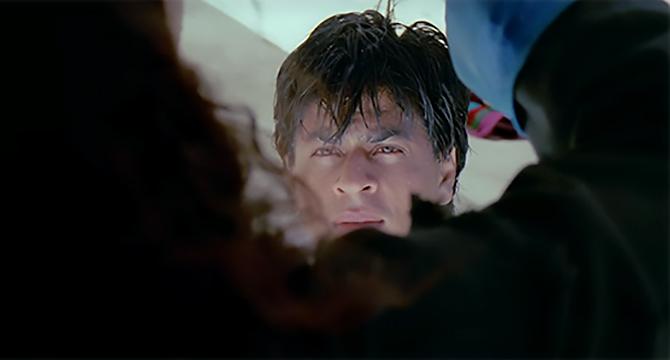 Eyes express a volume of emotions far more potently than words or touch in Dil Se...
SRK's burning desire is written all over his gaze in how he watches Manisha gulp down water. Sivan is quick to document it and how.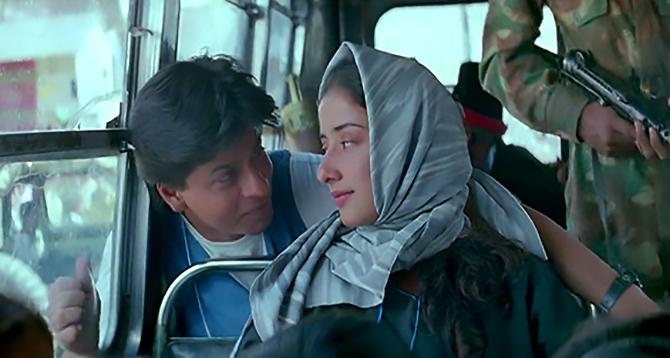 Guns and Roses. 'Nuff said.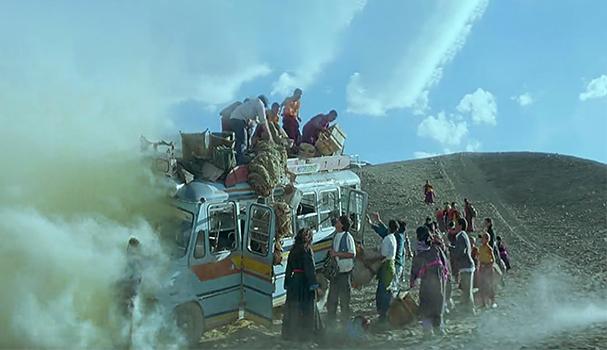 Smoke, clouds, crowd, faraway land -- the combination is like witnessing something surreal, like a dream and this is why Sivan is a magician.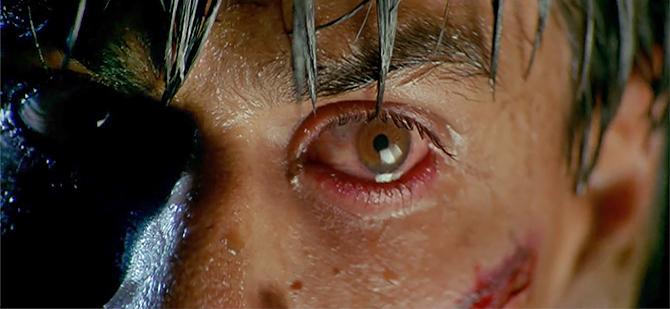 Once again SRK's eyes are at the centre of a storm. He has played with fire before, but this time he knows it's a point of no return.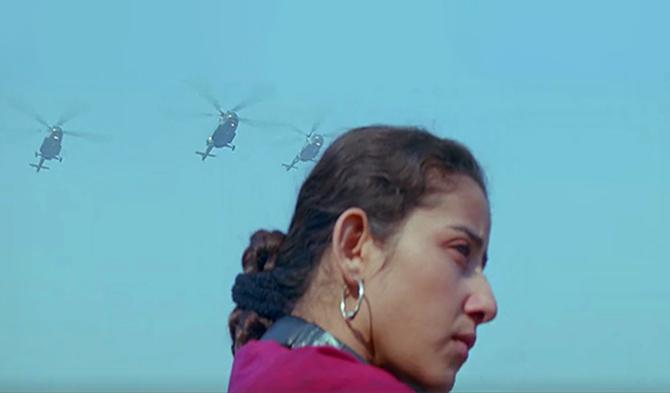 Timing is everything.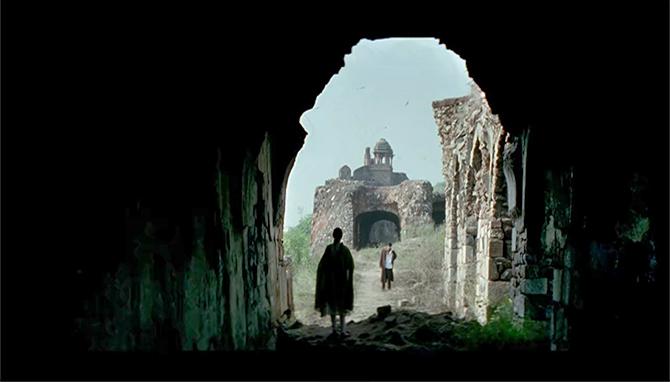 The final meeting. At the ends of their world, they can finally unite and liv... boom.