It is two weeks today since Irrfan passed away into the ages.
'He was capable, concise, calm, sublime, and profound, and perhaps that's also why Irrfan's passing felt 'personal' to many.'
Ranjita Ganesan remembers an incomparable actor.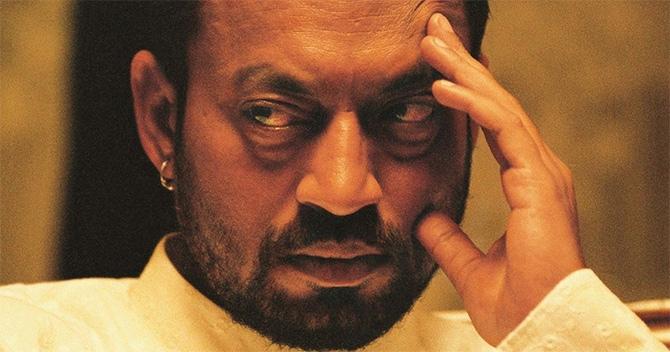 There is no finer way to evoke Irrfan Khan's eyes than with a word his father used.
Pyaalein, or chalices.
Eyes so full and substantial, as if everything they took in just never left.
Vishal Bhardwaj amply employed this asset of the actor in his 2004 adaptation of Macbeth, while introducing the uneasy love triangle between an underworld don, his mistress and his aide in the course of a single song, Tu mere rubaru hai.
Irrfan's Maqbool, who cannot publicly hold hands with Tabu's Nimmi, communicates his warmth and fear and envy with only the language of glances.
As he drives his secret lover and his boss around, the rectangle of the rear view mirror shows him watching them in anguish, he can neither bear to look nor to look away.
Those eyes were embedded in a face which bring to mind picturesque statues from other eras.
But his appearance and the careful manner in which he used it were not prized until later in his career.
In the 2000s, people still thought it not inappropriate to walk up to him and ask, 'Why don't you move your hands more?'
The suggestion was to take a cue from Shah Rukh Khan who was admired for spreading out his arms, like some missing link in a human chain.
With Irrfan, resolutely, less was more.
'In my real life and my work, I try to shed all the unnecessary embellishments. There's a kind of beauty in simplicity, so I strive for that,' he had said. 'When I become conventional, something inside me will die.'
It is not known how in over three decades on Indian screens, since the late 1980s, he escaped dealing in flashy catchphrases and song and dance.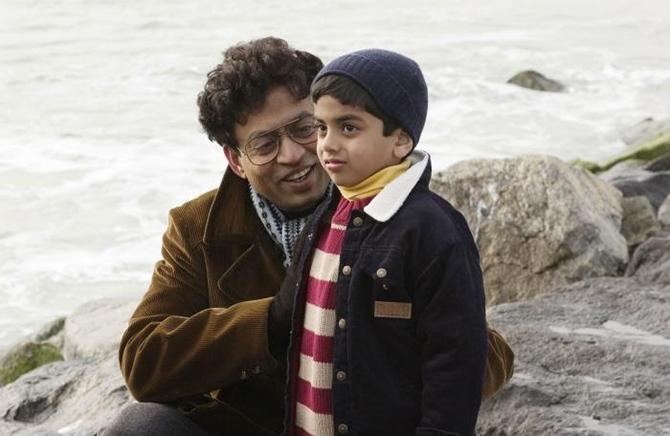 Understandably, in the years that followed, he went after more international co-productions and projects in Hollywood where 'nobody breaks coconuts'.
A breakout movie was Mira Nair's The Namesake (2006), where he played a man so unobtrusive that if he is sat in front of you, you would not take heed of him.
Irrfan was desperate for 'an entry' into the story and character -- sometimes he needed a physical model as reference -- but he had not seen this type of person before.
'But when I met (The Namesake author Jhumpa Lahiri's) Jhumpa's father, suddenly a bell rang in my head -- kling.'
Irrfan had surreptitiously recorded Amar Lahiri's voice to listen to before the shoot.
As Ashoke Ganguli in the film, arriving with his son at the brink of a jetty without a camera, he delivers in perfect Bengali cadence this achingly beautiful sentence: 'Will you remember this day, Gogol? Remember that you and I made a journey and went together to a place where there was nowhere left to go.'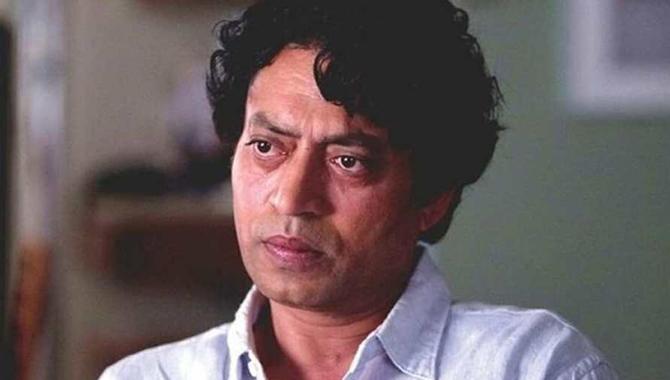 Time and again, the actor was trusted with writerly lines that he rendered naturally into speech.
Knowing how precise they were in their drafting, he never added or subtracted a thing from scripts of Vishal Bhardwaj or Juhi Chaturvedi.
In English, too, his speech had a sonorous, if unusual, rise and fall.
Think of the monologue in the last act of Ang Lee's Life of Pi (2012), an adaptation of Yann Martel's fantastical novel about a boy, 'Pi' Patel, and a big cat who survive a shipwreck.
The delicate way in which Irrfan, as the grownup Pi, recollects his parting with the tiger moves most viewers to tears.
'And then Richard Parker, my fierce companion, the terrible one who kept me alive, disappeared forever from my life.'
It is unlikely these words would have seemed as unaffected in another actor's custody.
He did not show similar confidence in his own writing, which he believed never did justice to his thoughts.
'Most of the time there are spelling and grammar mistakes.'
Irrfan shared these details with me in two interviews, in 2014 and 2016.
The first had taken place in his Madh Island home, away from the city and awash with birdsong.
And the next in his new Oshiwara apartment, closer to filmdom but where he never got used to traffic.
The man who relied on understatement on screen, both in dialogue and expression, spoke without restraint to journalists about the craft.
He moved swiftly through spaces, sat with his feet up on the sofa, and in his late 40s had the demeanour of part-Sufi, part-cinema nerd.
In an unexpected bit of role reversal, he began asking questions, even jotting down the title of a film I mentioned in a notepad.
Going through old transcripts is a reminder of how his answers often touched on mysticism and philosophy.
He allowed two things to guide his film choices -- serendipity and variety.
He felt signs when good roles were about to come calling, he said, and he liked to pick the ones that did not bore him.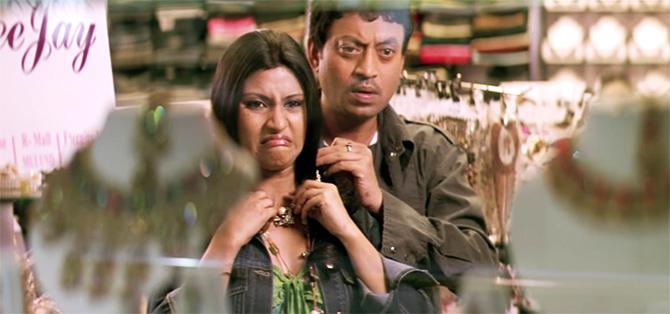 His filmography confirms this.
He played a Pathan from Mumbai's underbelly in Aan: Men at Work, a lascivious man who has little luck with the ladies in Life In A... Metro, a Sikh patriarch from post-Partition Punjab in Qissa, the sophisticated CEO of a mysterious organisation in Inferno.
These personas were far removed from his personal origins.
He was the eldest son in a family that descended from the nawabs of Tonk, and grew up comfortably in Jaipur.
When he elected to study acting in Delhi's National School of Drama, he went against his parents's wishes.
However, he would immortalise his father on screen by using his mannerisms in his portrayal of Paan Singh Tomar, a steeplechase champion turned bandit. This endeared the character to him.
The ease visible to us in his acting was actually laboriously organised and detailed.
Playing Tomar, for instance, also required going through 30 DVDs with accounts from the man's acquaintances.
Observing people and life also became a constant for the actor.
If he was crying at someone's death, there was a second Irrfan watching and telling him how he was behaving.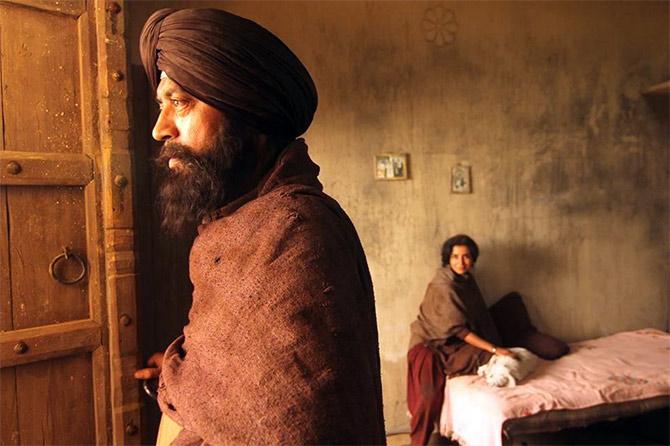 Among the parts that drained him was the delusional father in Qissa, so desperate for a male heir that he forcibly raises his fourth daughter as a son.
Director Anup Singh offered esoteric directions like 'listen to this song', leaving the actor to figure out acting decisions.
Another was Sunil Sanyal, whom he embodied in seven episodes for the psychological drama In Treatment (2010).
The man in his 50s, a proud retired professor from Bengal, grapples with loss and a sense of displacement from having moved to his son's home in New York after his wife's death.
Irrfan was at the peak of his talent in the show, which tended to lay actors bare given its format of just two people talking.
His character is on bad terms with his American daughter-in-law and the rage and humiliation which he has internalised come through in Irrfan's combination of stillness with small aberrations.
As he searched through his feelings, his gaze would shift from the psychologist and into the distance.
In moments of agitation, he would scratch an ear, take drags from hand-rolled cigarettes, and touch his lips. Nothing too distracting.
Such light touches had been his signature from the start.
In a drama school production of Jean Anouilh's farcical play The Fighting Cock, his teacher Robin Das remembered everyone else using loud movements, where Irrfan chose to go deadpan.
"His way worked beautifully as comedy," he said.
That style is evident in his appearances on 1999's Star Bestsellers, such as in the episode Fursat Mein where he plays an elderly gentleman who walks around looking for underdogs to defend, without turning him into a caricature.
It is also there in advertisements he shot in 2007 when Vodafone was still Hutch and sold cheap prepaid cards.
Irrfan was the common man delivering soliloquies straight into the camera.
In one of these, he memorably concludes that the Rs 10 recharge is so cheap, even 'kabutar mehenga pad jayega (carrier pigeons will cost you more)', his poker face breaking into a little smile. He improved everything he was in.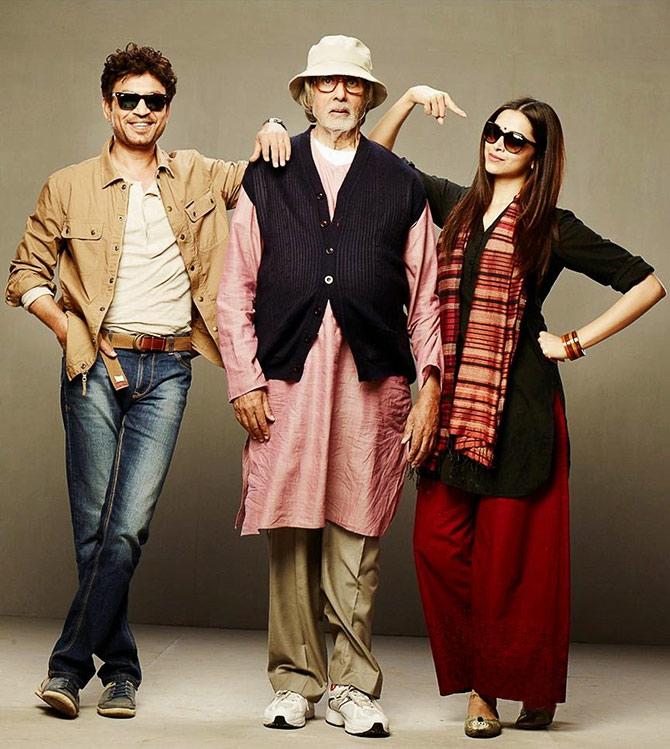 There was never a dearth of work.
Doing the rare all-out commercial film such as Knock Out or Gunday was intellectually unburdening and also financially rewarding.
It let him take up more Hollywood films, which after paying taxes both abroad and at home, did not earn him very much.
Before long, Hindi cinema's mainstream began putting out comedies with heartwarming stories.
Along came Piku -- his 'item number' -- in which film-maker Shoojit Sircar imagined Irrfan as the charming cab operator, Rana, who becomes an unlikely love interest for Deepika Padukone's character while helping her transport her hypochondriac father from Delhi to Kolkata.
It was followed by Hindi Medium about the travails of a nouveau rich couple trying to get their daughter into a posh Delhi school, and travel comedies like Qarib Qarib Singlle and Karwaan.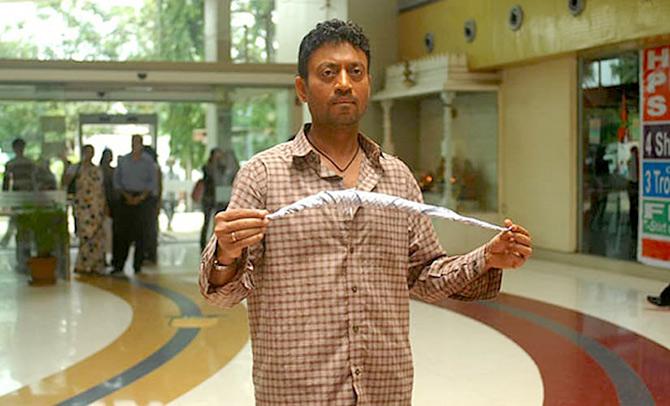 The actor favoured Delhi and its preoccupation with the arts over Mumbai, which is more taken with commerce.
Even so, he has been part of several films that were tributes to the city -- Salaam Bombay! (1988), Mumbai Meri Jaan (2008) and, most importantly, the literal love letter that was The Lunchbox (2013).
The bittersweet Saajan Fernandes had all the same qualities as Irrfan, the actor.
He was capable, concise, calm, sublime, and profound, and perhaps that's also why Irrfan's passing felt 'personal' to many viewers.
Their sentiment can be best summed up in the words of Fernandes: 'For some time you let me into your dreams. And I want to thank you for that.'