'Different people resonated with different films of his, but beneath all of that was his unique ability to capture the human spirit in an intimate and honest way.'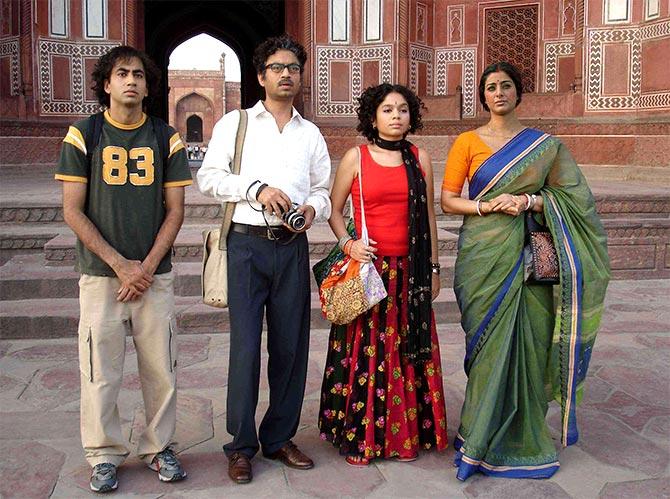 One of the most memorable roles Irrfan Khan played was Ashoke Ganguli in Mira Nair's The Namesake and one of the most memorable lines he said in that film was to his son, Gogol.
'Remember you and I made the journey and went to a place where there was no more left to go,' he tells his young son who grows up to have a complex and conflicted relationship with his father as Gogol battles with his identity as the child of immigrant parents in the United States.
Kal Penn, who played the grown up Gogol, looks back at the journey he made with Irrfan in The Namesake and tells Archana Masih/Rediff.com that he has never worked with an actor who could communicate with silence so expertly.
What are your best memories of Irrfan Khan -- on and off the sets -- of The Namesake?
Irrfan was so thoughtful and giving as an artist and a human. He so intimately embodied his character in a way that made it easier to fall into mine.
Do you remember your first meeting with him? What was that like? Was he friendly? Aloof? Faraway? Encouraging?
I remember Irrfan as warm, friendly, thoughtful. He could also be very funny.
Many have said that he 'owned the character' he played? What are your thoughts of him as an actor who worked alongside him and saw his craft closely?
I have never worked with an artist who is able to communicate through silence so expertly.
Whether Irrfan had lots of dialogue in a scene with you, or none, you knew exactly what his character was feeling and thinking.
There's a scene between Gogol and his dad that takes place in a car, where Ashoke finally tells Gogol about his name.
Irrfan and I had so many beats of silence, but he was communicating the entire time. It's a riveting performance.
Did you watch his films in Hollywood and Hindi cinema after The Namesake? If so, which ones and what did you think?
Of course! He was such a versatile actor, to work across mediums and continents.
I have a lot of favorites, especially The Lunchbox and Piku, Billu and Gunday. The next item on my Hotstar cue happens to be Angrezi Medium, which I'll watch this weekend.
Could you share any happy, fun, funny anecdotes while shooting The Namesake? Moments that have stayed with you and leave you with warmth.
There's a tough scene in which my character Gogol has to go to the morgue to claim his father Ashoke's body.
My only line in the scene is when I look at Ashoke lying there lifeless, then look to the coroner and say, "What happened to his glasses?"
It's obviously a really sombre moment, and there was pin-drop silence in the room.
During one of the takes, I delivered my line, "What happened to his glasses?" and Irrfan mumbled, "They are in my pocket!".
It scared the shit out of me, and was so, so funny.
Did you ever get a chance to meet him after The Namesake? Or remained in touch?
I was living in LA and he in Mumbai, so we unfortunately didn't see each other as regularly as I would have liked.
The Namesake remains the project of which I'm most passionate. When you share that experience with people, the feeling of connection never goes away, so each time I would run into Irrfan after The Namesake felt like such a gift, I just felt lucky to get the chance to reconnect.
The New York Times, The Guardian, NPR, CNN, the BBC, many international publication, carried news about his passing and obituaries, what according to you were the qualities of this Indian actor that transcended international boundaries?
I would guess that different people resonated with different films of his, but beneath all of that was his unique ability to capture the human spirit in an intimate and honest way.
He was a commensurate artist.
What would be your enduring memory of him?
The way he brought Ashoke to life, and brought us all closer together in the process.