'Ever since I heard about his death this morning, I have not been able to control my tears,' says Patcy N who interviewed the actor often.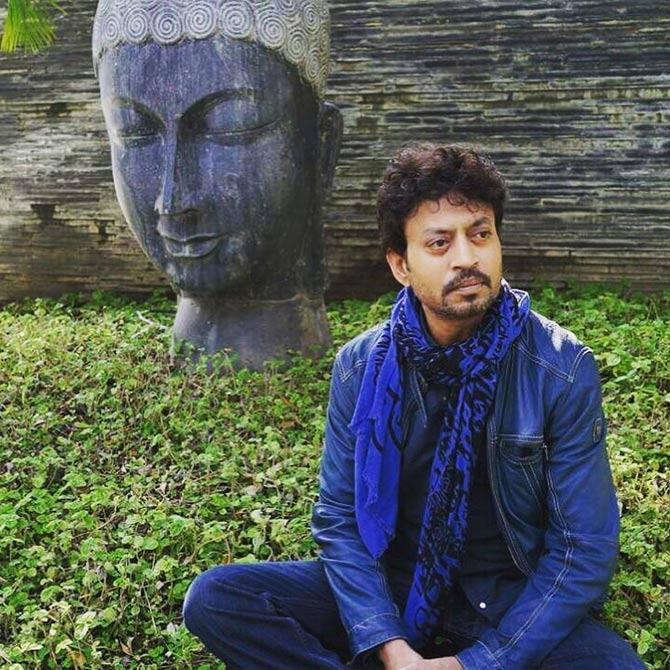 My husband Anjum N was in the fourth stage of adrenal cancer when he met Irrfan Khan for an interview in 2003.
The interview happened twice as Anjum was writing for Rediff.com as well as for India Abroad, the Indian-American newspaper Rediff.com then owned.
Anjum passed away in August 2004 after battling the disease for a year.
Immediately after his death, I started working for Rediff.com.
In 2005, I met Irrfan for an interview about his film Chocolate.
The moment I told him I worked for Rediff.com, he asked, 'Ek ladka tha aapke office main, uske saare baal nikaale hue the. Woh shayad bahut bimmar tha. Uska kya hua?.
I told Irrfan that he had passed away.
I was shaken.
I was just 29, a widow, struggling to come to terms with the tragedy.
Then he asked, 'Uske family ke bare mein kuch pataa hai?'
'Yes sir,' I said, 'mein uski patni hoon.'
'Oh! I am extremely sorry for your loss. Let me know how I can help you. If you need anything anytime, you can call me,' Irrfan told me.
All through these 15 years that I have been a journalist, I have always thought of the actor who met my husband just twice before Anjum's death and remembered to ask me, two years later, about the boy who worked at Rediff.com.
It's not that actors are not insensitive. They know who they meet, and understand those they talk to.
But let me tell you what Anjum told me about his meeting with Irrfan.
They had met on the sets of a film during the lunch break.
Irrfan offered him lunch, and they ate as they chatted.
Because Anjum had shaved his head, the first thing Irrfan asked him was: 'Is there a death in the family?'
Anjum replied no.
'Then why have you shaved your head?'
Anjum was secretive about his health at the time and would not give out the answer easily.
He just said, 'I am sick.'
'Mujhe laga tha. Koi madat chahiye toh bata dena,' Irrfan said.
He did not probe and Anjum didn't reveal more.
But Irrfan remembered to ask two years later. What a remarkable memory!
Irrfan is associated with my life in many ways.
The last film that Anjum and I watched together in a theatre was Haasil.
Anjum was a huge fan of the actor.
Days before his death, Anjum slipped into a coma. But before that, he had become delusional and I had to ask him questions like 'What is your name?', 'Which film is playing on TV?'
He remembered Haasil.
With the news of Irrfan's passing, all those memories flash before my eyes.
When I heard aboout Irrfan having cancer, I had hoped the news was untrue.
Over the years, he forgot me. He forgot Anjum.
I interviewed him many times, but that topic never came up.
In 2009, when Slumdog Millionaire won big at the Golden Globes, I called him at 9:30 am for his reaction.
In 2012, I spoke to him about The Amazing Spider-Man. He said he was happy with the way the film had shaped up.
In 2017, I met him twice. Once for his film Hindi Medium, and again for Qarib Qarib Single.
Irrfan wore sunglasses for the first interview, which was a one on one conversation.
He looked disinterested, and his answers were short.
I was upset because I did not expect that from Irrfan.
He was quite chatty the second time, for Qarib Qarib Single, a group interview. He answered all questions and spoke well.
Ever since I heard about his death this morning, I have not been able to control my tears.
There is a weird feeling, a churning in the pit of my stomach, a restlessness.
It feels like a close member of my family has passed away.
Irrfan Khan, I will always miss you.