As we mark the 34th death anniversary of Shankar -- of the legendary Shankar-Jaikishan duo -- Subhash K Jha selects five evergreen songs from their greatest hits.
Between Shankar and Jaikishan, who was the more gifted?
This debate surrounding musical duos has existed from the time Shankar-Jaikishan hyphened their super career, right up to the times of Nadeem-Shravan, Jatin-Lalit and Vishal-Shekhar.
Here are some of the superhit Shankar-Jaikishan's chartbusters, which were specifically created by Shankar.
Pyar hua ikraar hua (Shri 420,1955)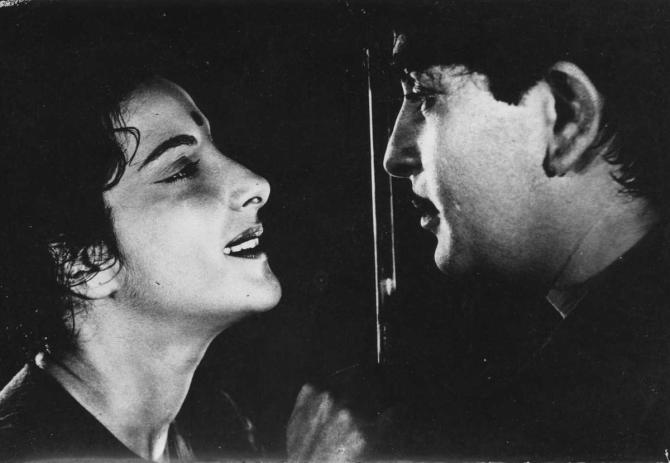 Raj Kapoor gave Shankar-Jaikishan their first break in Barsaat, in which Lata Mangeshkar broke out as a super-singer.
The film featured a truckload of hit songs.
Raj Kapoor's Shri 420 came six years later.
This immortal Lata-Manna Dey duet was composed by Shankar, and is, to this day, remembered for the passing shot in the film of Raj Kapoor's three children -- Randhir, Rishi and Ritu.
Manna Dey once wondered how he got to sing this ultra-romantic duet with Lataji when Raj Kapoor's voice was Mukesh.
Aaj kal tere mere pyar ke charche (Bramhachari, 1968)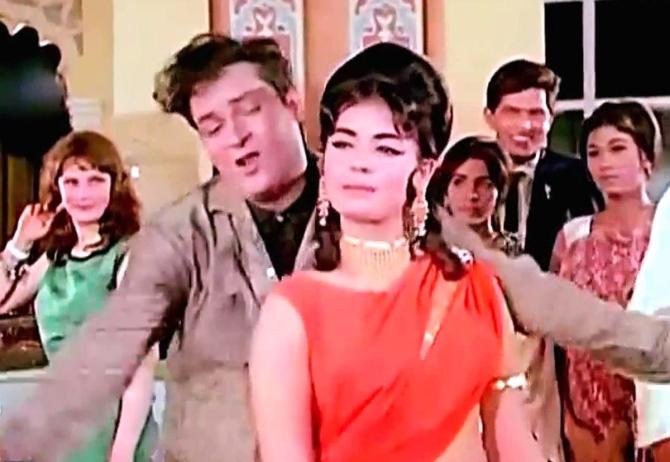 Most of the songs in this Shammi Kapoor film were composed by Shankar.
This one's zingy dance floor beat and Mohammed Rafi's peppy singing make it unforgettable.
Oh, by the way, that female voice singing for Mumtaz is not Lata Mangeshkar. It's Suman Kalyanpur.
This song was recorded during that prolonged phase when Lataji and Rafisaab had stopped singing together.
Lata-soundalike Suman made hay while the cold war lasted.
Titli udi (Sharda, 1966)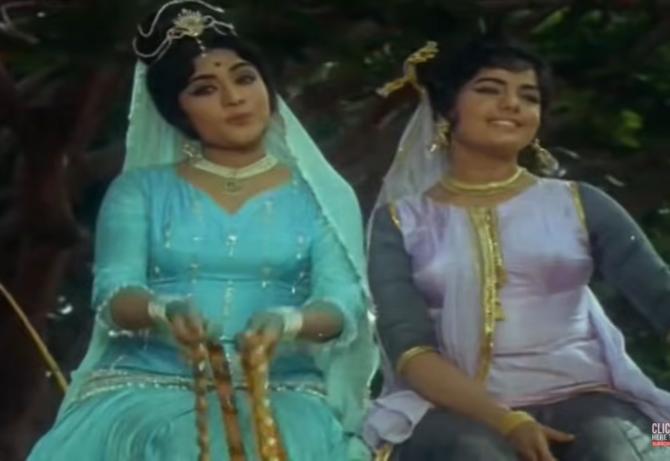 In the mid-60s, Shankar had a major rift with his professional partner Jaikishan over 'singer' Sharda whom Shankar took a shine to and pushed into his music although everyone (barring the besotted) could hear she couldn't carry a single note properly.
Love, we heard, is blind. Shankar proved it's deaf too.
Among the atonal chartbusters that Ms Sharda 'sang' was this sprightly, impish Asha Bhosle styled number.
Imagine if a real singer had rendered this. It would taken wings.
Bol Radha bol sangam hoga ke nahin (Sangam, 1965)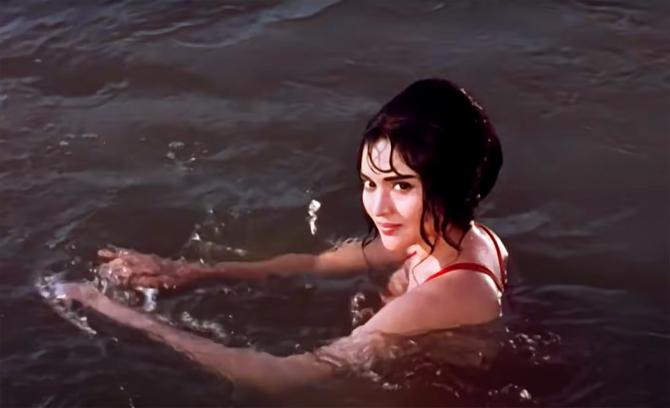 By the mid-60s, Shankar-Jaikishan had out-distanced all other film composers, rolling out hit after hit after hit...
In Sangam, Mukesh had a chartbuster each with Shankar and Jaikishan.
While Jaikishan composed the immortal betrayal song, Dost dost na raha, Shankar did the playful Mere mann ki Ganga aur tere mann ki Jamuna ka bol Radha bol sangam hoga ki nahin.
The song has a sexy guest voice appearance by Vyjanthimala. I don't think she is heard in any other song.
Chal sanyasi mandir mein (Sanyasi, 1975)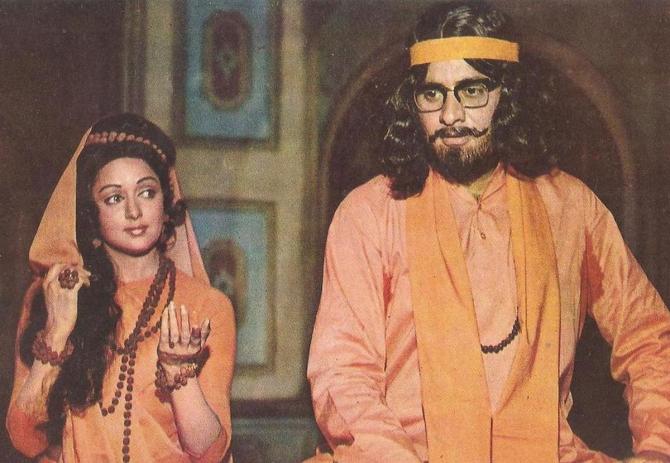 After Jaikishan's untimely death in 1971, Shankar struggled along, composing music alone, though he stuck to the Shankar-Jaikishan brand name.
In 1975, he had one last flash of success with this Manoj Kumar-Hema Malini starrer, where Manoj Kumar personally requested Lataji to do the singing honours.
She gave Shankar a blazing gallery of chartbusters in Sanyasi -- Sun bal brahmachari main hoon kanya kunwari, Bali umaraiya bhajan karoon kaise, Yeh hai Geeta ka gyan and this, the title song, where she played the seductive Menaka to Mukesh's meditating 'bal (Manoj Saab was pushing 50) brahmachari'.
Feature Presentation: Rajesh Alva/Rediff.com