'Finally it was S D Burman who brought us together.'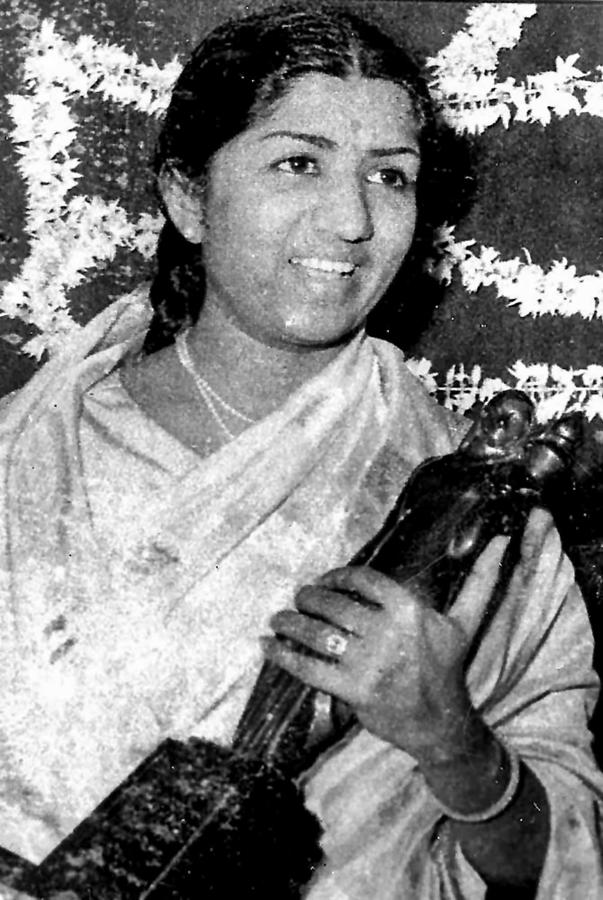 Lata Mangeshkar has so many interesting stories to tell about the movies, her long career and from her own life.
Many of these are recorded in Nasreen Munni Kabir's fascinating book, Lata Mangeshkar... In Her Own Voice, published by Niyogi Publishers.
Here, Lataji reveals how the Filmfare awards started recognising playback singers and their contribution to film songs.
Nasreen Munni Kabir: I believe the Filmfare awards were first introduced in 1954 and initially the Best Music award was given to a particular song, not to the whole album. In 1954, Naushad Ali won the award for Tu Ganga Ki Mauj Main sung by Mohammed Rafi in Baiju Bawra.
In 1955, S D Burman won it for Jayen To Jayen Kahan. It was sung by Talat Mahmood in Taxi Driver.
From 1956, the Best Music award was given to the music director for the whole album. That year's winner was Hemant Kumar for Nagin.
Then Shankar-Jaikishan won the award in 1957.
Was your argument with Jaikishan somewhat connected to that event?
Lata Mangeshkar: Shankar-Jaikishan were told by Filmfare that they would get the [1957] award for Best Music for Chori Chori.
Jaikishan came to see me and said: 'We're getting the award so you must sing Rasik Balma at the awards ceremony.'
I said: 'I won't sing.'
'Why won't you? We're getting an award.'
'You are getting the award, not me. The award is for Best Music. They aren't giving the award to the singer or lyricist. So why don't you let your orchestra play the tune without words and singer?'
We had a big fight and he said: 'How can you talk to me like this? I'm going.'
I said: 'Very well. Go!'
Then Shankarji came and said: 'Lataji, he's naïve and young. Don't be upset by what he says.'
I explained to Shankarji why I had refused.
'I won't sing unless Filmfare introduces awards for playback singers and songwriters. Then I'll come. Otherwise I won't.'
These were the kinds of quarrels we had.
Nasreen Munni Kabir: I wonder whether people misunderstood your intentions -- when it clearly led to future recognition of all singers and lyricists.
Filmfare finally introduced additional awards for Best Singer and Best Lyricist in 1959. The first recipient was Shailendra for the lovely Yahudi song Ye Mera Diwaanapan Hai sung by Mukesh, and you won the Best Playback Singer award for Aaja Re Pardesi (Madhumati, 1958).
Surprisingly, it was only in 1967 that Filmfare introduced separate awards for female and male playback singer.
The most famous argument written about extensively was the one you had with Rafi Sahib. How did this happen?
Lata Mangeshkar: The argument with Rafi Sahib was over royalties, and took place sometime in the '60s.
I felt we singers should be paid a royalty by the record companies.
The other singers, including Mukeshji, Talat Mahmood, Kishore Kumar, Manna Dey fought alongside me.
Rafi Sahib and Asha (Bhosle) believed that once a song was recorded and the producer had paid us -- that was the end of it. Rafi Sahib didn't think that we should fight for royalties.
This created a rift between us.
From 1963 to 1967, we did not sing together.
Rafi Sahib sent me a letter some time later and said he had spoken in haste.
Finally it was S D Burman who brought us together.
An S D Burman night was held at Shanmukhananda Hall in 1967 and Rafi Sahib and I met on the stage.
We were both very pleased to be singing together again and sang the Jewel Thief duet Dil Pukaare.
Nargisji and various music directors introduced Dada's songs.
It was even announced that Rafi Sahib and I had made up. The audience greeted the news with much excitement!
Nasreen Munni Kabir: For those unfamiliar with the process of how you learn a song, can you explain what is involved?
Lata Mangeshkar: I first write the lyrics in Hindi, in Devnagari -- even if the words are in Urdu or any other language.
The music director sings the song to me so I hear the tune as I read the words.
I make notes on my page of lyrics, indicating at what point I might stress a particular word.
Then I memorise the tune and sing it.
Excerpted from Lata Mangeshkar... In Her Own Voice by Nasreen Munni Kabir with the kind permission of the publishers, Niyogi Books.