'Khaike Paan Banarasiwala doesn't sound like a Hindi song,' Kishore Kumar said.
'I don't think I can sing this song.'
We pleaded with him.
Finally, he relented on one condition...
Legendary movie lyricist Sameer shares some wonderful anecdotes.
Rediff.com's A Ganesh Nadar listens in.
The hall was bustling with people.
Singers and musicians practice at a frantic pace for a show that is just around the corner.
In the midst of all this, one man sits calmly in a corner.
He observes, he listens, he takes notes, but he does not say a word.
He is the man behind the show, the story behind the song Safarnama.
Movie lyricist Sameer.
Sameer has hosted about 25 such shows, the only lyricist to do so.
What makes Sameer's shows different from other music shows is that not only do you hear the songs you also hear the story behind the songs.
Like when he presented the song Khaike Paan Banarasiwala for the producer and director and they were aghast.
"'There is no Hindi word Khaike' they said. I explained it was a popular word in Uttar Pradesh and as Amitabh (Bachchan, who stars in Don) was from UP, he would be able to carry it off easily," Sameer recalls.
Then Kishore Kumar arrived.
'Is this a Hindi song? It doesn't sound like one,' the legendary singer said. 'I don't think I can sing this, please find another singer.'
"We pleaded with him. We said he was the best singer to sing it. Finally, he relented on one condition: He would sing it only once."
"If we liked it, good, otherwise, we would have to find another singer. We reluctantly agreed," Sameer remembers.
Kishore Kumar sang the song n one take and it went on to become one of the biggest hits of its time.
"Amitabhji always treats me like family. He has come for every important event in my life," Sameer says.
"He is a man who values relationships and knows how to maintain them. He gives 100 percent to whatever he does," Sameer adds.
Sameer takes us through his journey in the movies with his show, Safarnama where he shares interesting anecdotes from his life, sprinkled liberally with his shayari.
VIDEO: Watch the song rehearsal of Sameer's show: Singers belt out Pyar Mein Dil Pe Maar De Goli from the Amitabh Bachchan-Zeenat Aman-starrer Mahaan.
Video: Afsar Dayatar/Rediff.com
"I was born in Banaras and came to Mumbai for work. That is my janmabhoomi and this is my karmabhoomi."
"I am eternally thankful to Mumbai and the people here for my success. It has been a 36-year long journey."
Andheya Lautegi Meri Balayi KLekar
Ghar Se Nikla Mai Ma Ki Dua Ye Lekar
"When I was at the Banaras Hindu University, I heard Anand Bakshi's ABCD Chodo Naina Se Naina Jodo. I used to think I can write this in two minutes."
"But after coming here, I realised it's not that easy. Every song takes a lot of effort and time."
"The glamorous world of Bollywood is actually dark and painful. Outside, it looks good, but inside, it is ugly."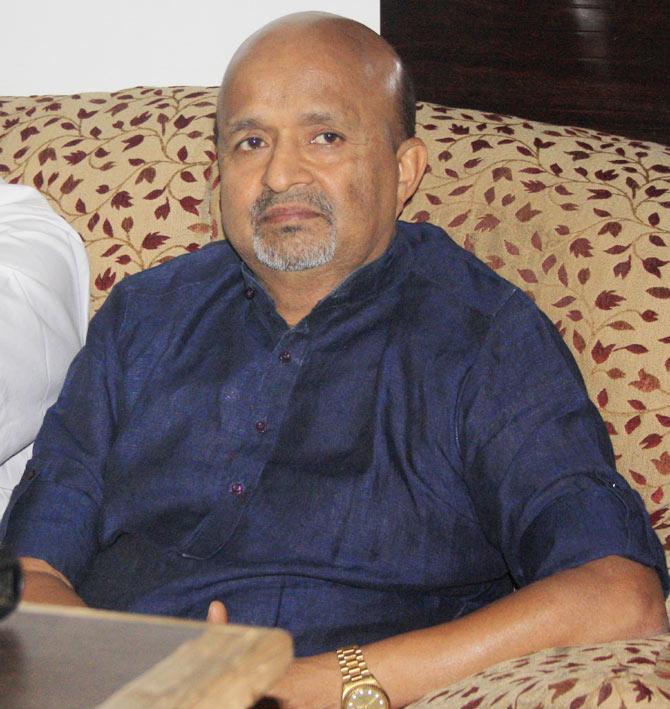 IMAGE: Sameer. Photograph: Afsar Dayatar/Rediff.com
"(Composer) O P Nayyar met my father Anjaan at the Taj Mahal hotel and gave him a suitcase full of money, saying, 'Take as much as you want'."
"My father replied, 'I don't want your alms, I want work'."
"O P Nayyar told him, 'I cannot work with you as I am used to abusing my writers. You are so good I cannot abuse you'."
"'I want you to write a song and leave and not be around when I am reading it. I know you come from the Hindi world, but I want you to write this song in Urdu'."
"This song proved to the world that my father could write in Urdu as well even though it was a difficult language for him."
"The song was Aap Ke Haseen Rukh Pe (from the film Baharen Phir Bhi Aayengi)."
"The smallest things sometimes turn out to be the biggest."
"When you are writing, you must remember that when you are reciting the second line and there is no applause from those around you, the lines do not have strength."
Bus Itnisi Baat Samundar Ko Khal Gayee
Kagaaz Ke Nav Mujh Pe Kaise Chal Gayee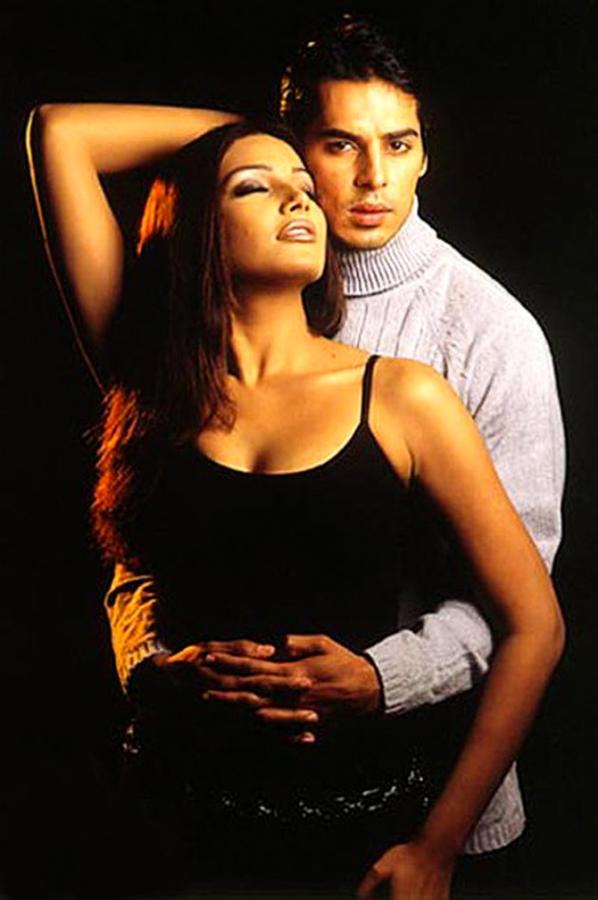 IMAGE: Dino Morea and Bipasha Basu in Raaz.
"When I entered the industry, there were lots of heavyweight poets. People thought I don't have a chance."
"One day, Mahesh Bhatt called me. I had done many movies with him."
"He was making a film called Raaz and he wanted a song for a girl seducing a boy. I told him it was a usual situation."
"He said it wasn't, as in this scene, the girl was in a jungle and she had a violin in her hand."
"The film was being directed by Vikram Bhatt, but the song would be done by Mahesh."
"It sounded like a ghost song was needed, but he was asking for a seductive one."
"So I wrote Itna Mein Chahoon Tujhe."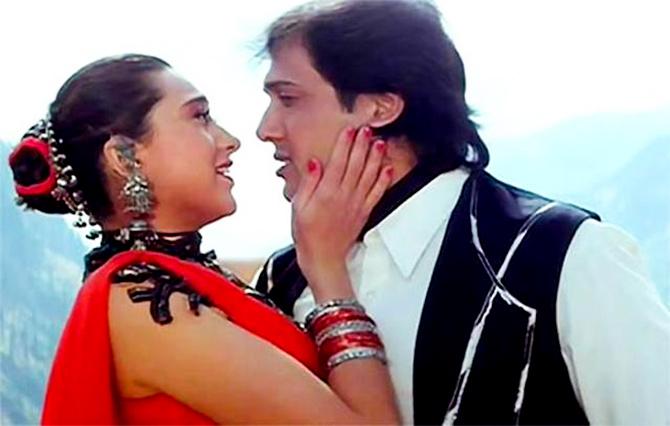 IMAGE: Karisma Kapoor and Govinda in Coolie No 1.
"We have to change with the times."
"I wrote a song, Mein Raste Se Jaa Raha Tha/Mein Bhel Puri Kha Raha Tha because the hero was a coolie (Govinda in and as Coolie No 1) and you cannot expect him to sing Chandan Sa Badan Chanchal Chitvan."
Maine Aisi Bhi Kya Katha Kar Di
Jo Kabile Mafi Nahi
Tumhe Dekha Nahi Hai Kahee Din Se
Kya Yeh Saja Kaafi Nahi
"Now listen to a beautiful song my father wrote (from the film Badalte Rishtey)."
Meri Sanson Ko Jo Meheka Rahi Hai
Usne Meri Mohabbat Ko Aaj Naya Mode Diya
Kuch Bola Nahi Sirf Apni Zulfon Ko Khula Chod Diya
Mujhe Jab Dekti Hai Apne Zulfay Khol Deti Hai
Bina Bole Woh Ladki Bahut Kuch Bol Deti Hai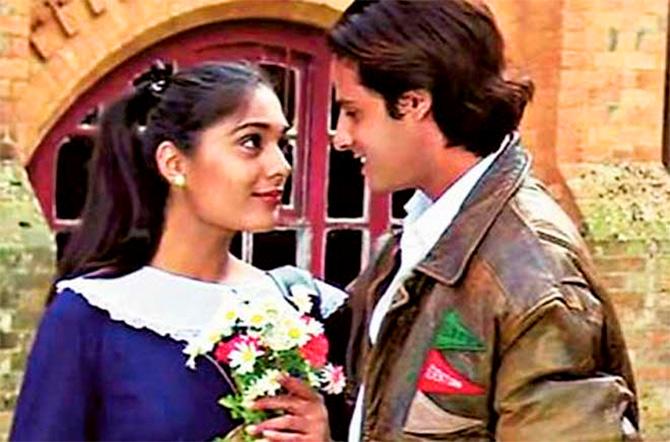 IMAGE: Anu Aggarwal and Rahul Roy in Aashiqui.
"Music director Nadeem used to live near the Maratha Mandir theatre."
"One day we were driving from his home to Worli when I told him that I had just thought of a beautiful line: Nazar Ke Samne Jigar Ke Paas Tum Rahti Ho."
"He asked me for the next line."
"By the time we reached our destination, I had completed the song."
"This song from Aashiqui has been my biggest hit and I got my first Filmfare award for it."
"I wrote it in the shortest possible time driving from Maratha Mandir to Worli."
"Once there was a song that my father and Rajesh Roshan liked. but the producer did not."
"Rajesh Roshan was adamant and said that if the song was not included, he would quit the film."
"The producer scolded him. The song was composed and they took it to Amitabh Bachchan who was starring in the film."
"He liked it so much that he told the producer if he didn't like it, he would not act in the film."
"The song was Chukar Mere Mann Ko from Yaarana."
Chukar Mere Mann Ko Piya Tune Kya Ishara
Badla Yeh Mausam Lage Pyara Jag Saara
Aadmi Aaina Nahi Hota Waqt Ko Kuch Fana Nahi Hota
Jhoot Ki Umar Jab Tak Hoti Jab Tak Sach Ka Aamna Nahi Hota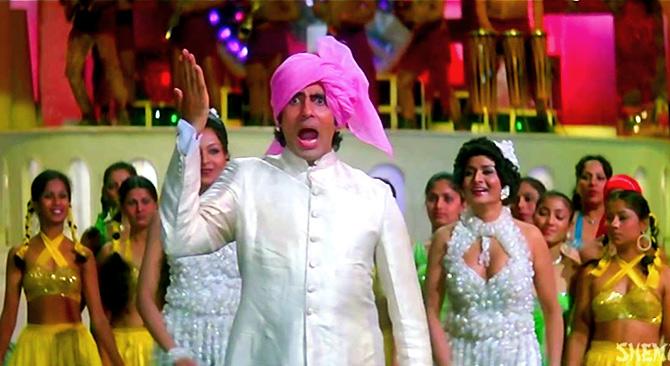 IMAGE: Amitabh Bachchan sings Pag Ghungroo Baandh in Namak Halal.
"Director Prakash Mehra, Amitabh Bachchan and my father went to Bappi Lahiri's house and told him that they wanted his mother to sing for them for Namak Halal."
"His mother was a classical singer and the song was Pag Ghungroo Baandh."
"After his mother sang the first line, Bappi added the music."
"I wrote a song on the same raag and Nadeem gave music to it: Sochunge Tumhe Pyar from Deewana."
Sochunge Tumhe Pyar Karte Nahi
Majboot Se Majboot Loha Tut Jaata Hai
Kayee Jhute Ikathe Ho Tho Sacha Toot Jata Hai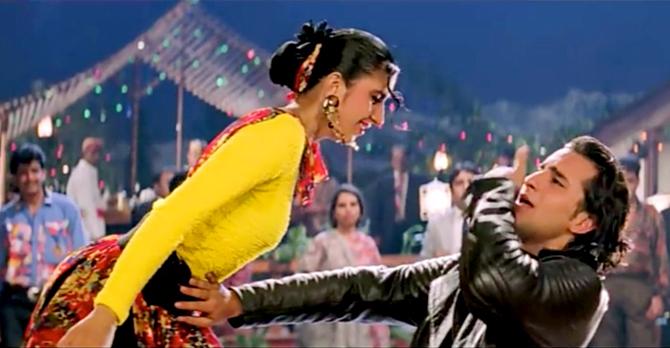 IMAGE: Saif Ali Khan sings Ole Ole in Yeh Dillagi.
"My song from Yeh Dillagi, Jab Bhi Koi Ladki Dikhen Mera Dil Bole Ole Ole became a big hit."
"It is very difficult to write such songs. In our language, we call them meaningless words, which are added to suit the music."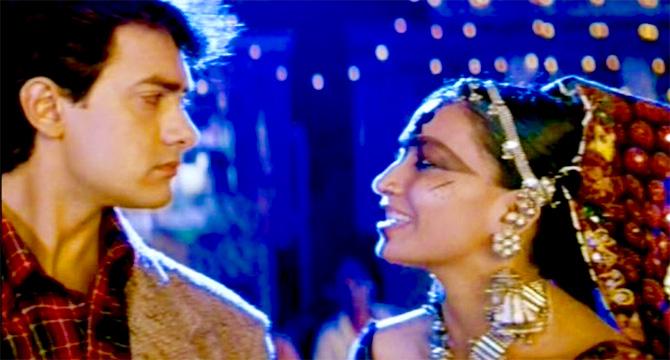 IMAGE: Aamir Khan in Raja Hindustani.
"Nadeem had composed the music for the Raja Hindustani song, Pardesi Pardesi Tu Jaana Nahi."
"The word Pardesi sounded like Purrrdesi and it was difficult."
"We first tried the song with Udit Narayan, then with Kumar Sanu. Finally, we decided to release it and see the audience reaction. It became a huge hit."