Film music flourished in the 1970s. Some old masters did some great work, but it was also the decade of new composers.
A fascinating excerpt from Amit Khanna's Words. Sounds. Images: A History Of Media And Entertainment In India.
Film music flourished in the 1970s. Some old masters like S D Burman, Salil Chowdhury, Shankar-Jaikishan -- then working separately but under the joint name; even when Jaikishan died in 1971, Shankar continued to use the joint name -- Madan Mohan, Jaidev and Khayyam did some great work, but the top three were Laxmikant-Pyarelal, Kalyanji-Anandji and R D Burman.
But this was also the decade of new composers like Bappi Lahiri, Rajesh Roshan and Ravindra Jain, who would go on to dominate in the years to come.
Son of music director Roshan, Rajesh Roshan started as a rhythm assistant to Laxmikant-Pyarelal in the early 1970s and was given his first break by actor-film-maker Mehmood in Kunwara Baap (1974).
Inheriting the melody from his father and orchestration from his gurus Laxmikant-Pyarelal, Rajesh created a fresh sound and with Julie (1975), he became the musician to watch out for. Raju, as he is called, is arguably one of the most melodious composers of the last few decades.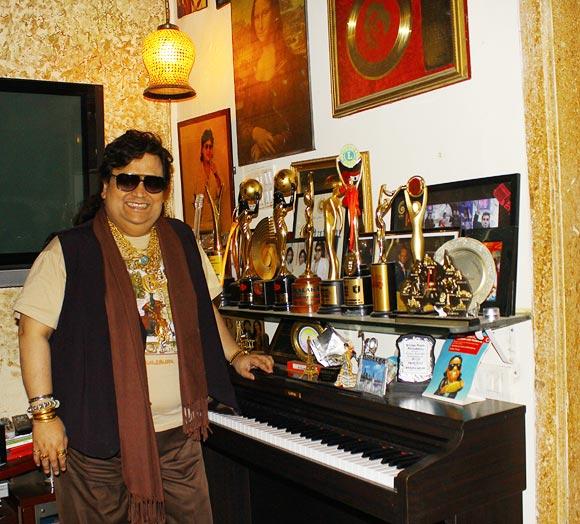 I met Bappi Lahiri as a podgy young lad from Calcutta trying his luck in films, in the Navketan office in 1972.
He came with his father and sang some songs for me. I was impressed. He kept meeting me and I remember telling Dev Saab about him.
When my friend Bhisham Kohli was launching his film Chalte Chalte in late 1972, he asked me to suggest a new composer as his first choice Laxmikant-Pyarelal were too busy.
I recommended Bappi's name and we decided to meet him and listen to some of his tunes. We went to his house in a Bandra by-lane and thus Kabhi Alvida Na Kehna happened spontaneously that evening.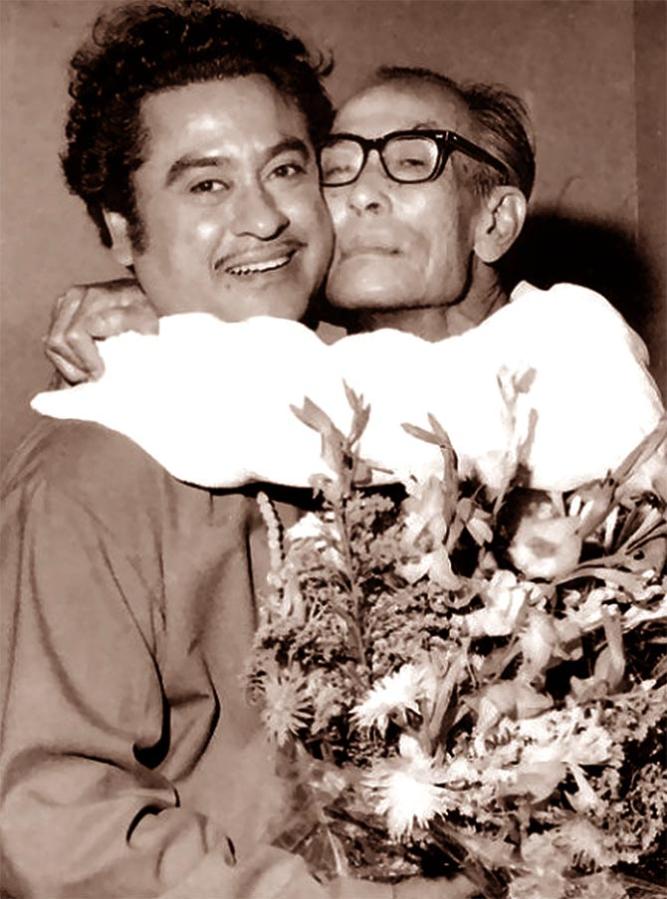 Bappi was initially called a R D Burman clone but as we discovered over the years, he had his own distinctive sound -- not to forget the bejewelled look.
He was the one who brought the disco sound to film music. He also had the advantage of a vast repertoire of Bengali folk songs.
Very prolific, he became the most sought-after music director. His versatility has stood him well and even today, five decades later, he is still popular both as a singer and music director.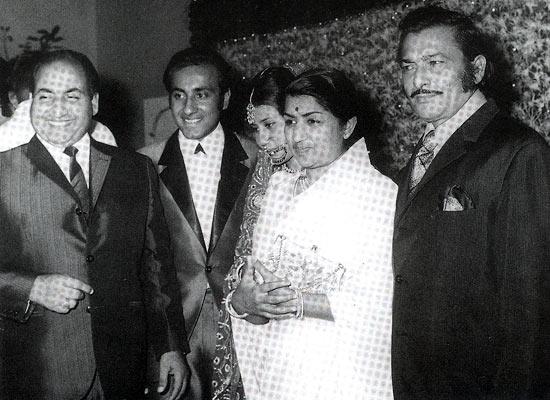 Ravindra Jain, a blind singer, composer and lyricist, had a great innings from the 1970s onwards.
His first notable film was the Nutan-Amitabh Bachchan film Saudagar (1970), but he got his first hit in Chor Machaye Shor (1974). He followed this with a string of musical hits with Rajshri Productions.
Later he had two mega hits with Raj Kapoor -- Ram Teri Ganga Maili Ho Gayi and Henna. He composed the music of Ramanand Sagar's TV epic Ramayana and other serials.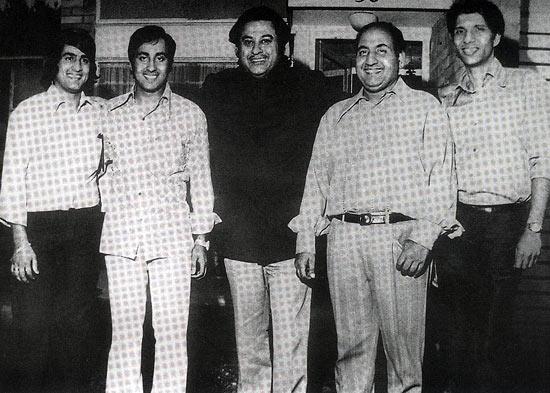 Anand Bakshi worked in the army, but was passionate about writing songs. He came to Bombay in the 1950s and struggled to get an odd song now and then.
It was with Kalyanji-Anandji in Mehndi Lagi Mere Haath, Himalay ki God Mein and Jab Jab Phool Khile that he tasted success.
Devar (Roshan), Aradhana (S D Burman), Do Raaste (Laxmikant-Pyarelal) and Hare Rama Hare Krishna (R D Burman) catapulted him to the top.
His songs were simple and he was the master of rhyme. He drew extensively on folk music of UP and Punjab, managing to convey complex thoughts through everyday imagery.
In his long and immensely successful career he wrote great poetry occasionally. His facility with language enabled him to write swiftly and engagingly.
He worked with virtually every music director and every film-maker. He has probably written over 3,000 songs in more than 600 films in a six-decade-long career.
A random list of some of my favourites: Chand Si Mehbooba, Aata Hai Mujhe Phir Yaad, Pardesiyon Se Na Ankhiyan, Mere Mehboob Qayamat Hogi, Kora Kagaz Tha Ye Mann Mera, Yeh Sham Mastaani, Dum Maro Dum, Ye Jeewan Hai, Saawan Ka Mahina, Raina Beeti Jaye, Main Shayar Toh Nahin, Ek Duje Ke Liye, Zindagi Ke Safar Mein, Janeman Kisi Ka Naam Nahin, Abke Saawan Mein, Aadmi Musafir Hai, Chitthi Ayee Hai, Tujhe Dekha Toh and Jaadu Teri Nazar.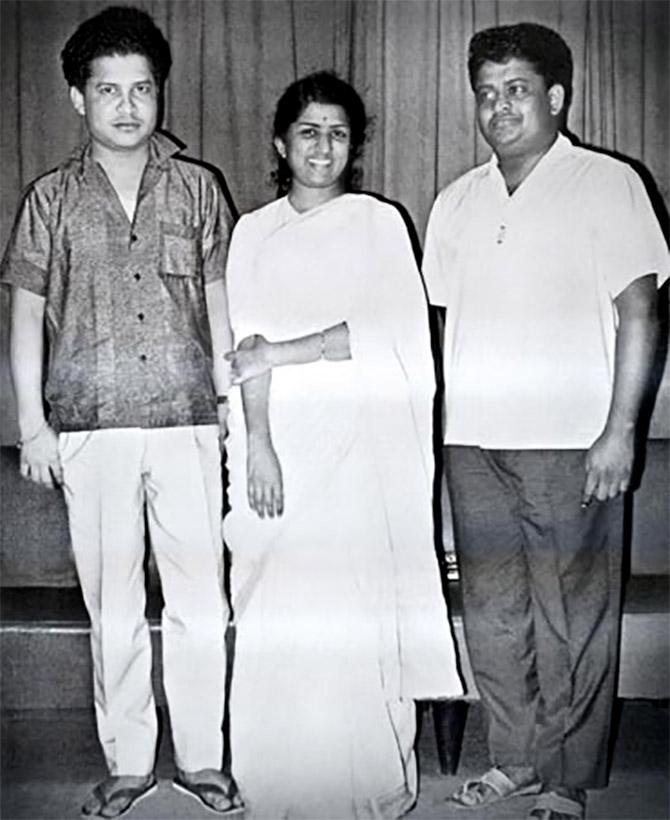 Neeraj never received his due from the film industry. Though he wrote lyrics for only a dozen films or so, his songs were path-breaking.
He made his debut in Bharat Bhushan's Nai Umar ki Nai Fasal with music director Roshan. Then came two big films, Raj Kapoor's Mera Naam Joker and Dev Anand's Prem Pujari.
His fresh vocabulary and imagery were immediately noticed. In the post-Shailendra world, it seemed his inheritor had been found.
Working mainly with S D Burman and Shankar-Jaikishan, Neeraj wrote some delightful songs in films like Gambler, Tere Mere Sapne, Kanyadan, Sharmeeli, Chanda aur Bijli, Patanga, Lal Pathar and Kal Aaj aur Kal. Somehow branded unlucky, he was shunned by producers and he went back to teaching in Aligarh.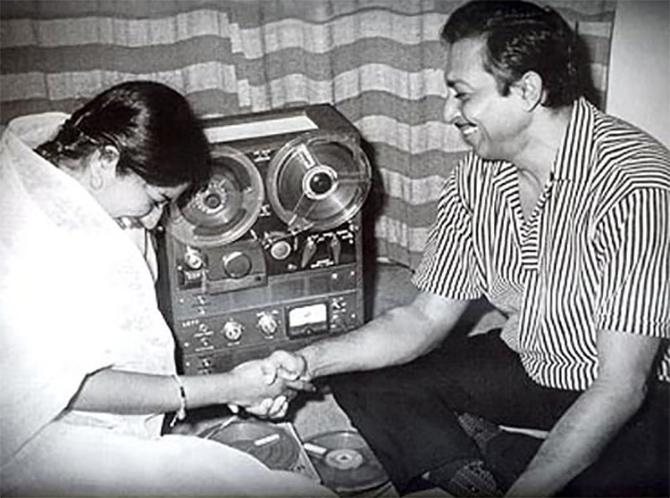 Indeevar had one of the longest careers as a lyricist. He started with Malhar starring the singer Mukesh with music by Roshan.
Struggling in the 1950s, he managed some hit songs in the 1960s with Kalyanji-Anandji -- Dulha Dulhan, Himalay ki God Mein and importantly Manoj Kumar's Upkar. Other important films were Saraswatichandra, Safar, Qurbani (Biddu's Aap Jaisa Koi), Purab aur Paschim -- and then in the 1980s he was in full flow.
Some of the popular songs of the 1970s and their composers were: Laxmikant-Pyarelal: Bindiya Chamkegi (Lata Mangeshkar, Anand Bakshi; Do Raaste), Jhoot Bole Kauva Kaate (Shailendra Singh, Lata Mangeshkar, Anand Bakshi; Bobby), Amar Akbar Anthony (Kishore Kumar, Shailendra Singh, Anand Bakshi; Amar Akbar Anthony), Main Tulsi Tere Aangan Ki (Lata Mangeshkar, Anand Bakshi; Main Tulsi Tere Aangan Ki), Mere Dil Main Aaj Kya Hai (Kishore Kumar, Sahir Ludhianvi; Daag), Ek Pyaar Ka Nagma Hai (Mukesh, Santosh Anand; Shor), Maar Diya Jaaye (Lata Mangeshkar, Anand Bakshi; Mera Gaon Mera Desh).
Kalyanji-Anandji: Pal Bhar ke Liye, (Kishore Kumar, Usha Khanna, Indeevar; Johnny Mera Naaam), Meri Pyari Behaniya Banegi Dulhaniya (Kishore Kumar, Indeevar; Saccha Jhootha), Yaari Hai Imaan Mera Yaar Meri Zindagi (Manna Dey, Gulshan Bawra; Zanjeer), Mera Jeevan Kora Kagaz Kora Hi Reh Gaya (Kishore Kumar, M G Hashmat; Kora Kagaz), Khaai Ke Paan Banaras Wala (Kishore Kumar, Anjaan; Don), Koi Jab Tumhara Hridhay Tod De (Mukesh, Indeevar; Purab aur Paschim).
Shankar–Jaikishan: Zindagi Ek Safar Hai Suhana (Kishore Kumar, Hasrat Jaipuri; Andaaz), Chal Sanyasi (Mukesh, Lata Mangeshkar, Vishveshwar Sharma; Sanyasi), Aap Yahan Aaye Kis Liye (Kishore Kumar, Asha Bhosle, Hasrat Jaipuri; Kal Aaj aur Kal), Kehta Hai Joker, E Bhai zara Dekh Ke Chalo (Manna Dey, Gopaldas Neeraj; Mera Naam Joker), Jeena Yahan Marna Yahan (Mukesh, Shailendra, [his son Shaily Shailendra wrote additional verses after his death]; Mera Naam Joker), Ganga Ram Ki Samajh Mein Na Aaye (Mukesh, Varma Malik; Pehchan) Jai Bolo Beiman Ki (Mukesh, Varma Malik; Beimaan)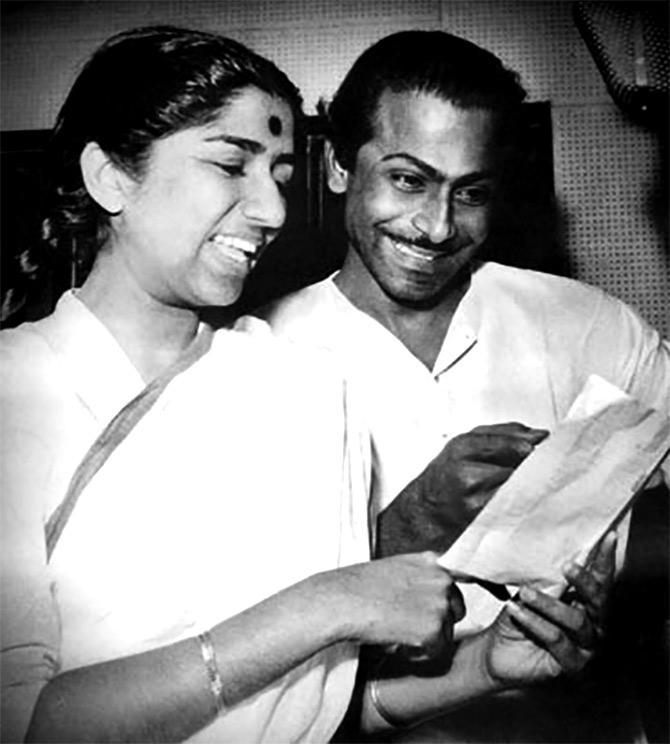 R.D. Burman: Dum Maro Dum (Usha Iyer, Asha Bhosle, Anand Bakshi; Hare Krishna Hare Ram), Tere Bina Zindagi Se Koi Shikva To Nahi (Lata Mangeshkar, Kishore Kumar, Gulzar; Aandhi), Ek Din Bik Jayega (Mukesh, Majrooh Sultanpuri; Dharam Karam), Mehbooba Mehbooba (R D Burman, Anand Bakshi; Sholay), Kya Hua Tera Wada (Mohammad Rafi, Sushma Shrestha, Majrooh Sultanpuri; Yaadon ki Baraat), Yeh Shaam Mastani (Kishore Kumar, Anand Bakshi; Kati Patang), Piya Tu Ab Toh Aaja (Asha Bhosle, Majrooh Sultanpuri; Caravan), Chingaari Koi Bhadke (Kishore Kumar, Anand Bakshi; Amar Prem), Panna Ki Tamanna Hai (Kishore Kumar, Lata Mangeshkar, Anand Bakshi; Heera Panna), Ai Mere Dil Ke Chain (Kishore Kumar, Majrooh; Mere Jeevan Saathi), Aapki Kasam (Kishore, Lata Mangeshkar, Anand Bakshi; Aap Ki Kasam), Mere Naina Saawan Bhadon (Kishore, Lata Mangeshkar, Anand Bakshi; Mehbooba), Ek Main aur Ek Tu (Kishore, Asha; Gulshan Bawra; Khel Khel Main) and Kasme Vade (Kishore, Lata Mangeshkar, Gulshan Bawra; Kasme Vade)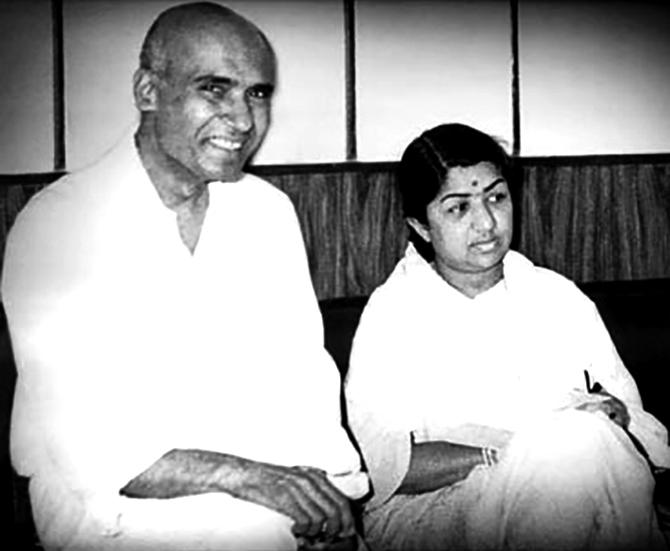 Rajesh Roshan: Aa Ri Nindiya (Kishore Kumar, Lata Mangeshkar, Majrooh Sultanpuri; Kunwara Baap), Julie, I Love You (Kishore Kumar, Lata Mangeshkar, Anand Bakshi; Julie), My Heart Is Beating (Preeti Sagar, Harindranath Chattopadhyaya, Julie), Dil Kya Karein (Kishore Kumar, Anand Bakshi; Julie), Mungada Mungada (Usha Mangeshkar, Majrooh Sultanpuri; Inkaar), songs from Swami, Baton Baton Mein and Des Pardes (lyrics by me).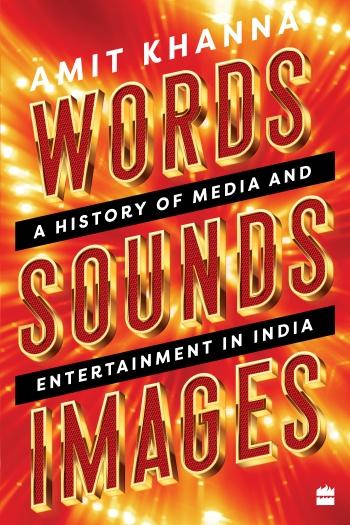 Ravindra Jain: Geet Gaata Chal O Saathi (Jaspal Singh, Ravindra Jain; Geet Gaata Chal), Jab Deep Jale Aana (Yesudas, Hemlata, Ravindra Jain; Chitchor), Ankhiyon Ke Jharokhon Se (Hemlata, Ravindra Jain; Ankhiyon ke Jharokhon Se).
Khayyam: Kabhi Kabhi Mere Dil Main (Mukesh, Sahir Ludhianvi; Kabhie Kabhi), Main Pal Do Pal Ka Shayar Hu (Mukesh, Sahir Ludhianvi; Kabhie Kabhi), Noorie Noorie (Lata Mangeshkar, Mukesh, Jan Nisar Akhtar; Noorie)
Bappi Lahiri: Bambai Se Aya Mera Dost (Bappi Lahiri, Shaily Shailendra; Aap ki Khatir), Jalta Hai Jeeya Mora Bheegi Bheegi Rato Mein (Kishore Kumar and Asha Bhosle, Bappi Lahiri; Zakhmee), Aaj Mere Yaar Ki Shaadi Hai (Mohammed Rafi, Ravi, Deven Verma; Aadmi Sadak Ka), Jaaneman Jaaneman Tere Do Nayan (Yesudas, Asha Bhosle; Choti si Baat), Dur Dur Tum Rahe (Lata Mangeshkar, Amit Khanna; Chalte Chalte), Dil Se Dil Mil Gaye (Kishore Kumar; Dil Se Mile Dil), Haan Pehli Baar (Kishore Kumar, Amit Khanna; Aur Kaun), Tanha Main Akela (Kishore Kumar, Amit Khanna; Sacche ka Bol Bala).
Other hits were: Ghulam Mohammad's Inhi Logon Ne, Chalte Chalte from Pakeezah; Teri Bindiya Re, Tere Mere Milan Ki Raina from Abhimaan composed by S D Burman. Other hits by S D Burman were Phoolon Ke Rang Se and Shokhiyon Mein Ghola Jaye from Prem Pujari. The song Main Toh Aarti Utaru Re from Jai Santoshi Maa was also a hit. It was composed by C Arjun.
The film Laila Majnu had the hit songs Koi Pathar Se Na Maare Mere Diwane Ko and Tere Dwar Pe Aaya Hu composed by Madan Mohan and written by Sahir Ludhianvi.
The music of Anand was also quite popular with songs like Kahin Door Jab Din Dhal Jaaye and Zindagi Kaisi Hai Paheli. The music was by Salil Choudhary and lyrics by Gulzar.
---
Excerpted from Words. Sounds. Images: A History Of Media And Entertainment In India by Amit Khanna, with the kind permission of the publishers, HarperCollins India.