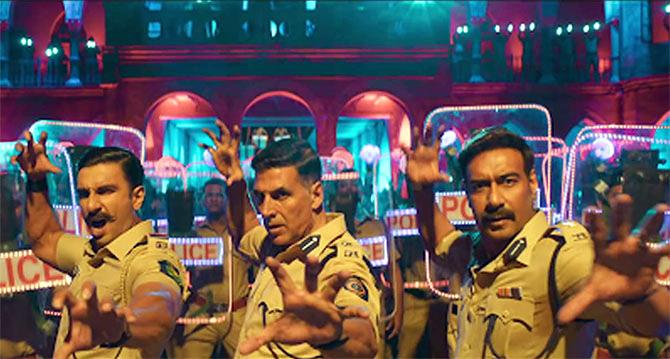 The great lyricist Anand Bakshi once wrote Ek, ek se bhale do. Do, do se bhale teen.
Bollywood has always had a big thing for the multi-starrer -- be it Mera Naam Joker, Sholay, Trishul, Kabhie Kabhie, Nagin, Jaani Dushman, Border, Kabhi Khushi Kabhie Gham, Kalank or the upcoming Takht. But there's something formidable about three heroes on equal footing as buddies, brothers or peers trying to make their mark in the same movie.
In Rohit Shetty's Sooryavanshi, which expands its super cop universe of Singham and Simmba, Akshay Kumar dons the khaki once again to share screen space with Ajay Devgn and Ranveer Singh.
Perfect occasion for Sukanya Verma to look at some other notable troikas in Bollywood's catalog of three hero vehicles.
Waqt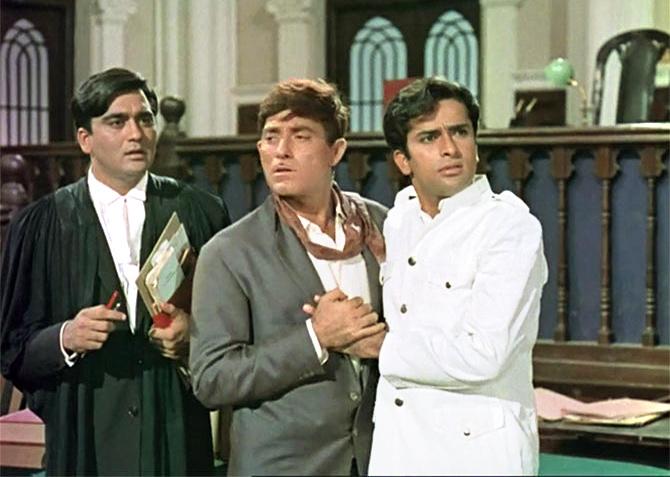 In Yash Chopra's star-studded trendsetter, Raaj Kumar, Sunil Dutt and Shashi Kapoor play three long lost brothers oblivious to their relation until destiny brings them together just as dramatically as it had split them apart.
Yaadon Ki Baarat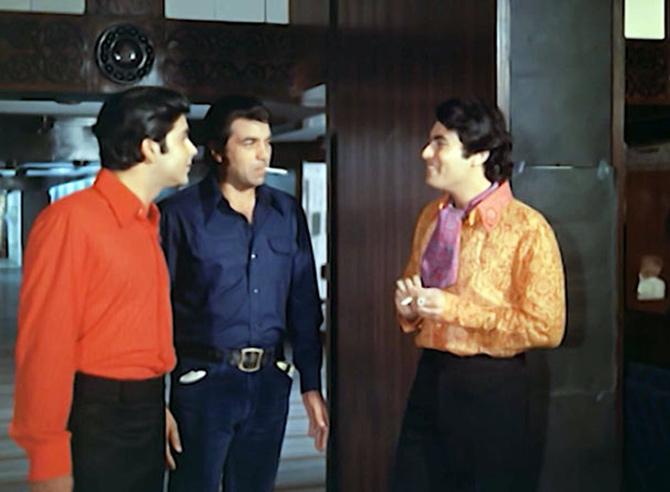 Waqt set the ball rolling for lost and found themes in Bollywood. It's most evident in Nasir Hussain's breathtaking musical which ropes in Dharmendra as the star face and estranged big brother to newbies Tariq and Vijay Arora.
Amar Akbar Anthony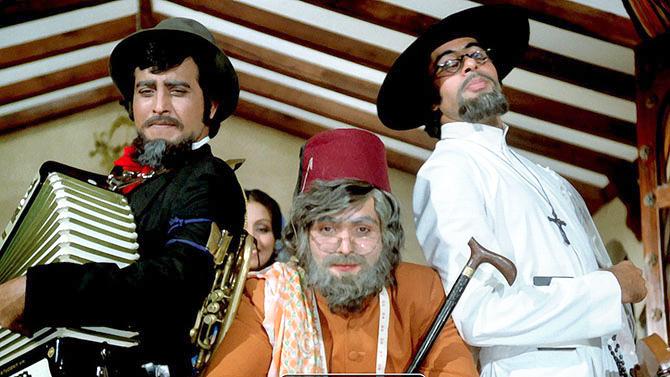 Manmohan Desai's ode to brotherhood also follows Waqt's lost and found formula but amps the fun quotient to madcap levels and creates an evergreen symbol of secular harmony in Amitabh Bachchan, Rishi Kapoor and Vinod Khanna's unforgettable turn as Amar, Akbar and Anthony.
Naseeb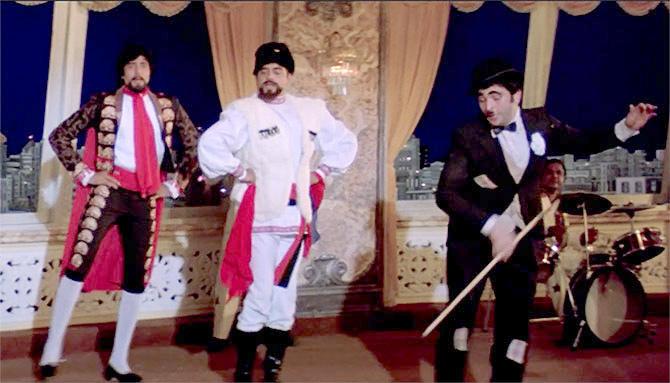 MD's Naseeb didn't quite succeed in repeating the Amar Akbar Anthony magic. But the sight of AB, Rishi Kapoor and Shatrughan Sinha's terrific threesome taking on a bevy of bad guys continues to enjoy cult following.
Kaala Patthar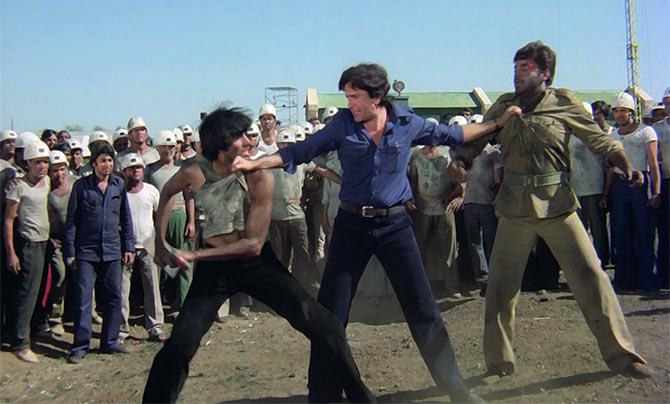 Bachchan's staggering intensity often steals the shows despite strong competition from Shatrughan Sinha and Shashi Kapoor in Yash Chopra's coal mine drama.
Chashme Buddoor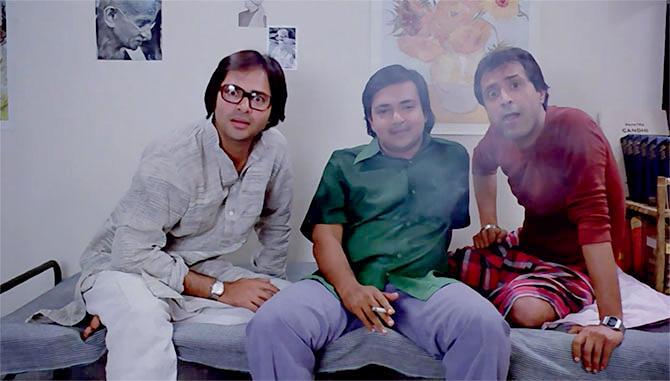 Besties and roomies Farooque Shaikh, Ravi Baswani and Rakesh Bedi's Siddharth, Omi and Jomo falling for the same girl leads to much hilarity and heartache in Sai Paranjpye's 1981 classic.
Karma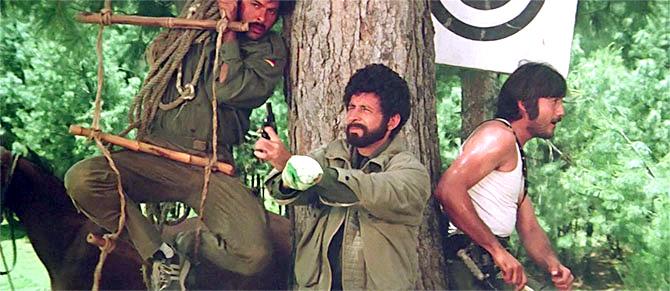 Subhash Ghai's Karma takes the Sholay route only instead of two it has Dilip Kumar's vendetta-seeking veteran appointing a trio of roguish convicts to take on the deadly Doctor Dang in Naseeruddin Shah, Anil Kapoor and Jackie Shroff's vibrant delivery.
Tridev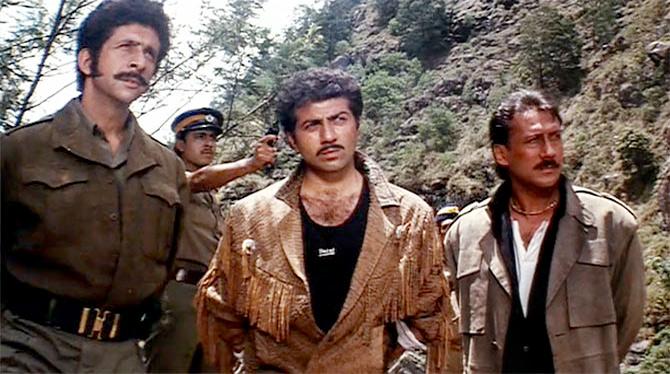 As the title suggests, Rajiv Rai's full-on masala stars Naseeruddin Shah, Sunny Deol and Jackie Shroff as the trio of varying skills and backgrounds united by their common goal to eliminate Amrish Puri's ruthless antagonist.
Vishwatma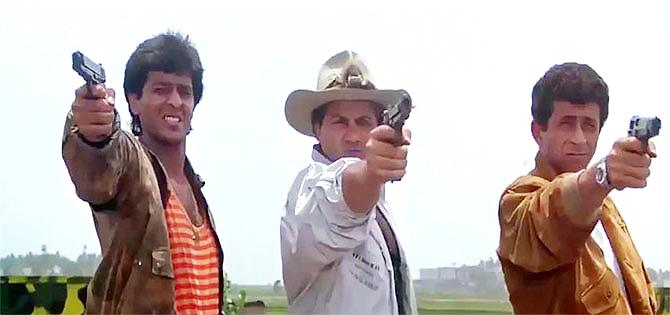 Tridev's success prompted Rajiv Rai's encore attempt, Vishwatma. Despite its ambitious setup and extensive filming in Kenya, the action potboiler starring Naseer, Sunny and Chunky Pandey felt more cash in than creative.
Jeete Hain Shaan Se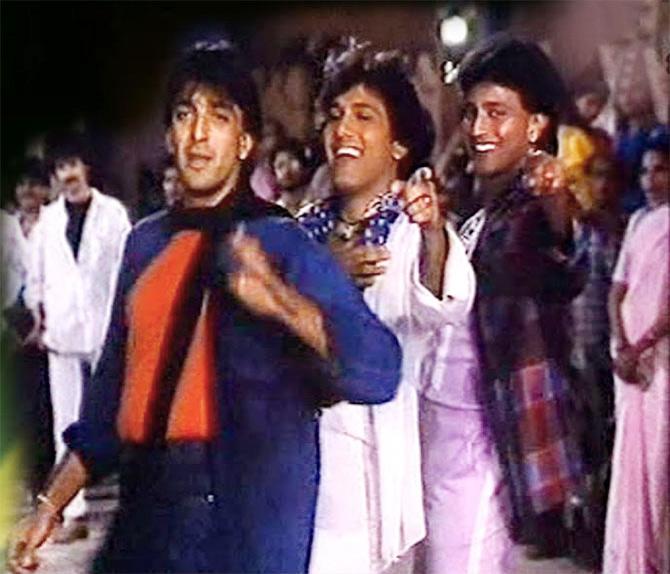 Back in the '80s, the dashing threesome -- Mithun Chakraborty, Sanjay Dutt and Govinda -- put together a masala filled show of secular love as Johnny, Govinda and Iqbal respectively in a movie that's best remembered for its catchy ditty, Julie Julie.
Hum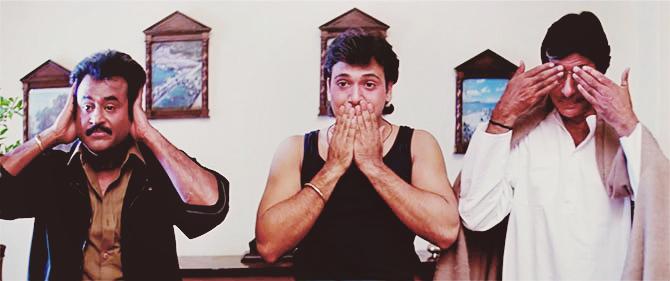 Bachchan's enthusiasm for three-hero projects shows once again in Mukul Anand's unabashed entertainer co-starring Rajinikanth and Govinda. Their charismatic bromance and distinct personality give Hum its zing and punch.
Trimurti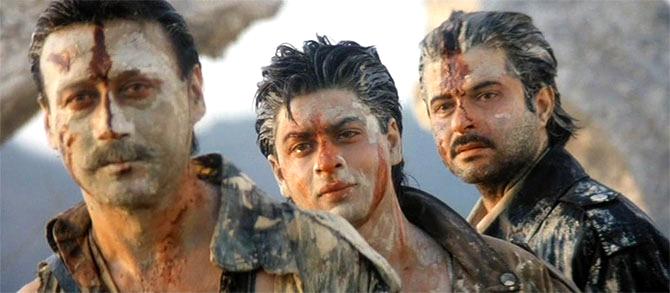 Mukul Anand cast Anil Kapoor, Jackie Shroff and Shah Rukh Khan as three brothers for the much hyped Trimurti. Let's just say it was no Hum.
Hera Pheri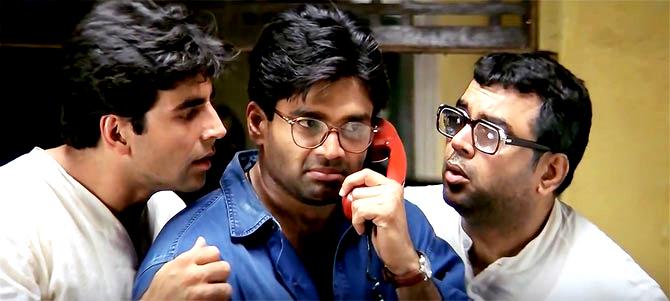 The crazy trio of Akshay Kumar, Sunil Shetty and Paresh Rawal bring on the laughs in Priyadarshan's batty comedy about desperation, opportunity and wrong phone numbers.
Dil Chahta Hai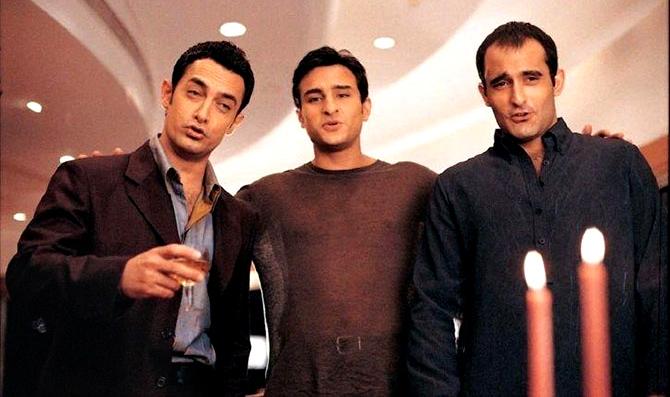 Farhan Akhtar's directorial debut about three best friends coming of age is deftly captured in Aamir Khan, Saif Ali Khan and Akshaye Khanna's disarming chemistry.
Yuva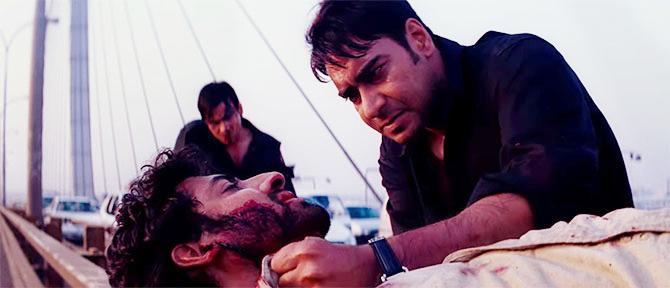 Mani Ratnam treads on three timelines until he converges them to tell the story of three young men from different walks of life and aspirations through Ajay Devgn's youth activism, Vivek Oberoi's American dream seeking and Abhishek Bachchan's misguided rebellion in Yuva.
Heyy Babyy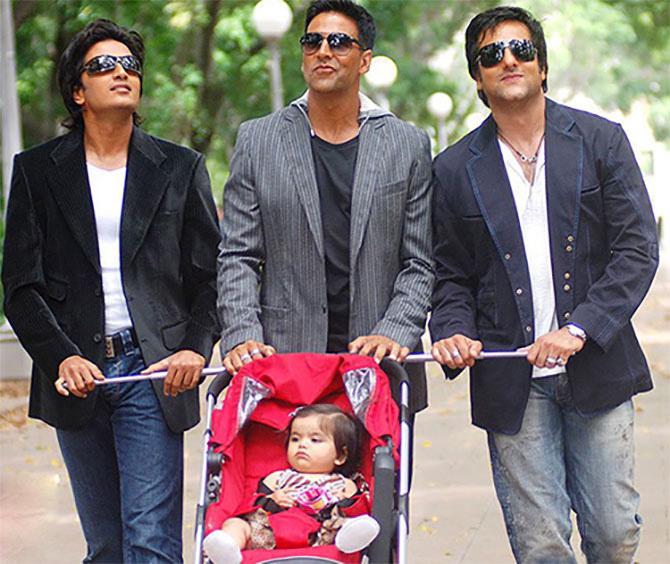 In this rehash of Three Men and a Baby, Akshay Kumar along with Fardeen Khan and Ritesh Deshmukh plays womanisers compelled to look after an infant they may or may have fathered.
Housefull 3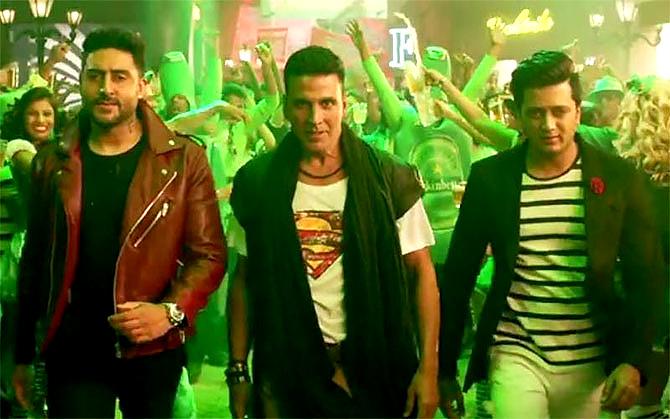 Crazy troika of Akshay Kumar, Abhishek Bachchan and Ritesh Deshmukh spark off birdbrained mischief in yet another installment of the Housefull franchise to laugh all the way to the bank.
3 Idiots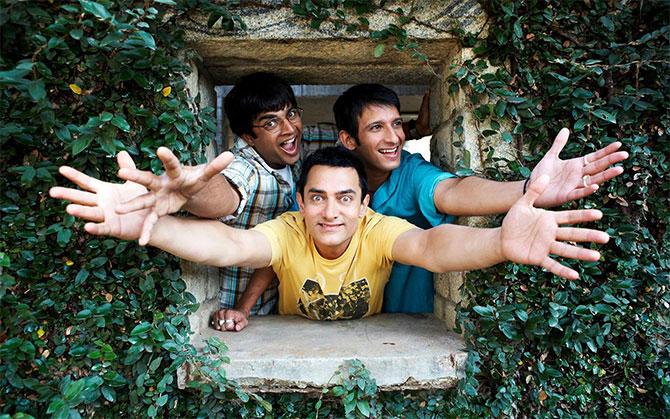 Aamir Khan, R Madhavan and Sharman Joshi are best friends and engineering students triumphing against all odds and an idiosyncratic principal in and as 3 Idiots.
Zindagi Na Milegi Dobara
In Zoya Akhtar's easy-going Zindagi Na Milegi Dobara, childhood friends Hrithik Roshan, Farhan Akhtar and Abhay Deol take a road trip to Spain as part of one's bachelor party and engage in adrenalin pumping activities of one another's choice.