'I would love to be a part of Bollywood.'
'Sadly, only glamorous roles have been offered to me until now, where I have nothing to do, just be a glam-doll.'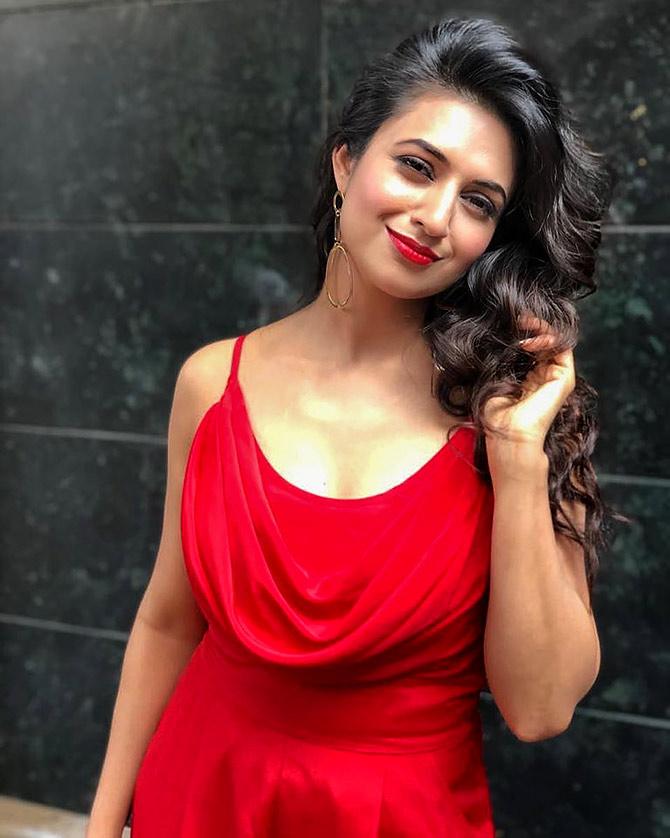 Television actress Divyanka Tripathy spreads her wings and gets ready to make her digital debut with the Web series, Coldd Lassi Aur Chicken Masala.
Directed by Pradeep Sarkar, the story is revolves around chefs Nitya and Vikram, who seem to have had a rough past together.
Divyanka, who shares a good chemistry with her co-star Rajeev Khandelwal, tells Rediff.com Contributor Divya Solgama that she's very shy about watching the show with her husband.
You were juggling the Web series Coldd Lassi Aur Chicken Masala with two television shows, Yeh Hai Mohabbatein and The Voice 3. How difficult was it?
It was interesting, challenging and tiring.
Yeh Hai Mohabbatein is a beautiful show, with all sorts of twists and turns.
Coldd Lassi Aur Chicken Masala is a totally different show because my character Nitya is very aggressive. She's a good chef and shows her aggressive nature by having strict kitchen rules,.
But she's been quite sweet in the past, so this kind of mix was very different for me.
Nitya is very different from Dr Ishita (in Yeh Hai Mohabbatein).
Their hairstyles are also very different; I had to chop my hair for Nitya.
I was also anchoring for The Voice 3, which is a glamorous reality television show. I got to wear beautiful dresses.
The most challenging part of shooting The Voice 3 was standing and anchoring for more than 14 hours a day. It was tiring work.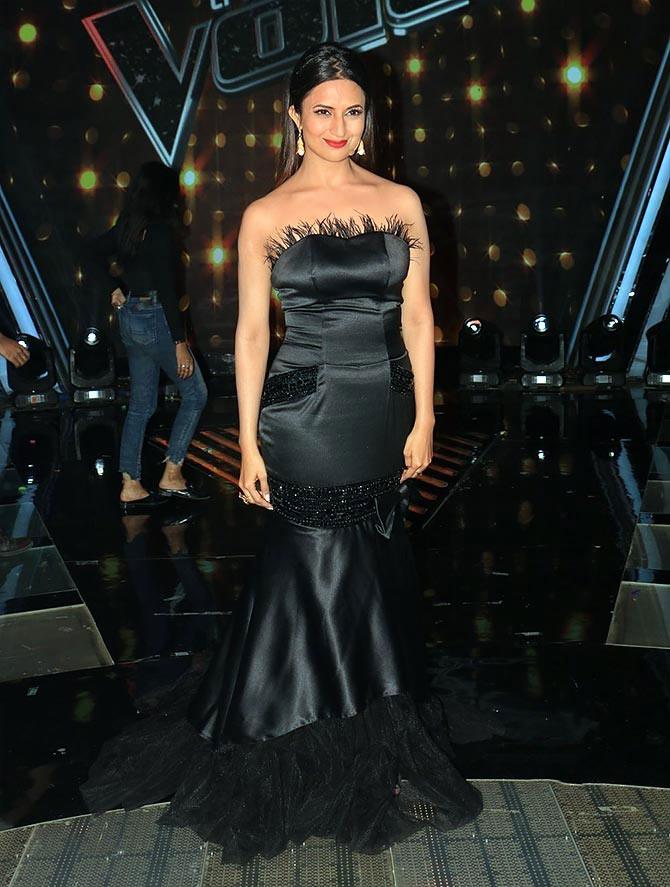 Anchors have to bring in the laughs. Was that difficult?
Yes, anchors have to add some comic elements to the show, and I am not in that zone.
The makers knew this and wanted somebody who would make the audience connect with the judges and the contestants easily.
They saw something compassionate in me and that's what they wanted to bring out in the show.
Later, they thought the comic flavour was equally important and added that in bits and pieces.
I enjoyed it very much because the response was amazing.
Let me share an incident. I was leaving a restaurant when I saw a mother and her child arguing about me. The child was saying it's Divyanka because she had seen The Voice 3, while the mother was saying it's Ishita because she had seen Yeh Hai Mohabbatein. I told them I was both!
But then I realised that both shows had a different mass appeal. For instance, the child did not know I was Ishita from Yeh Hai Mohabbatein; she came to know about me from The Voice 3.
Now, thankfully, I am reaching a bigger audience with my Web series, Coldd Lassi Aur Chicken Masala.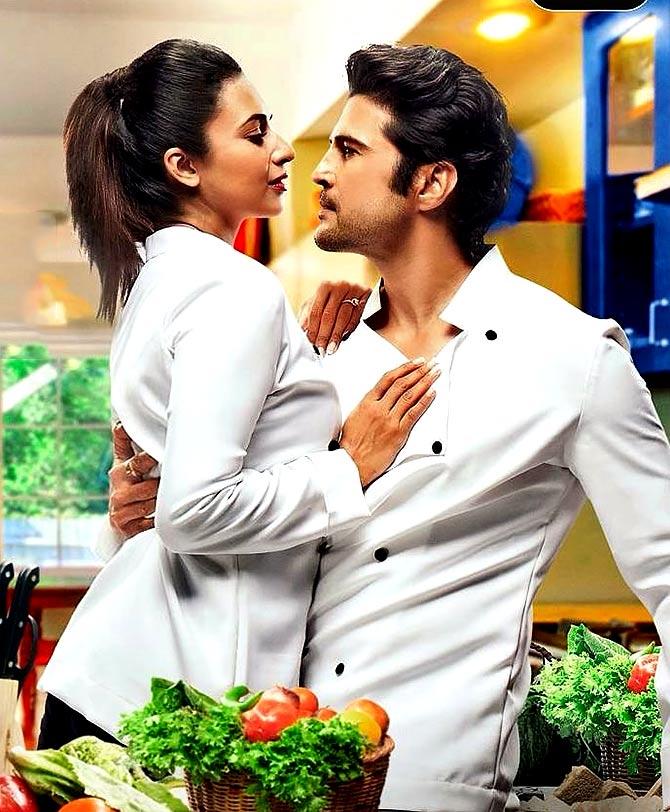 You're a big star on television. Is reaching a wider audience the only reason for your digital debut?
It's humbling when people say that I am a big star; I feel like a learner each and every day.
When I started working with Pradeep (Sarkar, director) dada on Coldd Lassi Aur Chicken Masala, I immediately informed him about my negatives. But he assured me to go with the flow and that he would take care of everything else.
So I keep improving myself everyday.
I took on the challenge of entering the digital world, as I wanted to learn some new.
Television has had a basic pattern for decades and it feels monotonous for artistes like us.
Though my show has variations and twists, the working pattern is always the same.
Thankfully, television allows you to do different things simultaneously.
So along with Yeh Hai Mohabbatein, I did reality shows like Nach Baliye and The Voice 3.
Likewise, Coldd Lassi Aur Chicken Masala is another attempt to do something different.
Also, (producer) Ekta Kapoor's conviction was so strong that she wanted only me to play Nitya.
How was your working experience with Rajeev Khandelwal?
I usually don't get much time to watch television but I knew that Sujal (Rajeev's popular character from Kahiin To Hoga) was a big name at that time.
I also knew that I was working with a star, who has worked in television, films and digital medium.
What did your husband Vivek Dahiya say about the trailer of Coldd Lassi Aur Chicken Masala?
He really loved it and said that we will watch the show together.
But then I said that I would be very shy about watching it with him.
Actually, I am very critical and I run away from watching my own work.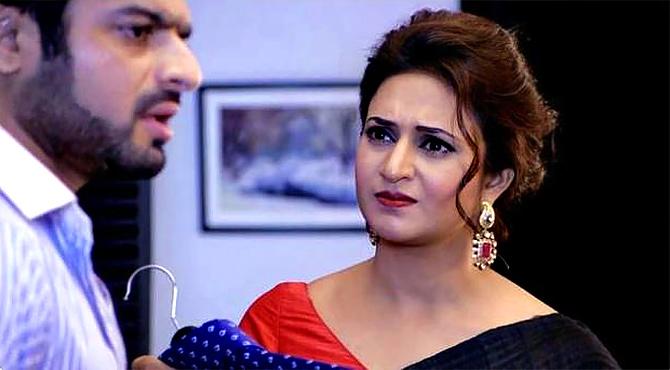 You have been in the television industry for more than a decade. How has your journey been?
I still remember that I was not getting any work after Banoo Main Teri Dulhann got over because people felt viewers would not recognise me in any other character (than the one played in the show).
I had to break that image and do different roles on Sab TV.
I entered the comedy zone with Comedy Circus, and did smaller roles in shows like Adalat and Chintu Chinki Aur Ek Badi Si Love Story.
After that, Ekta Kapoor approached me with a good role in Yeh Hai Mohabbatein and that had a long journey.
Earlier, there were no union rules as such in the industry.
We would work for 18-20 hours a day. We did not know that we could do something else, apart from working in a show.
Thankfully, the union rules changed and actors got a chance to do other shows at the same time.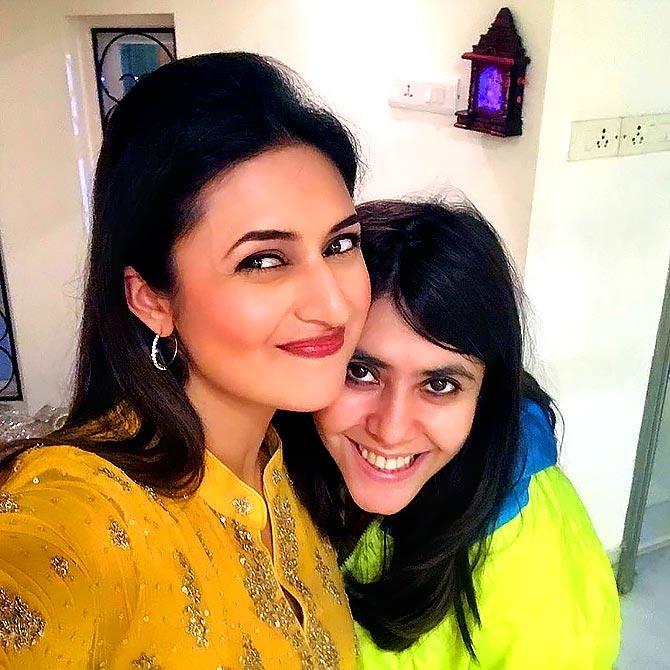 The OTT platform has a lot of bold content. Are you open to it?
Honestly, I am still not ready to do a lot of things.
People are experimenting in the web space.
There are no box officer numbers or TRPs in the digital medium, so people gauge the response from the viewers.
So if a particular type of content like sex or crime gets a good response, people think that only such kind of shows will run in the digital medium.
I believe that on-screen intimacy should not be over-exposed.
There should be some wild imagination among the audience.
I don't understand why people are forcefully adding bold content, just to make it a cringe-worthy piece.
I want my shows to be watched by the entire family.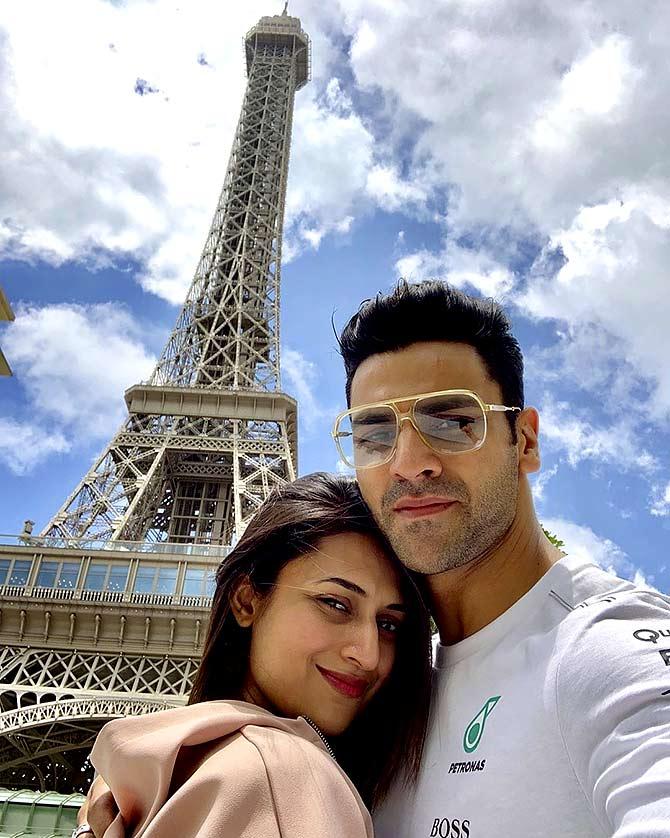 Is Bollywood your next step?
I would love to be a part of Bollywood.
Sadly, only glamorous roles have been offered to me until now, where I have nothing to do, just be a glam-doll.
But that's not me.
I believe I can perform well on the big screen.
I am a versatile actor.
There is an apprehension among several filmmakers about casting a television actor, I don't know why. I guess they think that television actors might overact but that is not the case.
Whenever television actors have entered the film industry, they have left a great impact among the audience. The biggest examples are Shah Rukh Khan, Vidya Balan, Mouni Roy...
I guess filmmakers also think that television actors will not understand the ways of working in the film industry.
But I salute all TV actors because we deliver dialogues so efficiently after just 10 minutes of reading the script!