Reason, reality and pain are for mortals like you and me.
Bollywood is above minuscule things like hurt and injury.
As the whole world grapples with growing intolerance, one could learn a thing or two about endurance from our masala Hindi movies, says Sukanya Verma.
Kaala Patthar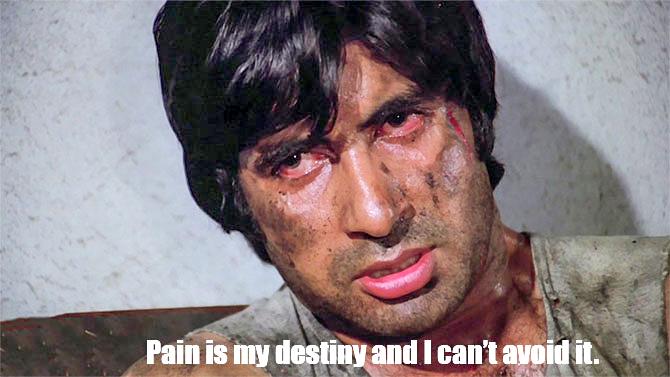 Step One: Acceptance. Amitabh Bachchan didn't run away from his fate and that's why he was one of the few survivors of Kaala Patthar's climatic mining disaster.
Mard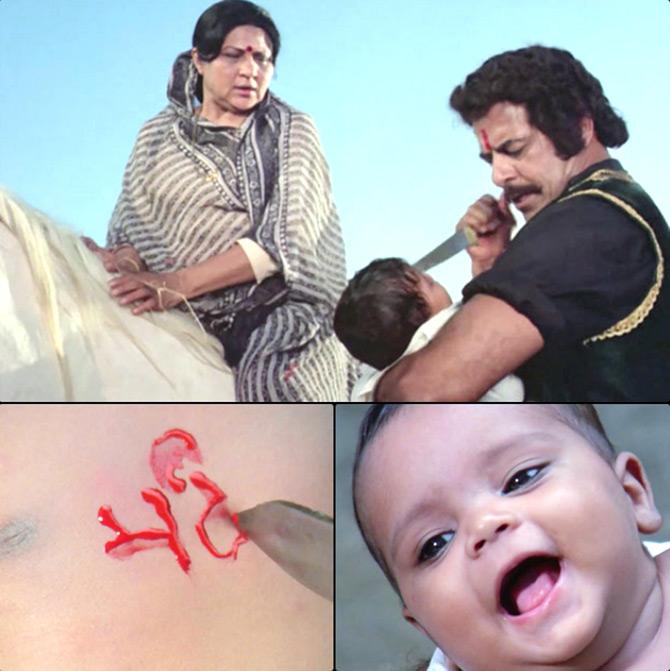 Human babies cry, drink milk, cry, sleep, cry but Bollywood newborns giggle when their daddy engraves Mard on their chest using an unsterilised knife.
Never forget -- Mard ko dard nahi hota.
Mard Ko Dard Nahi Hota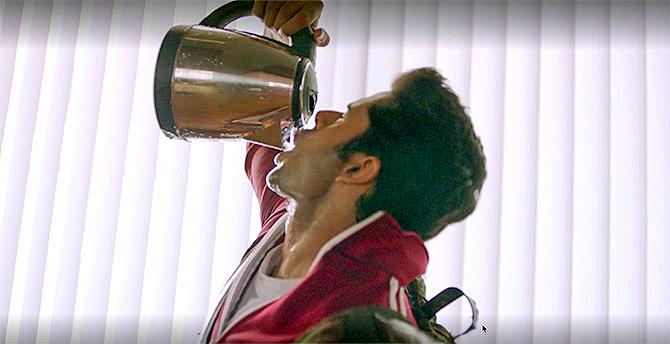 Mard Ko Dard Nahi Hota has a ball satirising this sexist belief through a young man who feels no pain. He's knocked down by all kinds of forces but glugging down a kettle of boiling hot water without a single vocal chord busted simply takes the cake.
We'll just stick to salt water gargling, thank you.
Cocktail
Regular people heartbreaks involve no bath, no shave, lying in the dark and sipping cold chai.
Deepika Padukone's heartbreak involves posing on a posh London pad's rooftop in a designer gown like a Botticelli painting.
Grieve, but glamorously.
Shakti: The Power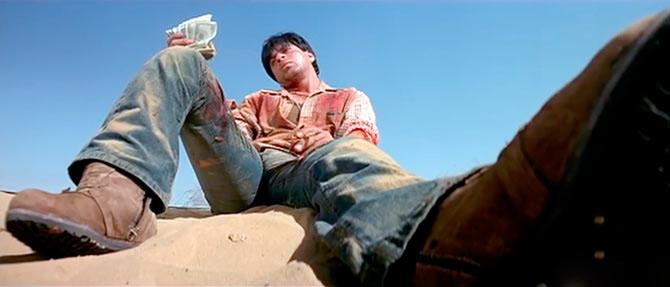 Forget Shah Rukh Khan's sattar minute speech and focus on the 11 minutes he hogs in Shakti's pre-climax to aid Karisma Kapoor's escape from a dozen hoodlums led by Prakash Raj.
The latter shoots him in the back like Sallu hit Madhuri with a gulel in Didi tera devar deewana and his reaction to the bullet is pretty much the same as the million-dollar smile star.
For the next 10 minutes, even though he's bleeding profusely, you'll see him running around, thrashing every single one of those goons, ensuring Karisma's safety and then rambling to himself for a good four minutes until he's dead for sure.
Clearly, he's no believer in Zindagi badi honi chahiye, lambi nahin.
Sholay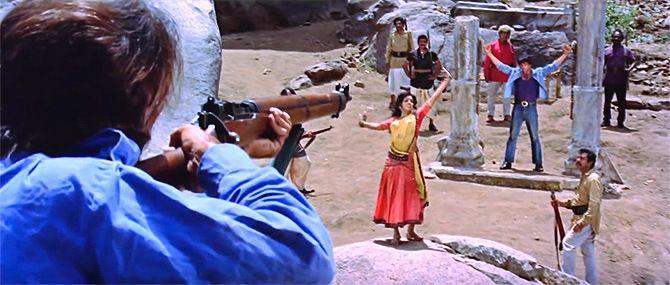 Most people would pee in their pants inside Ramgarh's most dreaded bandit's dungeon but brave Basanti sings and dances on craggy rocks and broken glass to save her beloved Veeru.
For better or worse, vows are made of deeds like this.
Coolie
Who needs Vibranium when you're shielded by the holy chaadar? The Big B may have nearly lost his life on the sets of this film but, like a true Bollywood hero, he survives a whopping six bullets in his chest in the famous final scene of Coolie.
Make way for the original Coolie No 1.
Kabir Singh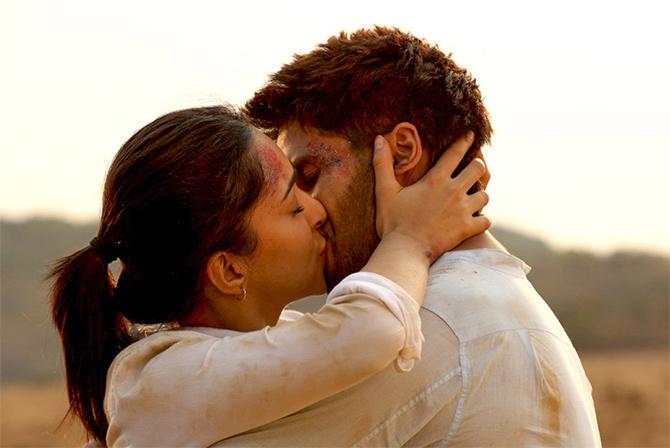 Jack fell down and broke his crown and Jill came tumbling after. One gets the same sense of 'no biggie' in Shahid Kapoor and Kiara Advani's rough fall from the bike in Kabir Singh.
While most people would howl 'Mummmmy' and rush to find first aid, the bruised doctors-in-making seem to cure each other by making out.
Lip locks are the best medicine.
Angrakshak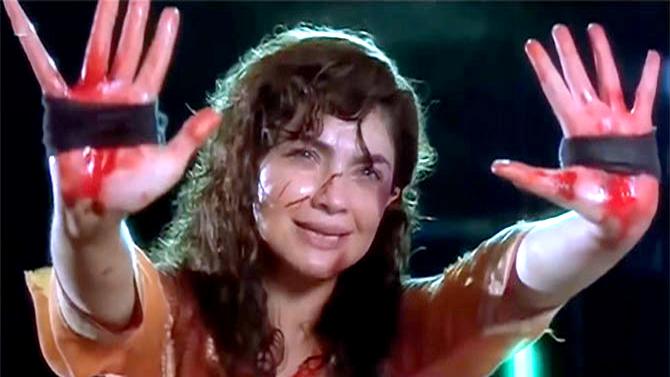 Pooja Bhatt is back on her feet within hours after the villain hammers huge nails into her palms.
Instead of dabbing it with some Dettol at least, she'd rather rush to a public rally and blow the whistle on her corrupt father.
Wah, a one-woman anti-corruption bureau!
Darr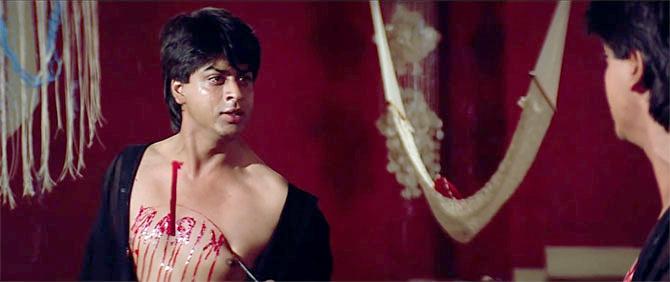 Given the rate at which Bollywood men practise pumpkin carving on their chests, Halloween will soon become a public holiday.
In Darr, a stuttering Shah Rukh doodles Kiran's name on his chest. Not one ouch.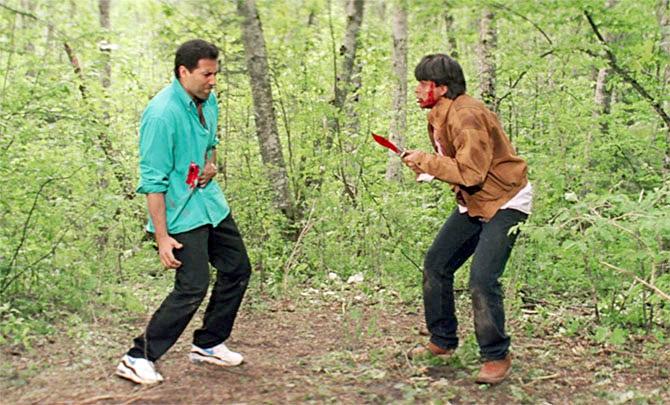 Several reels later, he stabs Sunny Deol multiple times in his gut. Again, not one ouch.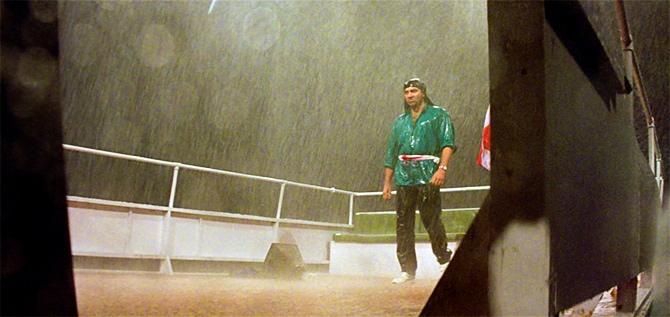 That's not it. Not only does the mighty Deol recuperate from the stabbing within hours but finds the stamina to swim all the way to SRK's motorboat and bump off the K-k-k-k croaking stalker.
Deewana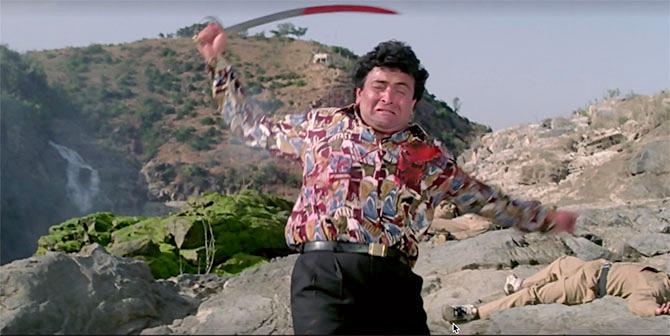 Rishi Kapoor's resilience in Deewana is stuff X-Men dream of.
First, he is struck with a sword. Then, he falls off a cliff and into a huge waterfall.
Everybody believes he's dead. It's a perfectly sane conclusion.
But he's not (These Godsent villagers saving Bollywood heroes and heroines free of cost every single time after a nasty drop or drowning episode makes us feel so foolish for investing in health insurance),
No scratch. No scar. No limp. No body part missing.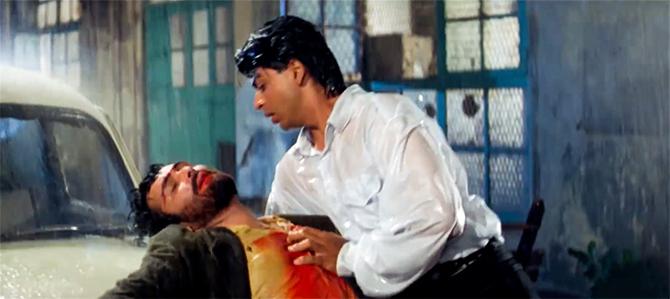 When we run into him next, some thugs attack Rishi. Gallons of blood trickling down his shirt. Nothing major, the doctor assures.
Third time a bomb is involved and we are 160 minutes into the movie. By then, the makers probably realised that if he survives yet again, the movie won't.
Deedar-E-Yaar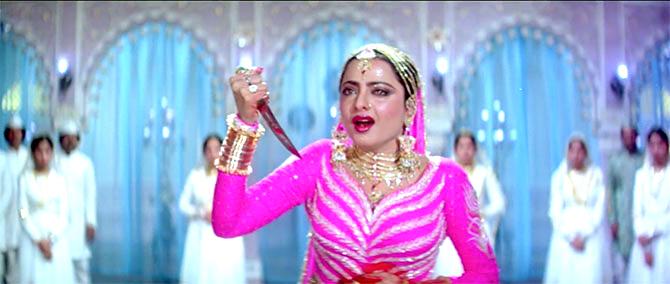 Iron Maiden sang Dance of death. Rekha demonstrates it.
At the tail end of her mujra number in Deedar-E-Yaar, the actress thrusts a dagger into her belly.
What looks like a courtesan in dire need of Pudin Hara is a dying woman crying for a final glimpse of Jeetendra.
She's losing blood but doesn't stop singing. Or swaying. The dancers behind her stay put.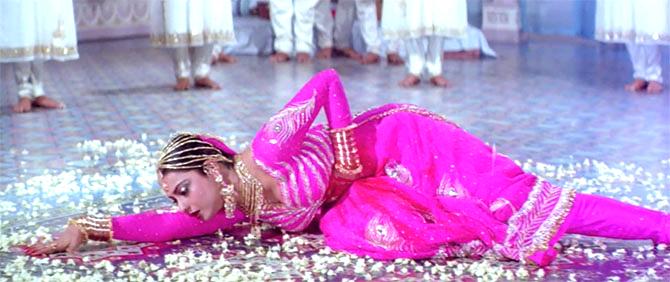 She collapses on a carpet of mogras, still singing. The dancers behind her remain glued to the ground.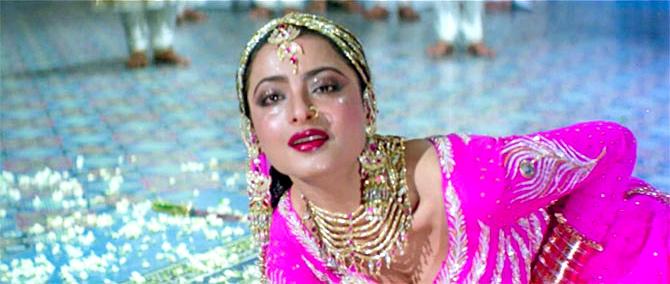 She turns around and looks into the camera, one final glamorous goodbye, still singing. The dancers haven't budged an inch.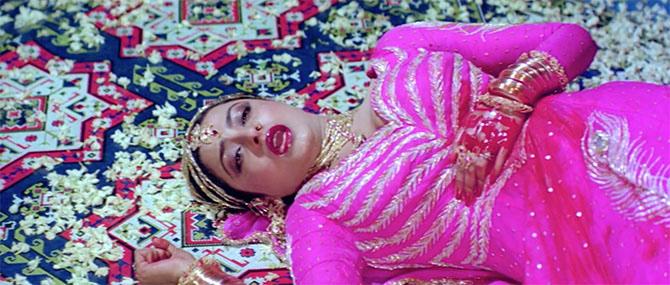 She finishes the song down to the last detail. She dies. The camera spins around her in a circle. The dancers have vanished into thin air.
Border
There are brave soldiers and there are Bollywood soldiers.
Suniel Shetty is mortally wounded. Logically, he should drop dead right there and then. But no, his josh is on an all-time high. He'll first blast some jingoistic lines about the enemy taking over his motherland and, finally, muster enough strength to gallantly sacrifice his life by singlehandedly taking on a combat vehicle with an anti-tank mine.
Bottomline: Never underestimate Ma ki shakti, Bharat or biological.

Pakeezah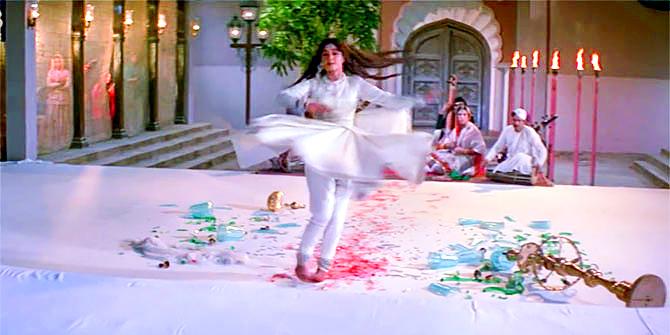 In the beginning of Paakezah, Raaj Kumar flatters Meena Kumari by pointing out 'Aap ke paon dekhe, bahut haseen hain, inhen zameen par mat utaryega maile ho jayenge.'
At the end of Paakezah, Meena Kumari shows him she's no delicate daisy by breaking a lamp and doing some wild kathak moves on shards of glass.
Most would land in ICU but the Queen of Tragedy turns a red carpet out of her bloody dance.
Probably the only time 'Jaani' didn't have the last word.