'Bottomline, hairline and waistline -- you have to watch them always.'
"Let's film him here... It has The Godfather feel to it," says a member of a camera crew from a leading hotel in Delhi, standing in one of the four cinema halls at the PVR Director's Cut on the fourth floor of Ambience Mall, Gurugram.
Spread out before them is a luxurious theatre with fawn, fine leather-upholstered recliners.
Each has a golden side lamp and a mini-table with cup holders and space for plates carefully designed to ensure they don't reflect light or allow the food to spill as people eat while they watch the movie.
The protagonist of their shoot is a man who could easily be called the godfather of Indian multiplexes: Ajay Bijli.
So when he appears for our coffee meeting in the lounge of PVR Director's Cut, also upholstered in fawn and beige, an image of Al Pacino briefly comes to mind.
Only, Bijli has a smile and you get to see it often. Dressed in a beige lounge suit with an open collar beige-and-white striped shirt, he is clearly in his element here.
The nightmare of the last two years, when the pandemic kept cinemas shut longer than any other sector, appears to have ended.
"It was a body blow when it happened; 90 per cent of the revenues got wiped out and we almost went bankrupt," he says.
"I questioned all that I had done in the last 32 years: Was it wise to put all the eggs in one basket and go by the philosophy, 'Do one thing and do it very well'? And I questioned all those core competence philosophies of management." (laughs).
But he also, very quickly, started counting the other blessings in his life.
"Your business going down cannot dictate your mood because it is unfair to your family, to yourself and to the people working with you (some 15,000 in this case)."
So he kept his chin up. Not one to take a one-dimensional view of life, he says, "I believed in the forces that had made us survive for the last 32 years and those that had made this industry survive for the last 100 years."
He believed also in the medical fraternity: "They weren't going to let this (COVID-19) annihilate humanity."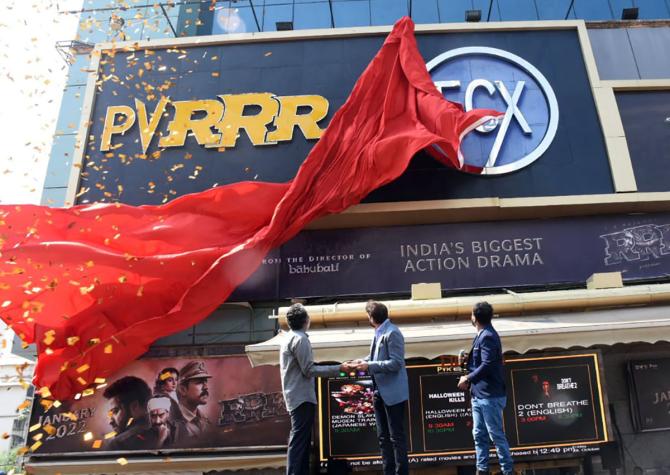 Other things, too, helped him keep the faith: "The big producers kept delaying their movies for a theatrical release; the developers gave us rental relief so that our operating expenses were manageable; our senior management took a voluntary haircut of 50 per cent; the investor community helped and we were able to raise Rs 800 crore (Rs 8 billion) through QIP (qualified institutional placement)."
But the biggest thing that happened was two giants deciding to join hands: PVR and INOX Leisure.
Both firms have received no objection certificates from the two stock exchanges (BSE and NSE) on the proposed merger and will now seek approval from the National Company Law Tribunal.
"The balance sheets of both companies took a beating during the pandemic," says Bijli. "We decided to come together to ensure the impetus to growth doesn't go down. This business is a lot about economies of scale."
From where we are sitting, the PVR Director's Cut bar is just a stretch away. But it is late afternoon, 4 pm -- too early to try one of their top three drinks: Terra, Oromo and Marsado from their Solar System Menu. And too late for the spread available at the island kitchen in the lounge.
The kitchen, incidentally, is split in two halves: One half branded Simply Sushi and the other Gusto, a pret a manger/antipasto.
So, I opt for cold coffee. Bijli has already come armed with a bottle of natural mineral water fortified with magnesium, sodium and calcium.
He is leaner than when I last met him, when he was quite into CrossFit.
"Bottomline, hairline and waistline -- you have to watch them always," he says as I take a long sip of my sweet, creamy, chocolatey cold coffee.
Coming back to scale, success and setbacks. Bijli is familiar with them all.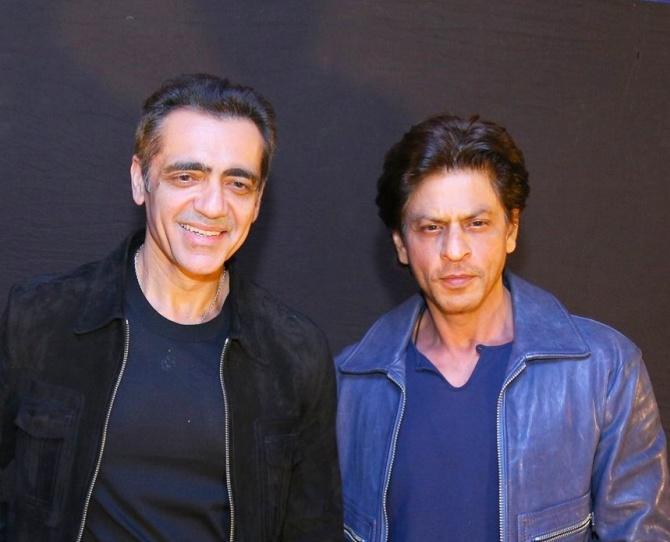 Bijli's father ran a trucking company, which was started by his grandfather, Lala Sai Das Mehra, in 1939 in Amritsar. (His grandfather came to be called Bijli Pehalwan for the work he did during Partition, and thereon Bijli became the family name.)
Bijli joined the family business in 1988 after completing his education (from Modern School and Hindu College in Delhi). But he left two years later to focus on a neglected family property: A single-screen cinema called Priya in Vasant Vihar.
Priya took off massively. But then two setbacks happened: His father's death in 1992, which brought him back to the trucking company ("I was only 25 and working with the company by the day and selling cinema tickets at Priya in the evening"); and a fire in the trucking company in 1994, where the family lost a lot of money.
Disheartened, on the advice of his mother -- "who is still with me, God bless her" -- he decided to follow his passion and handed over the trucking business to his uncle and cousins.
And in 1997, after a joint venture with Village Roadshow, the PVR brand -- then Priya Village Roadshow Ltd -- was born.
Thus began India's multiplex revolution.
When Village Roadshow pulled out of India post 9/11, Bijli braved it out, now with help from private equity funds.
Renuka Ramnath, head of ICICI Venture, was the first to come to the rescue.
The arrival of malls only upped the game and "we realised the way to grow was by being in organised retail formats," he says.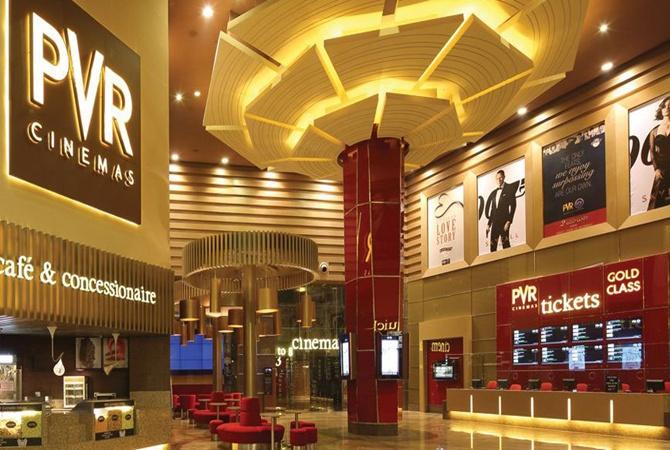 PVR now went from strength to strength, expanding organically and inorganically.
"We opened lots of screens; got listed on the stock exchange in 2006; acquired Cinemax, DT, the Chennai-headquartered SPI Cinemas, which was a big deal given its huge reach in the South... And then the pandemic happened. Everything came to a halt," he says, laughing long and loud.
It called for out-of-the-box thinking -- of turning cost centres to profit centres.
So, the company launched V Pristine, which tapped into PVR's vast housekeeping department to offer luxury cleaning and sanitising services.
PVR's 4700BC Gourmet Popcorn was also launched as an FMCG product.
Content distribution became another such vertical. "We did Sooryavanshi and '83, so now even if the shutters were down, we could monetise the movie," says Bijli.
What also happened was that Bijli went back to music and launched a band, Random Order.
He did have one (Modus Operandi) when he was in college and had also cut an album (Photonics) at 17. But music had kind of taken a backseat, "though I always had a guru for Hindi music -- Kishore, Jagjit Singh and so on," he says.
Now he also has one for English music. "She teaches at USC Thornton School of Music and I have lessons with her on Zoom either early in the morning or in the evenings."
Thrice a week there are also two-hour jam sessions with the band.
"It is an appointment I keep with myself and my band," he says.
A vocalist, he unveiled his first music video, Don't Let The Sun Go Down On Me on YouTube.
"The song was originally sung by Elton John in 1974. I bought the rights from his company," he says.
Bijli's band performs live at HOME, a members-only club, and at other exclusive locations like the Quorum, also a members-only club in Gurugram, besides select private events.
"We now have about 100 songs of our own."
Things are looking good. And PVR posting its first profit a few weeks ago, after two dark years, is the cherry on the cake.
Feature Presentation: Rajesh Alva/Rediff.com