'This is a blip in the 100-year history of cinema.'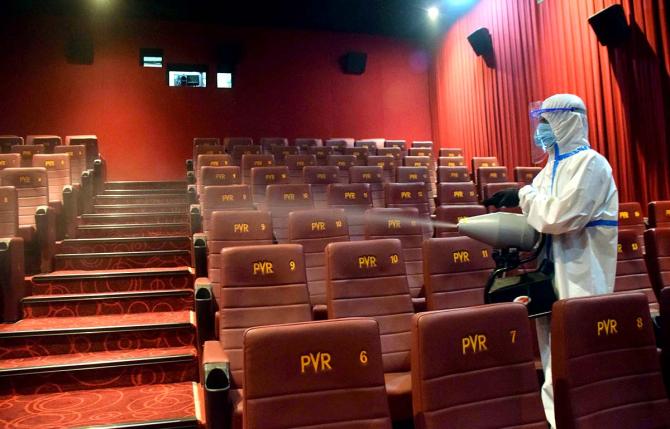 The devastation has been absolute.
PVR Cinemas had sold over 101 million tickets, made Rs 3,500 crore (Rs 35 billion) in revenues and over Rs 600 crore (Rs 6 billion) in operating profit in the year ending March 2020.
The previous year, 2019, had been one of the best for Indian cinema, and it showed on the balance sheet of the country's largest film retail firm.
Just a year later, its revenues have tumbled to Rs 310 crore (Rs 3.10 billion); less than 10 per cent of the March 2020 topline. Its 842 screens remain shut.
Over 6,000 of the group's almost 15,000 employees have been laid off.
PVR has raised Rs 1,800 crore (Rs 18 billion) over these 18 months, as debt and equity, reducing the promoter family's stake from 18.5 per cent to around 17 per cent.
Not surprisingly, there are rumours of a merger or a deal with another chain.
"These 18 months have been a very trying period for us," says Ajay Bijli, chairman, PVR Cinemas. "We have to first take care of our 842 screens. We have raised so much money to ensure that we give salaries and service our EMIs. So all capex (capital expenditure) is on hold."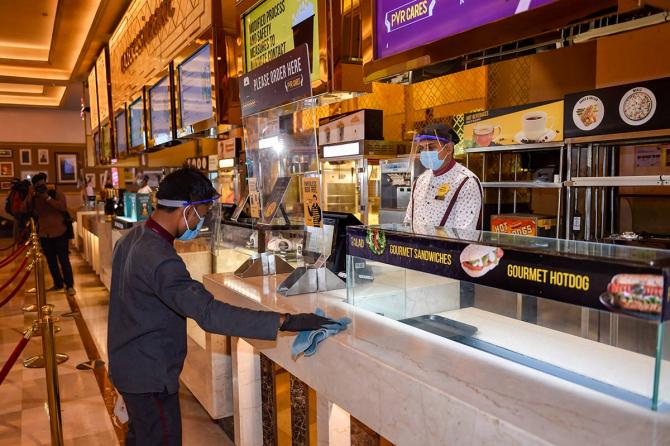 The state of India's largest cinema company best illustrates the havoc the pandemic has wrecked on the business.
From Rs 19,100 crore (Rs 191 billion) in 2019, the Indian film business has plummeted to Rs 7,200 crore (Rs 72 billion) in 2020.
More than 62 per cent of the revenues, or the entire box office, have been wiped out.
Over 1,500 screens (largely single) have shut, bringing the count down from over 9,500 to 8,000 nationally, going by FICCI-EY figures.
Even if single screens and smaller chains are going cheap, there is no appetite for investment, say analysts and CEOs across the board.
As India limps back to a semblance of normalcy after a devastating second wave, what is the future of multiplexes?
Will many of them shut down or get sold out at rock-bottom prices to rivals?
"The film business is not going anywhere. This is a blip in the 100-year history of cinema," says Alok Tandon, CEO, Inox Leisure.
The data bears him out.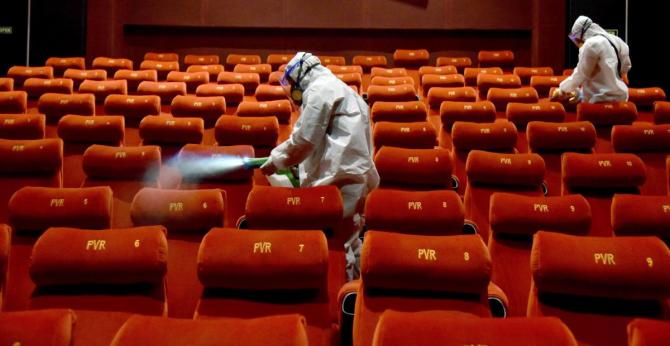 David Hancock, chief analyst, media and entertainment at UK-based Omdia, points out that the global box office fell by 71 per cent last year.
Yet, only three chains actually shut shop.
"The recovery depends on the pace of vaccination. Cinema is ingrained in our psyche because it is a social medium; it simply needs to up its game," says he.
As Devang Sampat, CEO, Cinepolis India, puts it; "We are one blockbuster away from recovery."
"In the long term, interest in movie watching will remain because a bulk of the revenue comes from a theatrical release," says Bijli.
"There is Sooryavanshi, '83 ... so many films are waiting. Look at Black Widow (released in June 2021) and Fast and Furious 9 (May 2021)."
Among the first few global releases after the US and UK opened up, Fast and Furious 9 has already made $500 million at the box office, about a third of it from the US.
The three things critical for recovery are: A fully vaccinated India; tentpole films; and film-makers' ability to up their game and match the expectations of an audience that has soaked in world-class shows and films on OTT for 18 months now.
"Between southern languages and Hindi, there are some very big movies up for release -- KGF 2, RRR, Radhe Shyam, Sooryavanshi, Laal Singh Chaddha, Brahmastra," says Shailesh Kapoor, CEO, Ormax Media.
The few films that had a theatrical release in the last one year, such as Master, Vakeel Saab and Jathi Ratnalu, got record openings, he adds.
The industry's ability to create films truly meant for the big screen is a critical aspect of recovery.
"Tentpole films will lead the recovery. People have made up their mind what they will watch on each of these formats," says Kapoor.
"Bigger films will do well in the theatre and smaller ones on OTT. The Nawazuddin (Siddiqui) kind of films will not do well in theatres."
If the top ten films brought in 80 per cent of the industry's box office revenues, they will bring in 90 per cent now, he reckons.
More importantly, the composition of revenues could change. The share of South Indian languages could move up to 60 per cent from 40-45 per cent currently, thinks Kapoor.
Because not only has streaming cleaved the choice of formats people want to watch films on, it has also whetted the appetite for international shows and films, and for what is now called the 'domestic crossover'.
"OTT has aided exposure to cinema in other languages; that is the biggest change because of COVID," says Kapoor.
Thanks to high-quality dubbing and subtitling, Malayalam films are finding a market in the North, as are Hindi and Marathi films in the South.
Ormax tracking shows that some 7-8 of the upcoming pan-India multilingual films alone could do a business of about Rs 700 crore-Rs 1,000 crore (Rs 7 billion to Rs 10 billion) at the box office, "assuming they are good," says Kapoor.
"There are 40 titles ready to release," says Sampat. And almost all of them are tentpole films.
Would the bunching up impact how they do?
"Having more big movies is not a problem. We (INOX) have 648 screens and programme five shows, maybe more in some multiplexes. The only problem for the patron will be which film to watch first," says Tandon.
That will be a happy problem to have.
Feature Presentation: Rajesh Alva/Rediff.com