From Rs 191 billion in 2019, the world's largest film producing industry now stands at Rs 72 billion, thanks to the pandemic.
Vanita Kohli-Khandekar reports.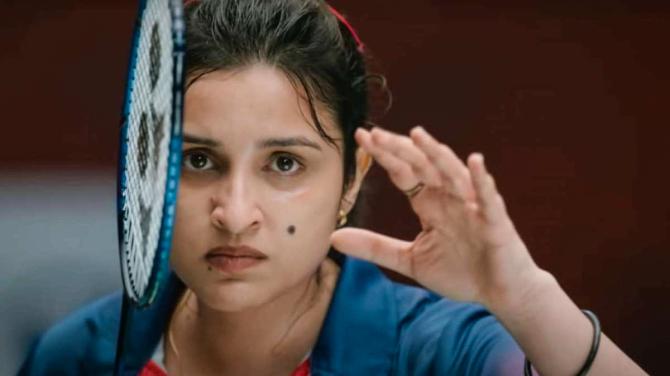 "It has been a tough year," sighs Siddharth Roy-Kapur, president, Producers Guild of India.
He can say that again.
About two-thirds of the Indian film industry's revenue was wiped out last year.
From Rs 19,100 crore (Rs 191 billion) in 2019, the world's largest film producing industry now stands at Rs 7,200 crore (Rs 72 billion), thanks to the pandemic.
Theatres, the first to shut down and the last to reopen, took the biggest hit.
Ticket sales slumped to 400 million, less than a third of 2019.
Hundreds of thousands of daily-wagers who form part of the industry's 700,000-strong workforce lost their jobs.
According to a FICCI-EY report (see box), anywhere between 1,000 and 1,500 single screens shut down.
Multiplexes aren't in great shape either.
The second COVID wave has dashed all hopes of recovery kindled by the trickle of audiences coming in after theatres reopened in October.
It won't be a surprise if a couple of chains shut down a la Regal and AMC in the US.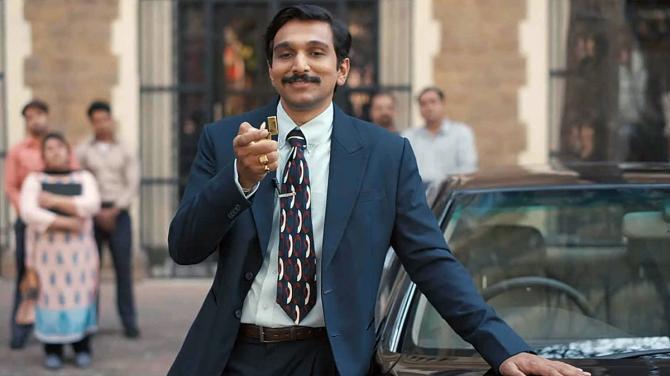 How will Indian cinema ever recover from this?
If you think OTT (over-the-top) or streaming video will rescue film, think again.
Theatrical release is the first -- and most important brick -- needed to rebuild the industry.
The second is a well-financed studio system capable of producing dozens of large-budget, spectacle films, and not just the stuff OTTs need.
And the third, of course, is a pandemic-free country.
SVF entertainment started as a film distribution company in Kolkata in 1995.
It now makes TV shows, owns 22 screens and Hoichoi, a Bengali video streaming platform.
Like many OTTs, "we had our biggest acquisition cycle during the lockdown", says Vishnu Mohta, executive director, SVF.
Hoichoi invests heavily in original programming and films to retain and grow its 13 million direct and indirect subscribers.
"Normally, we do 10-12 films a year. During COVID we released only four on OTT (holding the rest back for a theatrical release)," says Mohta.
"There is a big value chain and a film has to monetise across the value chain. The window may have shrunk but we believe that theatres are not going anywhere."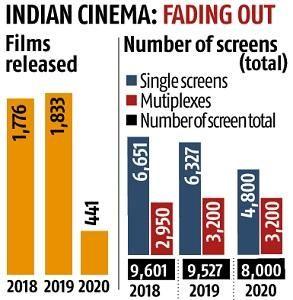 Alok Tandon, CEO, Inox Leisure echoes that view.
"During Durga Puja last year, we had five new Bengali films (Guldasta, Saheber Cutlet, SOS Kolkata etc), and they did well. Vakeel Saab (Telugu), Master (Tamil) have also done well," he says.
"People are coming out if the movie is good. Watching a movie is in our DNA; we don't go biking or hiking. For Indians, an outing is about khana (food) and pichchar (movie)."
These outings to the theatre made for over 60 per cent of the Rs 19,100 crore Indian films earned in 2019.
A film's reception in theatres impacts the price of every other revenue stream -- TV, OTT, overseas.
In 2019, broadcasters paid Rs 2,200 crore (Rs 22 billion) for film rights, bringing in 12 per cent of the film industry's revenues.
This money resulted in estimated ad revenues of Rs 7,700 crore (Rs 77 billion) for broadcast networks.
Without theatres fully revived, the whole ecosystem simply doesn't function.
Last year is a case in point -- digital revenues almost doubled, yet the industry is down by over 60 per cent.
"Movies and OTT tell two different stories: One, over three hours and the other over 5-10 hours. It is, for instance, impossible to tell the story of Scam in two hours," says Danish Khan, business head, Sony Entertainment Television, Sony LIV & StudioNext, Sony Pictures Networks.
"These are two different and robust businesses. Look at it in continuum -- free-to-air TV, OTT, pay TV, film; all will have robust growth."
What changes is the windowing or the gap between the release in theatres, TV and OTT.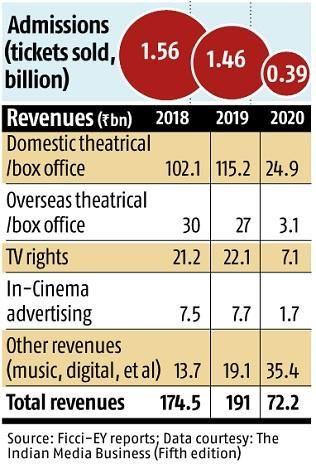 The need for spectacle cinema
Vijay Subramaniam, director and head of content, Amazon Prime Video, points to one of the big changes Indian cinema has been seeing.
"Ambition. Baahubali did that. It is about a glass ceiling, about how big a production I can attempt," he says.
"War, Tanhaji, KGF, Adipurush, Lucifer -- that drumbeat is increasing, getting stronger. Cinema is a community experience, but audiences are very selective. They demand the big-screen, spectacle cinema."
Kapur, who is also the producer of films such as Yeh Ballet and The Sky is Pink, agrees.
"The audience will come back only for tentpole films. They might watch light comedy or drama at home."
"The second half (of 2021) should be normal. It will take 2-2.5 months before vaccinations would have happened and then things will change," hopes Tandon.
Apoorva Mehta, CEO, Dharma Productions, agrees: "In a country like India, films are a social experience. Once there is a vaccine and it is safe to venture into closed areas, the appetite for the theatrical will only burst."
There have, in fact, been sporadic bursts.
Dracula Sir or Cheeni (Bengali), Jathi Ratnalu (Telugu), Karnan (Tamil), The Priest (Malayalam), among others, have done reasonably well at the box office in 2020.
There has, however, been no such good news from Hindi cinema, the largest segment of the Indian film industry by value, for two reasons.
One: A Tamil or Telugu film's release is limited to the state speaking that language.
Many states need to be in position to take a Hindi release.
"Mumbai and Delhi alone bring in 40-50 per cent of revenues; overseas is a big chunk," says Kapur.
So, till the pandemic settles for good, a full-scale Hindi release looks difficult.
Two: There is no pipeline. Unlike Bengali, Telugu or Tamil, most producers in Hindi have sold the films that were ready to OTT.
"Big tentpole films are reserved for theatre. But theatres are running at only 50 per cent capacity. Therefore, you automatically lose half, assuming the remaining half of the theatre is full. For a lot of film-makers, it made sense to go to OTT to unlock value," says Mehta.
Some of the big ones, like Aamir Khan's Laal Singh Chaddha, are simply not getting a non-pandemic tainted window for a pan-India release.
Far from reality
This is where reality and hope clash.
If and when theatres can function fully, they need the big-budget spectacle films.
But given the experience of last year, that is not likely to happen.
"Film is a contact business. It involves many people working together for long periods. So, you have to be careful," says Mehta.
"Plus, theatres are not open. We can't plan a Rs 200 crore-Rs 300 crore (Rs 2 billion to Rs 3 billion) film in this environment."
So, he says, "we are doing more indoor films to try and make stuff more manageable in budget and logistics."
Most studio heads reckon that if nothing goes wrong, there will be some big releases by the end of this year.
That, however, is a big 'if' given the state of the pandemic currently.
"I am not sure how the rebuilding will happen with so much uncertainty," says Subramaniam.
Inox Leisure's 643 screens in 69 Indian cities are hardly being used.
In a normal year, it spends Rs 80 crore-Rs 85 crore (Rs 800 million to Rs 850 million) a month.
It has brought this down to Rs 11 crore (Rs 110 million).
Since the pandemic started, it has been selling its food and beverage offerings over Swiggy and Zomato.
How long can theatres survive without their main business?
Note that in India films power the entire entertainment industry.
About a fifth of all TV viewership and lots of the programming hours on TV come from films.
On OTT, nearly all the (local) original programming comes from the film industry.
Also, over 70 per cent of all music sold is from Indian films.
If Indian cinema shrinks and capsizes, so will many other businesses.