Aseem Chhabra imagines a time, 20 years from now, when movie-watching in theatres will be long gone, thanks to the coronavirus, and pens a letter to his grandchild, explaining the magic of the cinema hall.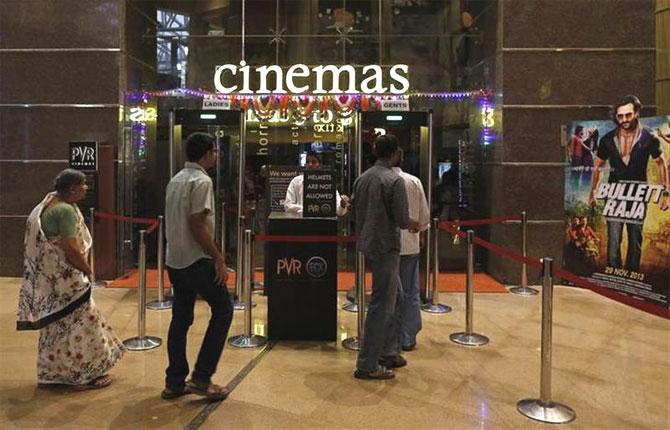 April 13, 2040
My Dear K,
Last night when I mentioned I saw the first Star Wars film at the Archana theatre in Delhi, you gave me a surprised look.
What is a theatre, you asked.
I tried to explain to you, but I think this letter will be helpful.
I was born in Old Delhi close to a grand theatre -- a large enclosed space, air conditioned, with comfortable seats, facing a giant screen on which movies would be projected, first using film and a few decades later, digitally.
It was called Golcha, an old art deco style theatre, opened in Daryaganj a few years before I was born, where we would sit in the dark with strangers, and collectively admire the film playing before us.
I am told my first film was Dhool Ka Phool, a social drama with lots of songs.
Golcha closed a few years before the plague of 2020 -- the coronavirus, which shut down theatres around the world.
It was the last communal activity I loved engaging in.
The virus that killed hundreds of thousands of humans before it subsided convinced most people they would be safe if they stayed away from crowds.
Theatre owners across the world, reeling under a collapsing economy slowly shut down their businesses... until there were no more theatres left.
You see, cinema was my religion. Theatres were the temples where I worshipped.
As a teenager growing up in South Delhi, I would frequent Archana and Chanakya -- both single screen theatres with capacities to seat over 1,000 people.
When all the tickets were sold out, the theatre management would put up a sign outside that declared 'House Full.'
Movie mad audience would go crazy.
Mini riots would break out, especially if the film had popular stars.
Shady characters would lurk in the corner and offer to sell tickets in black, for a price higher than the face value of the ticket.
During my teenage years I saw so many wonderful Hollywood and Indian films at Archana and Chanakaya -- The Godfather: Part II, Diamonds Are Forever (my first James Bond), Annie Hall (my first Woody Allen) and the old classic Gone With The Wind.
I even watched Gaman, the heart-wrenching tale of a lonely migrant man in Bombay.
The theatre was a couple of kilometres from my home and I would often walk back with friends or my younger brother. Traffic in Delhi would be light and the city seemed safe for children to walk home. At least my parents did not seem to be concerned.
There were several other theatres spread out in Delhi -- Alankar in Lajpat Nagar where I saw Rajesh Khanna, Mumtaz and Meena Kumari in Dushman; I saw Amitabh Bachchan's tragic performance in Muqaddar Ka Sikander at Eros in Jangpura and walked back home with my brother, both of us loudly singing Woh Muqaddar Ka Sikandar, Janneman Kehlayega.
In Chandini Chowk, I saw movies at Jagat.
When the song Koi Pathar Se Na Mare played during Laila Majnu, the packed theatre -- mostly Muslim men and women, who lived in the neighborhood -- unanimously clapped and joined in a communal singing event.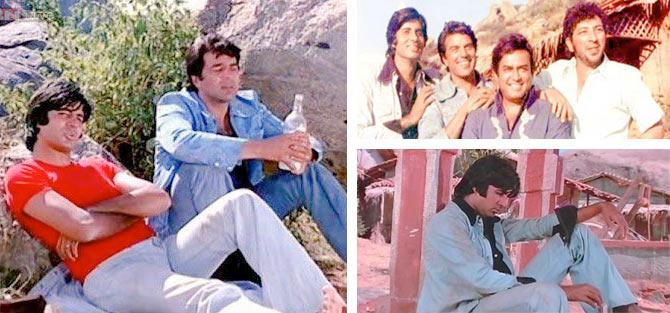 And then there was the famous story about Sholay.
A week after the film opened in 1975, word spread that the audience was mouthing the film's dialogues along with the actors. And so I went to see the film for the second time at the Plaza theatre in Connaught Place to experience the audience participation.
A decade later in New York, I attended a midnight screening of The Rocky Horror Picture Show -- a silly film that had gained cult status because the audience would throw water, toilet paper and even popcorn at each other during its key sequences.
There were other things to look forward to in movie theatres, especially food.
Popcorn was considered the universal food in theatres, with some concession stands proudly claiming they served real butter as topping.
Often, the stale smell of popcorn butter would linger inside the theatres.
Until it shut after the coronavirus pandemic, Delite sold the biggest samosa in Delhi. And Film Forum in New York had yummy blueberry bread and orange, cranberry, walnut cake.
There was a darker side to some movie theatres -- although I did not personally experience it -- where older men would prey on children.
In a disturbing sequence in The God of Small Things, Arundhati Roy wrote about the Orange drink Lemon drink Man, a sleazy guy who ran the concession stand at the fictional Abhilash Talkies and how one time he took young Estha behind the counter and molested him.
In Taiwanese director Tsai Ming-liang's art-house hit Goodbye Dragon Inn, a rundown theatre playing re-runs of martial art films is about to shut down. But the audience on the last night -- mostly gay men -- is looking for sex in its dark corners.
When I arrived in New York in 1981, all of 42nd Street in the Times Square area was made up of porn theatres -- straight and gay, where single and even married people, more men than women, would go inside the theatres to watch explicit sexual films. And they would often engage in quick and unsafe sex.
But New York also offered many art-house, revival movie theatres where you could see double-bills (two films for the price of one) of masters like Akira Kurosawa, Satyajit Ray, Ingmar Bergman or even Luis Buñuel for $5.
In the summer, I would attend outdoor screenings -- sit on grass in parks and watch classic movies.
One night, I saw Casablanca in Boston, sitting by the Charles River. And to my delight, most people in the audience knew the film's dialogues.
That night I relived the Sholay experience from Delhi.
My favourite open-screening experience was in the town of Telluride in Colorado where I attended the annual Labour Day film festival for 22 years.
It was so much fun to sit out in the cold, under the stars and see films.
That is where I saw Motorcycle Diaries in the company of a couple of hundred people, all huddled up in blankets.
The biggest single screen theatres I visited were in Berlin -- grand theatres, with plush seats and often art deco designs going back to the Second World War or earlier, or the division of the city during the Cold War. And they existed until the early part of 2020.
My favourite was the Kino Babylon built in 1929 and located in what was once East Berlin.
It had a grand entrance with two staircases on the sides leading to the balcony space.
Art-house theatres were always losing money and most of them eventually shut down.
Instead, the film culture in New York was kept alive by two arts institutions -- the Museum of Modern Art and Museum of Moving Image.
Both locations temporarily closed when the city was ravaged by the coronavirus. They never re-opened.
The religious zeal of New York's then mayor Rudy Giuliani led to the closure of the porn theatres.
Eagle, a gay porn theatre in Jackson Heights, began to show Bollywood films.
I remember taking your dad, when he was still a kid to see Kuch Kuch Hota Hai at Eagle.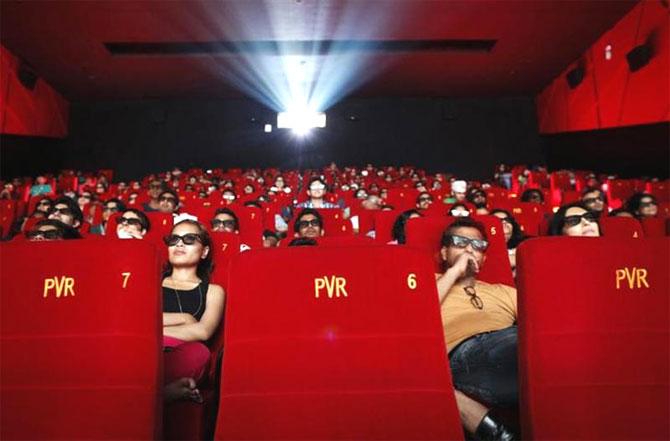 In New York, the economics of running large single screen theatres became complicated.
Instead, new multiplex theatres started mushrooming across the city.
The biggest one with 25 screens, run by the AMC chain was located on 42nd Street in Times Square, in the heart of what once was the porn district. The AMC chain was the first to declare bankruptcy at the peak of the pandemic in the US.
I got similar reports from Delhi.
Single screen theatres slowly shut down and chains like PVR invested in multiplexes.
But in the Spring of 2020, as people stayed locked up in their homes, the multiplexes started to die.
Fortunately, the Internet saved films as people found alternate ways to watch them while they stayed at home.
Dear K, you were born after all of this, in a very different world.
But I want you to understand that I would get great pleasure in going to a theatre, buying a large bucket of popcorn, and watching a Bollywood musical or a spectacular sci-fi thriller from Hollywood.
To be able to laugh and gasp with hundreds of strangers. I still miss that experience.
Your Dadaji, Aseem