2020 should be a case study of how film-makers from around India coped with the pandemic and the lockdown.
Some were ready with their films, while others rushed through post-production working remotely.
Movie theatres were shut down, but there was still demand for the films -- at virtual film festivals (even a physical one held in Venice in early September), and OTT platforms.
Some film-makers became creative and shot their films entirely during the pandemic.
Aseem Chhabra lists the best non-Hindi language films he watched in 2020, with the hope that they will have a wider reach in the new year.
The Disciple (Marathi)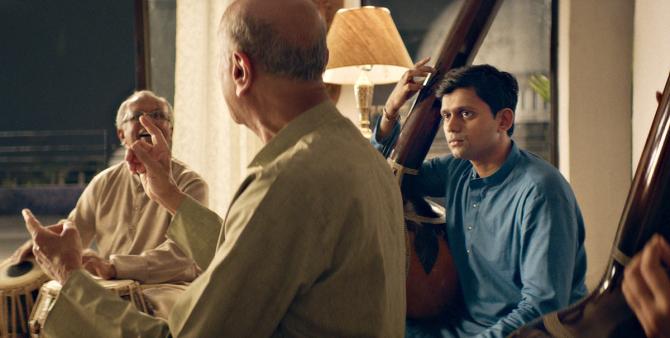 In Chaitanya Tamhane's Venice screenplay award-winning new film, a young man dedicates his life to perfecting the art of performing North Indian classical music, under the tutelage of his demanding guru.
He spends all his waking hours singing, hearing rare tapes on what a dedicated singer's life ought to be and caring for his guru, which includes giving the old man oil massages.
But in a film that is seeped in the sounds of classic music, Tamhane throws in a few important questions.
What if the person who is seeking perfection is just not good enough?
How does one accept that he is a failure or at best mediocre?
And that it might make more sense to give up the pursuit and follow some other uncharted path?
How does one move on in life realising that a large part of your youth and adult life was a waste?
The answers to these questions are illuminating.
The Disciple is an exceptional film, with beautiful pacing, a touch of humour, class examination and waves of beautiful music.
Sthalpuran (Marathi)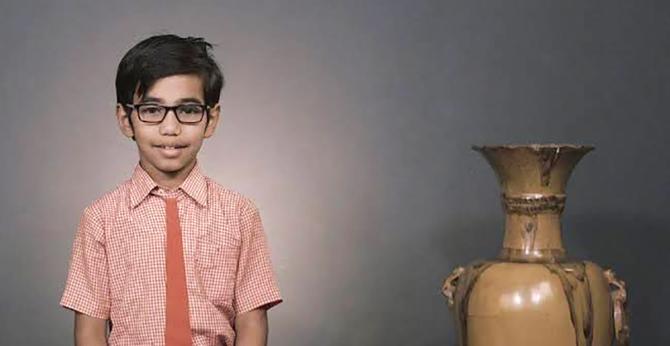 A little boy accompanies his mother and two older sisters, as they shift from Pune to a village in Goa.
He is not happy with the move, leaving behind a big city and his friends. Most of all, he misses his father, who has left the family.
Akshay Indikar, in his second feature, introduces us to an adorable child Dhigu (Neel Deshmukh), with his quizzical eyes, glasses and a wide smile, as he tries to make sense of the world around him and especially find the answer to where his father is.
He makes small entries in his diaries and most relate to how much he misses the father.
The single sentence entries are heartbreaking even as Dhigu smiles at everyone around him.
Sthalpuran (Chronicle of Space) is a gentle examination of childhood as we watch life in a small Konkan village during the monsoon season -- school, days of fun, observing nature, beaches, rivers and rain. But there is also a state of confusion, where adults often do not share the truth with children.
In addition to co-writing Sthalpuran, Indikar has also edited the film and shaped its sound design. Very little is spoken, and the sparse dialogues give it a meditative quality.
Nasir, (Tamil)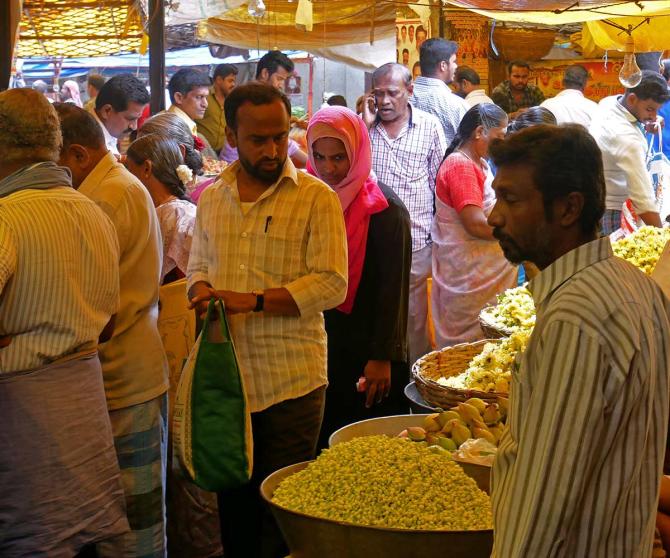 In Arun Karthick's sophomore film Nasir, a salesman works at a sari shop in Coimbatore.
Nasir leads a tough life, as his son is mentally challenged and there's a lack of money.
But he does not complain.
Rather, he feels blessed by his job and the love of his wife. When his wife travels to see her family, he writes sweet love letters to her.
But even when Nasir minds his own way, he is surrounded by the politics of divisiveness and intolerance.
In the world that Karthick recreates, nobody can escape the mood of the current time. Even ordinary people's lives are impacted by all that is thrown at them.
Nasir is a beautiful atmospheric film, a visual treat, splashed with vivid colours, especially inside the sari shop.
The mood of Nasir is enhanced by the production design and the street scenes, so rich that you can almost breathe the smells surrounding the protagonist.
Meel Patthar (Punjabi/Hindi)
Ivan Ayr's Meel Patthar (Milestone) is a heartfelt ode to the lives of truck drivers in India as they pass through long, lonely highways, especially at night, separated from their families, sleeping in the trucks and eating at wayside dhabas.
A quiet drama, Meel Patthar is the story about a middle-aged truck driver Ghalib (Suvinder Vicky), coping with a personal tragedy.
He measures his worth by the distances he has traveled. But now, he faces the threat of losing his job to a young protege Pash (Lakshvir Saran).
Ayr likes to explore narratives set in Delhi, Haryana and Punjab.His first film Soni was also set in Delhi and it captured the city's foggy winter nights.
In Meel Patthar, the sadness of the solitary lives of the truck drivers is accentuated with the grim, cloudy, winter mornings in and outside Delhi.
Laila Aur Satt Geet (Gujari/ Hindi)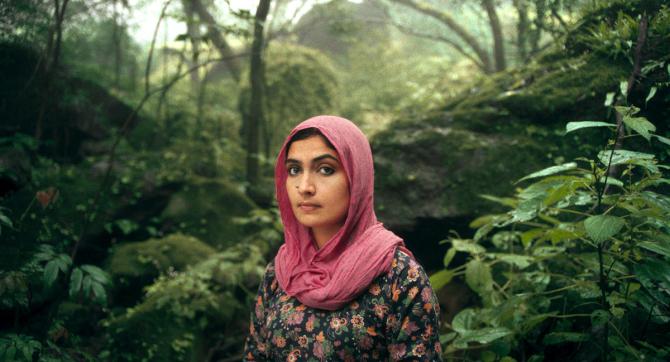 Inspired by poems written by Lalleshwari, a 14th century woman mystic from Kashmir, as well as a Rajasthani folk story, Pushpendra Singh's Laila Aur Satt Geet(The Shepherdess and the Seven Songs) is a magical tale of a young married Gujjar woman Laila (played by the Dharamsala-based actress Navjot Randhawa), who asserts her feminist self, as she is also desired by another man.
It is stunningly shot by Ranbir Das in the mountains of Kashmir, capturing the majestic Himalayas, the trees, wildflowers and the flowing water. The film has a hypnotic quality, where the music and the songs merge with nature.
To the fairy tale feel of the film, Singh adds the reality of Kashmir where there is a constant police presence, plus the checking of passports and national identity for the fear that the Gujjars -- a pastoral community in India, Pakistan and Afghanistan, might have crossed borders.
Laila is a treat for the senses and should be best appreciated on the big screen, a privilege few have had since it played at Berlinale earlier this year. I hope the film can be revisited in the post-COVID scenario.
Ashes on a Road Trip(Marathi)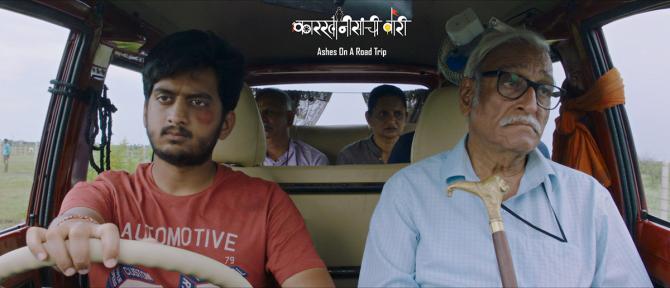 Marathi film-maker Mangesh Joshi's Ashes On A Road Trip (Karkhanisanchi Waari) gives a hilarious twist to the story about a death in a family.
An elderly man passes on.
His last wish was that his four surviving siblings (a terrific ensemble of actors: Mohan Agashe, Geetanjali Kulkarni, Pradeep Joshi and Ajit Abhyankar) scatter his ashes at a number of locations, including the family's ancestral home.
The four siblings are accompanied by the dead man's young son Om (Amey Wagh).
All is not well between the siblings.
Years of differences, insecurities and jealousies surface once they are locked in a van and spend the day together. But Joshi and his co-writer Archana Borhade do not judge the siblings, treating their subplots, as well as that of Om's, with humour and warmth.
Run Kalyani (Malayalam)
Thiruvanathapuram-based film-maker Geetha J's debut film follows a young woman Kalyani (Garggi Ananthan), who works as a maid, while also taking care of her ailing aunt.
Kalyani moves with an air of confidence.
Her daily ritual of leaving home and walking to her job is accompanied by an Indian cover of Ravel's Bolero composed by Sreevalsan J Menon.
But is the musician standing on the street corner playing the shehnai real?
Does Kalyani have an imaginary male friend living in her room in the attic of a small flat?
The questions do not need to be answered. And if we accept Kalyani's world, we are in for a very satisfying ride.
Pinki Elli?< (Kannada)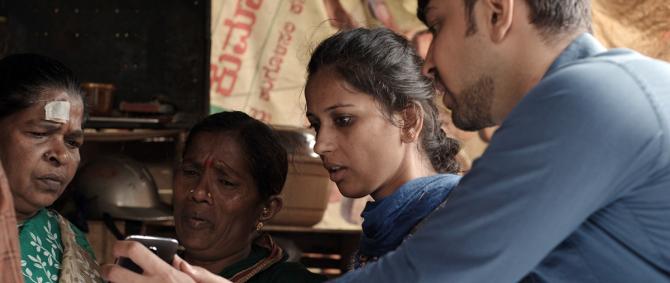 A disturbing thriller, Director Prithvi Konanur's Pinki Elli? (Where Is Pinki?) depicts the worst nightmare for working parents with children.
Every morning Bindu (Akshatha Pandavapura) and Girish (Anoop Shoonya) leave their eight-month-old baby Pinki in the care of their maid and nanny Sannamma (Gunjalamma).
But within the first five minutes into the film, we realise Sannamma's dubious plans.
Every day she laces Pinki's milk with alcohol and lends the baby to another woman, who takes her in a bag as she begs in street corners.
But on this day, Bindu comes home early and her nightmare begins.
The search for the child makes Pinki Elli? an unsettling film, as the parents of the missing child scan the streets and the slums of Bangalore.
There is a real feel to the film that adds to the intensity.
Ah'r (Kayattam (Malayalam)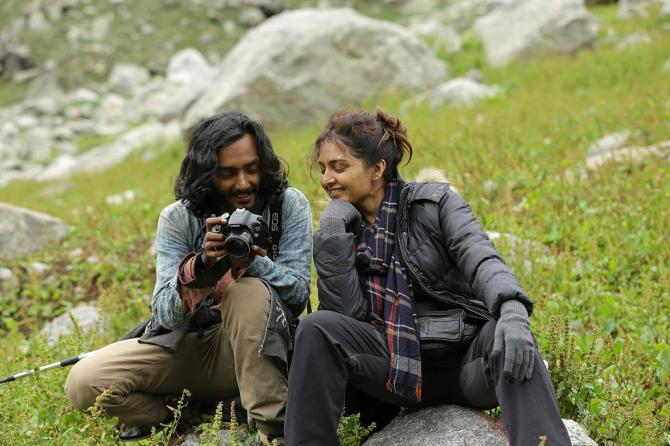 One of the most prolific Indian film-makers Sanal Sasidharan's new film Ah'r follows the theme he often explores -- how men and women interact in social situations, and the power play between them.
Often, the behaviour of a group of men (S Durga) or one powerful man (Chola) make Sasidharan's films a disturbing watch.
In Ah'r, a group of trekkers walk through the mountains in Himachal Pradesh, along the green valleys, snow and glaciers.
A young man and woman (Manju Warrier), both happen to be from Kerala, strike up a friendship.
But a third Malayali man, who may know the woman from the past, adds tensions during an otherwise peaceful trek through the Himalayas.
Ah'r is gorgeously shot and the film features a group of foreigners who sing throughout in a make-believe language, forming sutradhars in the background.
The mountains are calming, but the tussle between the two men and the woman who may have her own plans keeps us on the edge of the seat.
The False Eye (Malayalam)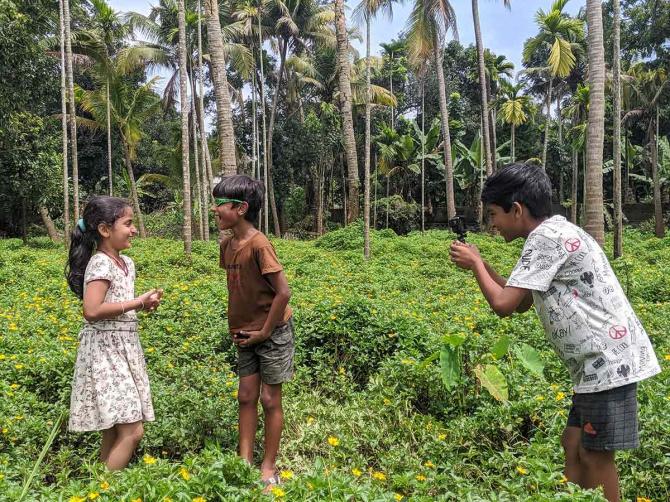 Rahul Riji Nair's The False Eye (Kalla Nottam) is experimental in nature. But the unexpected story exploring our innate voyeuristic desire makes it a riveting experience.
Two charming young boys steal a GoPro surveillance camera from a small store with plans to make a film.
Their plans go well as they bring a young girl into the film shoot.
But by chance, the camera views something the boys are not supposed to see, and thereon the sequence of events add layers to what becomes a disturbing drama.
The False Eye's runtime is only 72 minutes, but in that short span, it captures more engaging drama than one often sees in a two plus hour long film.
Nirontor (Bengali)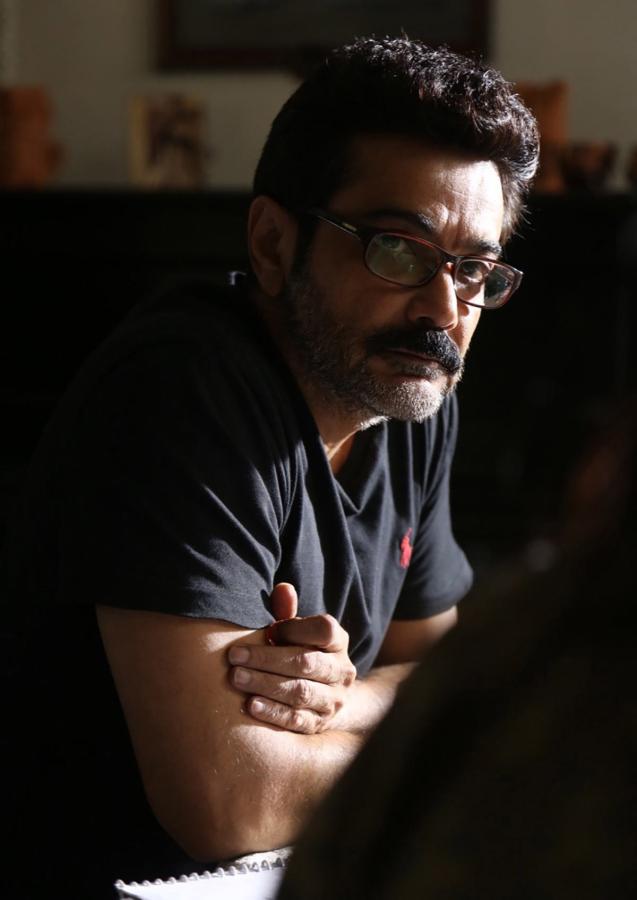 It is always fascinating to see big movie stars shed their stardom and act in smaller indie films.
In Nirontor (The Prologue), Prasenjit Chatterjee plays one such role, a brooding man, coping with a difficult family situation and the sudden tragedy he has to face.
Nirontor, is Director Chandrashish Ray's first feature and is based on his script.
Chatterjee plays Biplab Sen a mid-level employee at a company, who is sent on a work trip to the hills with a junior colleague.
The colleague's sudden death starts to weigh heavily on Biplab.
Meanwhile, his wife -- a moving performance by Ankita Majhi -- is severely depressed, which does not make Biplab's life any easier.
But there is something comforting about Nirontor as we watch Biplab swim through the choppy waters and make it safe at the other end. The final scenes itself will stay with the viewers long after the film ends.
Borunbabur Bondhu (Bengali)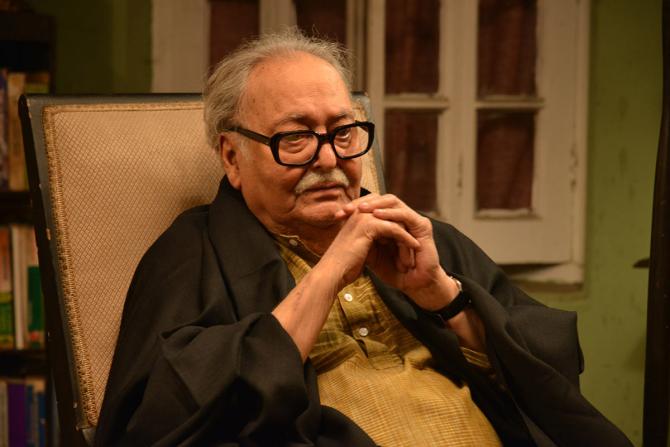 At the time of his death, according to IMDb, Soumitra Chatterjee had at least nine film projects that were already completed or in post-production.
Borunbabur Bondhu is the last film of his that released before his death.
Director Anik Datta's film is a satire about a man and his life.
Borunbabur's (Chatterjee) birthday is approaching and the celebration takes on a whole new meaning when it is revealed that his childhood friend -- who is now the President of India -- might drop by for the festivities.
His large extended family, friends and even neighbours go into a frenzy awaiting the President's arrival in a middle-class neighborhood of Kolkata.
Borunbabur Bondhu is a delightful film and Chatterjee is very good in the role of man easily irritated by his personal life and the state of the nation.
It is also a fitting tribute to the actor and the life he led.
C U Soon (Malayalam)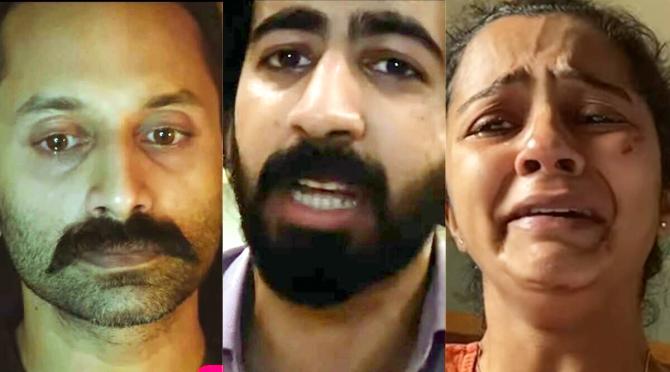 In his debut film Take Off, Director (and a very busy film editor) Mahesh Nair narrated the story about the plight of Indian nurses from Kerala stuck in Iraq during the civil war, post the US invasion of that country.
C U Soon is a thriller with a very different twist.
Inspired by Searching, the 2018 film directed by Indian American film-maker Aneesh Chaganty, C U Soon is shot on iPhones with the actors in separate locations.
But unlike Chaganty's film, C U Soon's style was necessitated by other circumstances. Nair made the entire film during the pandemic.
Roshan Mathew and Fahad Faasil play cousins trying to solve the mystery of a missing woman (a terrific Darshana Rajendran).
Some of the best moments in the film (which eventually becomes predictable) are scenes of Faasil and Mathew juxtaposed on the screen, with both reacting so well to each other. All the while we know that given the pandemic situation, the scenes would have been shot separately.
Habaddi (Marathi)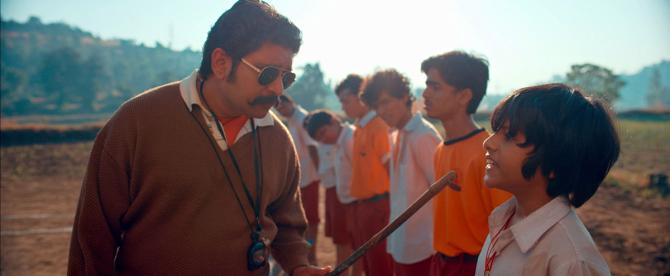 Habaddi explores childhood and the time of innocence. It is one of the warmest films of this year, made with a lot energy, style and a salute to young love.
Manya (Karan Dave) is a young orphan in love with a girl, but her family moves to Mumbai.
So Manya decides to meet her in Mumbai.
His plan involves joining a local kabaddi team that is traveling to the big city. But the big challenge is that Manya has a speech defect and he cannot pronounce the words 'kabaddi-kabaddi'.
Habbaddi is splashed with bright over-saturated colours, sharp exaggerated camera moves and editing.
The film even features a balcony scene reminiscent of Shakespearian plays and has a joyful heart that says this it needs to be watched and celebrated.
Lorni-The Flaneur (Khasi)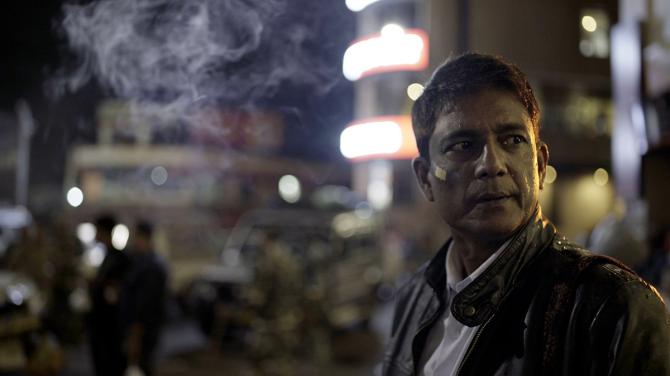 In Director Wanphrang Deingdoh's Khasi language film Lorni, Adil Hussain plays an out-of-luck detective called Shem who is called to solve a crime in Shillong.
While the theme may sound familiar to those have been raised on American film noir thrillers -- including a femme fatale who becomes a distraction for our detective -- Lorni has a distinct north east India flavour.
Shem's investigation leads him to the hidden alleys of Shillong and along the way, we meet a range of characters.
Lorni is less of a thriller, more of a mood film and an experience that is very rewarding.
You get a taste of an India that you rarely see.
As a film noir, it is an exploration of life and people on the fringe and the darkness that surrounds them.