The pandemic and the lockdown came into our lives without warning.
Nobody was prepared to be stuck at home.
All social activity suddenly ended.
Movie theatres were shut down and we missed the communal experience of watching films in the dark.
Thankfully, our film-makers, studios and writers had an alternative plan for us. They filled up our days and nights with new shows and films by streaming them on OTT platforms.
Suddenly we had many choices, too much content to watch, which in a way was a good thing.
Here's a look at Aseem Chhabra's favourite memories of 2020 in Hindi cinema -- in alphabetic order -- performances by well-known and new actors, special moments in films and shows.
The loneliness of Prahastha
Cargo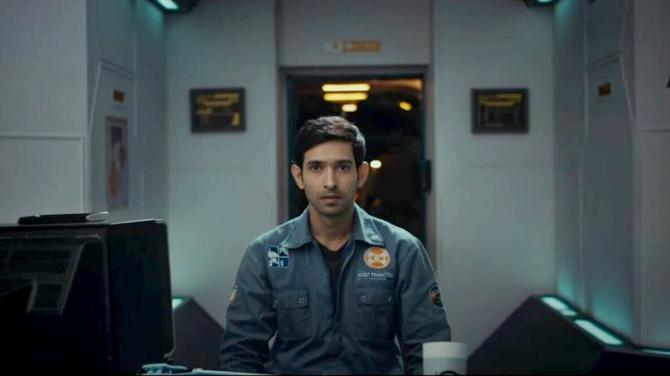 In our world packed with overstuffed sci-fi films, Arati Kadav's Cargo managed to create the mood of a space journey at a fraction of what Hollywood would spend.
For decades now, Prahastha (Vikram Massey) has been running the spaceship Pushpak, a halfway station for people who have died.
His job is to take their physical belongings, erase their memories and cure their ailments, so that the dead can head forward without any baggage.
Prahastha has a new assistant -- a chatty Yuvishka (Sweta Tripathi) -- but he would much rather be left on his own.
Massey is a terrific actor, already a star in Hindi cinema, and while he now takes on all kinds of projects, he seems to shine the most while playing quieter internal roles.
In Cargo, Kadav's script gives Massey ample space to play a man long separated from his earthly life.
Prahastha has accepted his fate, resigned to the breakup of his personal relationship, and dedicated himself to the cause of calming down the recently dead and easing their journey ahead.
In a brief moment, he makes a video connection with his ex-girlfriend (Konkona Sen Sharma will break your heart in a scene that lasts only a few minutes).
Not much is explained, no closure happens, but Prahastha acknowledges that he feels more like a ghost than the dead people, who pass through the space station.
Massey is very good in Cargo, giving one of the finest performances of the year, amidst many other louder and showy acts.
Sharvari Taai's hysterical break-down
Choked: Paisa Bolta Hai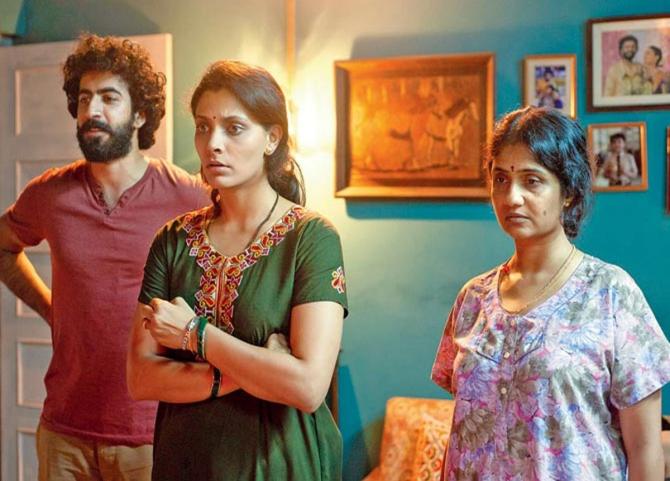 Anurag Kashyap's demonetisation inspired film does not go as far as it could have. But one of the strengths of Kashyap's films has always been his casting.
In one of the key supporting roles in Choked, Kashyap casts Amruta Subhash, who has already made her mark in Marathi cinema. She has also acted in Kashyap's Psycho Raman and Sacred Games and Zoya Akhtar's Gully Boy.
In Chocked,, Subhash plays Sharvari Taai, friend and neighbour of the film's protagonist Sarita Pillai (Saiyami Kher) and she shines in the scenes she appears in.
We see her towards the beginning of the film, standing in the stairwell of her building, getting stressed at the number of guests arriving for her daughter's wedding.
'Woh deewar main se cheetiyan nikaltee hain naa ek, ek kar ke?' she says to Pillai who is tired after the day's work and wants to head to her flat.
'Pata nahin chalta aur kitni cheetiyan nikalne walli hain.'
But Subhash's crowning moment is towards the middle of the film.
She has just watched Prime Minister Modi's televised speech where he has announced that all Rs 1,000 and Rs 500 notes will be taken out of circulation.
She calls out to Sarita, laughing hysterically: 'I have lost everything.'
Sarita and her husband (Roshan Mathew) stare at her in a state of confusion.
'Panchso ka note,' she does a hand gesture, then adds in laughter 'Panchso ka note gaya. '
'Kidhar gaya?' Sarita asks.
'Band kar diya logon ne... Modi ne.'
She is laughing, but it is out of shock.
There is so much sadness in her hysteria.
Sharvari projects the fate of the millions who, with one stroke, lost all their money (although temporarily). The camera then pans to the TV screen where the key part of Modi's speech is shown.
Subhash has always been good in whatever role she takes, but in Choked, she is outstanding.
The humiliation of Anjani Prasad
Eeb Allay Ooo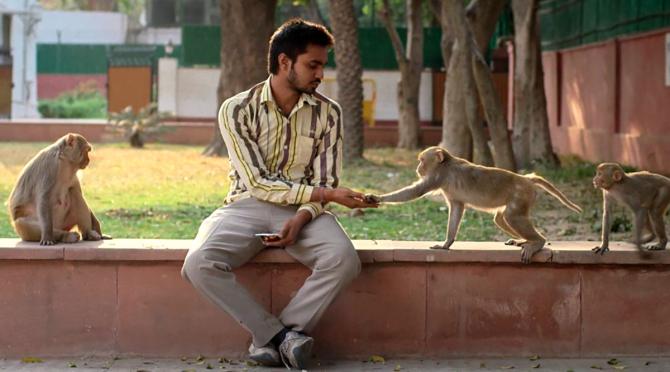 In Eeb Allay Ooo -- perhaps the most unique Hindi film of the year -- Director Prateek Vats has created a protagonist, Anjani Prasad, a migrant from Bihar, who is mocked and ridiculed by everyone he comes in contact with.
His life seemed engulfed by sadness.
Anjani (played with utmost sincerity and compassion for the character by Shardul Bhardwaj) does not have any work experience and so he lands with a strange job -- to walk around Delhi's Raisina Hill area, making the sound 'eeb allay ooo.'
His aim is to scare the monkeys who have created a menace in that area.
Bhardwaj's Prasad tries hard, but he is never good at it.
Meanwhile, regular Delhi folks, office workers, paanwallahs and chaiwallahs stare at him in disbelief.
He gets no respect from his pregnant sister and loser brother-in-law, who have been kind to let him stay with them. Even red-bottomed monkeys mock poor Prasad.
In one of the most disturbing scenes, Prasad's colleagues lock him up in a cage meant to hold monkeys. Humiliated and shamed, the poor man begs to be let out.
Newcomer Bhardwaj has a short resume, but the heart and the talent of the actor is huge.
Director Vats throws him into a very challenging role and does a wonderful job in bringing out the pain and suffering of a migrant.
Making the house, the protagonist in the film
Gamak Ghar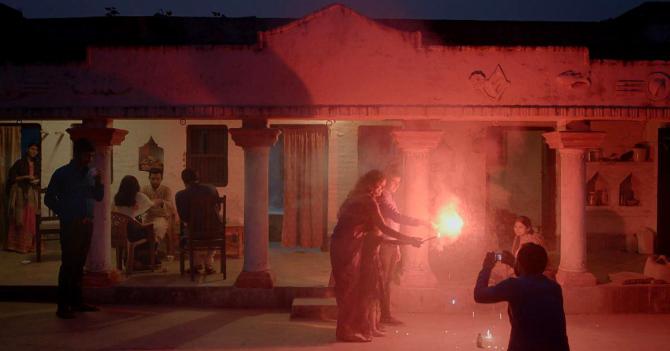 In Gamak Ghar, a beautiful film in the Maithili language, 23-year- old Achal Mishra pays tribute to his ancestral house in Jharkhand.
I include Gamak Ghar in this list since Maithali is closely related to Hindi.
Gamak Ghar is a love letter to a house as we watch its decline over three decades.
Once it was the centre of the large extended family.
Some people lived there, while others would visit every so often for family celebrations and summer holidays.
But then the older generation passed on, while others moved to bigger cities and hardly found time to return.
Towards the end, no one seemed to care about the village life and the house.
But the house stood there, alone, quiet, waiting for the love, the noise, the smells and warmth to return.
Gamak Ghar will break your heart.
It is a special indie film where an inanimate object made of bricks, plaster and paint becomes the main protagonist. We barely get to know the family members.
The camera often stays far enough so we cannot read their facial expressions, look into their eyes.
But we see the house, proud, regal, an archival space for stories and secrets.
It will stand tall until the owners decide to tear it down.
Irrfan Khan's last words to his fans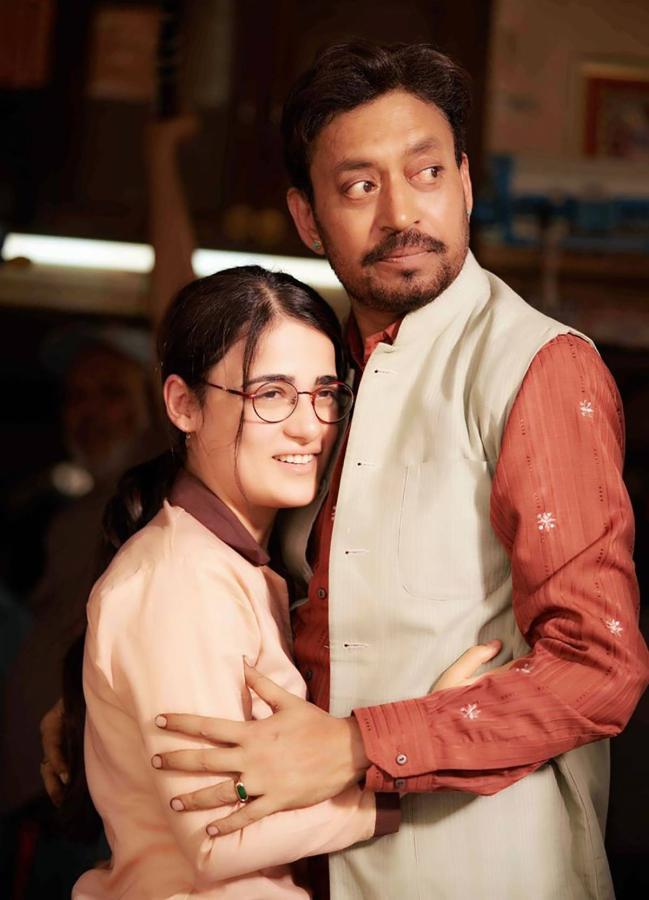 In February 2020, ahead of the release of his last film Angrezi Medium, Irrfan Khan sent out a message to his fans.
He spoke about his love for the film, but also his struggle with cancer that had kept him away from meeting fans and promoting the film.
It was a beautifully spoken message, with Irrfan's regular humour, hope and the promise to return.
His voice was strong and definite.
There was the actor, who really enjoyed making films, including Angrezi Medium, which he shot under very trying conditions.
Irrfan passed away on April 29, but his last message stayed with us.
'Hello, Bhaiyyo aur Beheno,' he says. 'Main aaj aapke saath hoon bhi aur nahin bhi. Mere sharir ke andar kuch unwanted mehmaan baithe huye hain. Unse vartalap chal raha hai. Dekhte hai kis karwat uth baithta hai. Jaisa bhi hoga, aapko itelah kar diya jayega.'
He concludes by saying, 'Enjoy the trailer and be kind to each other. And watch the film. And yes. Wait for me!'
We waited, but alas, he did not keep his promise.
It was a tragedy that affected all, his family and his fans. But we have his voice, his films to keep us going.
A bouquet of acting talent
Paatal Lok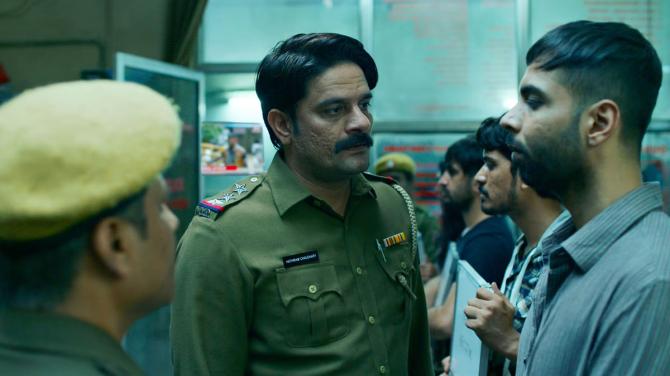 One of the best surprises of this year was Amazon Prime Video's nine-part Web series, Paatal Lok.
Created by Sudeep Sharma, this terrifying, riveting, show was an indication that India was buzzing with a talented pool of actors.
These actors may not get the opportunity to make a mark in a two-hour film but the more expansive series format had created a democratic space for so much new acting talent to emerge.
There was the casting director-turned-actor Abhishek Banerjee, whose Hathoda Tyagi gave me sleepless nights. Along with the moral centre of the show Hathi Ram Chaudhary, played by Jaideep Ahlawat.
Despite having acted in numerous films going back to 2011 when he played Jordon's (Ranbir Kapoor) brother in Rockstar and a year later, Shahid Khan at the beginning of Gangs of Wasseypur, Ahlawat never got a chance to show his acting prowess until now.
Also cast in the show were some wonderful theatre actors, including Jagjeet Sandhu from Chandigarh and Ishwak Singh from Delhi.
Both had acted in films before this, but suddenly we took notice of them in Paatal Lok.
The cast also had a few known names -- Neeraj Kabi, Gul Panag, Swastika Mukherjee and Vipin Sharma -- and other less recognisable actors such as Amarjeet Singh (who had a standout cameo as the plumber in Kapoor & Sons).
It was such a thrill to watch these actors.
Many of them scared the hell out of us, making Paatal Lok a dark, yet memorable experience.
Ila Arun's shining performance
Raat Akeli Hai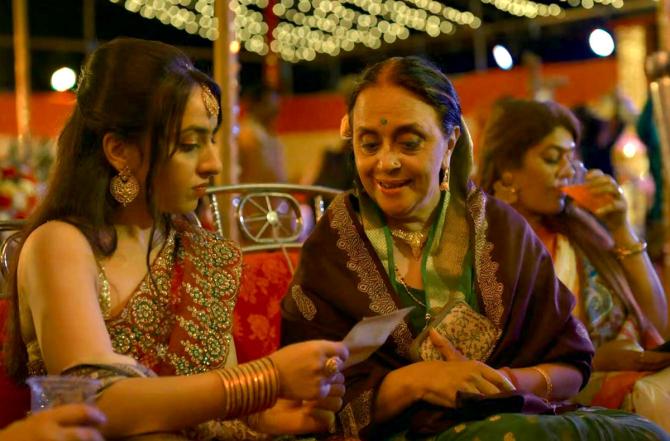 Honey Trehan has been a casting director for many films. So naturally, it was expected that when he would direct his first feature, his casting would be perfect.
Raat Akeli Hai is a smart ensemble whodunit bearing resemblance to classic Agatha Christie mysteries. And there are many wonderful performances in it.
The one that stands out is the smallest role -- that of protagonist Jatil Yadav's (Nawazuddin Siddiqui) nagging mother played by Ila Arun. She loves her son and would want nothing more than to see him get married. But he does not listen to her and is constantly irritated with her.
One evening, when Jatil scolds his mother, she starts to reminisce about the time when her husband was alive.
With her wide eyes and a smile, Ila Arun's Sarita Kumari says, 'Kabhi to sahi tareeke say baat kar liya karo. Ek tumhare papa rahe. Hamesha aise pyar se battein karte they... Hamein unki yaad aati hai... Itna miss karte hain hum unko.'
By now Arun is crying and Siddiqui sits down and attempts to calm her.
'Mummy,' he says.
To which she responds, 'Arre, mar gayee Mummy, Mummy, Mummy.'
It is such a warm and beautiful scene -- believable, emotional and yet funny.
And it is a reminder that Arun is a very talented actress, but in the star-driven world, we forget veteran actors and relegate them to secondary levels.
The writing of an epic series
Scam 1992: The Harshad Mehta Story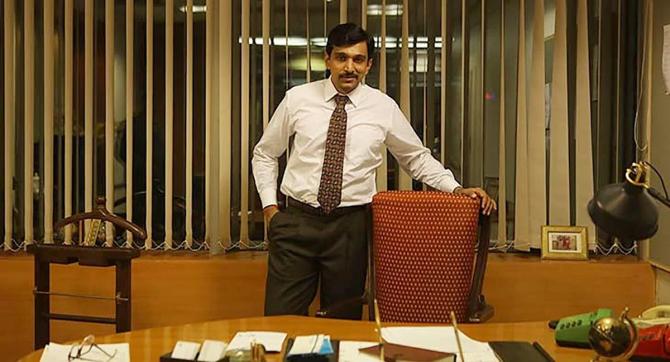 Hansal Mehta's 10-part series Scam 1992 has become a celebrated show in the year of the pandemic.
It is an intelligent, riveting, show, based on a book by Sucheta Dalal and Debashis Basu, with brilliant performances across the board. It's made stars out of its lead actors and given ample opportunity to the others.
But what made Scam 1992 standout was its tightly written, yet detailed script and dialogues.
The story of a stockmarket scam can be complex, but Scam 1992 does not dumb down its audience.
There were serious financial issues discussed that even an MBA like me could not understand, but the show's writers did not water down any of that.
Instead, the mood of the show gives us the assurance that if we brave the wave of the financial details, we will be rewarded with a drama of epic scale. And that promise is not broken.
Scam 1992 could have easily taken the route of targeting the obvious villain.
Instead, the script creates a three-dimensional character out of Harshad Mehta -- a Shakespearean protagonist, a victim of his own doing.
These are choices the writers made in collaboration with the show's director. And they are the real stars of the show.
The breaking down of class barriers
Sir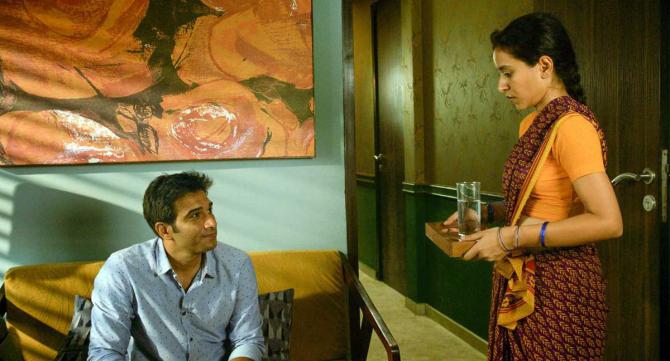 Towards the middle of Rohena Gera's masterful study of love and the social class structure, the film's protagonists -- the maid Ratna (Tillotama Shome) and her employer Ashwin (Vivek Gomber) -- get into the elevator of their building.
Ratna has been dancing in front of the building with the other residents and her friend (Geetanjali Kulkarni), when Ashwin just arrives.
She cuts her dancing to head back to Ashwin's apartment.
There has been quiet energy between Ratna and Ashwin, every time they pass each other in the tight hallways of his upscale apartment.
But now they enter the elevator and the sexual tension is so palpable.
It is a short scene, but without a word spoken, Shome and Gomber throw themselves into the moment.
We want them to be together, but our upbringing and years of understanding of class divisions makes us feel very uncomfortable.
There is something not so right here, we keep reminding ourselves.
Sir enters a territory rarely explored in Indian cinema and literature, as Gera directing her first feature film keeps us guessing until the end whether love will prevail over centuries of class demarcations.
The making of a star: Ishaan Khatter
A Suitable Boy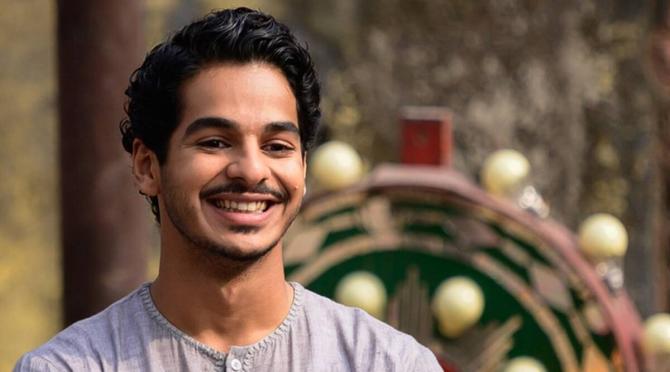 Mira Nair's BBC production of Vikram Seth's classic novel A Suitable Boy, set in the early 1950s India, is mostly in English, with sprinkling of Hindi and Urdu, plus some lovely ghazals.
But because of the large array of Indian actors -- it is the first BBC show where the entire cast is made of brown actors -- it feels like a Hindi language series.
It was fascinating to see established actors cast along with fresh faces.
But the real revelation in the show was Ishaan Khattar.
At 25, Khattar has acted in one international project -- Iranian film-maker Majid Majidi's Beyond the Clouds (2017) and Karan Johar 'launched' him in em>Dhadak (2018).
But Nair found the real actor and in doing so made a star out of Khattar.
As Maan Kapoor, the younger son of the politician Mahesh Kapoor (Ram Kapoor), Khattar is free-spirited (showing his fun side during Holi celebrations at home), exploring life and even his sexuality, until he sets his eyes on Saeeda Bai, a courtesan played with style and sensuality by Tabu.
And Khattar's Maan is smitten.
The camera loves Khattar, with his puppy dog look, in love with an older woman.
An early interaction has Khattar staring at Tabu with the please-fall-in-love-with-me look in his eyes.
A Suitable Boy is a coming-of-age drama about Lata Mehra, the young woman who will finally select a match for herself.
But the true star of the show is Khattar's Maan, whose spirit and energy parallel's the hope there was in the newly independent India.