Moumita Bhattacharjee's advice: AVOID Virgin Bhanupriya!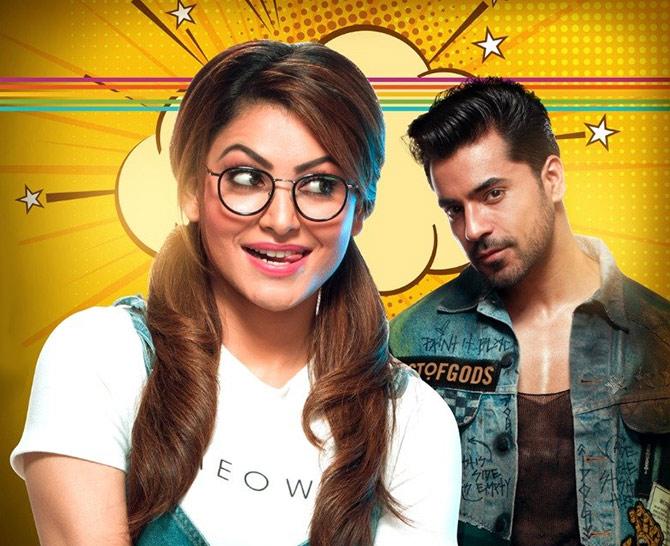 Virgin Bhanupriya is deplorable, disgracing and terribly dated.
Bhanupriya (Urvashi Rautela) is a girl in her 20s, desperate to lose her virginity.
Her best friend Rukul Preet Singh (bad pun!) tries to get her hooked up with a BOGO (buy one, get one free) deal.
That brings Rajeev (Sumit Gulati) into her life. Rajeev doesn't suit Bhanupriya's checklist, but she decides to give him a shot.
They get caught and it ends there.
Next up is Shartiya aka Abhimanyu (Gautam Gulati), a goon with a terrible personality.
But since he is a hot guy, who shows off his body and bets on random things, Bhanupriya is instantly attracted.
But he is not what he seems and that's where the conflict begins.
Virgin Bhanupriya is the most demeaning movie I have watched in recent times.
From making fun of a guy with a speech defect to comparing sanitary pads to a pressure cooker, this movie is absurd at every level.
It's cruel, offensive, and disrespectful to everyone from women to Vinod Kambli.
The camera angles are objectionable as the man operating the machine just can't get over a tattoo on Rukul's waist.
Shartiya is unruly and troubles people for the sake of a bet, but Bhanupriya finds him extremely 'heroic'.
There's a woman suggesting that her friend blame a guy for forcing himself on her because 'Ladkiyan kisiko bhi badnaam kar sakti hai.'
All that in a film that attempts to talk about a woman's choice for losing her virginity.
It could have been brave, but it ends up being revolting.
Urvashi tries to keep the proceedings sane with her earnest acting.
The rest are just annoying.
Rajiv Gupta as Bhanupriya's father is probably the worst written father role ever!
Apart from making tactless and stupid remarks trying to be his daughter's friend, he has nothing to add to the narrative.
Archana Puran Singh as Bhanupriya's mother is one-note.
Sumit Gulati tries to stay sincere to his horribly written character as much as possible while Gautam Gulati is avoidable.
What stunned me was to see Nikki Aneja playing a woman in the most abhorrent way possible. What is she doing in the film?
Avoid Virgin Bhanupriya. It's an insult to your intelligence.
Virgin Bhanupriya is streaming on ZEE5.
Rediff Rating: