'At the centre of it all is Abhishek Bachchan trying valiantly to pique our curiosity, but simply cannot muster the edginess his Avinash so badly needs,' observes Sukanya Verma.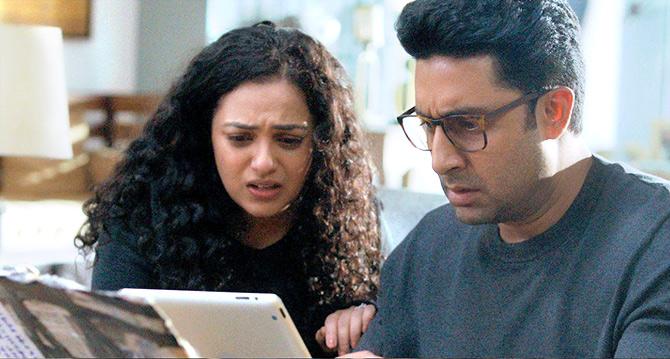 I wonder what the makers of Breathe: Into the Shadows saw in a 60-minute premise to drag it on for 12 episodes, each lasting a little less than one hour.
Prolonging a thin thriller results in a slog of a series that is utterly devoid of smarts, urgency or intrigue.
R Madhavan's questionable morality as a football coach trying to save his ailing son by bumping off folks listed higher up on the organ donation list hinged on his believable desperation.
The follow-up season in spirit treads the same line -- how far a parent will go for the sake of his/her kid?
Except this time, helmed once again by Mayank Sharma, its torturously lifeless and unimaginative pursuits feel like a ordeal.
Though everything from its greyish-black camera palette, swelling electronic background score and scenes cutting through multiple arcs reflects a less subtle template of international series, but for philosophy and psychobabble it falls back on homegrown Raavan mythos.
All this derivativeness would probably irk less if there was some sound logic or bite to it.
But the good old game of cat and mouse needs more than a vintage Stephen King-ian twist to shake things up.
It all starts when a psychiatrist Avinash (Abhishek Bachchan) and his chef spouse Abha (Nithya Menen) lose their six-year daughter at a kid's birthday party at a farmhouse in Delhi.
Nine months later, there is still no word.
Anyone who has ever lost a child or been lost for even a few minutes will know it is the most harrowing, horrific memory of their existence. But Breathe's inert responses establish nothing when build-up feels like needless delay towards revealing the inevitable -- a big, giant cliché.
When a kidnapper finally bothers to call and blackmails them to slay some names on his list on the basis of Raavan's 10-head theory, where every head stands for an emotion -- anger, lust, fear, yadda yadda -- the ineffectuality of their dilemma could not be more apparent.
Last time Abhishek Bachchan announced 'Dus Saar Wala' for a breathtakingly shot albeit hollow drama, it didn't go down too well.
History (or mythology if you will) repeats itself in the drabness of Breathe: Into The Shadows.
The exasperating absence of dread and guilt looms large as Avinash embarks on what he calls 'kude ka khel' to nab a germophobic Sardar.
Unlike, say, Alia Bhatt's visibly disturbed first-time killer in Raazi, Avinash stays staggeringly blank.
Partner-in-crime Abha brings in fleeting excitement to the proceedings through her interactions with a gay author while a freshly imported Mumbai cop Kabir Sawant (Amit Sadh) and his sidekick Prakash Kamble (Hrishikesh Joshi) get hot on the trail.
Kabir, also a compelling presence in the first Breathe, is the classic brooder whose tragic past, lingering guilt and straight-faced competence evokes concern in collateral damage (Plabita Borthakur) and competition in a colleague (Shradha Kaul).
We don't know the gender of the kidnapper though, a masked, limping, tech-savvy figure keeping an eye on his two abductees across multiple cameras and screens.
More than the crime though it's the identity of the kidnapper that interests Breathe's season 2.
By episode five, we learn who it is and the remainder is a lengthy and lacklustre explanation into why.
Again, Raavan's many heads pop up as mythology and mental illness collide in a timeline traveling between past and present to divulge how the victims were culprits once. But the glaring loopholes and reckless reinforcing of irresponsible stereotypes cannot make sense of it all.
Given the enormous time at everyone's disposal, what IS mind-boggling is how little we learn about these people or their relationships.
Avinash and Abha's marriage shows little to no strain of their nightmarish circumstances. They seem to be on a self-imposed, self-isolation shrouded in a secrecy.
Mostly though Breathe 2 suffers hugely on account of its dull treatment.
Sometimes a dynamic lethality can infuse life in a work of lesser complexity.
But the killings here are awkwardly, comically carried about and the writing challenges you to not break into a giggle -- 'Aapne mujhe beta nahi band aid samjha.' An excessive use of background score to impose a sense of big deal even when it is not doesn't help at all.
You notice the effort by a decent bunch of actors to hold things together.
Nithya Menen can bring nuance with a mere gaze.
Amit Sadh is uniformly solid.
The rest of the cast does its bit, but feeble writing fails them all.
At the centre of it all is Abhishek Bachchan trying valiantly to pique our curiosity, but simply cannot muster the edginess his Avinash so badly needs.
Though it's you, more than him, who feels exhausted, his character keeps dozing off every now and then to catch his breath.
You do too, when you sit through 12 stifling episodes of this drab series now streaming on Amazon Prime Video.
Rediff Rating: