'The pure grace and proportion in Manoj Bajpayee's performance shows he knows his art inside out,' applauds Sukanya Verma.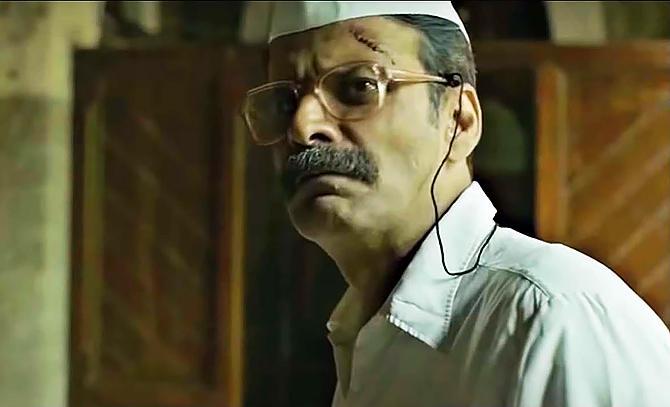 Manoj Bajpayee's silence is his greatest strength in Bhonsle.
It writes itself into a melancholic poem of unbearable solitude and void while portraying a recluse whose dull routine might be the only thing keeping him alive.
Sometimes when a man works for too long, he becomes his job.
Deprived of this identity, he begins to wither and rot.
Newly retired and robbed of purpose, a 60-something policeman has stagnation staring him in the eye. He has a desperate desire to slip back into his faded khakis, the only attachment he has allowed to form in all these years.
Bajpayee reveals an uncanny understanding of Ganpatrao Bhonsle's condition. It is satisfying to watch his inner process manifest into a profound, heartbreaking study.
Although you are struck by both -- the inwardness and physicality, it is the composure in his presence that lends Devashish Makhija's Bhonsle a lasting impact.
Devashish's inert drama examines hidden figures and thwarted dreams, where both heroes and villains are born inside Mumbai's vibrant culture and migrant woes.
Set against the 11 days of Ganeshotsav, Bhonsle's evocative frames lay out the ebb and flow contrasts between the adornment of an idol and a cop's final day at work.
His first name, Ganpatrao, is telling in this connection. It is brought to our notice yet again in a narrative haunting in images.
Cinematographer Jigmet Wangchuk's eye for storytelling empowers Devashish's vision at every step. Some of its lyricism may seem pandering to the clichés of art house aesthetics, but works well in context of Bhonsle's desolation.
Most impressive of which is a surreal sequence, when Bhonsle, stuck in a rut of domestic chores, appears to have aged away into a lifetime.
Awake or asleep, a rusty, old radio, a faded thermos flask, downbeat walls of his puny space keep him company while an odd crow is the sole spectator to the inertia of his life.
A speck in Mumbai's faceless crowd, Ganpatrao Bhonsle's unexceptional existence has an unlikely breakthrough with the arrival of a pair of siblings (Ipshita Chakraborty, Virat Vaibhav) next door.
The mild nature of their mutual empathy is genuine, but not meaningful enough to warrant the extent of turnaround it brings out.
Amidst the mood of festivities, a storm is steadily brewing. Vilas (a compelling Santosh Juvekar), a politically motivated cabbie, is anxious to disturb the harmonious coexistence between 'Marathi Manoos' and 'Bhaiyas' by wheedling in Bhonsle.
The old-timer's anti-social reserve has rendered him intimidating in everyone's eyes. Neither keen to endorse nor inclined to protest, Bhonsle's non-committal stance towards the local versus migrant debate encourages Vilas to keep egging him on.
While scenes of Vilas's humiliation and frustration colour the nature of his future actions, Abhishek Banerjee gets the short end of the stick as the face of 'Bhaiya' rebellion. The conflicts are real, but superficially tread upon.
At what first seems to be heading towards a Mere Apne-styled intervention from the veteran Bhonsle progresses into a full-throttle, frill-free Gran Torino. Its obvious inspiration from the hot-blooded Clint Eastwood drama is craftily adapted, but hardly unique in how one's violence and another's retaliation play out.
Though dramatic to behold, it never feels completely organic.
Bhonsle's shift from an affecting character study to a raging retribution would feel awfully contrived coming from a lesser actor. But the pure grace and proportion in Manoj Bajpayee's performance shows he knows his art inside out.
Be it Mhatre (Satya), Siras (Aligarh) and Bhonsle, the actor has truly moulded himself into the many faces of the veritable Marathi manoos.&
Bhonsle is streaming on SonyLIV.
Rediff Rating: