Total Dhamaal would be unwatchable without Madhuri's spunk and bossy swag playing off Anil Kapoor's bellyaching, bugged half's protests, says Sukanya Verma.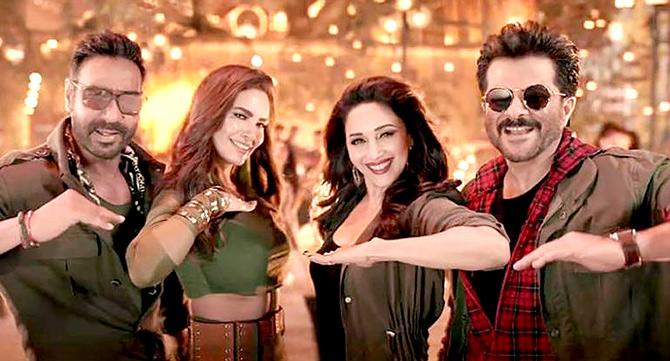 Once 'leave your brains behind' served as a sorry excuse to tolerate inane comedies. Now it's an unabashed selling point.
It must take enormous self-control to resist a plot and create drivel of such epic proportions while also convincing some of Bollywood's best talents to commit themselves to absolute baloney.
Like his previous movies in the Dhamaal series, Director Indra Kumar follows the 'brains not required' model in Total Dhamaal as well.
And so characters appear out of nowhere, dive into nowhere and dash towards a destination in a manner so random, it's like watching two hours of channel surfing between vehicles and wildlife.
If Dhamaal ripped-off a good chunk of Hollywood's It's a Mad, Mad, Mad, Mad World, Double Dhamaal got its kicks out of innuendoes.
Total Dhamaal avoids the missteps of the second and goes back to Dhamaal's tried-and-tested It's a Mad, Mad, Mad, Mad World formula.
Except what Indra Kumar's brand of broad comedy doesn't realise is the fun of achieving outlandish set pieces and all the bumbling human beings and desperate wit it sets off.
There is a lot of ruckus but little reveling as his roster of stars descends into outright clownery for the sake of a chuckle.
Four pairs of money-seeking morons are in a crazy rush to reach a zoo hiding all the loot -- a freshly divorced couple (Anil Kapoor, Madhuri Dixit Nene), a pair of blundering siblings (Javed Jaffrey, Arshad Warsi), a no-good crook and his sidekick (Riteish Deshmukh, Pitobash Tripathy) and a hunky robber and his partner-in-bromance (Ajay Devgn, Sanjay Mishra).
Hot on their trail is a shady cop and his smartass underling (Boman Irani, Vijay Patkar).
Cars, choppers, planes, parachute, bikes, jeeps -- you name it -- collide, collapse and combust atop under-construction buildings, waterfalls, wooden pole bridges, and desolate deserts -- I've just described the first half of Total Dhamaal.
If its mechanical engineering nightmare doesn't crack you up, the zoological shenanigans of its second half certainly will. Especially if you are a four year old.
But, god help, if your idea of humour isn't elephant vomit.
Or 'Madrasi' bashing
Or misogyny.
Total Dhamaal may be free of double-entendres, but keeps with Bollywood's painful tradition of racist jokes and henpecked husband woes.
Another downer is its excessive use of godawful computer graphics. The clumsy VFX of airborne scenes and phony animals in world's fakest zoo induce major cringe.
The silliness has its stray moments. None of which include Ajay Devgn who's stiff as a board or even the usually reliable Sanjay Mishra, confined to blabbering Bro before every sentence. There's Riteish and Pitobash adding to the nuisance value.
Bollywood's beloved Bhidu offering GPS services in classic Chindi-lingo is a droll touch. Javed Jaffrey's Minions breaking Matka-print overalls score a laugh. Arshad Warsi's snake-aided rescue in quicksand is puerile, but not without merits. Johnny Lever's cameo reiterates his mastery over all things wacky.
Anil and Madhuri doffing their hats to One Two Ka Four works on pure nostalgia. The jodi is smashing as ever and makes the banter work despite the shabby writing.
Total Dhamaal would be unwatchable without Madhuri's spunk and bossy swag playing off Anil Kapoor's bellyaching, bugged half's protests.
This jodi deserves a better film. And you need no brains to know that.
Rediff Rating: