Anil Kapoor and Madhuri Dixit get ready to make Total Dhamaal on the big screen again!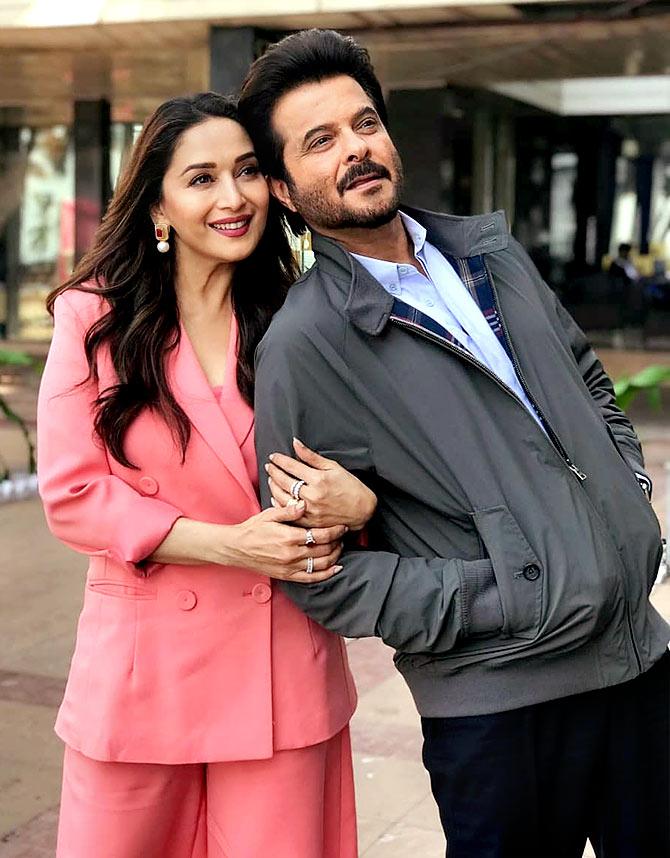 Of all the actresses he has romanced on screen, Anil Kapoor feels he makes the best pair with Madhuri Dixit.
We couldn't agree more.
When Kapoor's 'jhakaas' intensity met Dixit's million-dollar charisma, the silver screen turned to magic.
Though their first movie together was a dud, it was only a matter of time before their combined charms produced steady box office successes, turning them into one of Bollywood's most popular jodis.
Nearly two decades later, the dashing duo returns to demonstrate their chemistry in Indra Kumar's Total Dhamaal.
Until then, Sukanya Verma offers a recap of their many, many, MANY movies together.
Hifazat (1987)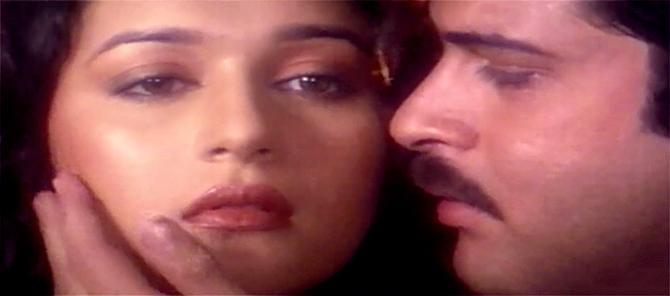 In this typical 1980s hokum, Anil's hostile machismo plays off against Madhuri's hoity-toity airhead to realise Bollywood's fixation with Taming of the Shrew for the nth time. The results are entirely forgettable.
What it is best remembered for is Anil-Madhuri floating mid-air and dancing around a giant batata vada after consuming a plateful of spiked savouries.
Tezaab (1988)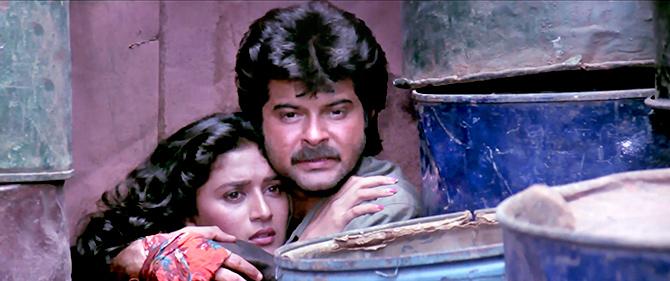 It's more than Ek Do Teen decades since N Chandra's powerful drama hit the screens.
But the wow effect it had on the viewer continues to flourish.
The story moves back and forth in time to document Anil and Madhuri's campus flirtations, headstrong declarations of love, heartbreaking estrangement and poignant reunion. It was this elaborate emotional graph that first underscored their potential as a celluloid couple.
Ram Lakhan (1989)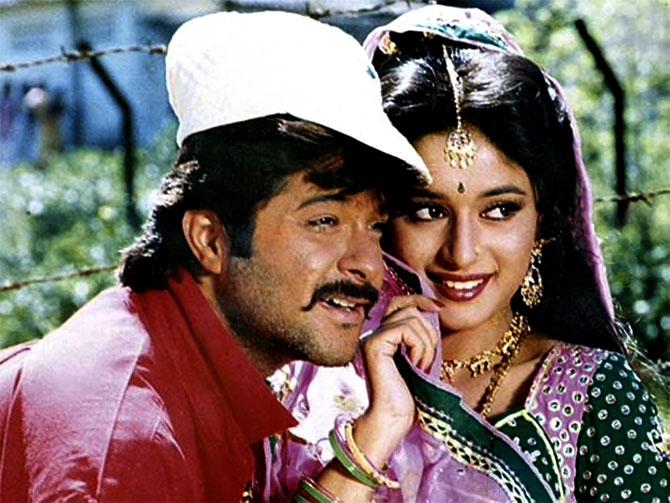 Though Madhuri spends most of her screen time as gaon-ki-gori-level arm candy to Anil's rambunctious rascal in Subhash Ghai's lavish multistarrer, their lively songs and dance infuse fresh energy into the proceedings.
Parinda (1989)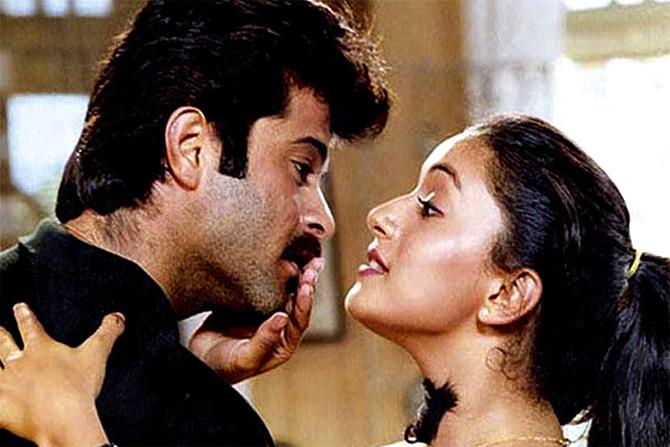 Vidhu Vinod Chopra's grim, tense underworld drama unravelling around two brothers is one of those rare films to highlight the raw, realistic side of Anil-Madhuri's torrid chemistry.
It's notable in the emotional upheavals they encounter during the course of the story.
But pretty much burns the screen in its final, famous, love-making sequence.
Kishen Kanhaiya (1990)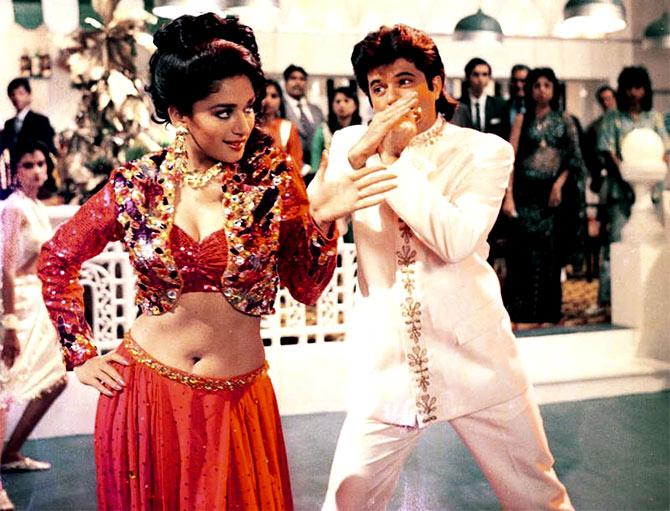 From Ram Aur Shyam to Judwaan 2, the twins-separated-at-birth formula never fails.
In Director Rakesh Roshan's fun and flashy edition, Anil Kapoor takes off on everybody from Raj Kapoor to Dev Anand to bring the house down.
It's these moments like this where a Bollywood fanboy finds a fellow enthusiast in Madhuri that Kishen Kanhaiya carves its own identity.
Jeevan Ek Sunghursh (1990)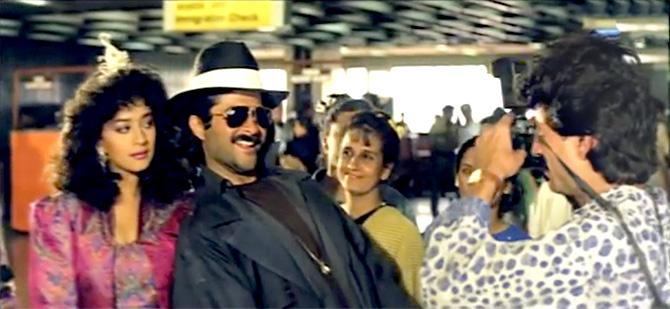 Rahul Rawail's mindless masala sank without a trace.
Still, fans of the jodi will find enough to be tickled about in their loony antics and incessant banter as Beauty Queen and badmaash romping across Mumbai and Amsterdam.
<p
Jamai Raja (1990)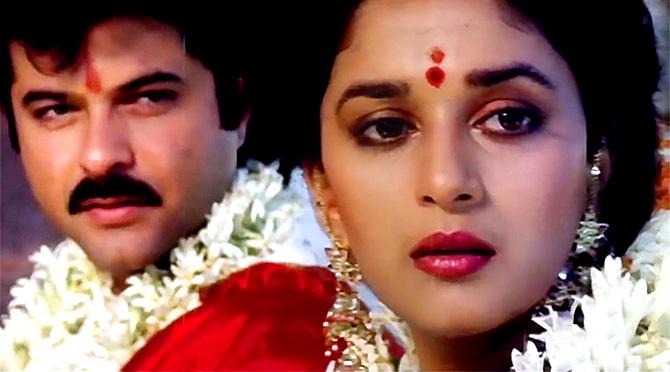 A great deal of this remake of Telugu superhit Attaku Yamudu Ammayiki Mogudu focuses on the acrimonious banter and one-up-manship between a cocky guy and his haughty mother-in-law.
Anil Kapoor and Hema Malini have a go at it while Mads looks on noncommittally and pitches in the glamour.
Pratikar (1991)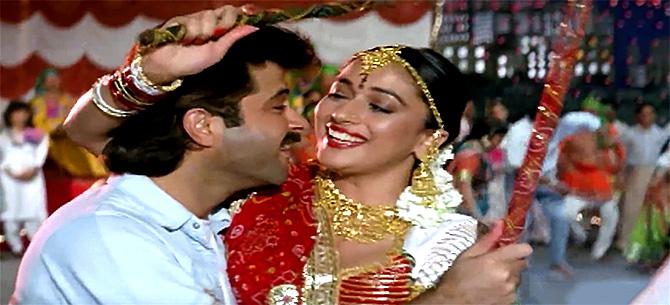 Pretending to be a married couple for the sake of circumstances or survival until they actually fall in love is a tired Bollywood trope. And Pratikar's feeble standards do nothing to change that.
Watching them dance at dandiya functions or college annual day to Bappida's beats is the most you can make of it.
Beta (1992)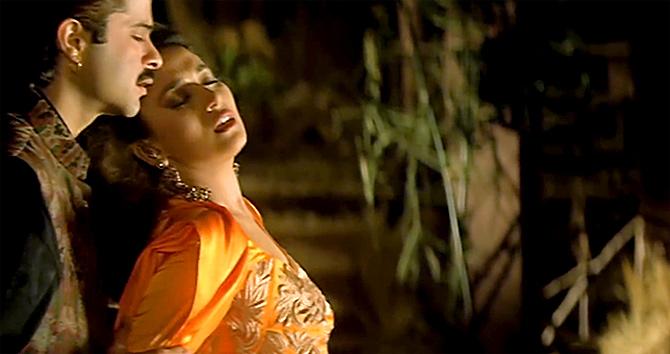 In Indra Kumar's high-pitched melodrama, Anil Kapoor's gullible stepson dances to manipulative mommy Aruna Irani's tune until firebrand wifey Madhuri enters the picture and gives Beta much to dhak dhak about.
So potent was the Madhuri effect, some joked the blockbuster should've been titled Beti.
All three walked away, Kapoor most controversially, with Filmfare trophies for their show.
Khel (1992)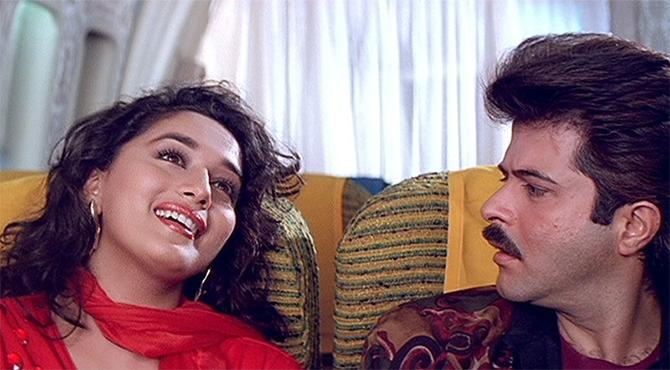 Anil-Madhuri's hoodwinking game is a hoot as they slip into scamster mode to steal from a wealthy widow.
Despite their best efforts and catchy chartbusters like Idli Doo, Rakesh Roshan's Dirty Rotten Scoundrels rip-off didn't set the cash registers ringing.
Zindagi Ek Jua (1992)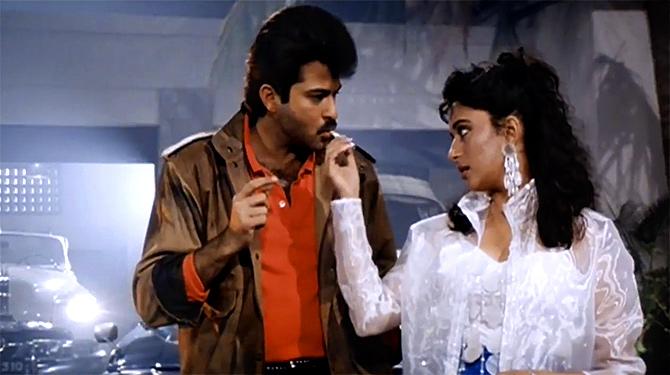 Prakash Mehra's loosely inspired Scarface was deemed too morose for the average Hindi film viewer.
Dig deep though and there's something of worth to be found in Anil Kapoor's sucked into world of crime predicament, Madhuri Dixit's tragic drug addiction and their obligation to remain Bollywood's most sizzling couple.
Rajkumar (1996)
Anil Kapoor and Madhuri Dixit have a blast playing costume-costume as the desi Robin Hood and his pretty princess in Pankaj Parashur's bloated musical fantasy.
Too bad the film's just too clueless and charmless to play it for laughs.
Pukar (2000)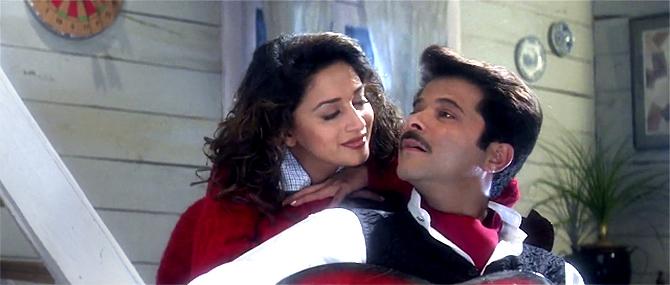 In Rajkumar Santoshi's semi-bleak Pukar, the two test their camaraderie beyond the traditional hero-heroine mould.
Where Madhuri gives into her darkest impulses, Anil's faith is tested to the extremes lending their reconciliation an emotionality, that's unique even after so many collaborations.
Lajja (2001)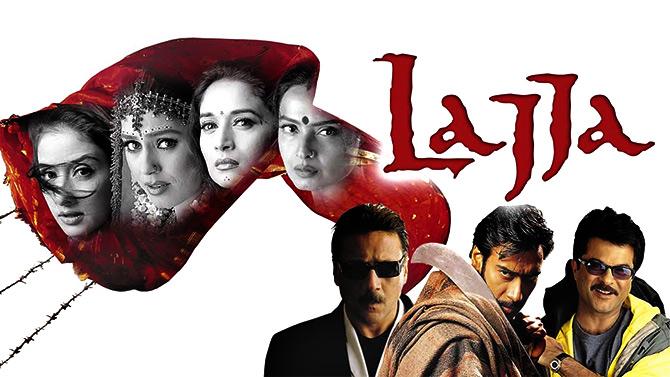 Though they don't have any scenes together, both Anil and Madhuri's presence, talent and stardom -- as morally upright voices standing up to patriarchy -- lends itself to Rajkumar Santoshi's feminist ensemble in the nicest possible way.