'When I heard the Total Dhamaal script, I laughed for two hours!'
'I told Indra Kumar that if he was going to make the film the way he narrated it to me, I was doing it.'
'And when I saw the film, I laughed as much.'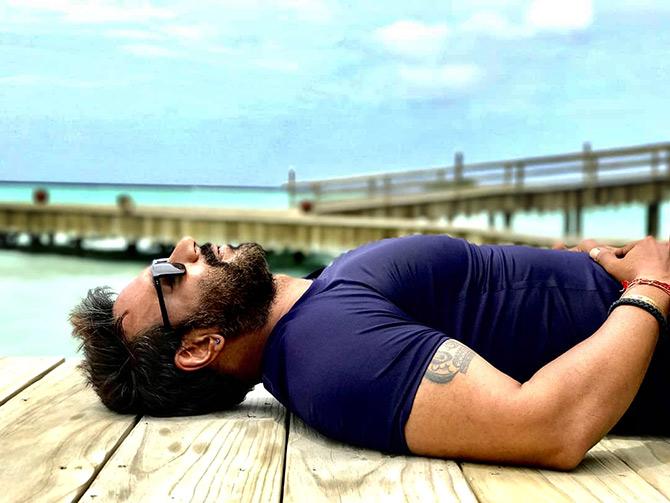 Ajay Devgn first discovered his funny side in Indra Kumar's Masti, way back in 2004.
Now, the actor reunites with the director in Total Dhamaal.
Devgn says Total Dhamaal's script made him laugh for two hours when he read it, and then again, when he watched it on screen.
Total Dhamaal also stars Anil Kapoor, Madhuri Dixit, Ritesh Deshmukh, Arshad Warsi and many more actors, and releases on February 22.
"You will never see back to back comedy films in my work," Devgn tells Rediff.com Contributor Mohnish Singh.
You are joining forces with Indra Kumar after Masti. How has he changed over the years?
He is the same.
Before this film started, he had gone through a little bit trouble as his last film (Great Grand Masti) got leaked.
Usually, the industry is not happy when somebody makes a project, especially when there are so many actors in it.
But for this film, the whole industry came together.
Whoever met me said that they were happy for him because he has got so much goodwill.
He is a very nice person, so I am really very happy for him.
He is a very simple man, and that comes across on the sets also. So many times, we have to teach him how to say no to people (laughs).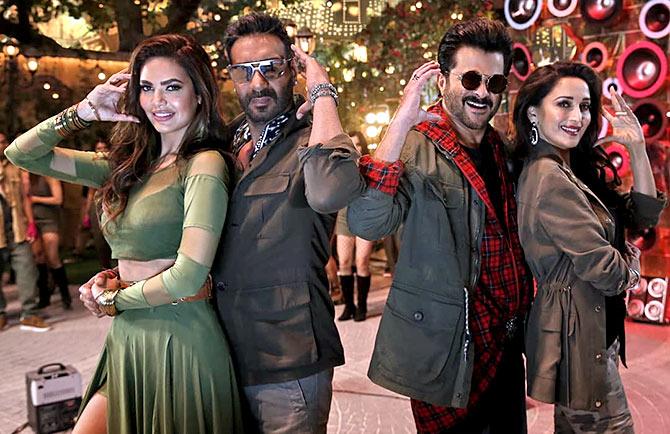 It was with his film Ishq in 1997 when you got to showcase your comic skills for the very first time.
Yeah. When I started, I always felt comedy was not my zone. So I was a little uncomfortable. But now, I am not.
While doing that film, I adapted myself and started having fun with comedy.
And that's where it started.
Like Indra Kumar, you are also teaming up with Madhuri Dixit after a long gap. How was the experience?
She is fun to work with. There are no egos, nothing.
I am working with her after a long time, but we are not opposite each other in the film.
Everybody shares a great rapport; we are all very comfortable with one another.
Anil Kapoor is a senior. We had a lot of fun with him. We pull his leg, but he doesn't mind it.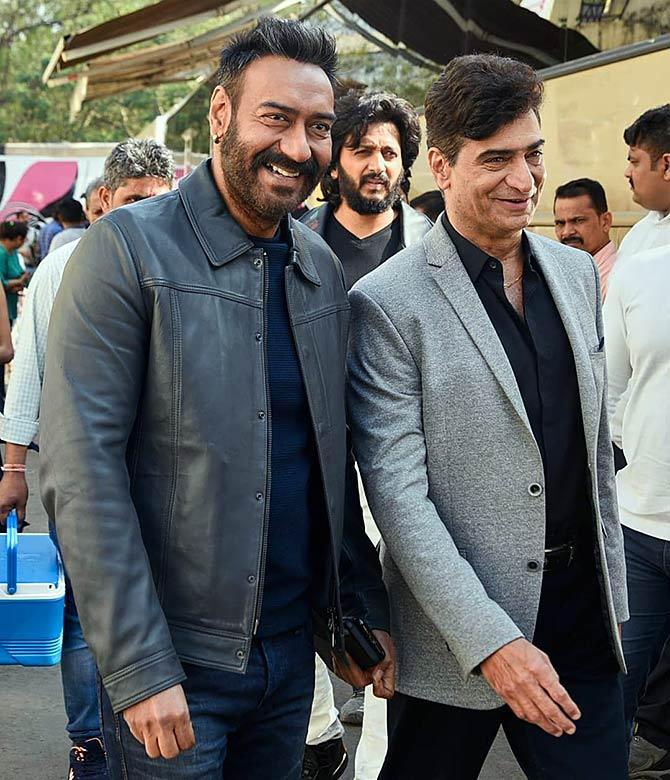 Do you think that when established actors like yourself, Anil Kapoor and Madhuri Dixit come together, it makes a film more viable?
Initially, audiences do come. But the film needs to be good to work.
That is why you take actors, who are so-called stars, so that at least some section of the audience is aware and would want to come to see the film, as long as the film is good.
You are co-producing the film. Will we see more installments of the Dhamaal franchise from your production house?
It all depends on the audience. If this works, definitely.
Your production house has worked on the special effects of the film.
Special effects are something I practically started in this country.
If you come to my office, there is a Limca-Coca Cola record for the first proper CGI done by me; that was for the film Pyar Toh Hona Hi Tha (1998).
I have always been technically comfortable. The camera, the film, the visual play a big part in film-making and that is how my company started.
What was your reaction when you first read the script?
I really laughed.
It's a 2 hours, 5 minutes film and when I heard the script, I laughed for two hours!
I told him (Indra Kumar) that if he was going to make the film the way he narrated it to me, I was doing it.
And when I saw the film, I laughed as much.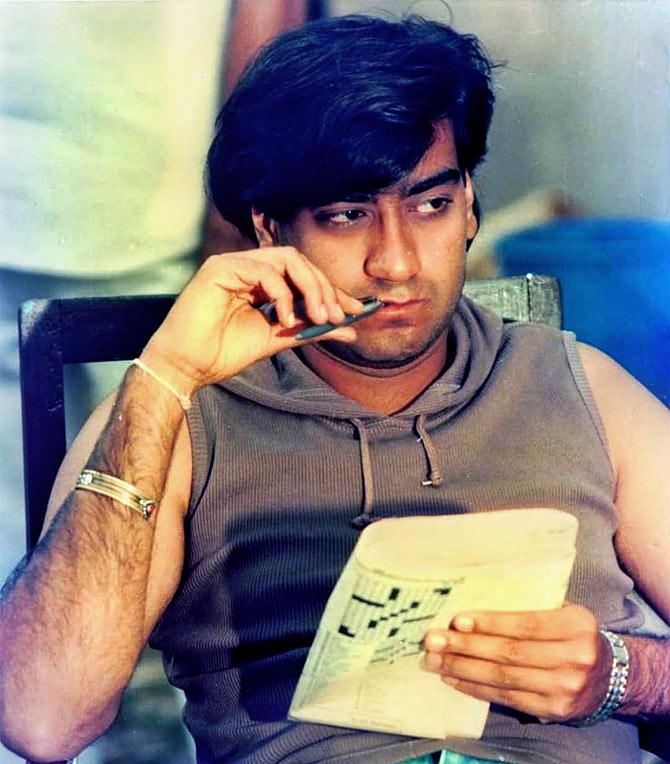 How challenging is comedy?
Everything is challenging. Comedy needs a lot of energy, timing and presence of mind.
All performances are different, so you cannot compare whether this is more difficult or that is more challenging. It's how you adapt to it.
How do you feel on the morning of your movie release?
There is no insecurity as I have been working in the industry for 28 years now. But there is a bit of anxiousness because you have worked so hard, you have put in practically six months or one year of your life into it. So you want people to like it.
It's hard work at the end of the day.
It's like going for an exam and then waiting for the results to be out. You know how have you performed, but still, you are anxious.
There is no feeling like if the film doesn't work, what is going to happen to my future? Nothing of that sort.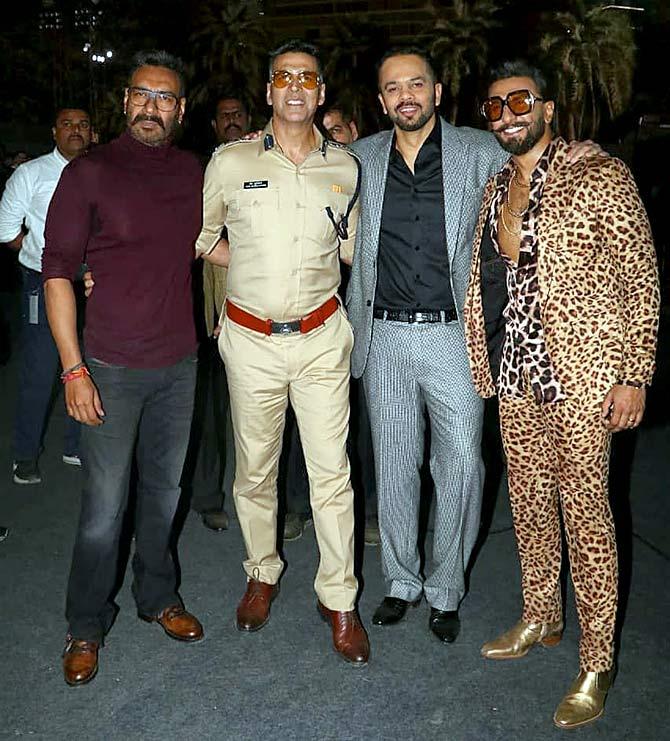 Your cameo in Simmba was received with great enthusiasm. Did you expect that?
We wanted a good response, but never thought the response would be like this.
I was on holiday when the film was released.
(Director) Rohit Shetty called me up and told me about the reaction and then he sent me some videos from the theatre.
I was thrilled.
Any plans for the third installment of the Singham franchise?
We are contemplating what to do first, Golmaal 5 or the Singham sequel.
The work on both scripts is underway. We will go forward with the one which is more exciting.
Is Total Dhamaal a child-friendly film?
Yes. When I watch a Hollywood children's film or an animation film or a comedy film with my son, we are hooked.
But when people here make films for kids, they are so stupid because they think kids are stupid.
Elders can't watch those films either. We can't sit through them because we feel they are too childish, even for kids.
Nowadays, kids are very smart. They know more than us.
So when we make a children's film, we need to target everybody. We need to understand that kids like the same things that we like.
Recently, star projects have been failing at the box office, but, comparatively, low budget films have thrived. Why do you think?
The only difference is that good films are working and bad films are not. That was always the case.
You will see that the big stars's films have taken a big opening as compared to the smaller budget films if we see the numbers. But films made with smaller budgets have really been appreciated.
So if it is a big star's film, the audience will definitely go watch in the first two or three days. But if the movie is not good, you can't do anything about it.
The bottom line is a difference between a good and bad film.
If a star is doing a good film, you can imagine where the business will be.
Do you think word of mouth plays an important role in promoting a film?
Word of mouth is the key after Friday afternoon. By evening, things change.
If the film is bad, social media and the media will inform everyone of the quality of the film. And if it's good, word of mouth will have the theatre full by night.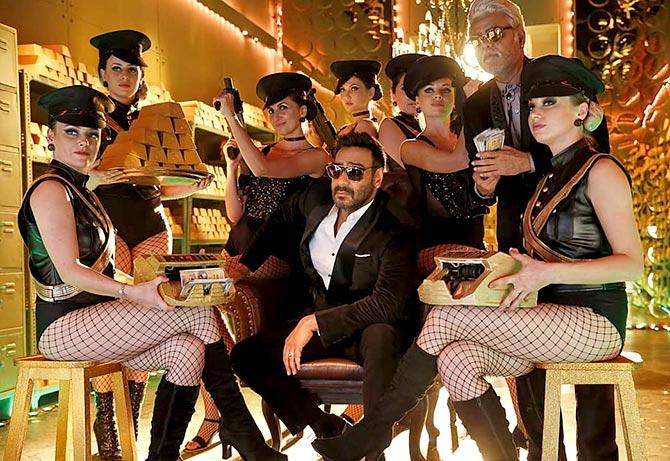 Do you think too many remixes are killing the essence of the Hindi film music?
Too many remixes are happening everywhere.
Personally, I am not very happy with it.
Being from the older generation, I wonder where are those songs that were there in the 1970s, 1980s and 1990s?
I don't know why, but today if I want to have a song with deep, meaningful lyrics recorded, I have to really think whom to go to.
When you start interacting with the new generation, they think very differently. Their emotions are the same, but their thought process of emoting has changed.
So I don't know if we need to adapt or we are still stuck in the 70s and 80s because at the end of the day, we will have to go with them.
What genre do you like most?
I am comfortable with all genres and I like to rotate them.
That is why you will see me do a Raid and then a film like Total Dhamaal.
Then there is a romantic-comedy coming up, De De Pyar De, releasing in May.
Then I am doing Taanaji- The Unsung Warrior.
Is this a conscious decision?
Yes, because otherwise I would repeat myself.
You will never see back to back comedy films in my work.
After Golmaal Again, it was Raid.
I like to rotate my genres.
Kajol is playing a vital role in Taanaji. How easy or difficult was it to convince her to come on board?
It wasn't difficult. She heard the role and loved it.
It is a part and not a long role, though it requires a lot of performance.
In Taanaji, you will share the screen with Saif Ali Khan again after 2006's Omkara.
Yes, we are together again after a lot of years.
I am really excited because I really get along well with Saif.
Though we have shot 60 percent of the film, we have not shot together yet. We will start soon.