'It's happened many times, all these lovely aunties come to me and say, 'Beta, whenever you come on screen, you make us laugh even before saying a dialogue'.'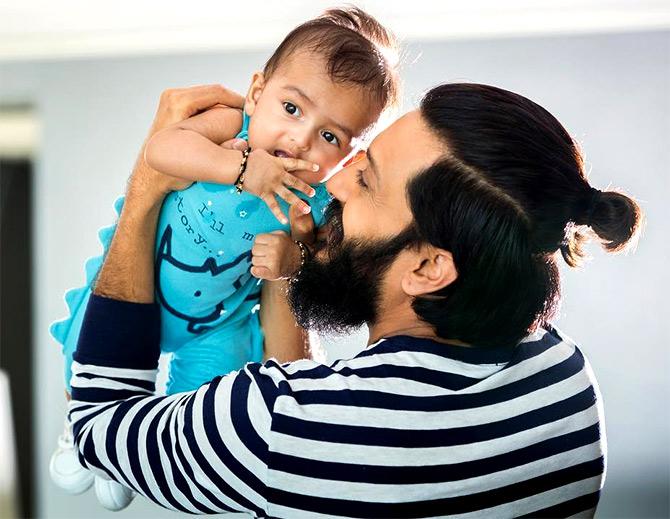 Riteish Deshmukh is a lot of fun even during an interview.
The actor, who joins Indra Kumar's multi-starrer Total Dhamaal, says he signed the movie only because of Madhuri Dixit.
He shares a warm relationship with the director as well, who gave him his first comedy Masti, a year after he made his debut in 2003.
Ritesh tells Rediff.com Contributor Mohnish Singh, "If people think I do okay comedy and cast me in their comedy films, it's all thanks to Indra Kumar."
You are a big fan of Madhuri Dixit. Were you nervous while working with her?
Yes! When Indra Kumar met me to discuss the film, I asked him for the script.
He said Madhuri was also in the film.
So I said, 'I'm on'. (Laughs)
I remember, in 2008, we were doing a world tour called Unforgettable with Amitji, Abhishek, Aishwarya and Preity.
Madhuri joined us for the American leg of the tour; she was living in America back then.
Just to be in her presence and see her dance was such a high.
To get a chance to work with her and Mr Anil Kapoor together, with Indra Kumar directing it, what else one can ask for?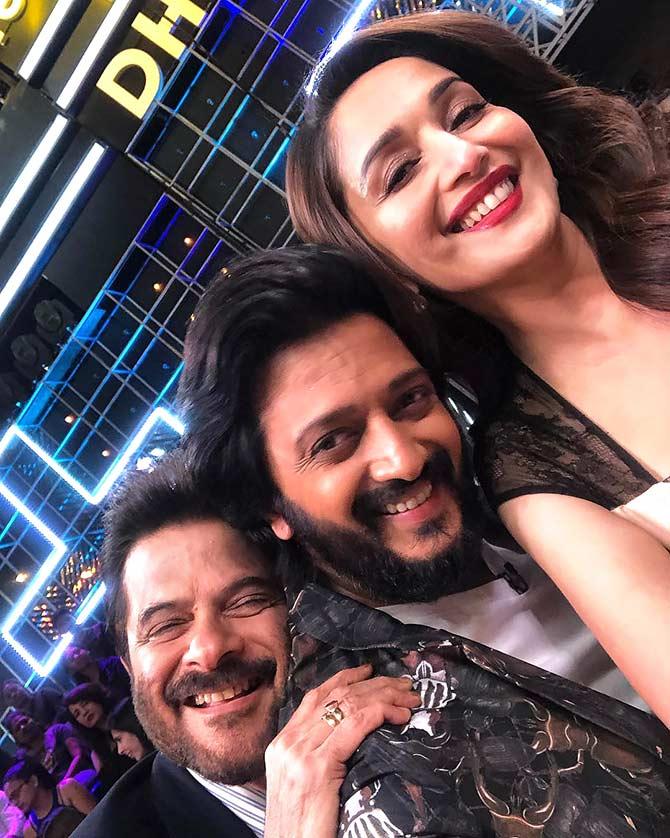 Was Indra Kumar instrumental in giving your career a boost, as people started noticing you and your comic timing after Masti?
I have always been a fan of his films like Dil, Beta, Raja and Ishq, and his music.
I was a newcomer while he was a big director when we worked together in Masti.
Masti was my first big commercial film.
If people think I do okay comedy and cast me in their comedy films, it's all thanks to him.
So his contribution to who I am today has been immense.
He gave me those legs where I could probably explore more in the comic space.
This is my fifth film with him. From an actor-director relationship, we are the closest friends today.
Even if we are not doing a film together, we talk to each other at least once a week.
We chat and laugh.
We talk like how I would talk to my classmates. That's my relationship with him.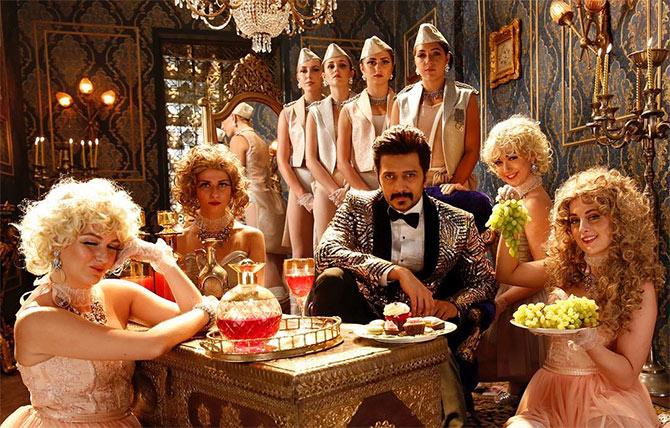 Will you do *any* film that he offers you?
See, our relationship is such that he knows what films exactly I would say yes to and the ones I would reject. He does not take offence if I say no to his films.
There have been times where he offered me films, but unfortunately, I was too busy to take them up.
But whenever we have done films, be it Masti or Dhamaal, our approach remained how best we could do a scene.
It is the healthiest relationship a director and an actor can have -- to debate with each other and figure out if something is good or not, whether it is funny or regressive.
Eventually, one needs to understand that there is an actor's way and there is a director's way. If the film has to work, it has always to be the director's way.
Every actor should have that clarity. You can suggest, but it's the director's call.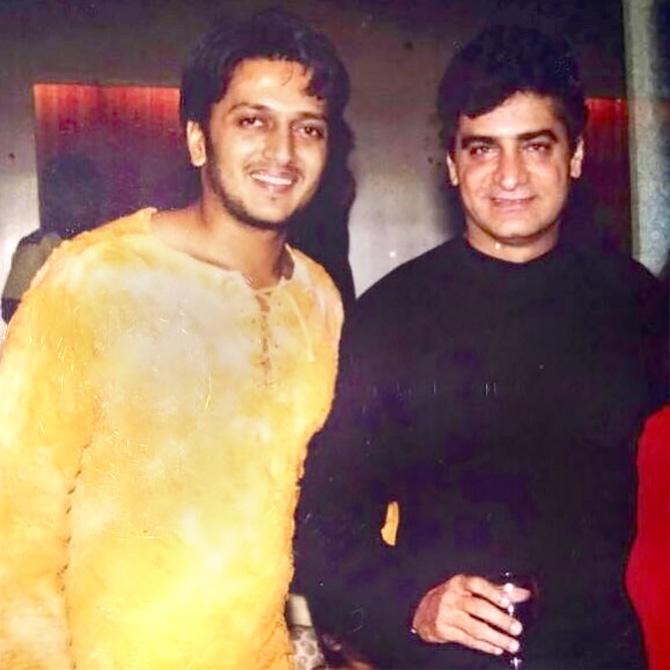 There is an audience that believes that if Riteish Deshmukh is in the movie, it will be fun and entertaining.
First of all, thank you!
It has happened many times, all these lovely aunties come to me and say, 'Beta, whenever you come on screen, you make us laugh even before saying a dialogue.'
I would think that I looked funny, that something was wrong with my face, and that's why they were laughing.
But then I realised that they found my work funny.
It feels good when people come and appreciate your work.
But when I do serious roles, I carry baggage in my mind that the audience is used to seeing my comic side.
I worry about their reactions to my performance in a serious role. So it becomes difficult at times.
But directors and writers help you with that.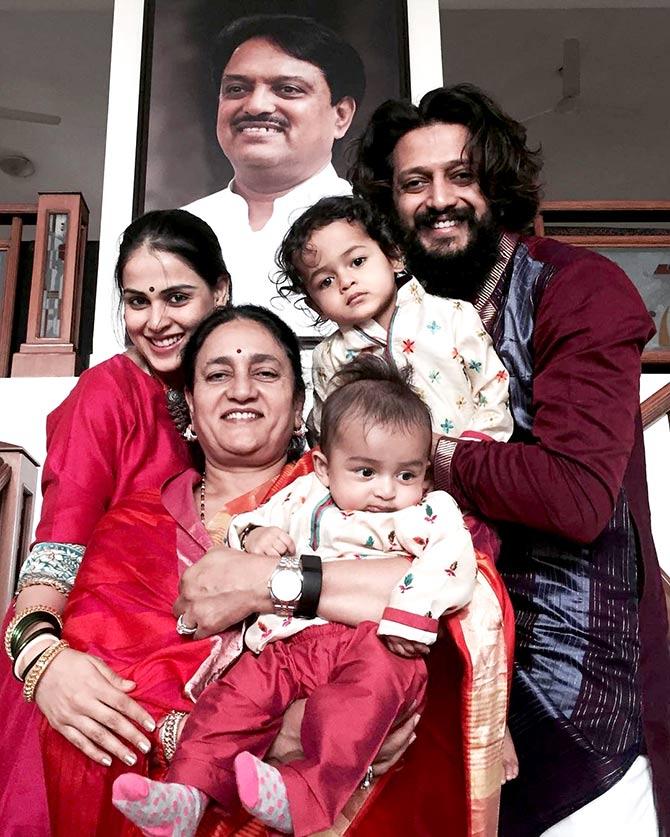 What kind of comedy do you enjoy?
When I am alone, I watch my wedding video! (Laughs)
I am not someone who will watch comedy on Netflix.
I am okay with situational comedy, romcoms, poker face comedies where the focus is on what is being said and the undercurrent is funnier.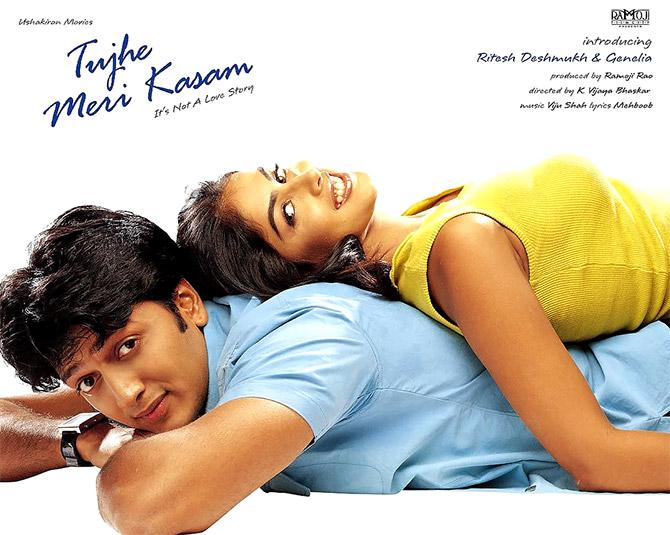 Do you feel that if an actor does similar roles for a long time, it becomes difficult for him to convince audiences when he tries to break the mould and try something different?
When I started (acting) in 2003, big production houses were only interested in stars, not newcomers. By the time you figure things out for yourself, things have changed again.
Then there came a time when big production houses were interested in newcomers and not so much in established actors, which was fantastic, as they were backing newcomers with new content.
After my first romantic film, Tujhe Meri Kasam, I did Masti and Kya Kool Hai Hum together.
When they worked, I landed into two more comedy films, Bluffmaster! and Malamaal Weekly.
Then I did Fight Club: Members Only, which did not work. There were other such serious films and romcoms too, which failed.
But I have always worked with utmost sincerity.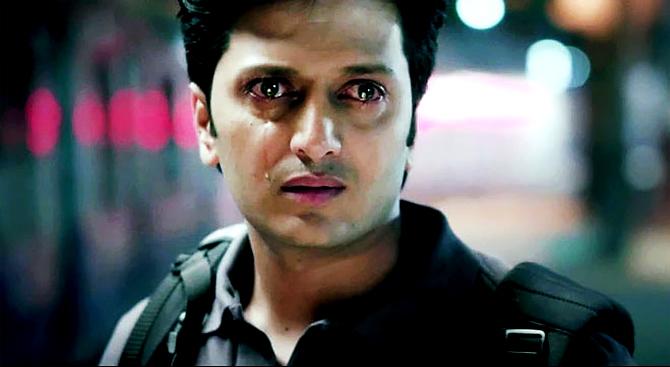 Did you find working in a thriller like Ek Villain more challenging than comedy?
In comedy, there is a certain rhythm. You are in the present moment and living that moment.
When it comes to films like Ek Villan, it takes more thinking into where the guy is coming from and what is happening.
There are many things that have to be taken into account when it comes to acting.
Both have their own challenges and I have enjoyed both.
Do you think Bollywood looks down upon comic actors as compared to Hollywood?
I do not agree with that.
If that was true, we would not have been doing comedy films.
The first and foremost thing is that we are entertaining people -- that is the main thing.
We do films to run our families, and there is nothing better than that.
If a film is funny and it works, it feels great. Dhamaal and Golmaal are huge franchises.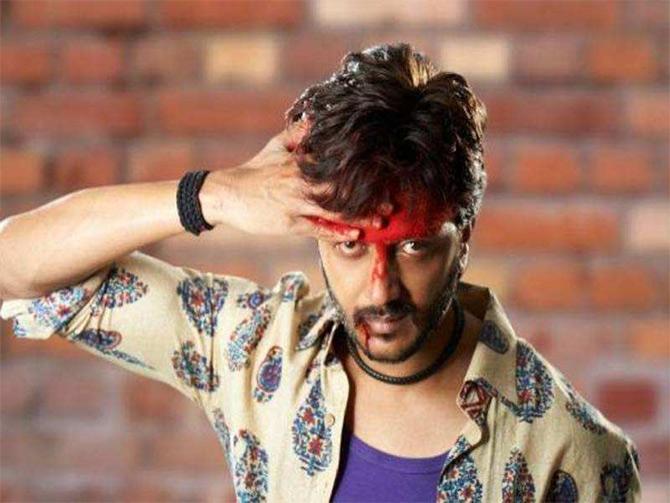 Coming to your Marathi films, you brought back a powerful character like Mauli from your 2014 hit, Lai Bhaari. But Mauli did not live up to expectations.
I don't think Mauli is a continuation of Lai Bhaari.
Lai Bhaari was a film that just happened and probably, Mauli did not receive that kind of appreciation.
It's fair enough as we cannot expect the same to happen every time.
Which Marathi film are you producing now?
We are producing a Shivaji biopic.
There is a requirement of this film to be huge because of its subject.
It is the biggest film my production house has ever made.
Hopefully, we will start work on more films soon.
Marathi cinema has reached new heights over the past few years. Today, we have big names from Bollywood producing films in Marathi, like Priyanka Chopra, Akshay Kumar and Ajay Devgn.
When such credible names like Priyanka Chopra, Madhuri Dixit and Amitabh Bachchan try their hands in Marathi films, it leads to a wider audience, which is great.
When you have established yourself in the industry and are a famous personality, audiences -- and actors -- look up to you.
Priyanka Chopra's Ventilator was great and it saw her explore her horizon as a producer. She is phenomenal. But it is not only about her name, it also boils down to the kind of content she is producing.
I am also doing my bit with the five films I have produced so far.
Marathi cinema lacks studios like we have in Hindi cinema. Once studios like Sony Pictures and Fox Star Studios come in, we will make bigger Marathi films.
Today, Marathi movies are being watched by non-Marathi speaking audiences as well.
That's great progress for everyone working in the Marathi film industry.
Mumbai is a cosmopolitan city where 30 to 35 per cent people are Marathi-speaking while the rest are not.
It is a multilingual city, so we have Punjabi, Tamil, Telugu and Kannada films doing well here, which is really great.
So, yeah, it feels great.