The Disciple is an ode to music and a salute to Mumbai.
The city can be harsh, but it also lets the voices of struggling classical musicians exist, although often they live on the edge of society, observes Aseem Chhabra.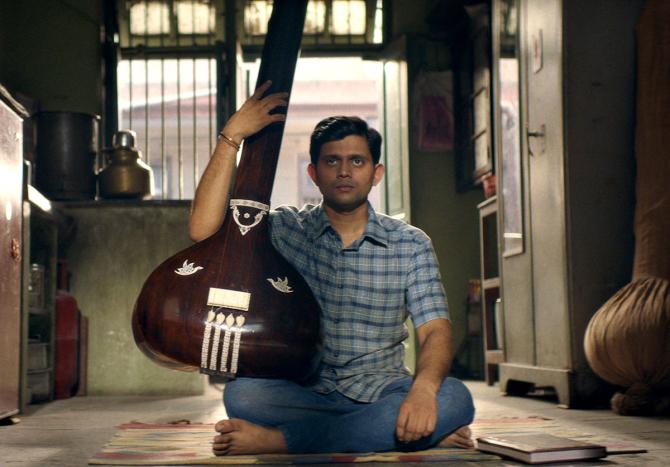 Towards the beginning of Chaitanya Tamhane's sophomore production The Disciple, the film's protagonist -- a 24-year-old young man Sharad Nerulkar (Aditya Modak) is driving his motorcycle through Mumbai's lonely dark roads. Sharad is training to become a classical music singer.
On this motorcycle ride, Sharad is accompanied by the haunting voice of Maai, his guru's guru (the voice of National Award-winning Marathi film-maker Sumitra Bhave). Maai (the late maestra's name was Sindhubhai Jadhav) speaks of the tough road for disciples who want to continue learning classical music.
If the singer wants to make money, raise a family than s/he should sing love songs for films, she says. But if the disciple wants to follow the path to become a trained classical singer, then the person should learn to be lonely and hungry.
There are several scenes in Tamhane's film where Sharad is shown riding the bike, each sequence shot in slow motion.
Each ride is a beautiful calming moment, with the late Maai's voice (secretly recorded by one her disciples, since she never performed or spoke publically) being Sharad's constant source of motivation.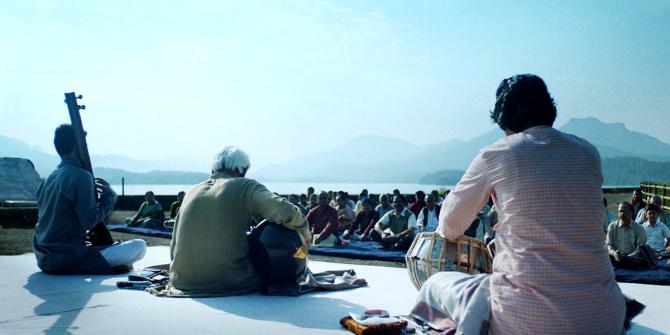 The Disciple is the first Indian film to play in the main competition section at the Venice Film Festival in 19 years since Mira Nair's Monsoon Wedding won the Golden Lion at the festival.
Now showing at the Toronto International Film Festival, The Disciple is a mature and a finely crafted follow-up to Tamhane's celebrated first film, Court.
Seeped in the world of North Indian classical music The Disciple pulls the viewer into this universe. It is a mesmerising film, the sounds of musical instruments -- the veena, esraj, tabla and voices of classical singers, especially that of Modak, a trained singer in the Gwalior gharana tradition, and the 76-year-old Arun Dravid.
An exponent of the Jaipur-Atrauli gharana, Dravid was trained by the late Kishori Amonkar. In Tamhane's film Arun Dravid plays Sharad's guru.
Despite the number of the concerts the guru is invited for, including private performances in wealthy Mumbai homes, his life is reduced to living in a single room in a chawl. His students sit on the kitchen floor and perform for him. The guru is often short of money and Sharad ends up paying his doctor's bills.
But Sharad's dedication to classical music is complete. He lives in Mumbai with his maternal grandmother and rarely makes time to speak to his mother who is in a village. He has postponed the idea of getting married until the age of 40.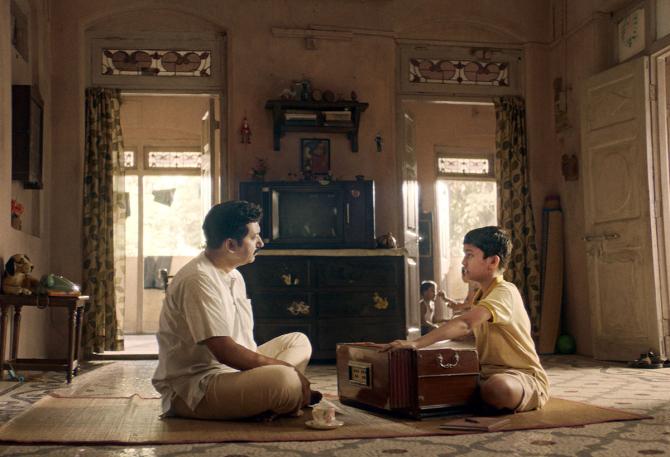 The words of Maai keep him going. A singer has to have pure thoughts, she says. The singer must get rid of falsehood, greed and impure thoughts. Only then the new reflections of the ragas will reveal in the disciple's mind.
Sharad attends yoga sessions where also it is emphasised that the practitioner should exhale out negative thoughts. Alas the young man has physical desires and he cannot help but self pleasure himself.
Much of The Disciple is about Sharad's practice and struggles to improve his skill. His limited success is overshadowed several moments of failures. He is even admonished by his guru at a private concert.
But all of the public and private embarrassments do not change his resolve to dedicate his life to learning and caring for his guru, which also involves massaging the old man's back and his legs.
At time Sharad's focus reminded me of Deven's (Om Puri) desperation to get an interview from the aging poet Nur (Shashi Kapoor) in Ismail Merchant's brilliant film In Custody (1994), based on Anita Desai's novel.
Deven faced an uphill battle -- Nur's two bickering wives and the group of young men, sycophants and chamchas waiting for free booze and food. True admiration of an old poet at a time when Urdu is on decline is lost in the world Deven walks into.
Sharad is also a witness to the commercialisation of classical music. When he is older and giving music lessons, one of his students wants to quit the practice. Instead he wants to join a college fusion band. An unknown singer from a small town participates in a competitive television show for new talents, but soon she succumbs to the glamour of the popular film songs.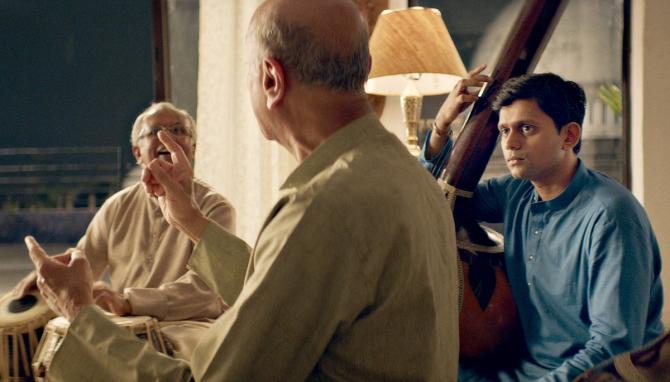 The Disciple is an ode to music and a salute to Mumbai, lovingly captured by cinematographer Michal Sobocinski. The city can be harsh, but it also lets the voices of struggling classical musicians exist, although often they live on the edge of society.
But it is also a city of disappointments and compromises. Actor Aditya Modak continues to perform at concerts, but he has also choses a safe path. His Linked in profile states that in addition to a trained classic singer he is a chartered accountant, a senior associate at Deloitte Haskins & Sells.
Like Modak, Sharad will also learn lessons from this hard life and finally accept his true path. But Tamhane suggests that Sharad will be fine, just as we all are, no matter what we decide to do when we finally grow up.