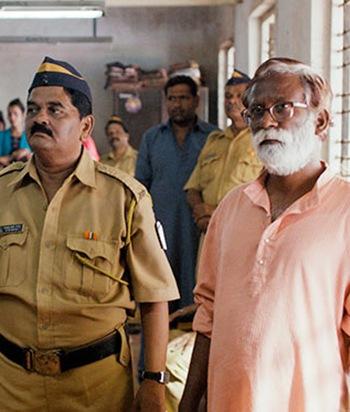 'Good luck, Chaitanya Tamhane. May the jury system prove better for you than the bench trial did for your protagonist.'
Raja Sen on Court, India's entry for the 2016 Oscars.
Were Twitter to be believed, not just is Court the finest Indian film to be made in many years, but it has also picked up an Oscar already.

Ah, sweet, sweet hyperbole.

This online rejoicing -- with the selection of Court as India's official entry for the Foreign Film Oscar -- is, of course, indicative of the deeper malaise and cynicism at the roots of the Indian film fan.

Things have gotten so bleak that we're ready to pop the champagne not when we win, but at the mere sense of the right films finding the right kind of encouragement.

Because films getting their due, so to speak, is not par for the course.

We've seen great films flounder and bizarre films getting selected, owing to lobbying power and red-tape and cliques and feelings of insecurity and envy among the filmmakers chosen to make the decision.

There has been no transparency in the selection process, and even this year, where the fine Marathi filmmaker Amol Palekar assured us that Court was picked unanimously, such is not the case as we read in my colleague Aseem Chhabra's insightful piece, which includes details of Palekar and Co watching Court, stopwatch in hand, trying to make sure there isn't too much English in the film.

It is the kind of absurdist scene, in fact, that director Chaitanya Tamhane might have liked to include in his Court, a film that deals with the daftness of the system and does so with assured stillness.

I reviewed Court earlier this year and while I do not believe it to be the devastating masterpiece it was heralded as, I find more than enough to admire and enough, most certainly, to impress an international audience.

Particularly in terms of what they expect from Indian cinema.

Court is at par with most of the strong European cinema we see, and it will surely travel well -- visually, and with its universality and its near-nihilistic imagery, it speaks their language.

Killa creates a whole new language.

Avinash Arun's film would have been my pick for the Oscars, a film so dazzlingly pure that it washed over me like raw, broken verse.

I've gushed over it before, and the reason I thump its back harder than other impressive films -- like Court and Neeraj Ghaywan's Masaan -- is because while those films show a European art-house sensibility, this film doesn't try at all to cinematically impress or startle.

It doesn't fall back on cinematic tropes and devices, even great ones, and instead forges its own unlikely and beautiful path. It is a very special film.

Any of these three films could have made worthy ambassadors for our cinema -- and how marvellous is it that each has been made by a debutant? We truly are in good hands.

Besides the new bunch, my pick for something like this -- something so varied as the Oscar foreign language pool, something that prefers Korean films to seem Korean, Swedish films to look Swedish -- would have been Vishal Bhardwaj's Haider, which is a staggering retelling of Hamlet complete with rare, self-critiquing political commentary.

The Oscars love self-effacing cinema, plus they may also have embraced Haider because they'd find traces of that larger-than-life carnival behaviour they currently associate with Hindi cinema.

On the whole, however, Court is an oak-solid choice and has gone down very well with India's journalists and culture commentators.

This is important because the last few years have seen such an outcry of dissent regarding the selected film that anyone from the West looking our way for context about the picked film would have found nothing but hate.

If an American journalist or filmmaker two years ago would have wanted to find out about Indian pick The Good Road, all they would have found would be articles sobbing over how the (brilliant) Lunchbox was left out in the cold.

At least with Court they'll see a groundswell of support. And love. And all of that counts in terms of building a case for a film.

Good luck, Chaitanya Tamhane.

May the jury system prove better for you than the bench trial did for your protagonist.