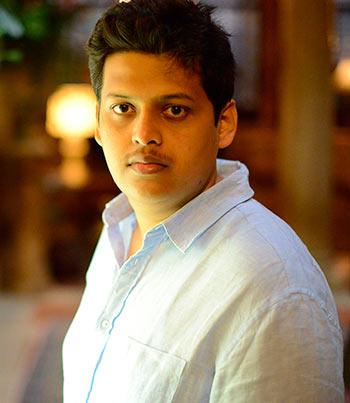 'I was broke and jobless. There was a lot of pressure to earn money. I was 23.'
National award winner Chaitanya Tamhane tells us the story behind his film, Court.
Chaitanya Tamhane's first feature film Court has picked up a National Award for Best Feature Film.
The film has been making waves around the globe ever since it picked up two major awards at the Venice Film Festival last year. The film is presently being screened at the New Directors/New Films festival in New York.
Tamhane, 28, speaks to Patcy N/ Rediff.com about his new film, and his struggles behind it.
After winning so many awards worldwide, how does a National Award, recognition in India, feel? Did you expect the award?
To win such a prestigious award in India is obviously a special feeling.
Since the film is releasing on April 17, this announcement is a blessing for us. We hope more people will watch the film now, and there will be an increased awareness about the film.
Tell us something about yourself and your interest in films.
I was born and raised in Mumbai. I am a literature graduate from Mithibai College.
My mother is a retired Railway employee. My father is an environmental consultant and owns a company along with his brother. I have a younger brother.

As a child, I wanted to be an actor as it is the most immediate form of expression.
I grew up on Marathi theatre and watching Bollywood films, and enjoyed writing. In fact, I joined Mithibai College because it is well-known for its theatre scene.
At the age of 18, I discovered world cinema. Somebody told me to watch City of God. I was blown away.
DVD libraries had come in and internet had been introduced and that changed everything for me.
I joined Balaji Telefilms as an assistant writer on the daily soap Kya Hoga Nimmo Ka. I met filmmakers and playwrights.
I was really hooked on world cinema. With the money I earned, I just rented DVDs and kept watching films. It dawned on me that this is what I want to do; I want to make films.
I made a documentary film along with some friends, called Four Step Plan. It was about plagiarism in Indian cinema... which movies and which songs have been plagiarised from where.
It was received well. It was about Bollywood so we got media attention.
We did not have copyright for all the footage that we used so we couldn't release it officially. Since then I have been doing my own projects.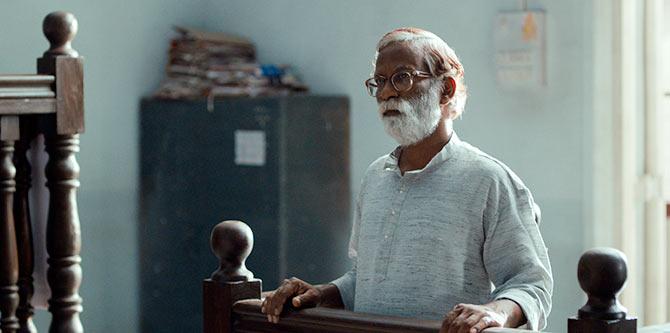 Image: Vira Sathidar in Court
After Balaji, what did you do?
I worked briefly with a company called UTV Palador. I was their research analyst and programmer for foreign movies.
At the age of 21, I wrote and directed a play called Grey Elephants in Denmark. It was performed at the Prithvi theatre and the National Centre for the Performing Arts in Mumbai.
Vivek Gombre, who is the lead actor and producer of Court, was the lead actor. This was in 2009.
I did a short film called Six Strands which did well at international film festivals.
Were you aiming to show the film only at film festivals?
No, you do what you want to do and then you seek out audiences.
For a short film, the audience would be festivals only because we don't release it here.
It made it to prestigious short film festivals like Clermont-Ferrand International Short Film Festival (France), Rotterdam International Film Festival (Holland) and the Sundance Film Festival (USA).
After Six Strands, I was broke and jobless. There was a lot of pressure to earn money. I was 23 and I didn't want to assist anyone.
Vivek is a Singapore citizen; he had gone back there. But we met one day and he asked me why I was so down and out.
I told him I wanted to write a film based on a courtroom drama but I didn't have the money. He told me he would support me.
It was a bit strange to accept an offer like that from a friend, but he insisted.
It took me a year to write the script. Vivek loved it and decided to produce it.
That was three-and-a-half years ago.
Your play and short film were in English, your writing experience with Balaji was in Hindi. How come you thought of making Court in Marathi?
Language is irrelevant. In fact, Six Strands is in gibberish. We invented a fictional language for it.
Court is multilingual. It is in four languages -- English, Hindi, Gujarati and Marathi.
Most of the dialogue is in Marathi, the milieu and the cultural context is Marathi, but the laws are read out in English.
One of the lawyers is Gujarati so at home he speaks Gujarati.
The Marathi lawyers speak in Marathi and English. The Gujarati lawyer doesn't understand Marathi so with him they have to speak in Hindi.
It's like how we speak in Mumbai -- a mixture of languages.
The name of the film is in English and it will be released with English subtitles.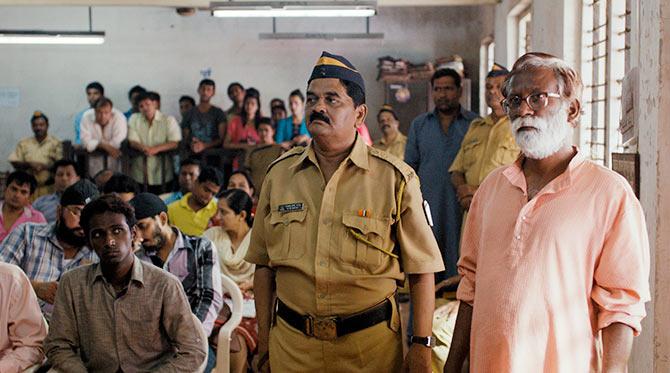 Image: Vira Sathidar in Court
How did you go about making Court?
It took a year to write the script after interviewing lawyers, academics, activists, reading lots of book, going through newspaper clippings, forming my own sense of politics, discovering the world of protest music and the legal world.
Planning and pre-production took a year -- casting, auditions, location scouting.
We had to build court sets as you can't shoot in a real court.
My team had to spend a lot of time in a real court and with protest singers and activists for references and costumes.
We shot the film in 45 days, over two months. And then a year of post-production.
Were you aiming for the international festival circuit?
Absolutely not. The film has such a specific cultural context that we didn't think an international audience would understand it.
We knew that in India it is a struggle for such a film to get a platform and release. We didn't know who we were making the film for; we just made it.
The film premiered about six months ago at the Venice Film Festival.
Since then, it has been a crazy ride.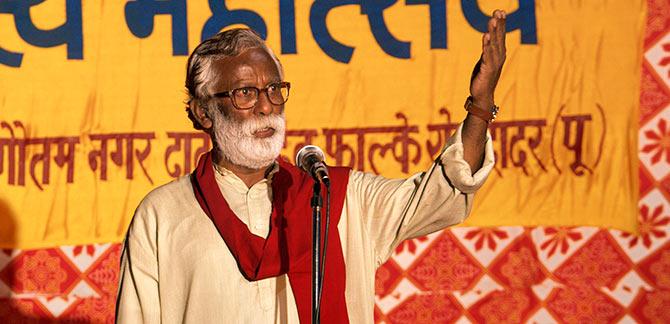 image: Vira Sathidar in Court
How did you enter the Venice film festival?
We were part of the NFDC (National Film Development Corporation) Film Bazaar in 2012. We just had the script of Court then.
We met one of the programmers from Venice, Paulo Bartolomeu. He like the script and kept track of the project.
We sent him the rough cut of the film and he loved it. We got to know one day that it has been selected in the Orizzonti section of the festival.
We won two major awards in Venice -- the Orizzonti award for Best Film and the Lion of the Future award for a Best Debut Film. The cash prize was $100,000, which is shared by the producer and the director.
After Venice, we have won another 15 awards in the international arena.
You have an American distributor for your film…
Yes. Court will be screened at the New Directors/New Films film festival in New York on March 26 and 28.
Only first and second films of a director are screened here. Great talents like Richard Linklater, Steven Spielberg, and Christopher Nolan, were discovered here. So it is a very prestigious film festival.
Court will release in the US and Canada in July.
What were the difficulties that you faced during the shoot?
As first-time director and producers, we did not want to make the film in a conventional manner.
We were working outside of the Bollywood and Mumbai film industry.
The first big challenge was to get the right team who understand the spirit of this endeavour. Eighty per cent of the cast are non-professionals, who had never faced the camera before.
Second, we shot in real locations in Mumbai and we shot in sync sound.
We did long takes with no cuts, and scripted lines in a controlled manner. We were told that this is not possible but we took it as a challenge.
We managed it because we have a great crew and our producer Vivek lent us unconditional financial support.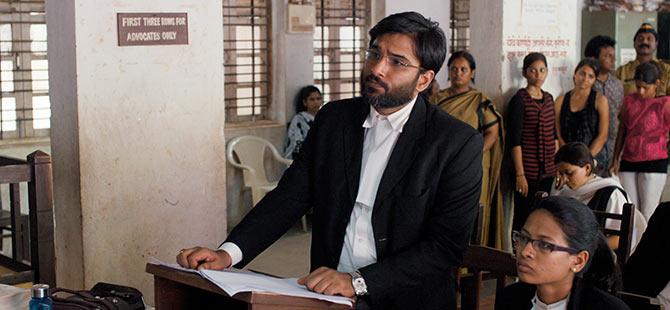 Image: Vivek Gomber in Court
Vivek Gomber is both your lead actor and the film's producer. What is his background?
He graduated in acting from Emerson College in Boston. He came to India in 2004.
He has acted in some films (The President is Coming, Meridian Lines) and television series (Astitva Ek Kahani, Mumbai Calling) and has done a lot of theatre work in Mumbai.
He plays the defence lawyer, who speaks Gujarati in the film. Like everyone else, he auditioned for the part.
What about the rest of the cast?
The public prosecutor is played by Geetanjali Kulkarni. She is a NSD (National School of Drama) graduate. She has not done much television or film work.
We auditioned 1,800 people over nine months for the other roles.
We went to banks, railway offices, schools, tea sellers, snack vendors, auto and taxi drivers and asked people if they would like to act..
How did you get the crew?
The production designers are two of my closest friends. They worked with me in Grey Elephants. They had never done production design or been on a film set before. One is an architect and the other is an animator.
The editor had never edited a fiction film; he comes from a documentary film background.
Court was the first film of the casting director too.
The DOP (Director of Photography) and sound recordist were also from a documentary background.
We did not have anybody from a Bollywood background. We wanted people with hunger and passion who would go out of their way to get things done.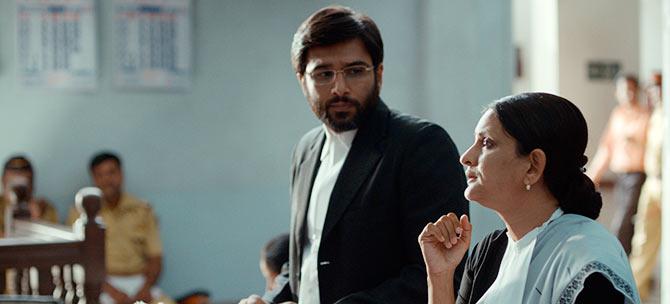 Image: Vivek Gomber and Geetanjali Kulkarni in Court
Is Court a courtroom drama?
Court begins with the arrest of a 65-year-old dalit protest singer for abetment to suicide.
Apparently, after listening to one of his songs, a manhole worker committed suicide by drowning in the gutter.
One the songs went, 'we don't have dignity and it's better to drown in the same gutters that we clean every day'.
Apparently the worker was inspired by these words and committed suicide and a bizarre, absurd case is launched in a session court. The day-to-day life of a lawyer, a judge and people involved in the case is shown.
How did you get this idea?
I wanted to explore the judicial nightmare in a very Indian setting.
I came across the case of Jiten Marandi, a cultural activist from Jharkhand who was arrested as a suspect in a bomb blast because his name was similar to the actual suspect who the police could not find.
He was made the scapegoat and they sentenced him to death.
Activists and social workers sent a petition to the President to stop this madness. This story was the germ of my idea.
What's next?
I have an idea I am developing, a sitcom for a web.
I'm also developing a feature film. I will sit down and complete the work once Court's journey comes to an end.
Will Vivek Gomber produce your next film too?
Even if he wants to put money in the next one, as a friend I will probably stop him.
Some amount of interest has been shown by international producers because of Court but nothing has been finalised yet.
Will you ever make a commercial potboiler?
I don't consciously set out to make a certain kind of film. Yes, there is an inherent sensibility and personality at play, so a certain kind of work comes out.
I won't make a very typical and conventionally Bollywood kind of film, not in the near future.